Make this freezable low carb breakfast burrito recipe in minutes for a delicious and quick keto breakfast on the go. Each breakfast burrito only has 2.3g net carbs and it's so simple to make. Make a batch and freeze for easy low carb meal prep.
You might also like these 12 low carb breakfast ideas on the go!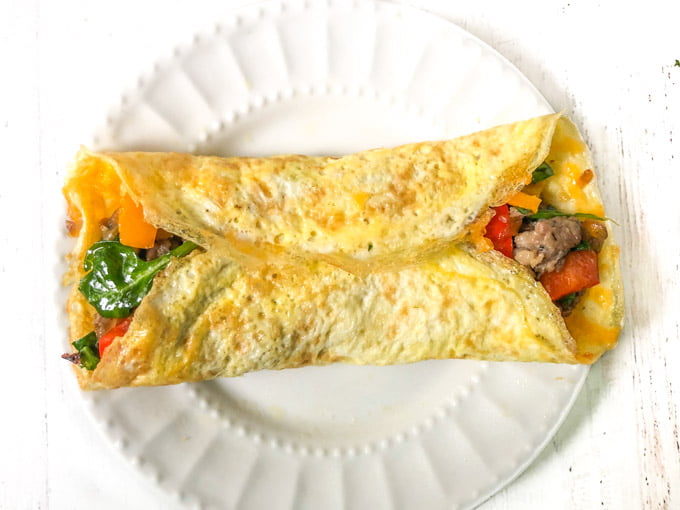 A couple weeks ago I had the great idea to make two low carb dishes that I spooned into containers and froze for quick lunches. Last week I was so happy that I had delicious lunches that were already portioned out for me and only took a few minutes in the microwave to heat up. That got me to thinking how I should do this for breakfast too.
That's when I came up with this low carb breakfast burrito recipe. I used my egg wrap idea from a turkey wrap recipe and it was perfect. This burrito is alike an inside out omelet. It only takes minutes to make and it's freezable. The perfect breakfast for me!

Using Eggs For Low Carb Wraps Or Noodles
Eggs are so great from making low carb wraps or tortillas. I have also used them as noodles. Below are three of my favorite keto recipes that use the egg wraps I am using in today's recipe.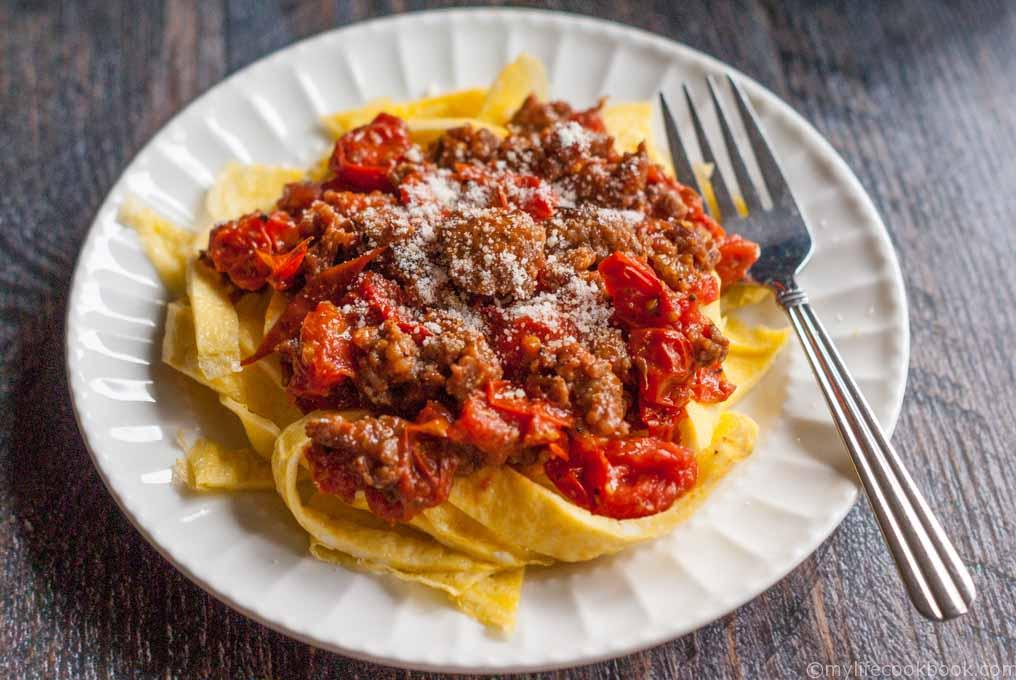 Keto Breakfast Burrito Ingredients
This is a really simple recipe. For the filling of this breakfast burrito I used red onion, peppers, spinach and breakfast sausage. I could eat the filling as is it's so yummy to me. And then the wrap is just an egg. So this recipe only needs 5 simple ingredients!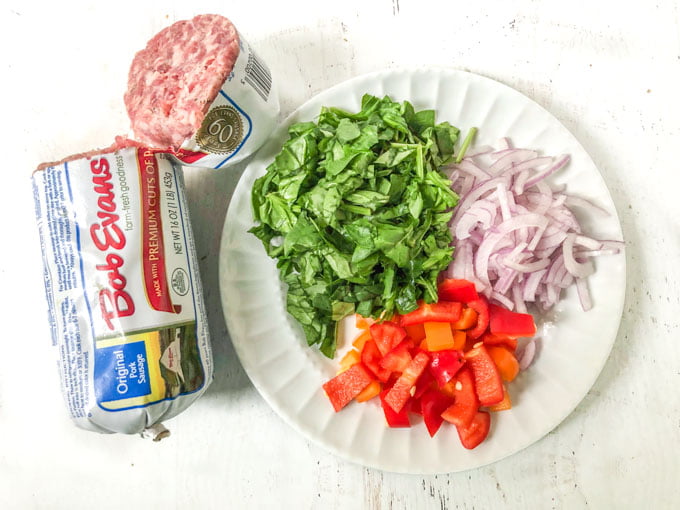 Now Let's Make Our Low Carb Breakfast Burrito Recipe!
First thing you want to do is make the filling. In a large skillet add a little oil and the onions and saute for 1 minute. Then add the peppers and sausage. Once the sausage is completely cooked and browned take it off the burner and add the spinach. Just mix it a bit and it will start to wilt. You don't want it to wilt too much as it will have more volume if it's just slightly wilted.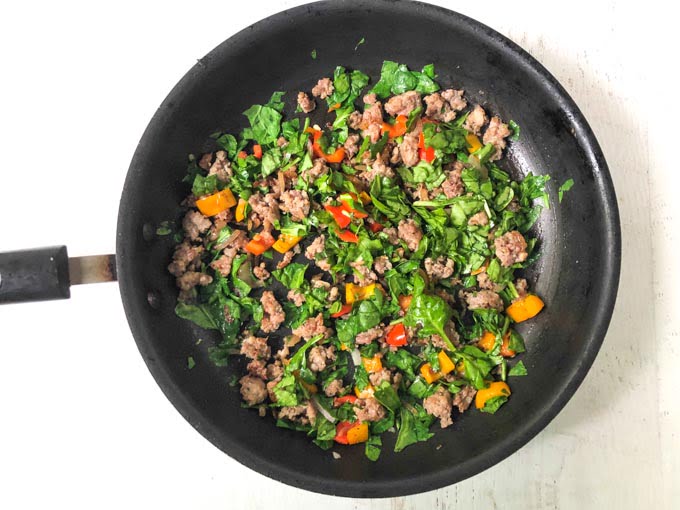 Now it's time to make the egg wraps. You need to have two skillets, one small skillet and one larger one. Spray the pans with cooking oil and then heat them to a medium heat.
Then beat an egg and pour into the smaller skillet. Swirl the egg around the pan to cover the whole bottom. Once it's almost cooked loosen the edges with a spatula and flip into the larger pan. Sprinkle some cheese on top and in a few minutes it will melt and your wrap is done!
Take the wrap out of the pan and place on a plate. Add your sausage mixture, fold and place in the freezer for 2 hours. I do this so that they are easier to wrap in wax paper or parchment paper and then store in the freezer. Below you can see how I wrap them in wax paper.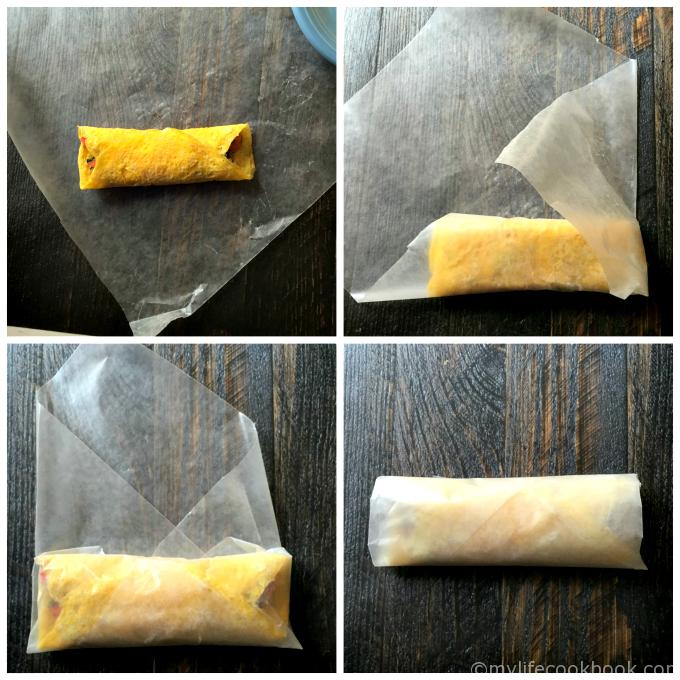 Freezing The Breakfast Burrito And Heating Them Up
To freeze the burritos, once you've wrapped them, place in a freezer bag and set in your freezer. To heat one up just unwrap and microwave for 1 – 2 minutes. Make sure to let them cool before eating.
They are so tasty I also like them for a keto snack or low carb lunch. So if you are into having meals in your freezer to grab and go this a recipe to add to your list. It's tasty, easy, fast and low carb. Even if you aren't a low carb eater it's really delicious. Enjoy!
The nutrition for one burrito is:
267 cals / 22.4 g fat / 2.8 g carbs / 0.5 g fiber / 13.7 g protein = 2.3 g net carbs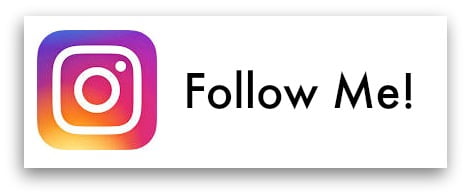 Freezable Low Carb Breakfast Burrito Recipe
You can make these freezable low carb breakfast burritos in minutes. A delicious low carb breakfast to go.
Ingredients
1

Tablespoon

olive oil

⅓

cup

onions, diced

⅓

cup

sweet peppers, diced

¼

lb

breakfast sausage ( in a roll)

4

eggs

½

cup

cheddar cheese, shredded

½

cup

baby spinach, chopped
Instructions
Heat up your oil in a sauté pan with a medium heat.

Add your onions and sauté for a minute.

Add your peppers and sausage and cook until the sausage is cooked.

Take off the heat and add your spinach. Stir and set aside to cool.

Get two skillets going on the stove. One small omelet pan and a larger skillet. Spray them both with cooking spray and heat to medium.

Add 1 well beaten egg to the smaller pan and swirl to coat the whole pan. As the egg starts to set, swirl again to get the egg evenly around the pan.

When almost cooked, careful flip the egg over into the larger pan and sprinkle the cheese over the top evenly.

Cook for just one minute and slide onto a plate.

Add ¼ of your sausage mixture to the egg "tortilla" and fold. Place on a small cookie sheet.

Repeat the egg process with your remaining 3 eggs so you have 4 burritos total.

Transfer the burritos that are on the cookie sheet and place into the freezer for 2 hours or until the burritos are frozen.

Take them out and wrap individually with wax paper and place in a zip lock bag.

Store in the freezer.

To cook, place in the microwave and cook 1-2 minutes.
Recipe Notes
The nutrition for one burrito is:
267 cals / 22.4 g fat / 2.8 g carbs / 0.5 g fiber / 13.7 g protein = 2.3 g net carbs