Make these freezable low carb breakfast burritos in minutes for a delicious and quick low carb breakfast. Each breakfast burrito only has 2.3g net carbs!
A couple weeks ago I had the great idea to make two low carb dishes that I spooned into containers and froze for quick lunches. Last week I was so happy that I had delicious lunches that were already portioned out for me and only took a few minutes in the microwave to heat up. That got me to thinking how I should do this for breakfast too. I had my sausage & egg breakfast sandwiches but I wanted to try something new, like a breakfast burrito. I first tried my coconut tortillas for these burritos and while they are good for tacos, they weren't what I wanted for these burritos. Then I tried the old egg wrap I had made with my turkey wraps and they were perfect. This burrito is like an inside out omelette. It only takes minutes to make and it's freezable. The perfect breakfast for me!
I personally love the taste of sautéed onions and peppers. Add breakfast sausage and I'm in heaven. For this recipe that's what I used for my filler along with some baby spinach. The spinach adds bulk, color and nutrition so might as well throw some in there. Once you make the filling, set it aside and make your egg wraps.
To make the wrap, beat an egg really well and then swirl it in a small frying pan. When it becomes almost cooked you flip over and add your shredded cheese. This works easier if you use two pans. I have a set like this where I start off in the smallest one and and when ready to flip, loosen the sides with a spatula and then place medium sized pan, over top and flip. It should fall into place on the other skillet. Then take it out of the pan and add your sausage mixture, fold and place in the freezer for 2 hours. I do this so that they are easier to wrap in wax paper or parchment paper and then store in the freezer.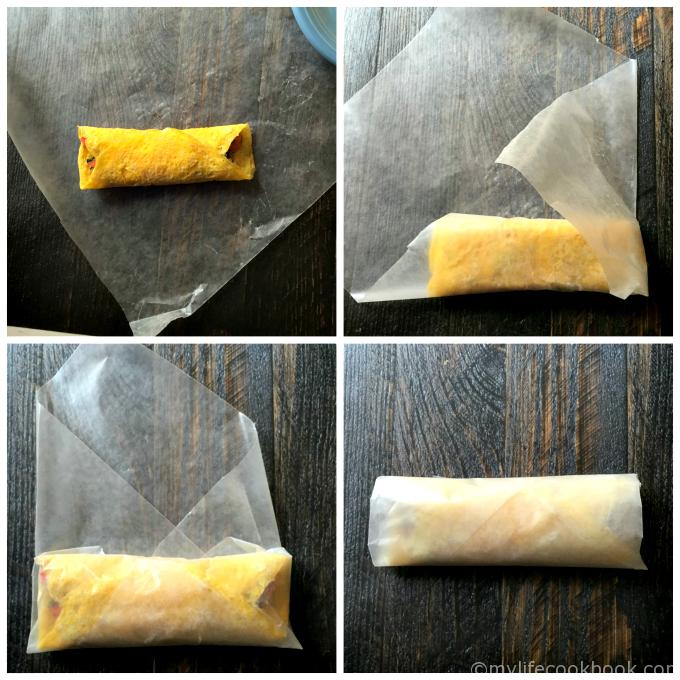 Above you can see how I wrapped the frozen burrito in wax paper. Easy peasy. After you wrap them just put them in a freezer bag and set in your freezer. To heat one up just unwrap and microwave for 1 – 2 minutes.
freezable low carb breakfast burritos
They are so tasty I confess to eating one for a snack. So if you are into having meals in your freezer to grab and go this a recipe to add to your list. It's tasty, easy, fast and low carb. Even if you aren't a low carb eater it's really delicious. Enjoy! The nutrition for one burrito is:
267 cals / 22.4 g fat / 2.8 g carbs / 0.5 g fiber / 13.7 g protein = 2.3 g net carbs
---
Freezable Low Carb Breakfast Burritos (grain free, nut free)
You can make these freezable low carb breakfast burritos in minutes. A delicious low carb breakfast to go.
Ingredients
1

Tablespoon

olive oil

1/3

cup

onions

chopped

1/3

cup

sweet peppers

chopped

1/4

lb

breakfast sausage

4

eggs

1/2

cup

cheddar cheese

shredded

1/2

cup

baby spinach

chopped
Instructions
Heat up your oil in a sauté pan with a medium heat.

Add your onions and sauté for a few minutes.

Add your peppers and sausage and cook until the sausage is cooked.

Take off the heat and add your spinach.

Stir until the spinach is wilted and let cool.

In another small fry pan, add some cooking spray and heat to a medium high.

Add 1 well beaten egg to the pan and swirl to coat the whole pan. As the egg starts to set, swirl again to get the egg evenly around the pan.

When almost cooked, careful flip the egg over and sprinkle the cheese over the top evenly.

Cook for just one minute and slide onto a plate.

Add 1/4 of your sausage mixture to the egg "tortilla" and fold. Place on a small cookie sheet.

Repeat the egg process with your remaining 3 eggs so you have 3 burritos.

Transfer the burritos to a cookie sheet and place into the freezer for 2 hours or until the burritos are frozen.

Take them out and wrap individually with wax paper and place in a zip lock bag.

Store in the freezer.

To cook, place in the microwave and cook 1-2 minutes.
This post may contain affiliate links. For more information please visit our policies page.
---
More low carb breakfast ideas!