This keto egg wrap recipe makes for a delicious low carb breakfast, lunch or snack. You make the wrap out of eggs and herbs and then filling with turkey and cheese. This keto snack only takes a few minutes and each wrap has just 0.8 grams net carbs and 19 grams of protein! Great for those on a low carb or keto diet.
You might also like these savory breakfast cookies.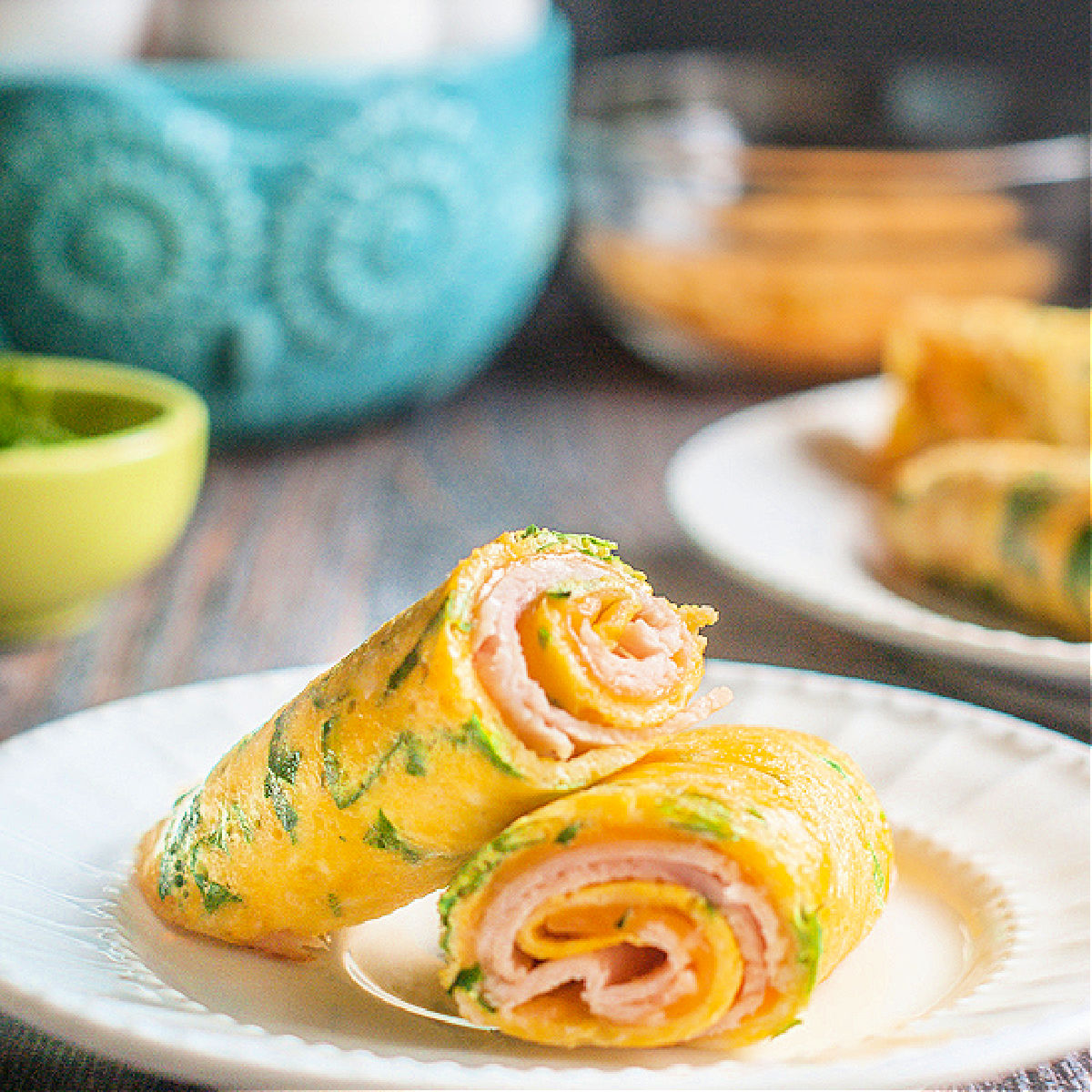 I have a confession. McDonald's breakfast food….especially their breakfast wraps and sausage egg mcmuffins are some of my favorite foods. And while I rarely eat them, I'm embarrassed to say that I really do love them.
Now that I'm having such a busy summer I thought I better start eating breakfast (not McDonalds) and of course keep it rather low carb or Paleo. So I've come up with this keto egg wrap that is the perfect gluten free, low carb and high protein breakfast!
The nice thing about these homemade egg wraps is that they are so easy to make and you could fill them with anything you would in regular wraps. It's a bit like a flour tortilla and you can use it as a sandwich wrap! These are great for a lite low carb meal in the summer time.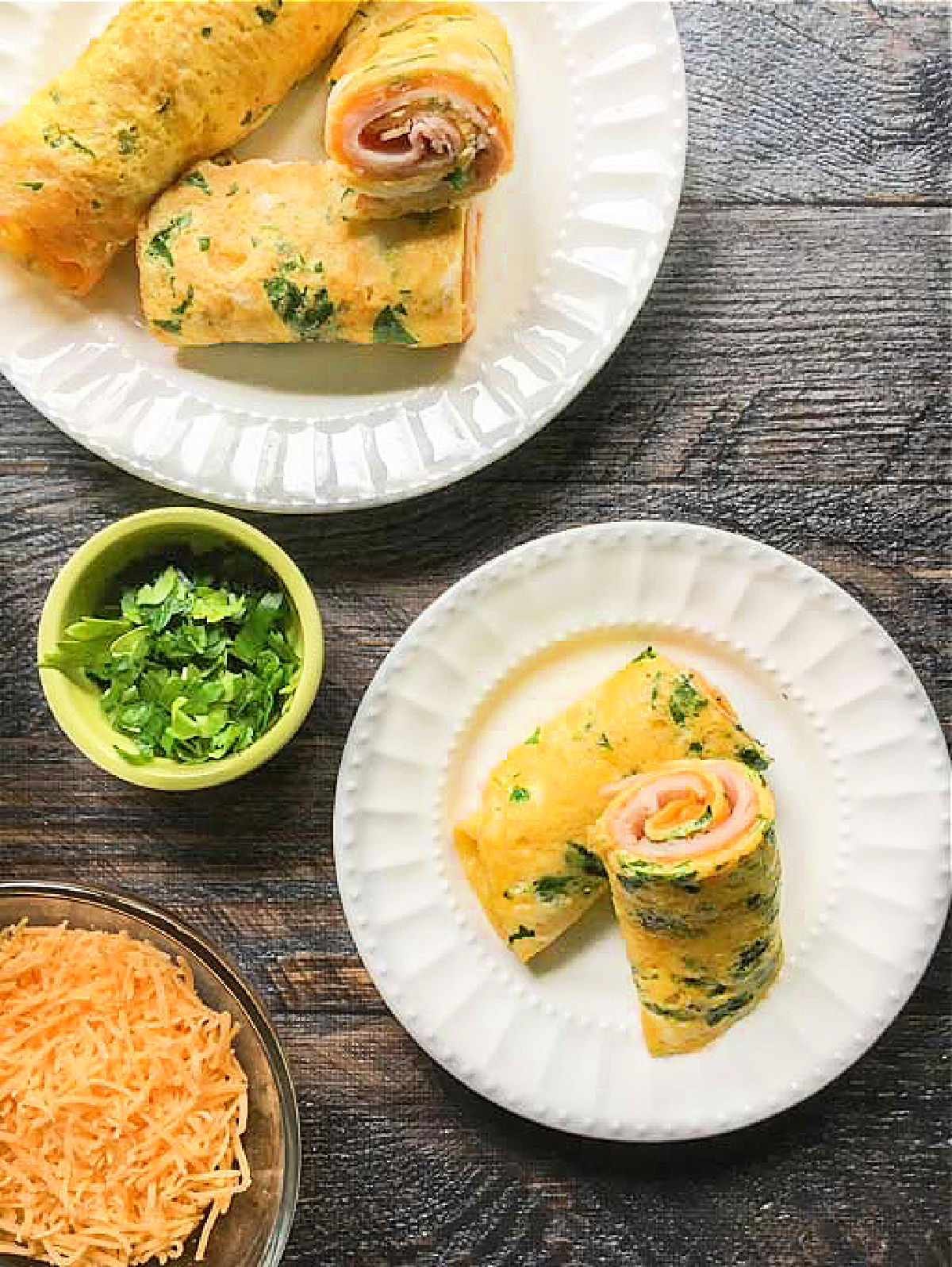 Recipe ingredients I used.
The simple ingredients I used for this low carb recipes are fresh herbs, eggs, turkey slices and cheddar cheese.
Fresh Herbs
I used what fresh herbs I had in the garden which were some parsley, thyme and basil. You can use whatever fresh herbs you want and have on hand. You can also eliminate them if you want but they do add extra flavor. You can also try some optional seasonings like hot pepper flakes for flavor and spice.
Turkey Slices
Turkey lunchmeat is low in calories, fat, carbs but high in protein. Chicken lunchmeat is very similar. You can really use just about any lunchmeat you want and would normally use in a sandwich.
Cheddar Cheese
I tried this with sliced cheddar cheese and found it was much easier to use shredded cheese because it will melt faster and you can cover the whole area of the wrap easier. You can also use Swiss, gouda, mozzarella, Monterey Jack or any other shredded cheese as well as goat cheese or feta cheese.
Eggs
I used the whole egg to make these wraps but you can also just use the egg whites. You might want to use two eggs per egg white wrap though.
How to make this keto egg wrap recipe with turkey and cheese.
Step 1: Get out a small omelet pan or non-stick skillet. Heat it over medium heat. Then spray the pan with nonstick cooking spray. You can also use a teaspoon butter or olive oil if you want but I was trying to keep the calories down.
Step 2: In a small bowl beat an egg and add the minced fresh herbs and a pinch of salt and black pepper if you want. Mix well and the pour into the hot skillet. I used fresh herbs but you could use dried herbs or seasoning, just make sure to use less.
TIP:
The ratio of dried to fresh herbs is 1 teaspoon dried = 3 teaspoons fresh.
Step 3: Swirl to coat the whole surface of the skillet. Once it starts to set, swirl again to get the liquid from the middle out into the edges.
Step 4: When it seems sturdy enough to flip (about 1-2 minutes) do so and then sprinkle your cheese on top while the bottom finishes setting.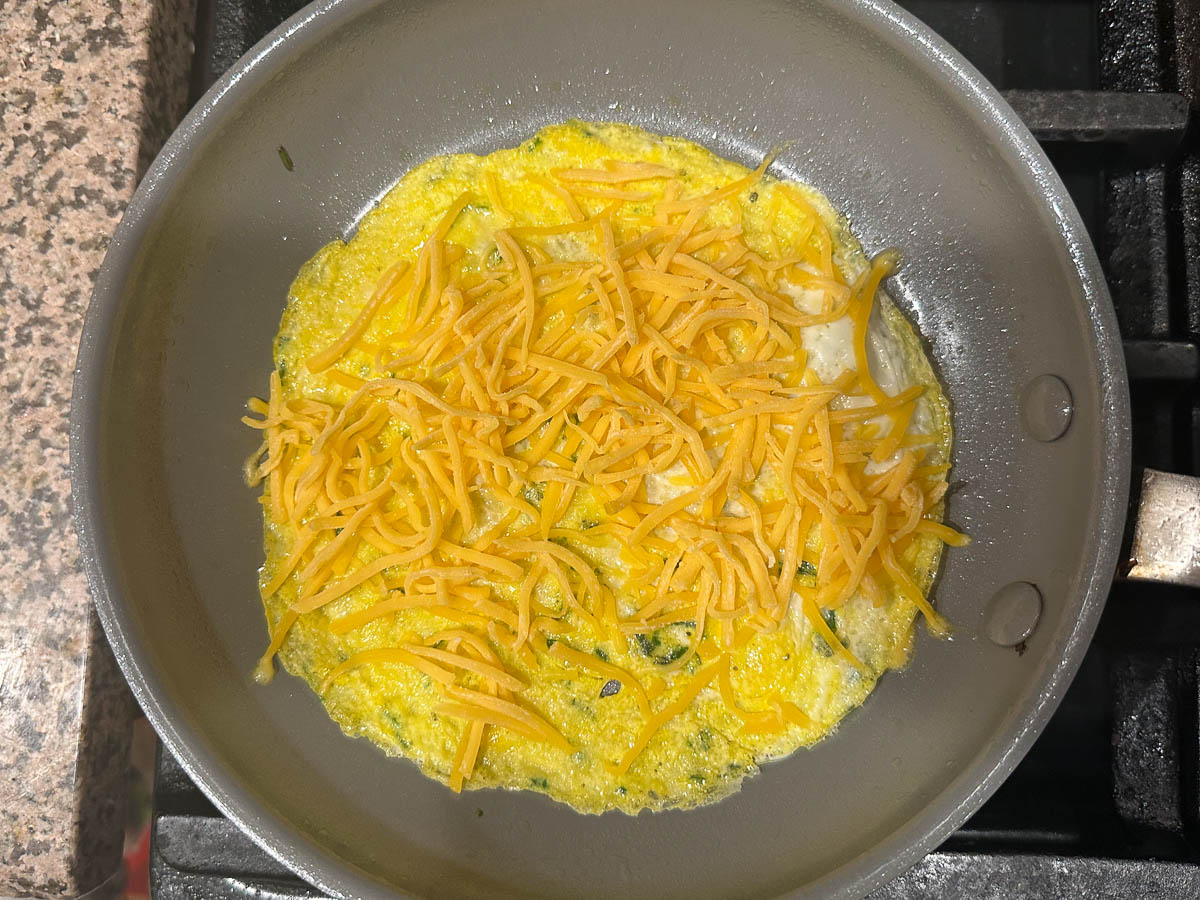 Step 5: Slide it off the pan and you have your cheesy egg wrap. You don't have to use the cheese this way, you can add it at the end. I just like mine melted.
Now you can add the turkey or whatever else you want in this egg wrap. Roll it up and slice in half. You can also add condiments like mustard, mayonnaise, hot sauce or whatever you want.
Store leftovers in an airtight container. Please scroll down to view the printable recipe card.
More things to put in this low carb egg wrap.
While I used herbs in the eggs and turkey and cheese you can use quite a few different ingredients if you want. Really anything you put in a wrap or sandwich you can put in an egg wrap.
Most lunchmeat have zero or very few net carbs and the same goes with cheese. Just check out the nutritional information on the packages. Here are a few filling options for your low carb egg wraps and the carb counts.
Italian dressing – 1 tablespoon, 1.5g net carbs
ranch dressing – 1 tablespoon, 0.7g net carbs
mustard – 1 tablespoon, 0g net carbs
mayonnaise – 1 tablespoon, 0g net carbs
cooked bacon – 1 slice, 0.1g net carbs
letttuce – 2 tablespoons shredded, 0g net carbs
red onion – 1 slice, 0.8g net carbs
tomato slices – 1 slice, 0.4g net carbs
black olives – 1 tablespoon sliced, 0g net carbs
cucumber slices – 3 slices. 0.4g net carbs
spinach leaves -2 tablespoons, 0.1g net carbs
pickled jalapeno slices – 1 tablespoon, 1g net carbs
avocado – ¼ of avocado, 0.7g net carbs
banana peppers – 1 tablespoons, 0.5g net carbs
sweet bell peppers – 2 tablespoons, 0.7g net carbs
dill pickle slices – 3 slices, 0.3g net carbs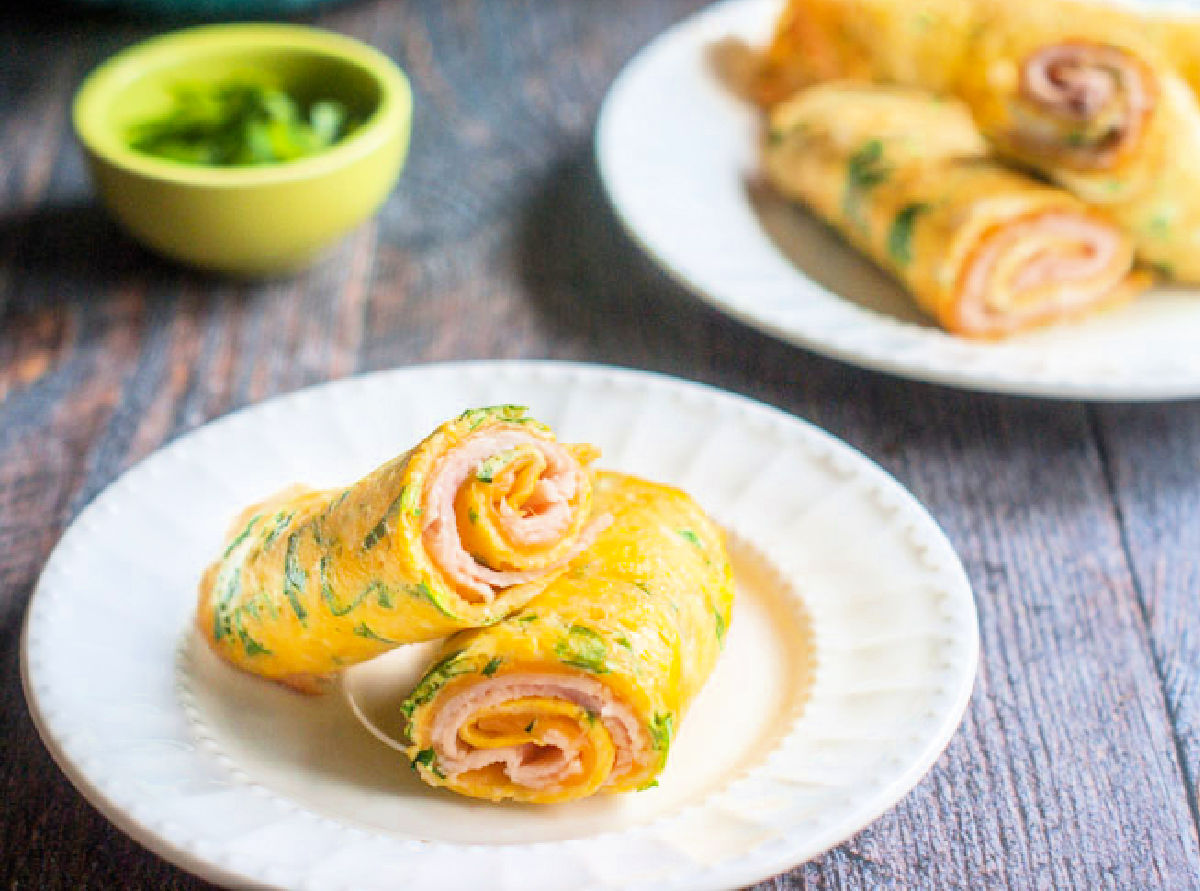 This is keto egg wrap recipe is for just one wrap but of course you can double or triple it easily. And it only takes minutes so you can make them anytime you want. They are pretty sturdy and can be eaten by hand but you can also wrap them in a piece of parchment paper or wax paper.
I hope you like this easy keto egg wrap recipe. They are great if you are on a low carb diet or as a healthy option for a snack. Enjoy!
The nutritional information for one wrap is: 215 cals / 14.8g fat / 0.8g carbs / 0g fiber / 19g protein = 0.8g net carbs
The nutrition for just the egg wrap with herbs is roughly 75 calories and 0.5g net carbs.
Keto Egg Wrap Recipe
This keto egg wrap recipe makes for a delicious low carb breakfast, lunch or snack. The wrap is made with just eggs and herbs and then you can fill them with whatever sandwich ingredeints you want, like turkey and cheese! And they take only a few minutes to make.
Ingredients
1 egg, beaten
1 teaspoon fresh herbs, finely chopped (I used basil, parsley and thyme)
2 tablespoons of shredded cheddar cheese
1 slice turkey lunchmeat
salt and black pepper to season
Instructions
Heat a small nonstick skillet or omelet pan over medium heat. Spray with cooking spray and let heat up.
Meanwhile beat your egg, herbs and salt and pepper if using. When pan is hot enough add your egg mixture. Swirl to coat the whole surface. After a minute or so, swirl again so the liquid in the middle makes it's way to the edges.
Once the bottom seems sturdy enough to flip, do so and then sprinkle shredded cheese on top.
Let the bottom is cook for just 1 minute then transfer to a plate and add your toppings.
Roll up your egg wrap and you are done!
Nutrition Information:
Yield:

1
Serving Size:

1 wrap
Amount Per Serving:
Calories:

215
Unsaturated Fat:

0g