These low carb breakfast ham tacos are an easy to make grab and go keto breakfast. Make a batch and freeze for later. Only 0.7g per serving with easy ingredients you probably have on hand.
You might also like these low carb sausage & egg cups!
I wasn't sure what to call these. When I made them I had hoped the ham would seal together like a hand pie or empanada. However when the I baked them the eggs expanded and ran out of them and got all gooey and crusty but they were delicious and super easy.
So today I give you my low carb breakfast ham tacos. Because that's what they look like to me. As you can see I have been focusing on low carb grab and go breakfast ideas because sometimes you just don't have time in the morning to cook. These are a breeze to make and easy to freeze and each "taco" is only 0.7g net carbs!
---
Join My New Low Carb Facebook Group
Also I have a new Facebook group dedicated to low carb dieters. I've gathered some of the best low carb bloggers to share their recipes and tips so you have good quality information to help you succeed. There is also weekly menus to help you with your meal planning and sometimes even a raffle or two. I think you will find a lot of interesting information to keep you motivated. Check it out here.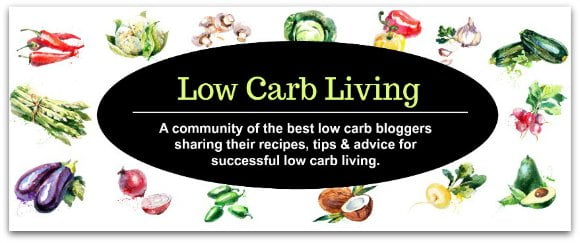 ---
Other Low Carb Ham Recipes
We tend to get a ham a few times a year and I'm always looking for things to make with the leftovers. I even wrote a post on 5 low carb recipes that uses leftover ham if you are interested.
Ham & Cheese Taco Ingredients
I grabbed all my ingredients at Aldi. I used their Fit & Active hame because it is sliced super thin, along with some eggs, peppers, green onions and sliced cheddar cheese. If you are using leftover ham from the holidays, try to cut the ham as thin as possible so that you can easy fold them to make the taco shell.
Low Carb Ham Tacos Recipe
First you make your scrambled eggs. I sauteed the peppers and onions first and then added the eggs and quickly cooked them. Next line a cooke sheet with a silicone mat or parchment paper. When the cheese gets all gooey and crusty you'll want to easily peel them off.
Then line the ham on the cookie sheets, spoon some of the egg mixture on half of a slice and top with a half slice of cheddar cheese. Fold over and bake for 10-15 minutes until crispy.
Low Carb Breakfast To Go In A Nutshell
Preheat oven to 350 degrees F.
Saute veggies and scramble eggs.
Line cookie sheet with parchment paper and place thin ham slices down.
Spoon a bit of egg mixture on one side and top with a half slice of cheese.
Fold over and bake for 10-15 minutes until crispy.

These Ham & Egg Tacos Are Freezable Too!
If you want to freeze these, let them cool completely and store in a baggy or container. Take one out and heat up in the microwave for 30 seconds to 1 minute.
This recipe makes 10 in a batch but next time I would double it. I like to eat two for breakfast but they freeze so well there is no reason not to make more. Just make sure not to over cook them after freezing or the eggs will get tough.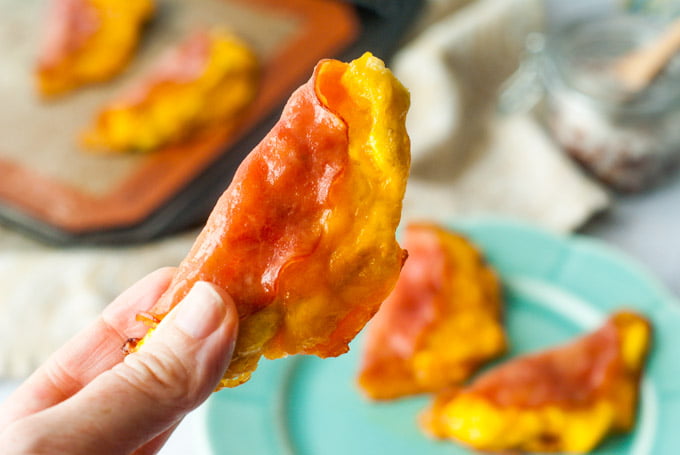 You can use any kind of egg mixture you like. The first batch I just used cheese but I wanted it to have more oomph so I added the veggies. Chopped spinach would be nice or maybe some spices or a tiny bit of salsa would be good too.
I hope you like this quick and easy keto breakfast idea. They would be great for a quick snack or lunch too. Enjoy! The nutritional information for piece is:
100 cals / 3.7g fat / 0.8g carbs / 0.1g fiber / 3.8g protein = 0.7g net carbs

Low Carb Breakfast Ham Tacos
These low carb breakfast ham tacos are an easy to make grab and go breakfast. Make a batch and freeze for later. Only 0.7g per serving.
Ingredients
3

eggs

1

tablespoons

butter

2

tablespoons

red pepper, minced

2

tablespoons

green onions, diced

10

slices

ham, thinly sliced

5

slices

cheddar cheese

salt and pepper to taste
Instructions
Preheat oven to 350 degrees F

Add butter to a pan to melt. Scramble eggs and mix in pepper and onions. Add eggs to pan and cook.

Lay a piece of parchment paper or a silicone mat on a cookie sheet. Assemble by adding a bit of scrambled eggs on one side of ham and then lay a half piece of cheese on top. Fold over and place on cookie sheet.

Continue with all ham slices and bake for 10-15 minutes until cheese is melted and ham is a bit crispy.

Store in a container or baggie and freeze. Only takes 1 minute in the microwave to heat up.