These low carb sausage and egg noodles are both fun and tasty. A delicious tomato and sausage sauce covers the noodles that are literally made from eggs.
You might also like these low carb turkey & herb egg wrap!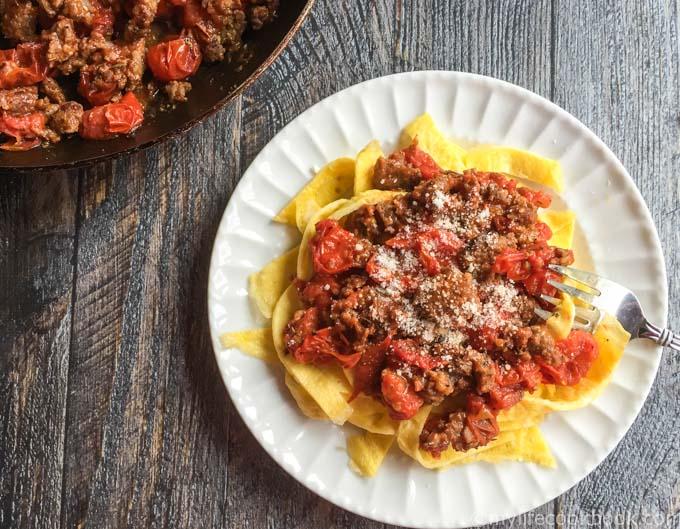 Now when I say egg noodles, I really mean egg noodles. As in noodles made from eggs. Only eggs. Just wanted to be clear about that. I know this recipes is kooky but it's low carb and delicious and easy and fun. So I hope you will enjoy this low carb sausage & egg noodles dish as much as I did.
About This Recipe
Let me also be upfront with you. I am the only person in my family that would eat something like this. My husband doesn't eat eggs (crazy huh!) and while my son would eat the egg "noodles" he wouldn't eat the sausage and tomato sauce. I can't win with those two.
But you have to trust me and know that it's delicious. If you don't want to make the egg noodles, just eat the sausage and tomato mixture over regular pasta. It's easy and delicious. Really.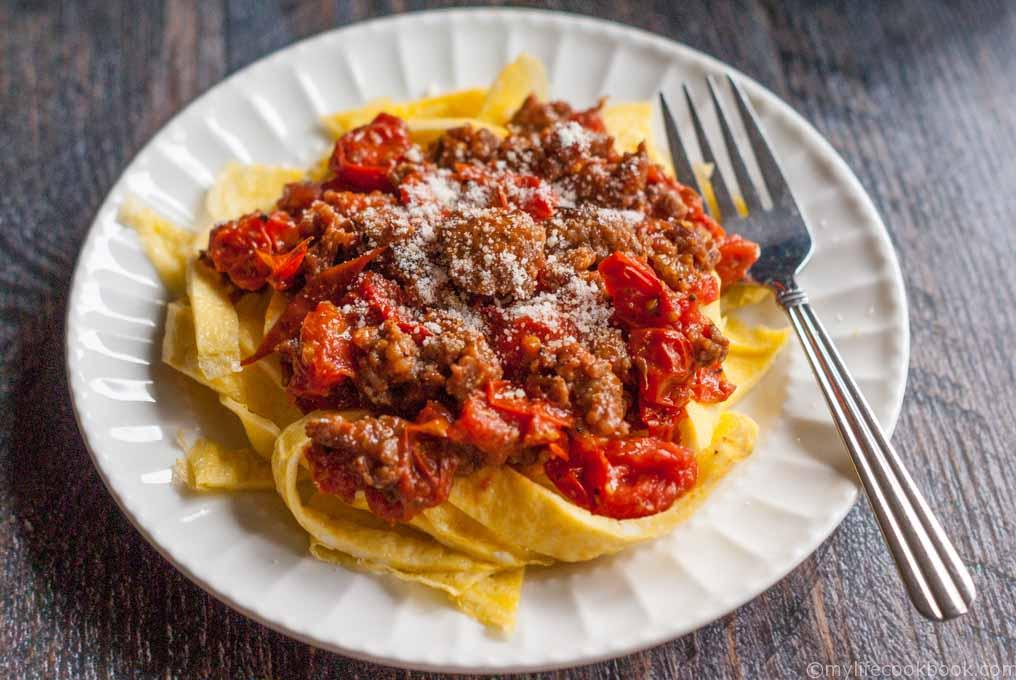 I recently tried to make an "egg noodle" recipe with eggs and cream cheese. I had no luck with them. Then I remembered my Herb Turkey Egg Wraps and thought that I could just make the wraps and cut them into noodles. It was that easy!
The first time I learned about these types of noodles was from one of my favorite low carb bloggers : DJFoodie. DJFoodie is a chef that embraced the low carb lifestyle with gusto (lost 150 lbs) and has tons of delicious recipes. He also has a new cookbook
(affiliate link). It is huge (574 pages) and PACKED with information and delicious recipes. It's seriously a wonderful reference book if you are into low carb eating.
How To Make Low Carb Egg Noodles
On to the recipe. Above you can see my egg "noodles". Simple put I beat 1 egg and swirled it around in a small frying pan. When it looked ready to flip, I flipped it into a second omelet pan for a minute or two and then laid it on a piece of waxed paper to cool. I did this for 3 eggs and when they were all cooled I cut them into strips. Voila noodles.
Sausage & Tomatoes sauce
The sauces was simply some Italian sweet sausage, grape tomatoes, garlic and spices. Brown the sausage and add the rest of the ingredients and cook down. About 5-10 minutes total.
Low Carb Sausage And Egg Noodles
I only used about ⅓ of the sausage mixture atop of 3 eggs worth of noodles. This was a good size portion and I had 2 more batches of sauce left. I wrote the recipe to reflect that you could eat 3 batches using 9 eggs total and all of the sauce. The nutrition per serving is:
396 cals / 27g fat / 8.5g carbs / 1.1g fiber / 28.8g protein / 7.4g net carbs
Low Carb Sausage and Egg Noodles
These low carb sausage and egg noodles and a fun and tasty dish. Noodles made from eggs and tasty tomato and sausage topping.
Ingredients
1 ½

cups

of grape tomatoes

1

teaspoon

crushed garlic

2

Italian sausage links

casings removed

1

teaspoon

of Italian spices

9

eggs

salt and pepper to taste
Instructions
Spray a small fry pan with cooking spray and set to medium heat.

On another burner, spray another fry pan with cooking spray and set the heat to medium.

Beat 1 egg and add to the small fry pan. Tilt the pan to make sure the egg is evenly distributed.

When the egg is almost done, flip it over into the other fry pan.This is the easiest method I've found to make the egg crepes. You can also just flip them in the same pan if you want.

Let the egg cook for about 1 minute more and then slide the cooked egg onto a piece of wax paper. Repeat above steps for the remaining 8 eggs. One at a time.

When egg crepes are cool enough to touch, place on a cutting board and carefully cut into strips or noodles.

In a saute pan, brown your sausages for a few minutes. When there is just a little pink left, add your tomatoes, garlic and Italian seasoning.

Turn to medium low, cover and cook for 3-5 minutes.

Mix well and turn off the heat.

Top your egg noodles with the sausage mixture.

This recipe will make 3 servings of noodles and sausage. Each serving will have 3 egg crepes worth of noodles and ⅓ of the sausage mixture.

396 cals / 27g fat / 8.5g carbs / 1.1g fiber / 28.8g protein / 7.4g net carbs