This tasty low carb taco soup is great to have on hand when on a keto diet. Healthy veggies, seasoned ground beef all in an a tasty Mexican flavored broth. You can make this tasty keto soup in just 30 minutes and it freezes great! Only 5.4g net carbs per serving.
You might also like this low carb creamy chicken & spinach soup.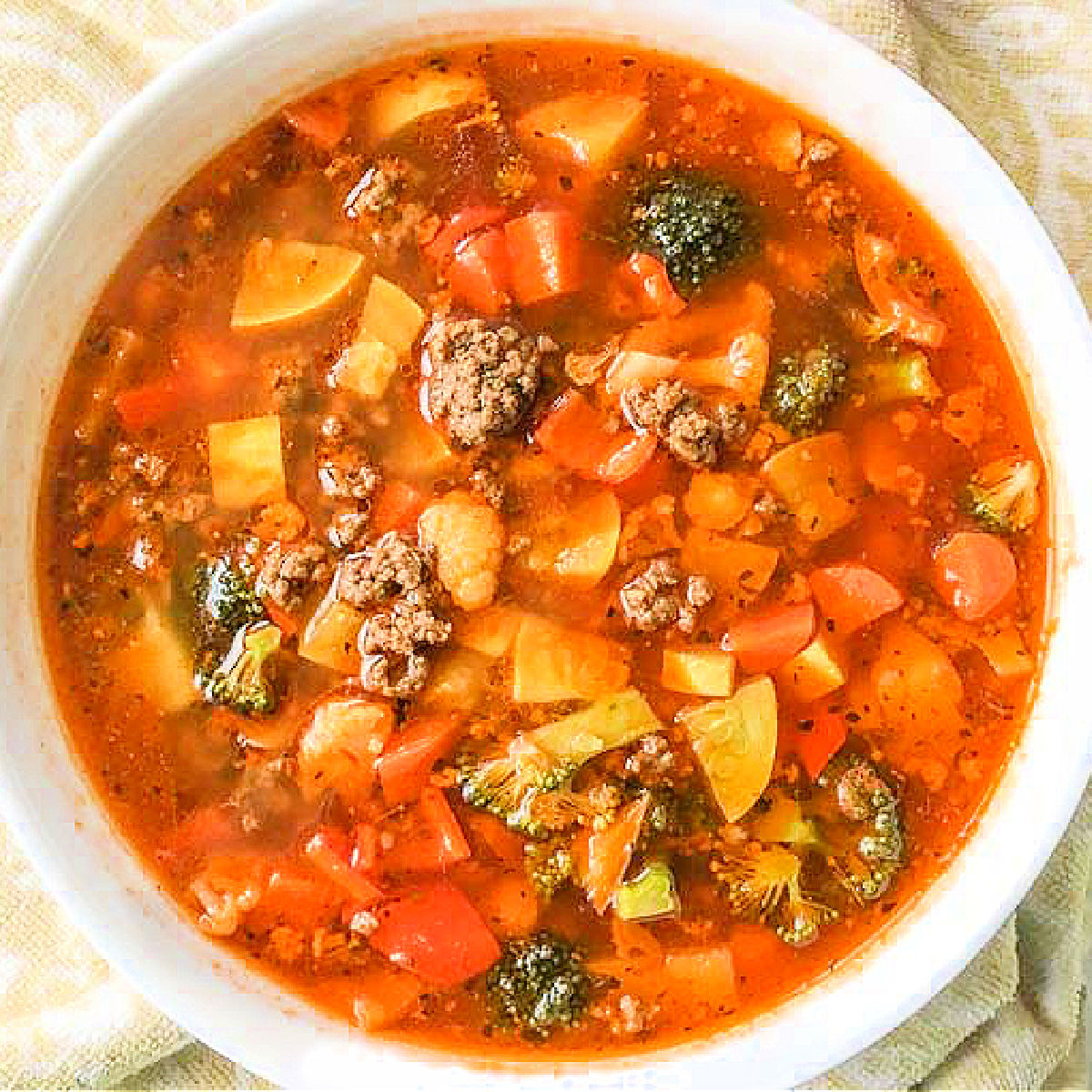 I really like to eat bowl of soup in the winter time. It's warm, filling and easy to make. I have SO many low carb soup recipes on the site but this is one I throw together all the time. This is keto comfort food to me!
This tasty low carb taco soup recipe is full of flavor with all the taco seasonings and spices, healthy vegetables and ground beef and it takes less than 30 minutes. It also freezes well so you can have it on hand for a quick low carb lunch or dinner.
Best of all each serving is only 5.4g net carbs and is very filling and satisfying. Perfect for cold weather, you can make this soup and add a green salad for a healthy and delicious quick meal on a busy weeknight.
Recipe ingredients I used.
This hamburger soup has all the flavors of a taco but it's also full of vegetables in a savory broth. I wanted to make this low carb taco soup with no cream cheese because sometimes it separates and I think this way it freezes better.
So the simple ingredients I used are lean ground beef, Mexican spices, carrots, garlic, broth, zucchini, broccoli, sweet bell pepper and cauliflower. I used my own blend of spices to make a lower carb homemade taco seasoning. If you don't care about the carb count you can use a packet of taco seasoning.
For more depth of flavor I used beef flavored Better than Bouillon and tomato paste. I highly recommend the bouillon but if you don't have it you can use regular beef bouillon.
I also used beef broth but you can also use beef stock or even vegetable stock or broth. And if you don't care about carbs you can also use black beans, kidney beans, canned tomatoes with green chiles and or corn in this recipe.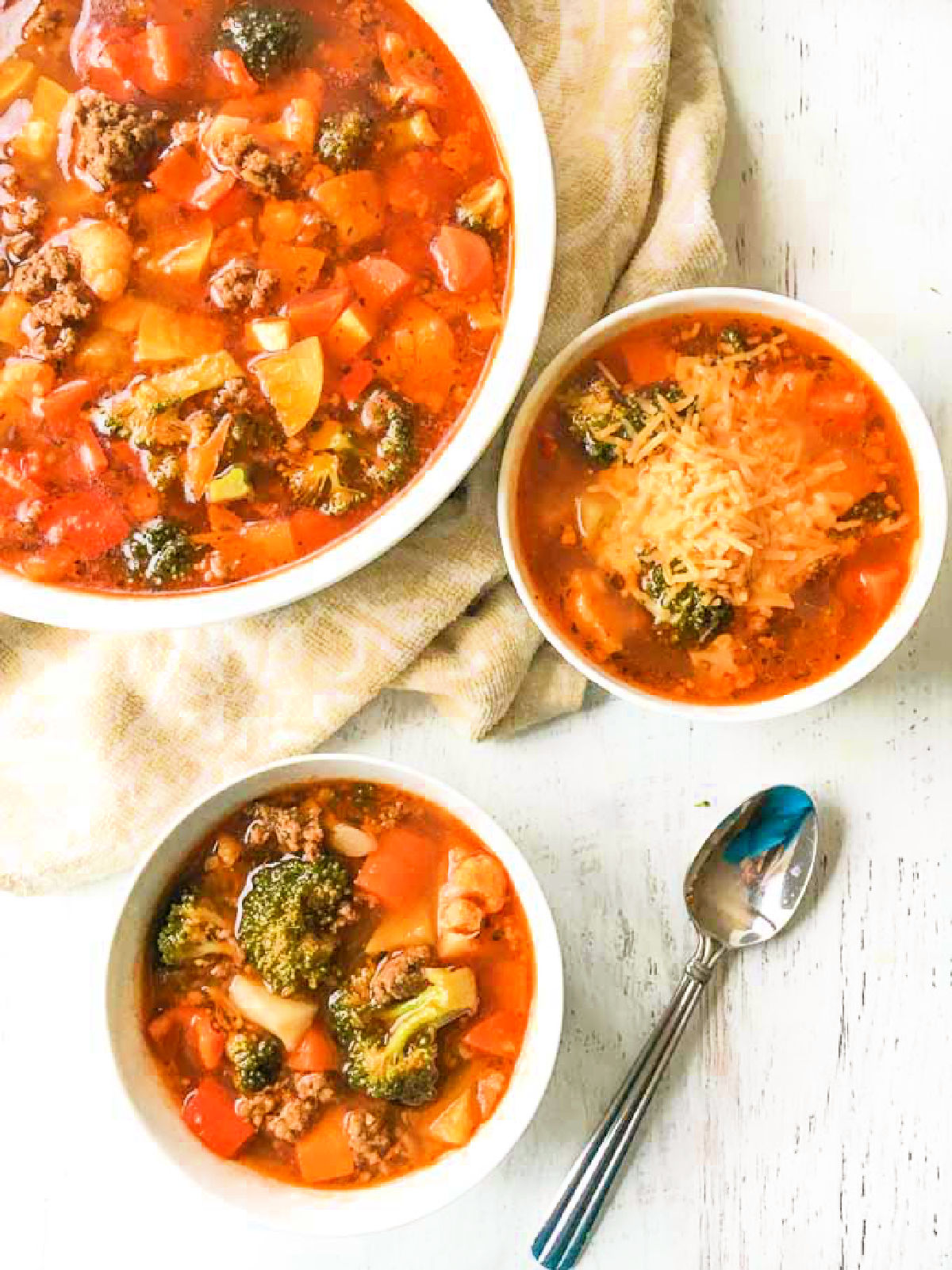 How to make this low carb taco soup recipe.
Get out a large soup pot and heat to medium high heat. Add the olive oil and turn the heat down to medium heat.
Add the ground beef and break up with a spoon. Sprinkle all the spices and seasonings over the meat and brown it. I use a lean ground meat but if you use fattier one you might want to drain the excess grease before moving to the next step.
In the meantime chop up all the vegetables you are using. Once the ground beef has browned add the vegetables.
Mix the water with the Better than Bouillon and tomato paste. Pour into the pot along with the beef stock and crushed garlic.
Mix well and let come simmer. Cook for about 15 minutes until the vegetables are fork tender. Turn off the heat and let sit to cool down.
Ladle into soup bowls and garlic with shredded cheese, sour cream, cilantro or your favorite taco toppings if you want or eat as is.
Let cool completely before storing leftovers in an airtight container. Please scroll down to view the printable recipe card.
While I made this in a pot on the stove you could make this in a slow cooker or crock pot. You would just want to add the vegetables about halfway through so they don't get soggy. But because it takes so little time I don't see the benefit of using a slow cooker.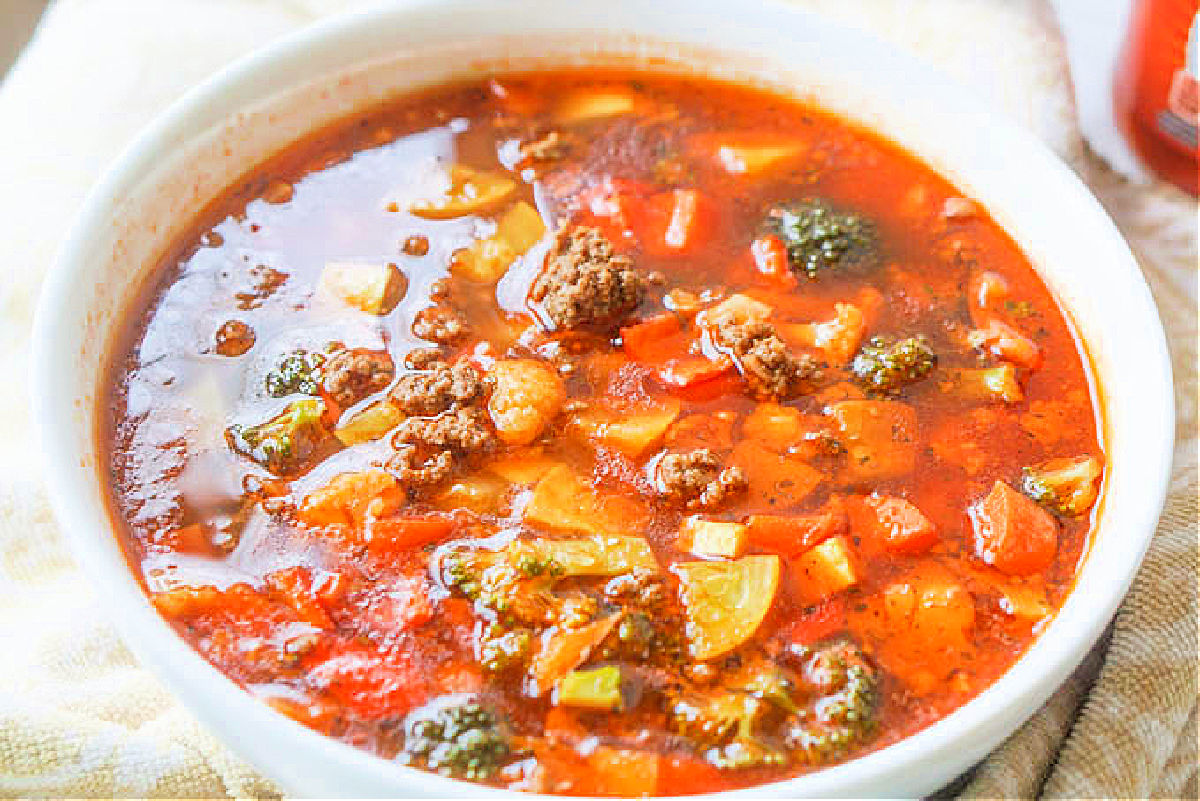 Ways to change up this recipe.
You can really garnish this soup with just about anything you would a taco. We just eat it as is or with some shredded cheddar cheese in each bowl. You can also try other cheeses like Monterey pepper jack, Mexican blend cheese, or even queso blanco.
Some optional toppings to try are sour cream, green onions, avocado slices, fresh cilantro leaves, sliced black olives, hot sauce, pickled or fresh jalapeno slices, etc.
You can try using different proteins like chorizo, ground turkey, ground chicken or chopped chicken in this dish. You can also substitute Italian sausage and seasonings to create an Italian flavored soup.
More delicious keto soup recipes to try.
I have SO MANY keto soup recipes on this blog because I just love soup in the cold weather. My family really loves them too. Here are few of my favorite recipes.
Check out all of my soup recipes here. I have over 50 recipes!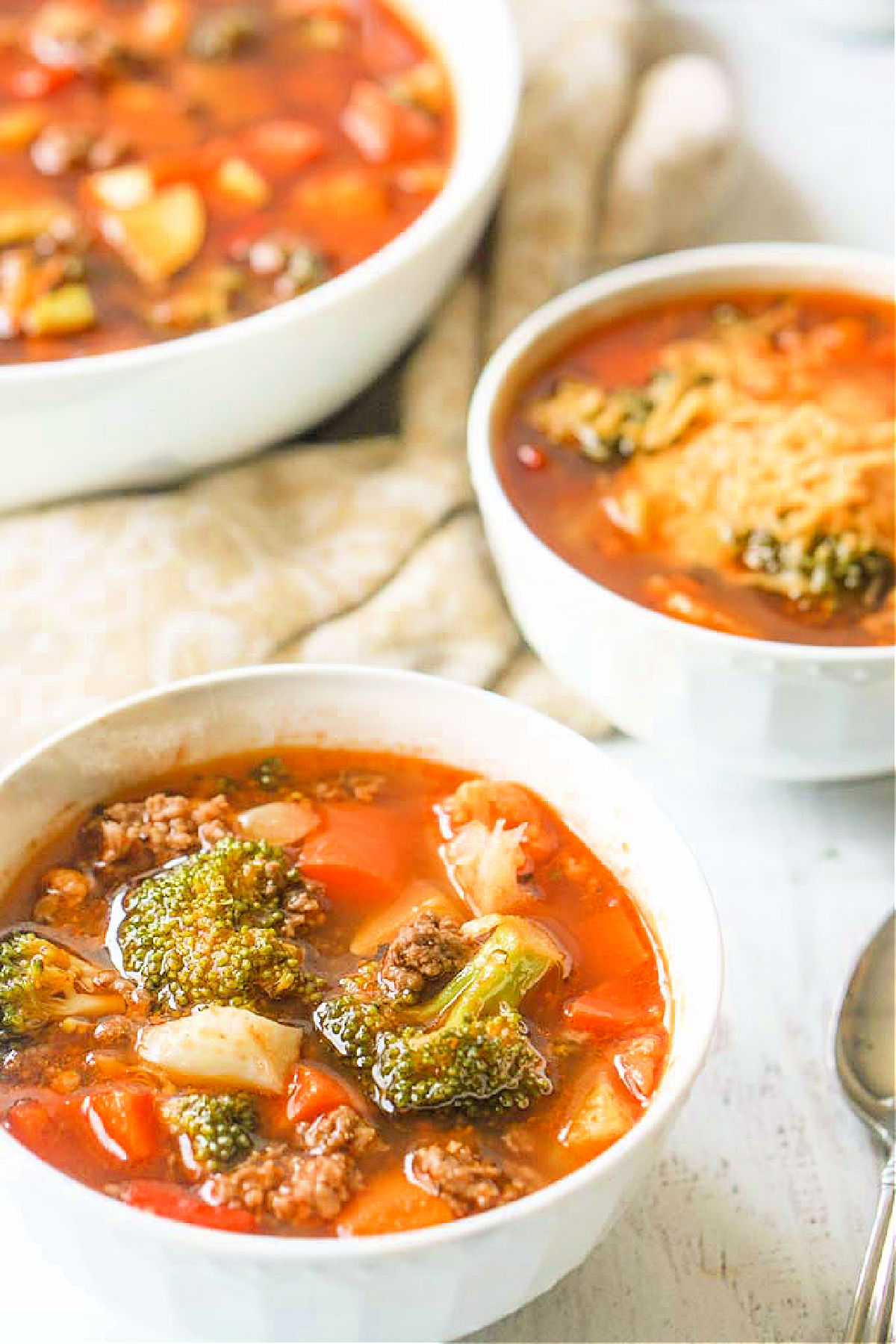 How many carbs in a bowl of keto taco soup?
This low carb soup is also pretty high in protein and the big pot of soup makes about 8 servings.
Each serving is around 1 ½ cups and has the following nutritional information: 258 calories / 15.7g fat / 7.9g carbs / 2.5g fiber / 22g protein = 5.4g net carbs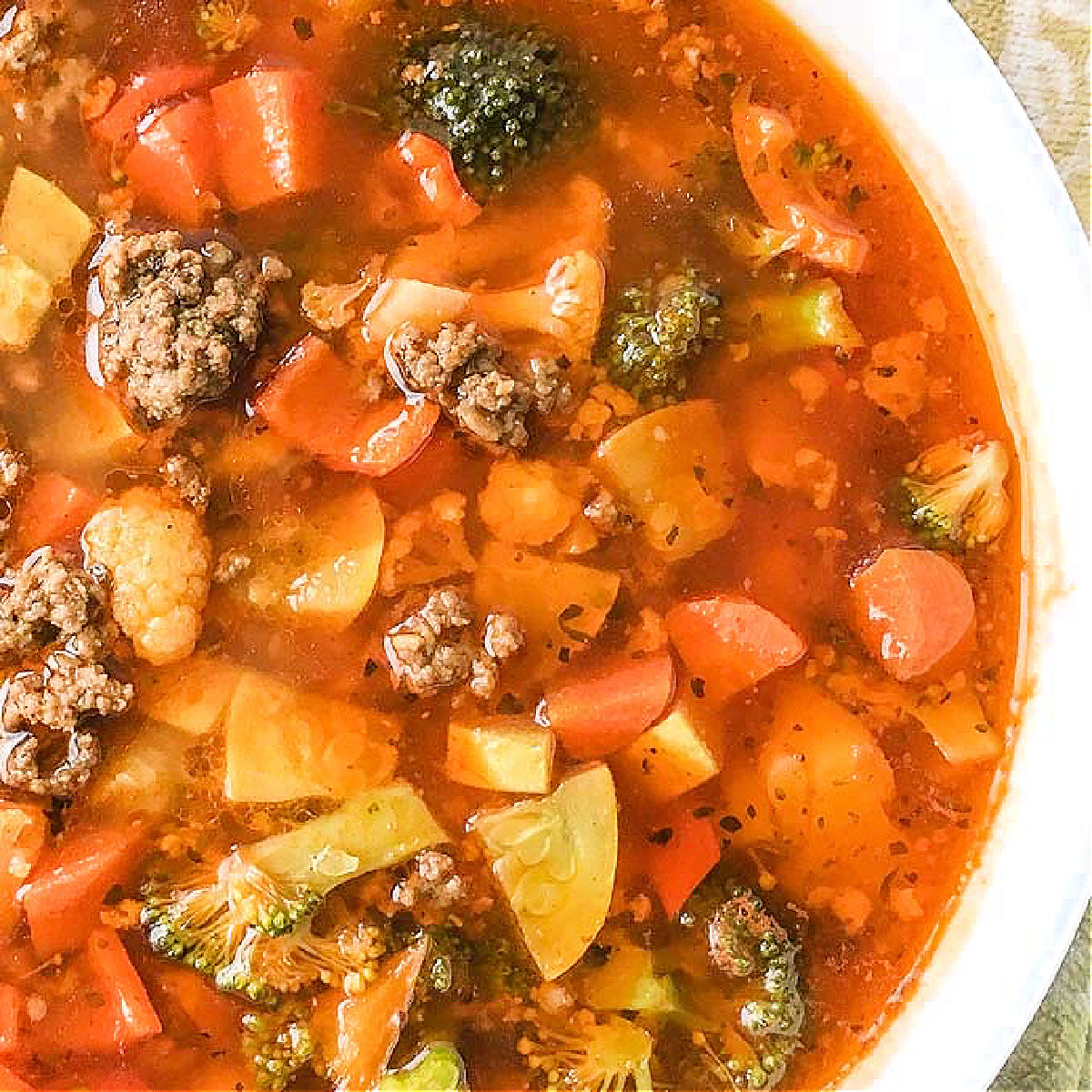 As I mentioned above this is one of my go to soups for meal prep. Sometimes I just use whatever frozen vegetables I have on hand and make this keto taco soup recipe. It's really full of flavor and great to have on hand in the freezer for busy weeknight meals. I hope you like it as much as I do!
For more great Mexican flavor, try my friend Taryn's keto chicken tortilla soup recipe.
Tasty Low Carb Taco Soup Recipe
This tasty low carb taco soup is great to have on hand when dieting. Easy to make in just 30 minutes and freezes great! Only 5.4g net carbs per serving.
Ingredients
1 pound ground beef, lean
1 tablespoon olive oil
1 tablespoon chili powder
1 teaspoon Italian seasonings
2 teaspoon cumin
1 teaspoon garlic powder
1 teaspoon onion powder
2 teaspoons paprika
32 ounces water
1 teaspoon Better Than Bouillon (beef flavored)
4 tablespoons tomato paste
1 cup zucchini, chopped
1 cup cauliflower florets
½ cup bell peppers, chopped
1 cup carrots, chopped
1 cup broccoli florets
2 cloves garlic, crushed
32 ounces beef broth
1 cup cheddar cheese (optional)
salt and black pepper, optional
Instructions
In a large soup pot, heat the oil up over medium high heat. Add the ground beef and break up with a spoon. Turn the heat down to medium heat.
Sprinkle the Italian seasonings, garlic powder onion powder, paprika, cumin and chili powder and mix well. If you have excess grease drain it before adding the rest of the ingredients.
Meanwhile whisk the water, Better than Bouillon and tomato paste together and then add to the pot when the meat has just browned.
Add in the vegetables, beef broth and crushed garlic. Mix well and simmer for about 15 minutes or until vegetables have soften. Taste and if you want to season with a little salt and black pepper you can do it now.
Take off the heat and let cool before serving. You can garnish with your favorite taco toppings like cheddar cheese, sour cream, cilantro, sliced black olives, pickled jalapeno peppers, hot sauce, etc. However it tastes very good as is.
Nutrition Information:
Yield:

8
Serving Size:

1
Amount Per Serving:
Calories:

258
Unsaturated Fat:

0g