This keto Jambalaya soup recipe is a delicious combination of shrimp, chicken, kielbasa and vegetables in a spicy tomato based broth. Eat as is for a hearty low carb soup or over rice for a tasty meal. And there is only 164 calories and 5.9g net carbs per serving!
You might also like this easy & hearty kielbasa vegetable soup!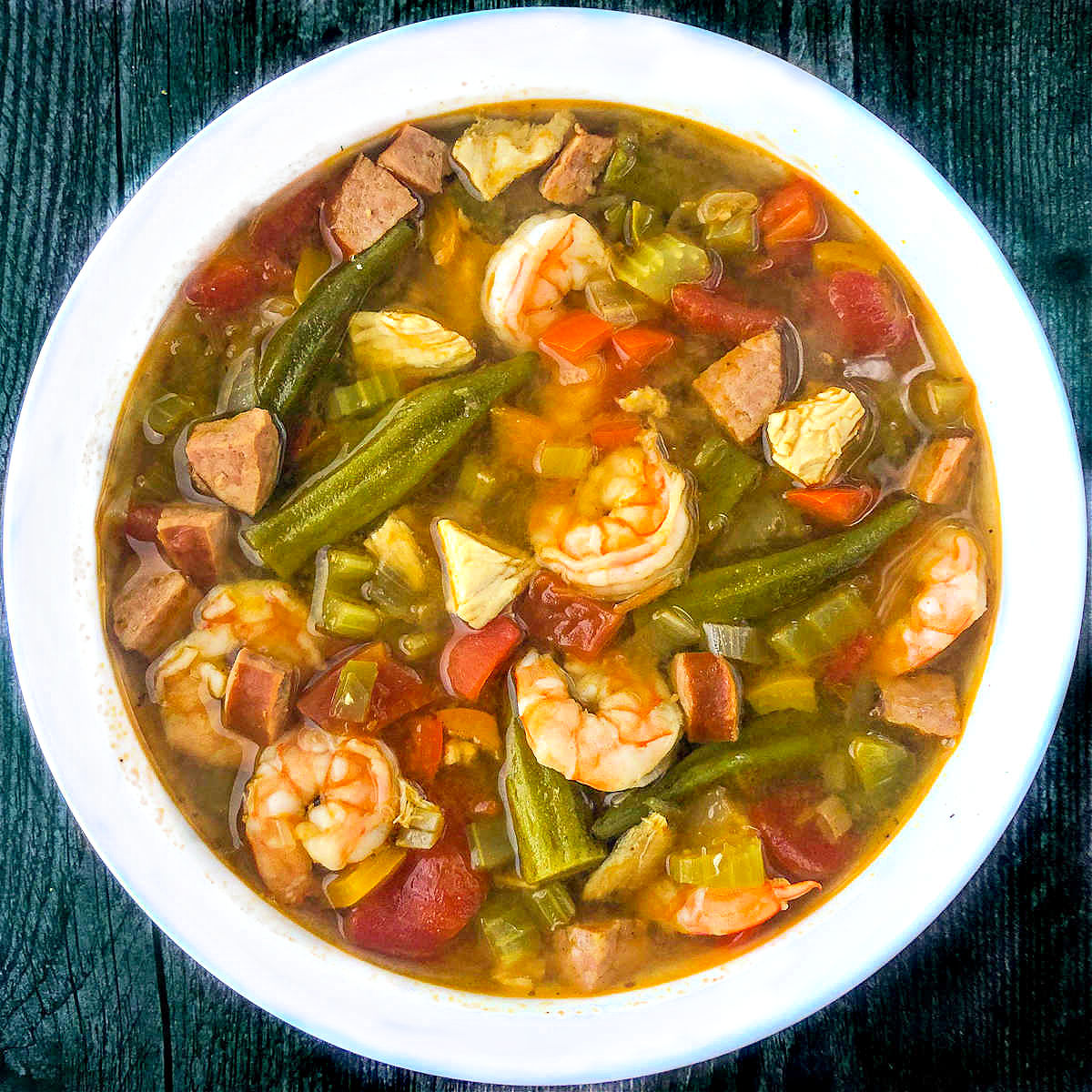 Jambalaya is a great comfort food to have on a cold day. My husband loves a jambalaya which typically has rice in it and is more like a meat and rice dish. However since I wanted to make this a keto friendly meal, I skipped the rice and made this into a one pot keto Jambalaya soup recipe.
It has all the flavors of a traditional jambalaya but it's more of a very hearty soup. One nice thing about this recipe is that I usually have a lot of the ingredients frozen or in the pantry.
I keep shrimp, kielbasa and okra in the freezer and you can always find a bag of petite sweet bell peppers in my fridge.So this comforting dish is easy for me to make and super tasty. It has just 164 calories, 5.9g net carbs and 15.5g protein per cup so it's low calorie, low carb and high in protein! Winner, winner, soup for dinner.
I love soup and I have many, many soups on this blog. If you want more soup recipes (90% of which are low carb) click here 50 soup and stew recipes.
I love soup in the winter because it's warming and it's great when you are on a diet because it really fills you up. It takes longer to eat and the warming liquid fills you up faster.
Recipe ingredients I used.
This soup is full of veggies (celery, onion, colored and green bell pepper, canned tomatoes and frozen okra) and meats (shrimp, kielbasa and cooked chicken). For the broth I used chicken broth and Better than Bouillon chicken base, garlic and cajun spice mix.
I used already cooked chicken breast because I keep that in my freezer for recipes like this. Sometimes I also buy a rotisserie chicken and freeze the meat. That being said you could use raw, skinless chicken thighs or chicken breasts if you want. Just add them at the being of the recipe so they cook through.
I usually have frozen shrimp on hand that I buy at Aldi and kielbasa too because it adds lots of flavor to dishes and last long in the refrigerator.
You could substitute a good flavored sausage like Andouille sausage for the kielbasa and regular bouillon if you don't have Better than Bouillon base. However I would keep the rest to the same as it all adds to the flavor of the recipe.
How to make keto jambalaya soup.
Step 1: You start by adding some olive oil to a large soup pot or cast iron dutch oven and heat to medium high heat. Add the celery, onion and bell pepper and saute them for 3-5 minutes then turn down the heat to medium heat.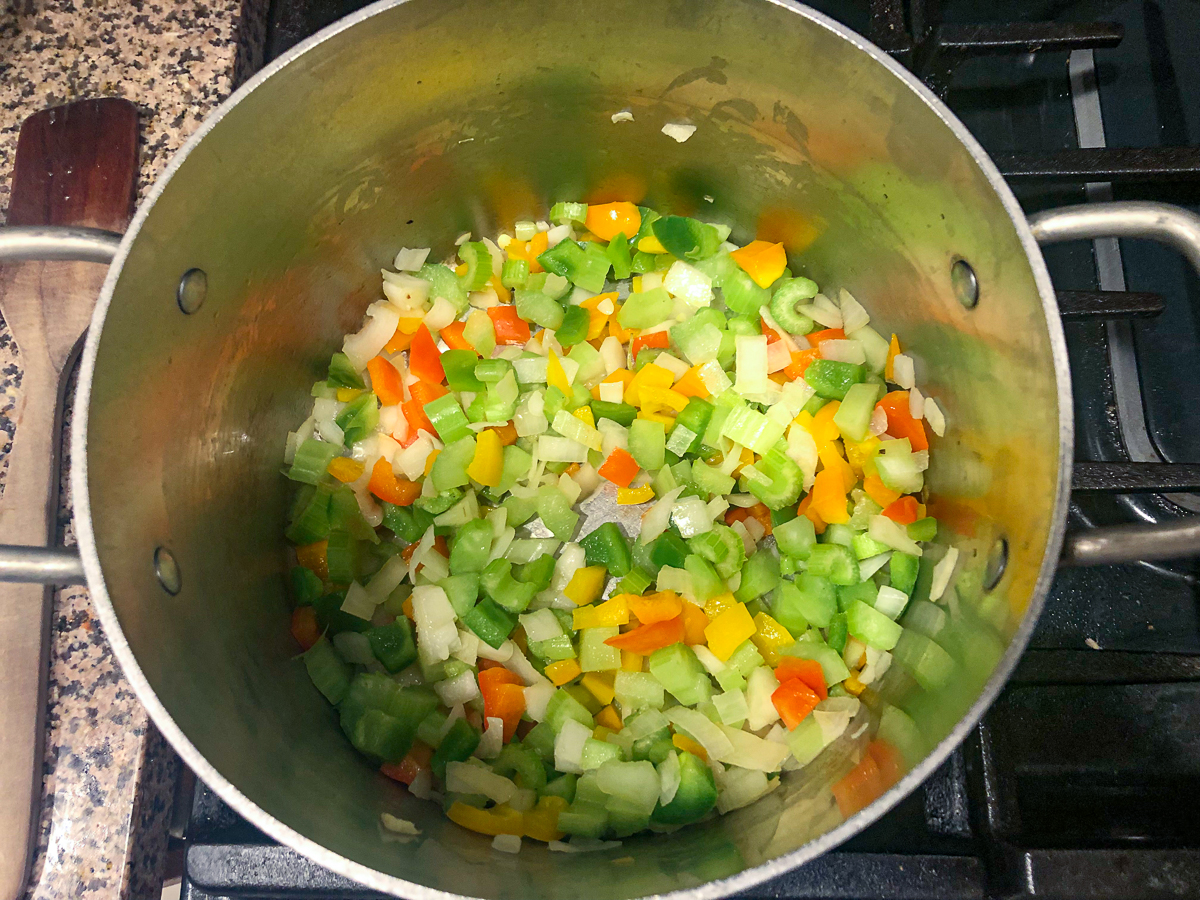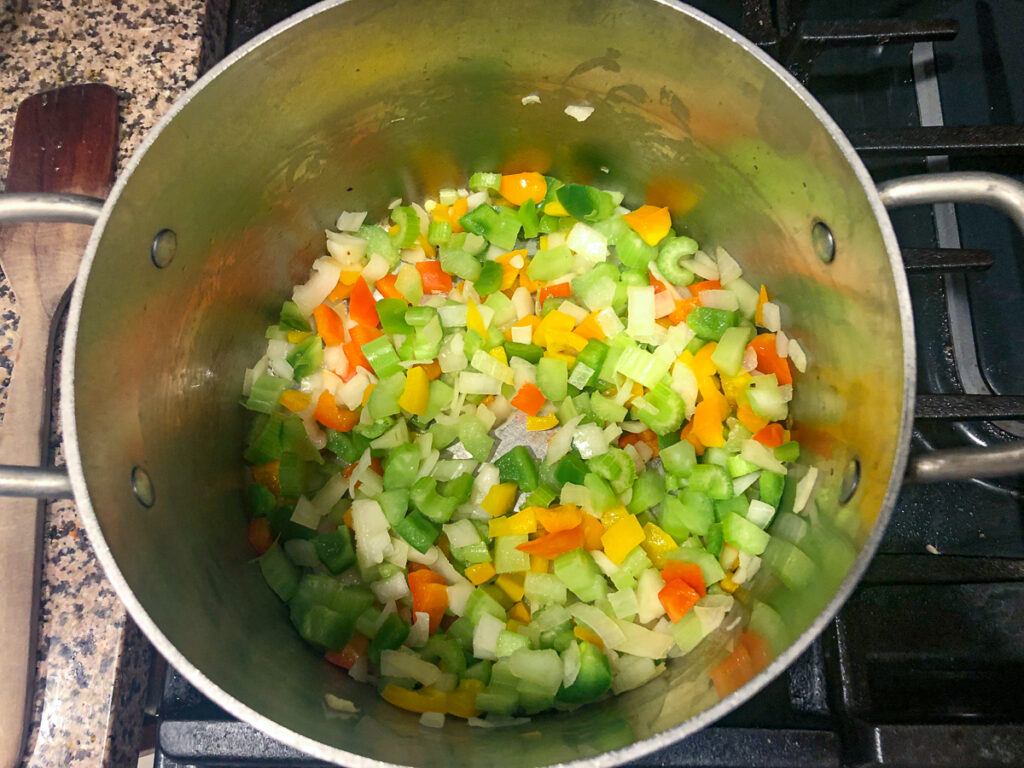 Step 2: Once the vegetables start to soften, I like to add the garlic and cajun spice and coat the veggies. Next I add in the chicken stock or broth and Better than Bouillon.
I talk about this all the time, but Better than Bouillon chicken base really adds flavor to your soup.
Step 3: Next add the canned tomatoes, frozen okra and kielbasa and mix everything well and let simmer until the vegetables have softened (about 5-7 minutes).
Step 4: Lastly add in the raw shrimp and cooked chicken pieces. Let it simmer for a while until the shrimp turns pink and you are done. This should take another 5 minutes or so. Cooking time may vary. (Please scroll down for the printable recipe card.)
The result is a very hearty and flavorful soup or even stew. You could definitely eat this for dinner.
How to serve this hearty but low calorie soup.
Many people like to serve jambalaya in a large bowl and add a mound of cooked white rice in the middle. You can definitely do this and it would be even more filling.
However if you are on a low carb or keto diet you could use cauliflower rice instead. But honestly you don't need it. It's so filling the cauliflower rice would not add much to it.
More jambalaya inspired recipes to try.
If you like this flavor combination of spices, veggies, shrimp, sausage and chicken try one of these other jambalaya inspired recipes.
I hope you enjoy this spicy, warming low carb jambalaya recipe. If you are a fan of cajun food or Jambalaya I know that you will love this! Especially if you are on a low carb or low calorie diet.
The nutritional values for 1 serving of keto jambalaya soup is:
164 calories / 8.9g fat / 7.1g carbs / 1.2g fiber / 15.5g protein = 5.9g net carbs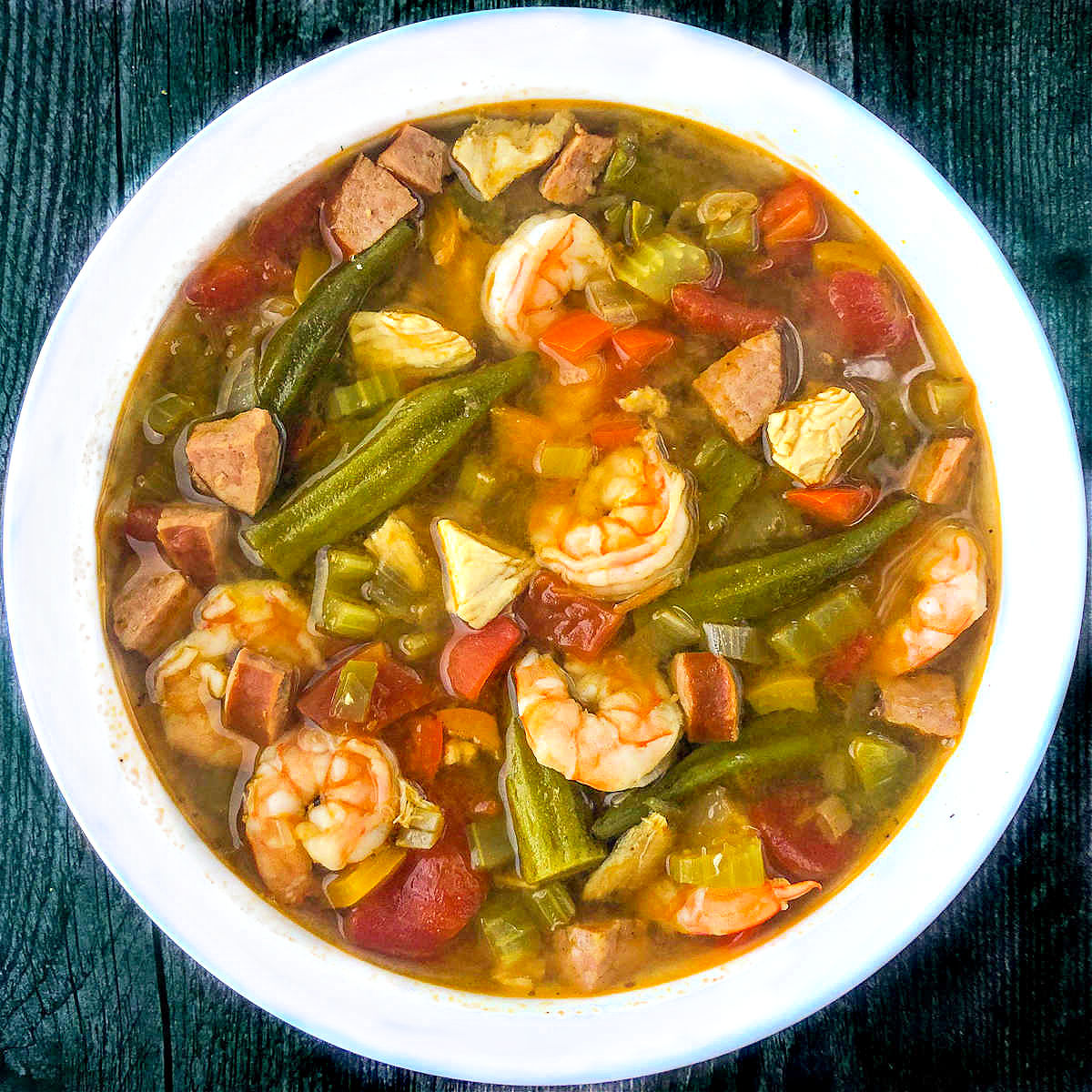 Keto Jambalaya Soup Recipe
This amazing keto jambalaya soup is a delicious combination of shrimp, chicken, kielbasa and vegetables in a spicy tomato based broth. Eat as is for a low carb soup or over rice for a tasty meal.
Ingredients
1 tablespoon olive oil
1 cup onion, diced
2 stalks celery, diced, chopped
1 cup sweet bell peppers, chopped
6 cups chicken broth or stock
¾ cup diced tomatoes (canned)
2 cloves garlic, crushed
12 oz shrimp, raw and peeled
6 oz kielbasa, chopped
1 cup chicken breast, cooked and chopped
6 oz okra
2 tablespoons cajun seasoning
1 teaspoon Better than Bouillon chicken base (optional)
Instructions
Heat up a large pan or dutch oven to medium heat. Add olive oil, onions, celery and peppers and sauté for a few minutes until softened a bit.
Add the garlic and cajun seasonoings to the veggies and mix well to coat them. Then pour in the broth, bouillon (if using), tomatoes, kielbas and okra. Usually the cajun seasoning has enough salt but if not you can also season with salt and black pepper. Simmer for 5-10 minutes or so until the veggies are cooked through and tender.
Next add the shrimp and cooked chicken and cook for 5 minutes more.
Taste and adjust seasoning if necessary. You can also add some hot sauce to the whole pot or just do it to your individual bowls to control the heat. The cajun seasoning usually has cayenne pepper in it and adds heat too so keep that in mind.
Let cool a few minutes before serving. If you want, you can serve this soup in a large bowl with a mound of cooked rice in the middle. However if you are on a low carb diet you can use riced cauliflower or skip the rice and eat it as is. That is what we do.
Notes
164 cals / 8.9g fat / 7.1g carbs / 1.2g fiber / 15.5g protein = 5.9g net carbs
Nutrition Information:
Yield:

8
Serving Size:

1 grams
Amount Per Serving:
Calories:

164
Unsaturated Fat:

0g