This low carb Jambalaya soup is a delicious combination of shrimp, chicken, sausage and vegetables in a spicy tomato based broth. Eat as is for a low carb, Paleo soup or over rice for a tasty meal.
Jambalaya is a great meal to have on a cold day. My husband loves jambalaya which is typically has rice in it and is more like a meat and rice dish. However since I did not want to add rice to keep the carbs down, I made this into a low carb Jambalaya soup. It has all the flavors of a traditional jambalaya but is well … more of a soup. One nice thing about this recipe is that I usually have a lot of the ingredients frozen or in the pantry. I keep shrimp, kielbasa and okra in the freezer and you can always find a bag of petite sweet bell peppers in my fridge. So this soup is a breeze to make and SO tasty and only 6.2g net carbs per serving.
I love soup and I have many, many soups on this blog. If you want more soup recipes (most of which are low carb) click here for 26 soup and stew recipes. I love soup in the winter because it's warming and it's great when you are on a diet because it really fills you up. It takes longer to eat and the warming liquid fills you up faster. This soup is very hearty. As you can see above, I didn't use much broth (that's how I like it) but there is plenty of broth (see below) if that's the way you like it. It's filled with vegetables like onions, peppers, celery and tomatoes. And the protein consists of shrimp, chicken and kielbasa and all of this is simmering a spicy cajun tomato broth.
Low Carb Jambalaya Recipe
You start by sautéing the vegetables in a large stock pan. I love my Le Creuset look alike dutch oven I got at Aldi. It's perfect for dishes like this. Once the vegetables start to soften, I like to add the garlic and spices and coat the veggies. Next I add in the broth and Better than Bouillon. I talk about this all the time, but this stuff really adds flavor to your soup. Once you start using it you won't want to stop. However if you don't have it that's fine. The tomatoes and tomato paste go in with the broth and mix everything well before adding in the raw shrimp, kielbasa and chicken. Let it simmer for a while and you are done.
Soup Recipe In A Nutshell
saute onions, peppers and celery until softened
add spices and mix well
pour in broth, bouillon, tomatoes and paste and mix well
add in shrimp and kielbasa and cook for a few minutes
lastly add in chicken and cook for about 5 minutes more
You can add a mound of rice in the bowl if you like or even cauliflower rice. I like to eat it as is to keep the carbs down and quite honestly it doesn't need it in my opinion. I hope you enjoy this spicy, warming low carb soup. If you are a fan of cajun food or Jambalaya I know that you will love this! The nutritional information for 1 serving is:
170 cals / 8.8g fat / 8.4g carbs / 1.2g fiber / 15.7g protein = 6.2g net carbs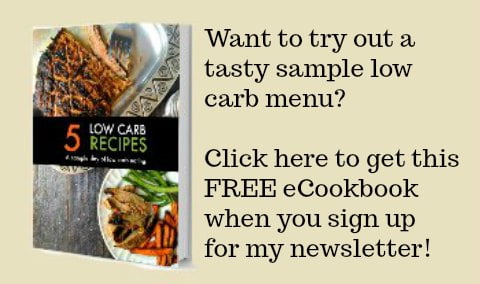 Low Carb Jambalaya
This low carb Jambalaya is a delicious combination of shrimp, chicken, sausage and vegetables in a spicy tomato based broth. Eat as is for a Paleo soup or over rice for a tasty meal.
Ingredients
1

Tablespoon

olive oil

1

cup

onion, diced

2

stalks celery, diced

chopped

1

cup

bell peppers, chopped

I like to use a combo of colors .

6

cups

chicken broth or stock

(You can use a mixture of broth and water too)

3/4

cup

can diced tomatoes

1

teaspoon

crushed garlic

2

bay leaves

12

oz

shrimp, raw and peeled

6

oz

kielbasa, chopped

1

cup

chicken breast, cooked and chopped

6

oz

okra

2

Tablespoons

cajun seasoning

1

teaspoon

Better than Bouillon (optional)
Instructions
In a stockpot, add olive oil, onions, celery and peppers and sauté for a few minutes.

Add broth, bouillon (if using), tomatoes, garlic, bay leaves, cajun seasoning, okra and salt and pepper. Cook until the veggies just start to get soft.

Add kielbasa pieces and cook for about 10 minutes.

Next add the shrimp and chicken and cook for about 5 minutes.

Taste and adjust seasoning if necessary. You can add the hot sauce to the whole pot or just do it to your individual bowls to control the heat. The cajun seasoning adds heat too so keep that in mind.