This low carb gyro burger is not only delicious, it's a lot of fun to eat. Skip the pita, have a meat bagel instead.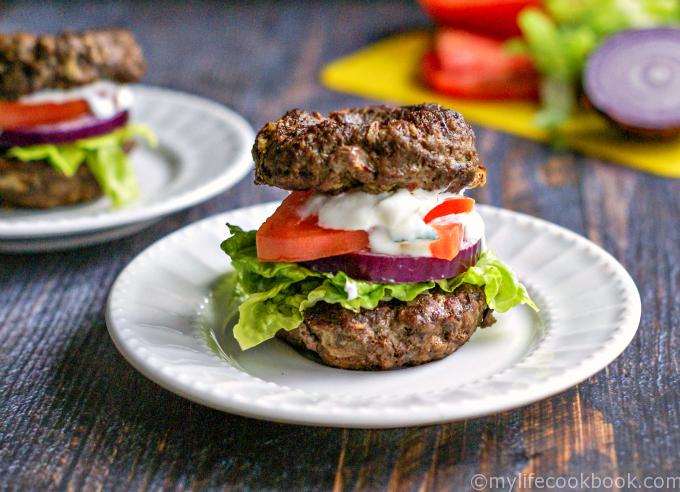 I love gyros. I love the garlicky, spicy meat with the cool, creamy sauce and the crisp vegetables in between. However in my constant attempt to eat less bread I decided to make a variation of this yummy Greek dish. I eliminated the pita and made an inside out gyro of sorts. I have a donut pan that I want to use more often so I thought I'd use it with this experiment. It was really easy and quite tasty so if you like gyros but want to limit your carb intake, this gyro burger is way to go.
The Bun-Less Gyro Burger Idea
I saw the idea for a meat bagel on Carol's blog, Ditch the Wheat and thought it was an absolutely genius idea. Carol has a new cookbook coming out
February 23 and I'm really excited to see what other great dishes she's come up with! Click on the photo and you can check it out on Amazon (affiliate links).
Now for the recipe. I used ground beef but I'm sure ground lamb would be better as that is what gyros are really supposed to be. However I do not have easy access to ground lamb and I felt the beef was fine. I used some tasty spices like garlic, rosemary and marjoram and pressed the meat into the donut pan as shown below. A note on the donut pan
: I'm not sure if I got this on Amazon
or at Target but it's a handy tool to have. It's a nice way to bake donuts or bagels instead of frying. So far I've only made Blueberry Paleo Bagels but I hope to make more things with it.
When they came out of the oven, there was grease and liquid on the bottom of the meat bagels so I took them out and put them under the broiler for a minute to brown them. Carol made hers without the donut pan by making them into a donut shape, baking and then slicing. Either way you get a tasty meat bagel!
The tzatziki sauce is essentially just Greek yogurt, cucumbers, garlic and mint. It's the perfect topping to go with the meat. Lastly we like lettuce, tomato and onion on our gyros but you can use what you like.
Low Carb Gyro Burger
Well this was a really fun and successful experiment. I hope you like them as much as I did. I wish I had made more and froze the meat bagels but I ate them all. By the way, the half bagels that come out of the pan are rather small but you are eating two of them so it's really quite a bit of meat. So 1 pound of meat made 6 halves or 3 gyros. A third pound of meat is a lot so keep that in mind when making. Enjoy!
Nutrition For 2 Gyro Patties
409 cal / 30.4g fat / 5.6g carbs / 1.3g fiber / 26.9 g protein net carbs = 4.3g
1 T tzatziki sauce: 21 cal / 1.4g fat / 1.0g carbs / 0.1g fiber / 1.4g protein net carbs = 0.9g
---
Low Carb Gyro Burger
This low carb gyro burger is not only delicious, it's a lot of fun to eat. Skip the pita, have a meat bagel instead.
Ingredients
Gyro Burger

1

lb

ground beef

½

onion minced

4

cloves

garlic

2

teaspoons

rosemary

ground

2

teaspoons

marjoram

1

teaspoon

salt

½

teaspoon

pepper

3

slices

each tomatoes

red onion, lettuce leaves

Tzatziki Sauce

1

cup

Greek yogurt

½

seedless cucumber

chopped

1

teaspoon

garlic

crushed

½

Tablespoon

olive oil

2

Tablespoons

fresh mint

finely chopped

1

Tablespoon

vinegar
Instructions
Tzatziki Sauce

In a large bowl add your yogurt, cucumber, mint, garlic, vinegar, salt and oil.

Refrigerate until ready to use.

Gyro Burgers

Preheat oven to 400 degrees and spray donut pan with cooking spray.

In a large bowl, add your beef, onion, garlic, rosemary, marjoram, salt and pepper. Mix well with your hands. I chopped my onions and garlic in a food processor first.

Divide the meat into 6 portions and press the meat into the donut pan. Make sure they are nice and smooth.

Bake for 20 minutes, then take them out and place on a cookie sheet and stick under the broiler for 2-3 minutes or until they are nice and brown.

Assemble burger with a piece of lettuce, a slice of tomato and a slice of red onion. Top with a tablespoon of Tzatziki sauce. Add the top burger and enjoy!
This post may contain affiliate links. For more information please visit our policies page.
---