This keto meatball stroganoff is a delicious dish to top zucchini noodles. Creamy mushroom sauce over beefy meatballs makes for a delicious and easy keto weeknight meal. You can even eat this dish as is or as a low carb appetizer. This is keto comfort food that your family will love with only 0.9g net carbs per meatball!
You might also like this low carb lasagna recipe!
I was craving beef stroganoff the other day. I don't know why because I have never made traditional beef stroganoff but it looks so good with that creamy sauce. Well all I had was ground beef so I thought up this keto meatball stroganoff.
Last couple of weeks it was cauliflower rice dishes and this week it's zucchini noodles. I have no complaints about zucchini noodles on a keto diet as long as the sauce is good and this beef stroganoff is good. It is very tasty and very easy to make.
Speaking of meatballs, recently I've written a post on my friend's blog Take Two Tapas. I made these savory reuben meatballs. They are not low carb but you can easily make them lower carb by not eating them with the little toasts and they were delicious!!! My husband and I ate these for dinner quite a few times but I think they would be great for a football party too.
Recipe ingredients I used.
There are just a few simple ingredients you need to make this recipe – lean ground beef, almond flour, parmesan cheese, garlic cloves, egg, salt, black pepper, onion powder, fresh mushrooms, sour cream and Beef Better than Bouillon.
Note that I use Better than Bouillon in lots of my recipes, especially soups. It adds a ton of flavor without many carbs. If you don't have this you can use regular beef bouillon cubes or beef stock. You might want to add additional salt or pepper though.
How to make keto meatball stroganoff.
Step 1: To make the meatballs get out a large mixing bowl and add the ground beef, almond flour, parmesan cheese, egg, onion powder and crushed garlic.
Mix together with a wooden spoon or get your hand in there and then form into meatballs and set on a plate. I got 24 good sized meatballs from this recipe.
Step 2: Get out a large pan or skillet and heat to high heat. Add the oil and when ready to brown the meatballs turn the heat down to medium heat. Brown them on all sides for about 5 minutes then take them out and set aside.
Step 3: Add the mushroom slices and brown them well which will take another 5 minutes. Then add a mixture of the Better than Bouillon mixed with water or beef broth if using to deglaze the pan. Whisk to get all the brown bits up from the pan.
Step 4: Add back the meatballs, cover and cook for 10 minutes. Take off the lid and then slow stir in the sour cream and that's all there is to it! If you want you can use some fresh parsley to garnish just for color.
Store leftovers in an airtight container. Please scroll down for the printable recipe card.
You can eat this with zucchini noodles, cabbage noodles, spaghetti squash or other keto noodles for a low carb dinner. Or if you don't care about carbs you can use egg noodles or other pasta. You can even try cauliflower rice or regular white rice.
To make the zucchini pasta, use a spiralizer, julienne vegetable peeler or regular vegetable peeler. You can make long, thick ribbons with just a regular veggie peeler.
Add to microwave safe bowl and cook for 1-3 minutes depending on how soft you like your noodles. Then just top with the meatball stroganoff and serve.
Other keto meatball recipes to try.
Meatballs make an easy and inexpensive substitute for regular cuts of meat in many meals. Here are a few of my favorite keto recipes that use meatballs.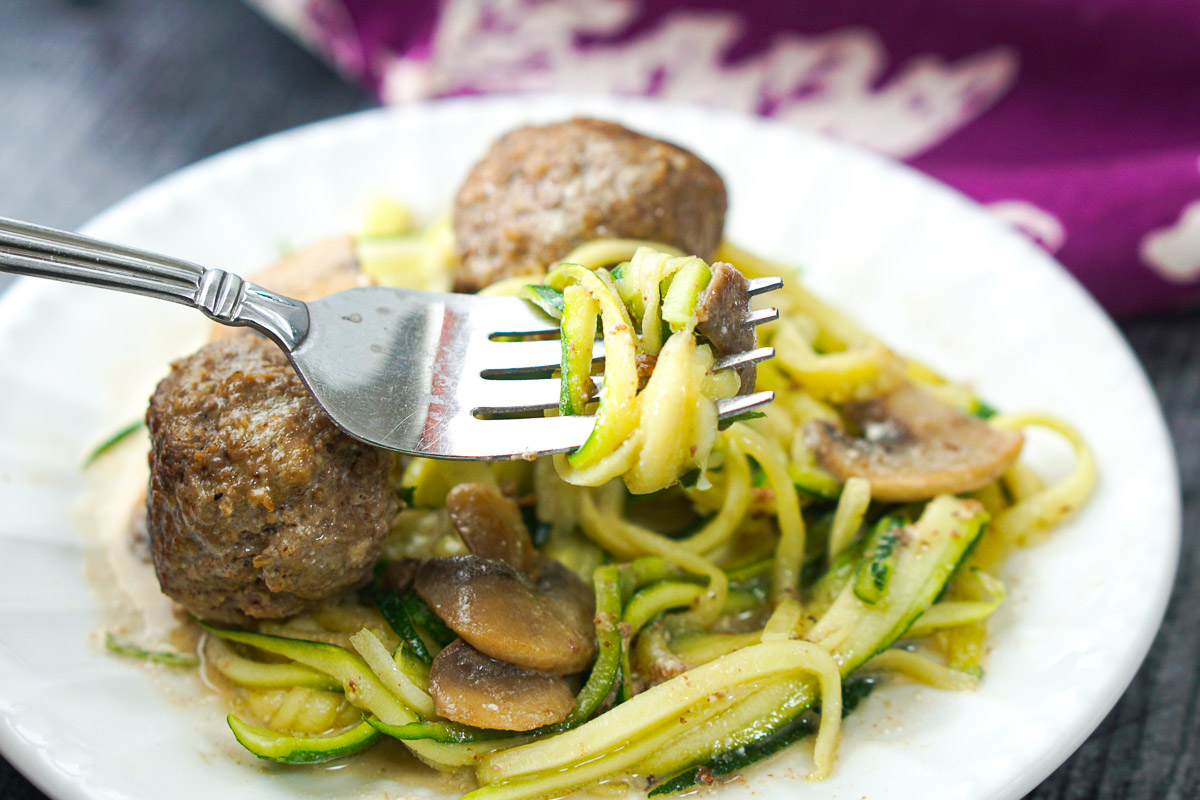 This is a very simple dish that you can adapt with just slices of beef in this keto beef stroganoff recipe or even with a slow cooker beef stroganoff roast. It's one of my favorite recipes to eat with zucchini noodles.
By the way, I think these would make a good appetizer too. I hope you enjoy it as much as we do.
The nutritional information for 1 meatballs is: 72 cals / 5.5g fat / 1.1g carbs / 0.2g fiber / 4.5g protein = 0.9g net carbs
Keto Meatball Stroganoff
This low carb beef stroganoff meatballs recipe is a delicious dish to top zucchini noodles. Creamy mushroom and sour cream sauce over beefy meatballs, you can even eat these as is or as an appetizer.
Ingredients
1 tablespoon olive oil
1 pound ground beef
2 tablespoons almond flour
2 tablespoons grated Parmesan cheese
1 egg
½ teaspoon salt
½ teaspoon onion powder
2 cloves garlic, crushed
¼ teaspoon black pepper
8 ounces fresh mushrooms, sliced
2 teaspoons Better than Bouillon beef base
1 cup water
½ cup sour cream
Instructions
To make the meatballs, mix ground beef, almond flour, egg, Parmesan cheese, salt, onion powder, pepper and garlic. Form into meatballs. This made 24 meatballs for me.
Heat up a large skillet to medium high heat. Pour oil into it and turn the heat down to medium heat and then brown the meatballs. When browned take out of pan and set aside.
Add mushrooms to the pan and brown. Once brown, add the Better than Bouillon mixed with water and deglaze pan. You can substitute 1 cup beef broth for the bouillon.
Place the meatballs back in pan, cover and cook for 10 minutes.
When meatballs are cooked, take off the stove and mix in sour cream.
Serve as is or over zucchini noodles. Store leftovers in an airtight container.
Nutrition Information:
Yield:

1
Serving Size:

1 meatball
Amount Per Serving:
Calories:

72
Unsaturated Fat:

0g