If you are looking for something to do with big zucchini from your garden, try these keto zucchini boats. They are stuffed with turkey meatballs, smothered in sauce and topped with gooey melty cheese. They are like a keto meatball sub sandwich using zucchini instead of bread! One serving has just 4.6 grams net carbs and 24 grams of protein.
You might also like this meatball stuffed spaghetti squash recipe.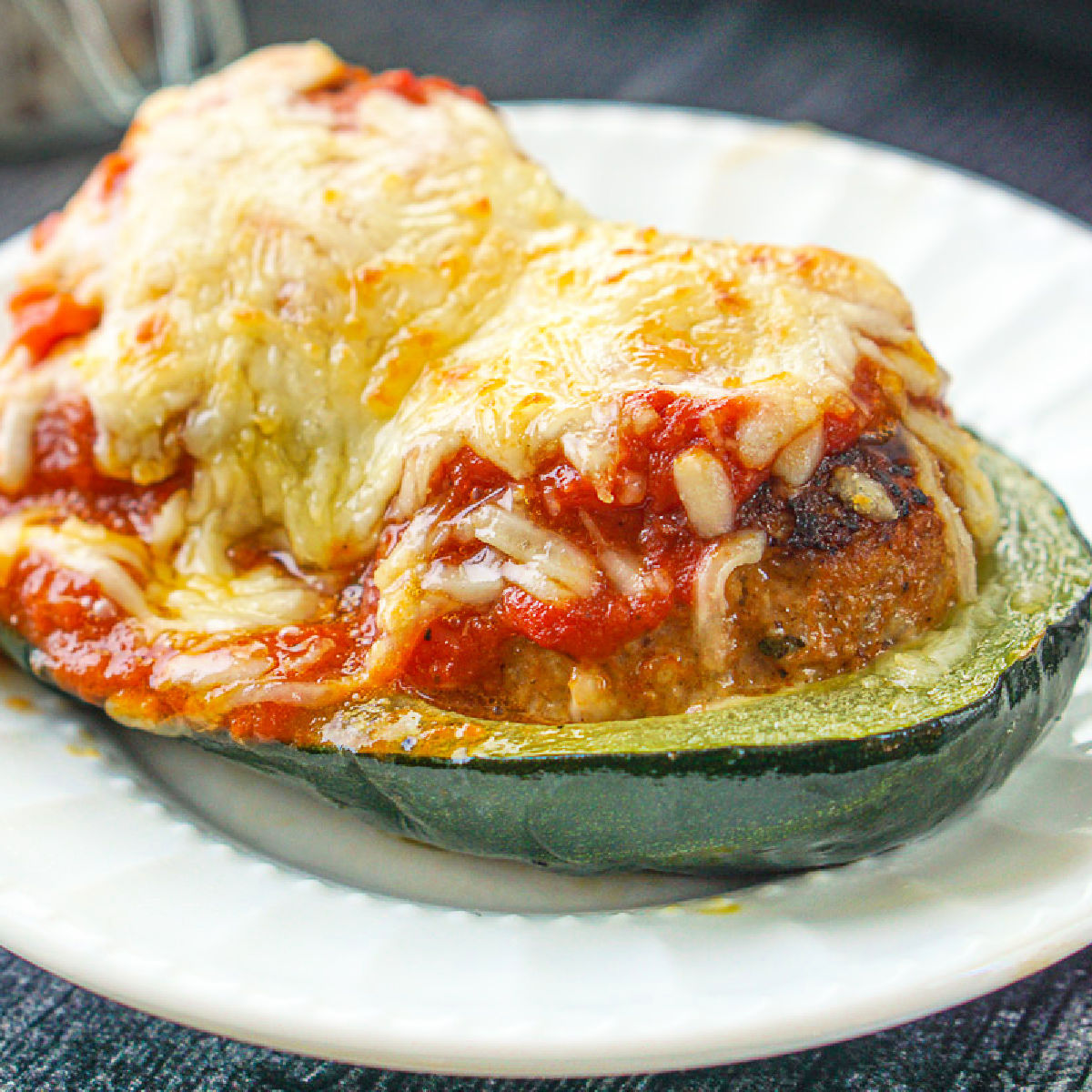 I have zucchini anxiety this time of year. My husband brings me fresh zucchini everyday from his garden and wants me to make something with it. The thing is neither he nor my son eat it so I come up with all kinds of zucchini recipes like these keto zucchini boats stuffed with turkey meatballs.
I have to say they are really good and had the classic flavor of a meatball sub. I ended up using the homemade meatballs on bread for my family but I ate the pseudo sub sandwich myself. It's the perfect combination of Italian flavors and zucchini was the perfect vehicle to hold all it was stuffed with!
This amazing recipe makes for a low carb, gluten free and high protein meal. It an easy summer weeknight meal. So you can get your meatball sub craving and feel good about eating some of that garden zucchini!
Recipe ingredients I used.
The simple ingredients I used to make the turkey meatballs were ground turkey, egg, grated cheese (parmesan), fresh garlic, Italian seasoning, onion powder, tomato paste, salt and black pepper.
I used ground turkey because that is what I had on hand. However you could also use ground beef . Also use pre-made frozen meatballs are an option but you have to check the nutritional information because they often have a few carbs and quite honestly I think homemade has much more flavor.
But if you know of a good brand you can save time and use them. Just make sure to share in the comments the name of them if they are low carb because I would love to know!
The rest of the dish was 1 large zucchini, Rao's marinara sauce and mozzarella cheese. You can use a different low carb marinara sauce if you wish. I really like the taste and it's pretty low in carbs. I also like Specialty Selects Marinara sauce you can get at Aldi which is also low in carb.
How to make keto zucchini boats stuffed with meatballs.
Slice zucchini in half lengthwise and scoop out the flesh using a spoon or even an ice cream scoop like I did. You want to make sure to keep the walls of the squash about ¼ inch thick. (You can always keep the insides and cook them with onion, salt and pepper. It's pretty tasty.)
Place them on a baking sheet or baking dish and spray both sides with nonstick cooking spray. Then place them under the broiler and broil both sides for about 5-7 minutes until zucchini is lightly browned. Once done take them out and preheat the oven to 350°F.
While the squash is broiling, you can make the turkey meatballs. Mix together all of the meatball ingredients with the ground meat in a large mixing bowl. Form large meatballs from the meat mixture that will fit nicely in your zucchini boats. I was able to fit 4 large meatballs per half of zucchini.
Add olive oil to a large non-stick skillet and heat olive oil to medium high heat. Once it's sizzling, add the meatballs. Turn down the heat to medium heat and brown all over. Then take them off the stove.
Assemble the zucchini boats on the baking sheet. Add a few meatballs to cooked broiled squash and top with some low carb tomato sauce and mozzarella cheese. Place on the center rack and bake for 15-20 minutes until you see the cheese melting and the meatballs are cooked through. Cooking time may vary depending on the size of the meatballs.
Just add a big great salad and you got yourself a meal. Store the leftovers in an airtight container. The serving size is ½ a large zucchini boat. (Please scroll down and view the printable recipe card).
Note that you can not holding these like you would a sub sandwich. The zucchini is too soft to do that. You need to use a fork. If you really wanted to do that you could skip the broiling at the beginning and just cook it for 15 minutes at the end. It would be much more firm but probably not cooked through.
Other great keto zucchini recipes to try.
Zucchini is a summer squash that is great for those on a keto diet. It's low can calories and carbs but high in fiber and it goes well so many other foods. Plus it's very versatile. Here are some of my favorite keto recipes using one of my favorite veggies.
Note I have over 40 low carb zucchini recipes! They make excellent pickles by the way so if you can try one of these amazing recipes.
So if you have an abundance of these delicious vegetable in your garden, give these keto stuffed zucchini boats a try. Especially if you are a fan of meatball subs, you are going love this low carb version. Enjoy!
The nutritional information for 1 serving is: 345 calories / 25.5g fat / 5.9g carbs / 1.3g fiber / 24g protein = 4.6g net carbs
Keto Zucchini Boats Stuffed with Turkey Meatballs
If you crave meatball subs on a low carb diet, try these keto zucchini boats that are stuffed with turkey meatballls, smothered in sauce and topped with melty mozzarella cheese. Cravings fulfilled!
Ingredients
1 large zucchini
½ cup Rao's marinara sauce
½ cup mozzarella cheese, shredded
1 tablespoon olive oil
Turkey meatballs
1 pound ground turkey (I used 85%)
1 egg, beaten
⅔ cup parmesan cheese
2 cloves garlic, crushed
½ teaspoon Italian seasoning
½ teaspoon onion powder
½ teaspoon salt
½ teaspoon black pepper
Instructions
Slice the large zucchini in half lengthwise. Clean out the insides using a spoon or ice cream scoop. Try to keep the walls at ¼ inch thick. You want them thick enough to make the boats sturdy but you also want them to hold the large meatballs and sauce.
Place on a baking sheet or casserole dish and spray both sides with nonstick cooking spray. Place the cookie sheet into the ove an broil both sizes for about 5-7 minutes until browned a bit or just tender.
In the meantime make the turkey meatballs. Note I used ground turkey but you could use ground beef as well. Add the ground turkey to a large bowl and add the rest of the meatball ingredients. Mix with a fork to get everything well combined. Form into large meatballs that will fill your boats. I ended up with 10 meatballs and used 4 for each half of zucchini. I ended up with two extra.
Heat up a large skillet to medium high heat and add the olive oil. Once sizzling , turn the heat down to medium and add the meatbals. Brown them on all sides and take off the stove.
Once the zucchini halves comes out of the broiler preheat the oven to 350°F. Place a few meatballs in each boat and spoon some of the sauce on top of them. Then sprinkle the mozzarella cheese as best as you can. Note you can use additional cheese if you wish or even cheddar cheese.
Place the baking sheet into the oven and bake for 15 minutes until the meatballs are cooked through. Let cool before serving. I split each boat in half for a serving.
Notes
The nutritional information for 1 serving is: 345 calories / 25.5g fat / 5.9g carbs / 1.3g fiber / 24g protein = 4.6g net carbs
Nutrition Information:
Yield:

4
Serving Size:

1
Amount Per Serving:
Calories:

345