If you are looking for a deliciously easy keto snack, try these Green Goddess keto deviled eggs. You only need 3 ingredients to make these and it would also be good for a St. Patrick's Day party! Each keto deviled egg has just 0.8g net carbs!
You might also like these keto green goddess dip recipe!
I recently went on an egg fast (which I have to write up that post) and one of favorite snacks were these green goddess keto deviled eggs. And since St. Patrick's Day is this week I thought I'd make them again for the blog.
This is a super easy keto snack and one that you can easily take to a party and no one will care that it is keto. Plus you only need a few minutes and 3 ingredients to make them. They have a good dose of protein too.
So this is a quick post for you but I hope you enjoy them.
The 3 ingredients you need to make these.
All you need are hard boiled eggs, Green Goddess spice mix and a ripe avocado. Make sure the avocados are ripe because you are using the avocado for creaminess instead of the usual mayonnaise.
As for the Green Goddess spice mix, I got mine at Trader Joe's and it was all the rage on social media for awhile. If you don't have any or can't get it easily try this mix of herbs and spices and make your own or buy one on Amazon. The basic flavors of Trader Joe's mix is:
½ teaspoon dried minced onion
½ teaspoon salt
½ teaspoon granulated garlic
¼ teaspoon black pepper
½ teaspoon dried chives
½ teaspoon dried parsley
How I make hard boil eggs.
This is how I make my hard boiled eggs. Add raw eggs to a sauce pan and cover with cold water. Then heat the pan to medium heat and bring them to a boil for 5 minutes.
Take them off the stove, place a lid on the pan and let them sit for 15 minutes. I like to peel them under running water as this seems to get the shells off nicely for me. Here's a great article on how to make the perfect hard boiled egg if you want to read it.
How to make green goddess keto deviled eggs.
Step 1: First make your hard boiled eggs, peel and refrigerate until completely cooled down and cold.
Step 2: Cut eggs in half and scoop out the cooked egg yolk and place them in a food processor. Add 1 avocado and 2 teaspoons of Green Goddess spices. Process until nice and creamy. You may need to scrape down the sides a bit half way through to get the yolk mixture all mixed well.
Taste the mixture to see if you want more spice or a pinch of salt and black pepper.
Step 3: Fill the egg halves with the creamy filling. I used an icing tool but you could spoon yolk mixture in a baggie and cut the corner off to make it into an icing bag.
Step 4: When all the eggs have been filled you can sprinkle some more spice on top or even some fresh dill, chives or fresh parsley. Any fresh herb will work too. Cover with plastic wrap and refrigerate until ready to eat.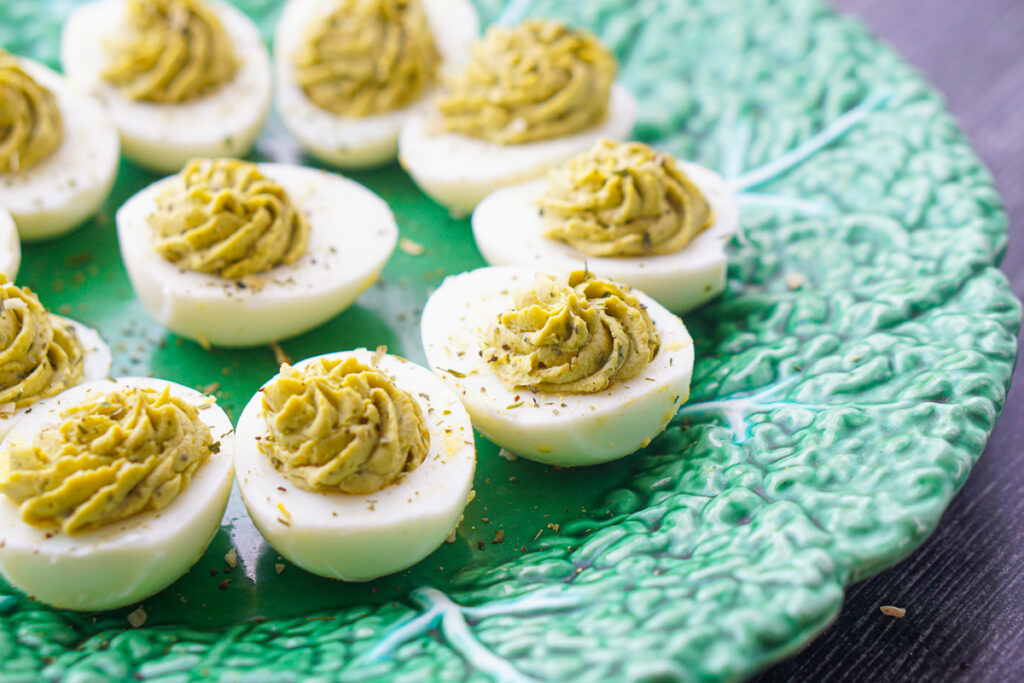 Please note that because of the avocado these eggs will probably start turning brown after a day or two in the refrigerator. They are totally fine to eat but will not look appealing.
So if you are making this low carb appetizer recipe for a party, make them on the same day you are serving them. (Please scroll down to view the printable recipe card.)
Other hard boiled egg recipes to try.
Eggs are such a great food to eat on a low carb diet. So if you have dozens of eggs leftover from Easter eggs or want something else to do with hard boiled eggs here are some keto recipes to try.
Well I told you this is a quick and easy low carb snack recipe for you today. If you get to Trader Joe's try that Green Goddess spice mix. You can use it on so many things and not just these green goddess deviled eggs. Enjoy!
The nutritional information for 1 deviled egg is 62 calories / 4.7g fat / 1.9g carbs / 1.1g fiber / 3.3g protein = 0.8g net carbs
Green Goddess Keto Deviled Eggs Recipe
These easy green goddess keto deviled eggs are made with just 3 ingredients. Creamy and delicious they make the perfect keto snack or appetizer. Great for St. Patrick's Day too!
Ingredients
6 hard boiled eggs
1 avocado, ripe
2 teaspoons Green Goddess Spice Mix
Instructions
Peel hardboiled eggs and slice in half lengthwise. Dig out the yolks and place in the bowl of the food processor.
Add the avocado and green goddess spice mix and process until smooth and creamy.
Pipe the avocado mixture into the wells of the egg whites and refrigerate until ready to use. If you don't have an icing bag you can place the mixture into a baggie and cut the corner off and use that like an icing bag.
You can garnish with a sprinkle of the green goddess spice or some fresh herbs.
Note because of the avocado, these eggs will start to brown after a day or so. It's best to make them the same day you are serving them. However the browning won't affect the taste at all.
Notes
The nutritional information 62 calories / 4.7g fat / 1.9g carbs / 1.1g fiber / 3.3g protein = 0.8g net carbs
Nutrition Information:
Yield:

12
Serving Size:

1
Amount Per Serving:
Calories:

62