This delicious keto spinach salad is mixed with a sweet and sour creamy dressing. It's full of tasty bacon bits, hard boiled eggs, red onions and fresh mushrooms. If you are looking for a fresh new salad you will love this keto chopped spinach salad. It takes just a few minutes and has 3.9g net carbs.
You might also like some of these 50+ keto salads recipes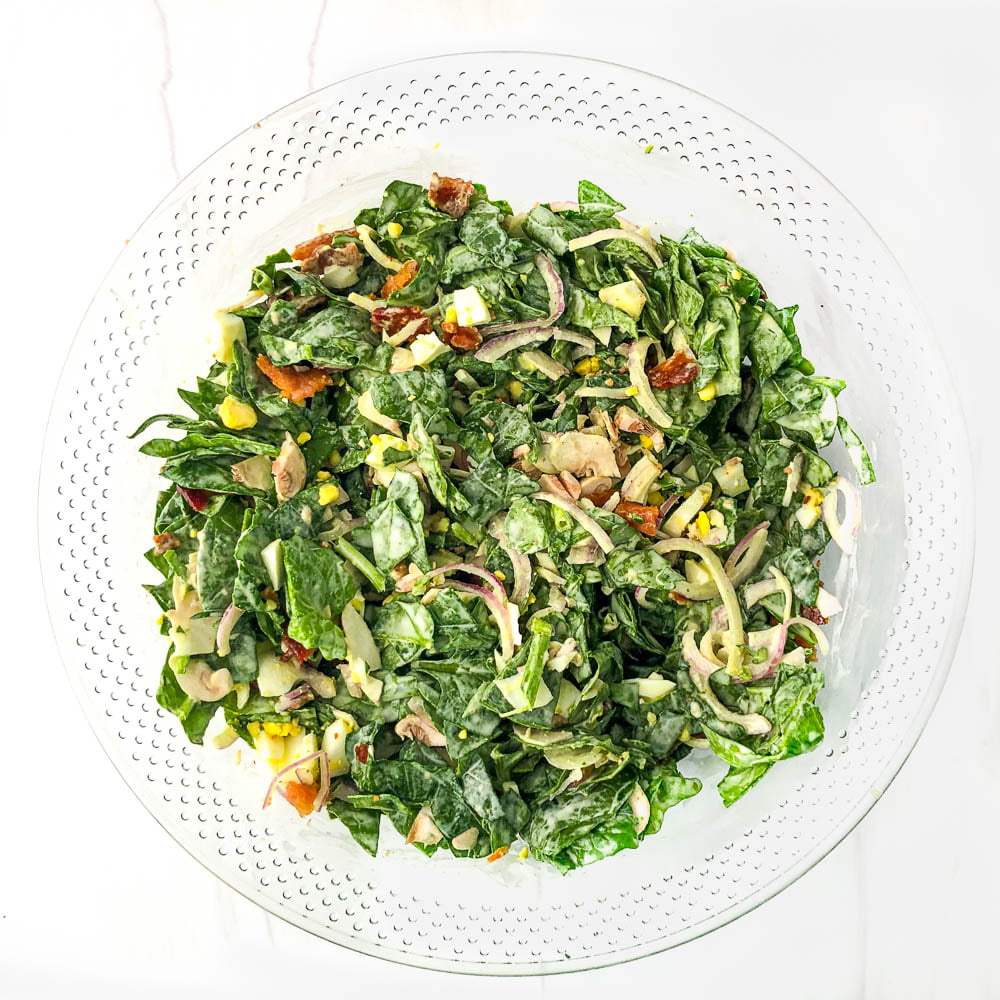 I love spinach salads, especially with the bacon bits and crumbled hard boiled eggs. So today I thought I'd make a chopped version of a standard keto spinach salad and top it with a low carb creamy dressing.
It was so yummy that I ate it for both lunch and dinner. That might have been a bit too much for one day but I'd probably do it again next time because this has become one of my favorite salads. I mean who doesn't like salads with bacon!
This is a very simple keto spinach recipe that is full of healthy ingredients and it takes just about 5 minutes to put together. This large salad made 2 servings and has 3.9g net carbs per serving.
This salad is full of healthy ingredients.
The ingredients in this keto spinach recipe are quite healthy on their own. So you can feel good about eating this.
spinach – Spinach is both low calorie and low carb. It is also high in vitamin K, vitamin A, vitamin C and folate as well as being a good source of manganese, magnesium, iron and vitamin B2. (source)
eggs – Eggs are one of the most nutritious foods and a good source of protein. They are one of the best sources of choline which is used to build cell membranes. They are also high in antioxidants lutein and zeaxanthin which are important for good eye health. (source)
mushrooms – Mushrooms not only taste delicious but they are also low calorie, low carb and a good source of vitamins and minerals.
red onions – Red onions contain probiotics which are good for gut health. They are also high in antioxidants like quercetin. (source)
Chopped keto spinach salad ingredients I used.
I used what I would consider classic spinach salad ingredients which was fresh baby spinach leaves, hard boiled egg, cooked crispy bacon, red onions and fresh mushroom.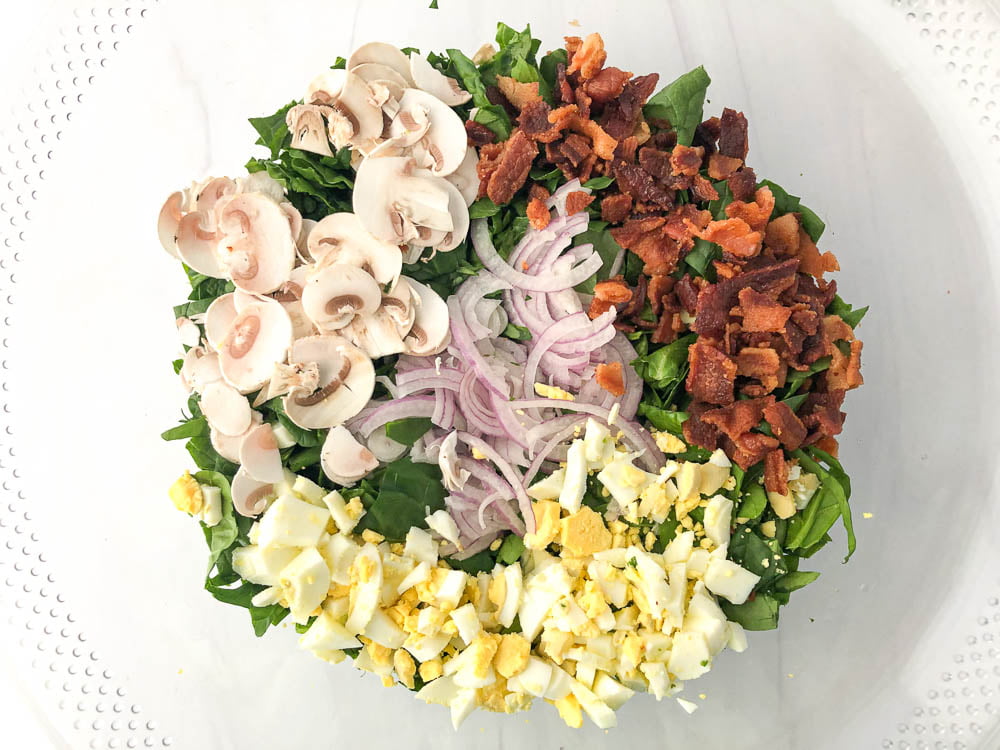 Try this simple low carb sweet & sour dressing.
I was really in the mood for a creamy sweet and sour type of dressing for this spinach salad. So the on I made was very simple and was made of mayonnaise, Swerve sweetener and apple cider vinegar. Note you could use a red wine vinegar instead or a different sweetener.
I used all of this dressing on the salad and instead of pouring over the salad I mixed it all together to soften the spinach leaves. You can use as much as you want.
Check out this warm bacon dressing if you'd rather that than this creamy one.It uses the bacon grease and is mixed with a keto maple syrup. It is delicious too.
Putting it all together.
As I have mentioned I made this into a chopped salad. So I first chopped all of the ingredients and then mixed them together in a large mixing bowl.
Next I added in the dressing and tossed it gently to coat everything. Then just spoon it into two large bowls for a keto lunch or dinner or serve it in smaller portions for a side salad.
If you wanted a more tradtitional spinach salad, you would leave the baby spinach leaves whole and then toss it with the egg, bacon, onions and mushrooms. Then pour the dressing over top.
The only down side to eating this the way I did is that it gets soggy over time so you wouldn't want to eat leftovers. However this recipe only makes 2 servings so it should be fine.
Other keto ingredients you can add.
Some other delicious keto add in would be strawberries, pecans, sunflower seeds or even some cooked chicken. Really any kind of nuts, seeds, berries or protein would work. I might even try some blue cheese next time.
Next time you are looking to make a nice keto salad, try this chopped, low carb salad with it's creamy dressing. It's fresh and delicious and only takes minutes to make. Or if you have a lot of spinach, check out these other low carb spinach recipes. 
The nutrition information for 1 serving is 450 calories
41.5g fat / 5.6g carbs / 1.7g fiber / 14.1g protein = 3.9g net carbs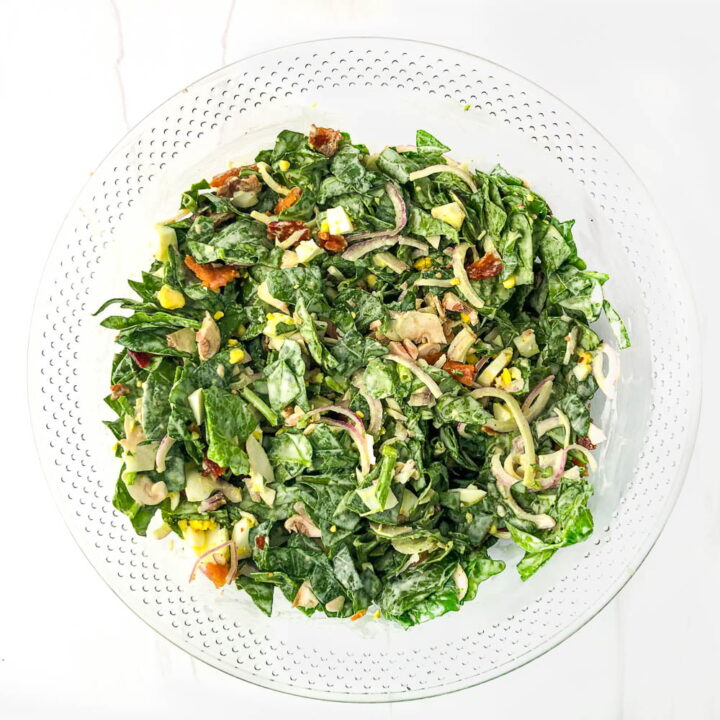 Easy Keto Spinach Salad with Creamy Dressing
This keto spinach salad only takes minutes to make and it's full of flavor. It's tossed in a simple but tasty creamy sweet and sour dressing.
Ingredients
4 cups of baby spinach, chopped
2 hard boiled eggs, chopped
¼ cup red onions, thinly sliced
¼ cup of fresh mushrooms, thinly sliced
4 pieces of bacon, cooked and crumbled
⅓ cup mayonnaise
1 tablespoon of apple cider vinegar
1 teaspoon of Swerve sweetener
Instructions
To make the dressing, mix the mayonnaise, Swerve sweetener and apple cider vinegar and set aside.
Chop the spinach and place in a large bowl.
Then add the rest of the ingredients and gently toss.
Pour or spoon in the dressing and toss one more time.
Spoon into two bowls and enjoy!
This make two large servings or 4 side salads.
Notes
The nutrition information for 1 large serving is 450 calories
41.5g fat / 5.6g carbs / 1.7g fiber / 14.1g protein = 3.9g net carbs
Nutrition Information:
Yield:

2
Serving Size:

1
Amount Per Serving:
Calories:

450