For a super easy and delicious sugar free snack try these keto pumpkin spice pecans. They take less than 15 minutes to make and great for fall party nibbles. You can also use these candied nuts on top of pumpkin pies, with other desserts and in salads. A great snack even if you aren't on a keto diet. One serving (¼ cup) has just 0.9g net carbs!
You might also like this keto pumpkin spice hot chocolate recipe!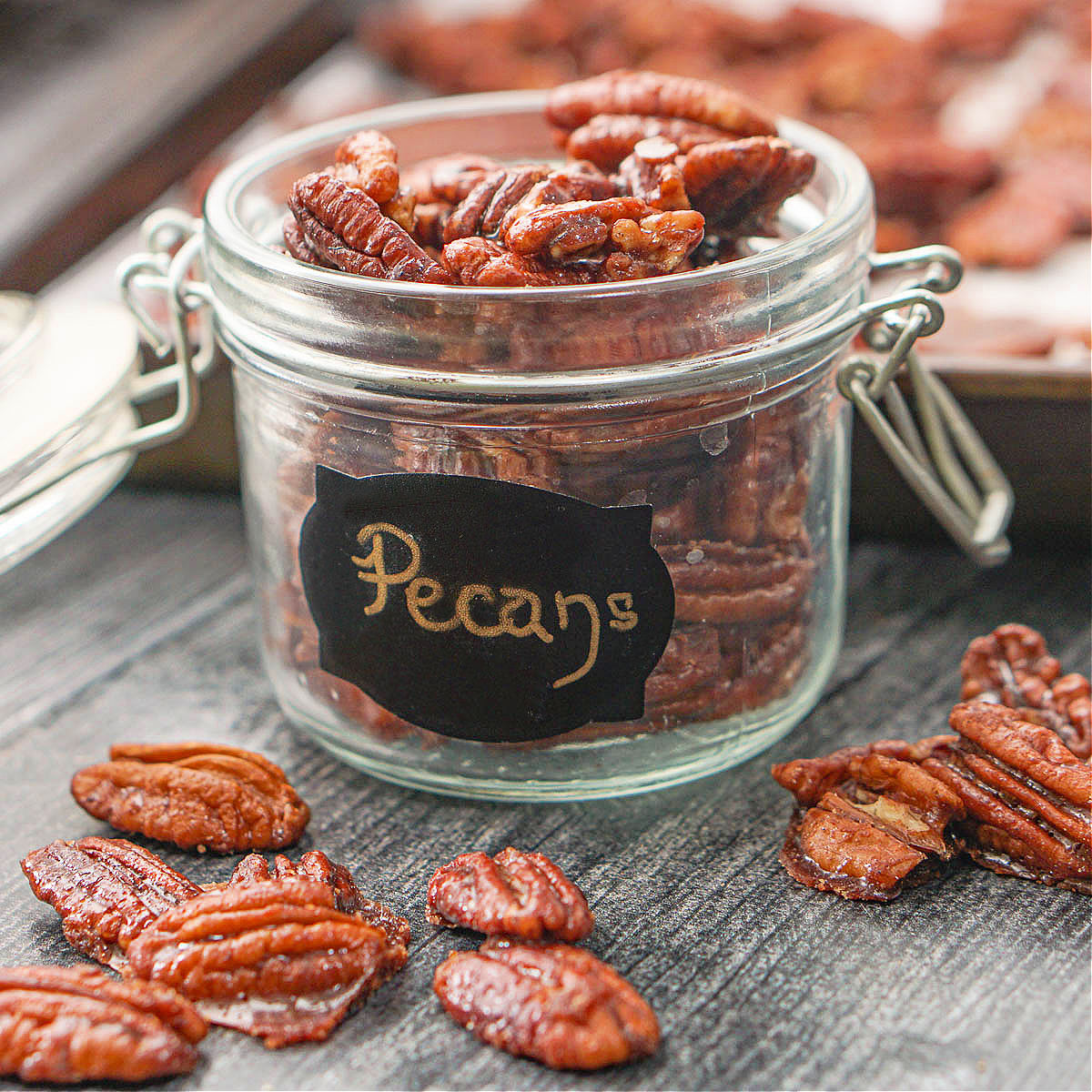 Every October I have a big family party for my son's birthday and I like to come up with a few recipes for my blog that I can use for the party. One of them this year were these keto pumpkin spice pecans and they were a big hit!
I made them a few days before hand though they were so easy I could have made them that day. They pecans are crunchy like pretzels and mixed with a buttery pumpkin spice seasoning and brown sugar sweetness. I put them in little bowls on the bar and buffet table.
I had hoped to have extras but they went fast. So I made another batch a few days later and used them on top of some pumpkin bars I'm making and even eat them as a sweet treat after dinner. They would also make a great homemade keto holiday gift for anyone that is fan of pumpkin spice.
Are pecan keto friendly?
Yes they are! I have come to love pecans while being on a low carb diet. They are high in antioxidants, low in carbs and taste great in recipes. Just 1 cup of raw pecans have 190 calories and 1g net carbs.
When toasted or roasted they make a great substitute for pretzels. Here is a great article on the 10 health benefits of pecans if you are interested.
I use pecans as a low carb crust in my strawberry pretzel salad and pumpkin cheesecake. They also make great snacks like this recipe today and many more tasty recipes you can see below. And they also taste great in salads or any keto pumpkin desserts.
Recipe ingredients I used.
You only need 6 basic ingredients to make these candied nuts – raw pecans, Swerve brown sugar sweetener, butter, salt, pumpkin pie spice and cinnamon. You can use coconut oil or ghee for the butter if you are dairy free but I like the taste of butter better.
I use ALOT of Swerve brown sugar sweetener, especially in fall and winter recipes. It's a really good brown sugar alternative and you can barely taste a difference from regular brown sugar. However you can use your favorite keto sweetener but I suggest using brown sugar flavored like Lakanto golden. Coconut sugar is also an option.
And while I love crunchy pecans you can also use almonds, walnuts, hazelnuts, cashews or whatever you favorite nuts are.
How to make keto pumpkin spice pecans.
Step 1: Prepare a rimmed baking sheet with parchment paper or wax paper then set aside.
Step 2: Get out a large skillet and heat it to medium heat. Melt butter, Swerve brown sugar sweetener, salt, pumpkin pie spice and cinnamon. Whisk until the butter and sweetener melt and blend together.
Step 3: Add the raw pecan pieces and mix well with the brown sugar mixture to coat. Cook over medium heat for a few minutes until the pecans turn golden brown and you can smell that nutty aroma. This should take just 5-8 minutes.
Step 4: Take off the heat and spread the mixture out in a single layer on the prepared baking sheet. Make sure to spread them out evenly. The sauce with harden so you don't want clumps.
The pecans on the parchment paper must dry completely before you can eat them or store them in an air tight container. (Please scroll down to view the printable the recipe card.)
More easy keto nut recipes to try.
I love flavored nuts for a quick snack and have quite of a few easy low carb recipes for you to try. Here are a few of my favorites.
Well I hope you like these keto pumpkin spice pecans as much as we did. They are the perfect party nuts for the holidays or even for football games. They are sure to be a crowd pleaser and is one of my favorite recipes.
The nutrition info for ¼ cup is 193 calories / 20.6g fat / 3.3g carbs / 2.4g fiber / 2.3g protein = 0.9g net carbs
Keto Pumpkin Spice Pecans Recipe
For an easy and delicious keto snack try these low carb pumpkin spice pecans. These candied nuts are great as is or to use in keto desserts or salads. Also makes a great homemade holiday gift.
Ingredients
3 cups raw pecan halves
4 tablespoons butter
½ teaspoon salt
1 teaspoon pumpkin pie spice
1 teaspoon cinnamon
½ cup Swerve brown sugar sweetener
Instructions
Prepare a baking sheet by covering with wax paper or parchment paper and set aside.
Get out a large skilet and heat to medium heat. Add the butter, spices and Swerve brown sugar sweetener. MIx together until all the butter and sweetener has melted and combined well.
Add the nuts and mix well to coat them with the sugar mixture. Let them cook until the nuts begin to brown and you can smell them roasting.
Take them off the stove and in a single layer on the prepared baking sheet. Spread them evenly so they do not over lap and let the dry completely. This should take no more than an hour.
Store in an airtight container. Can use on keto desserts, in salads or give as a homemade gift.
Notes
The nutrition info for ¼ cup is 193 calories / 20.6g fat / 3.3g carbs / 2.4g fiber / 2.3g protein = 0.9g net carbs
Nutrition Information:
Yield:

12
Serving Size:

¼ cup
Amount Per Serving:
Calories:

193 calories