Just in time for New Year's Eve festivities, with my new creamsicle keto jello shots recipe. You only need 4 ingredients to make this creamy, sweet and delicious jello shot that is sure to be a hit regardless if you are on a low carb diet or not. A fun adult treat to celebrate the new year. Each serving has 72calories and 0g net carbs!
You might also like this keto lemon drop martini recipe for New Years.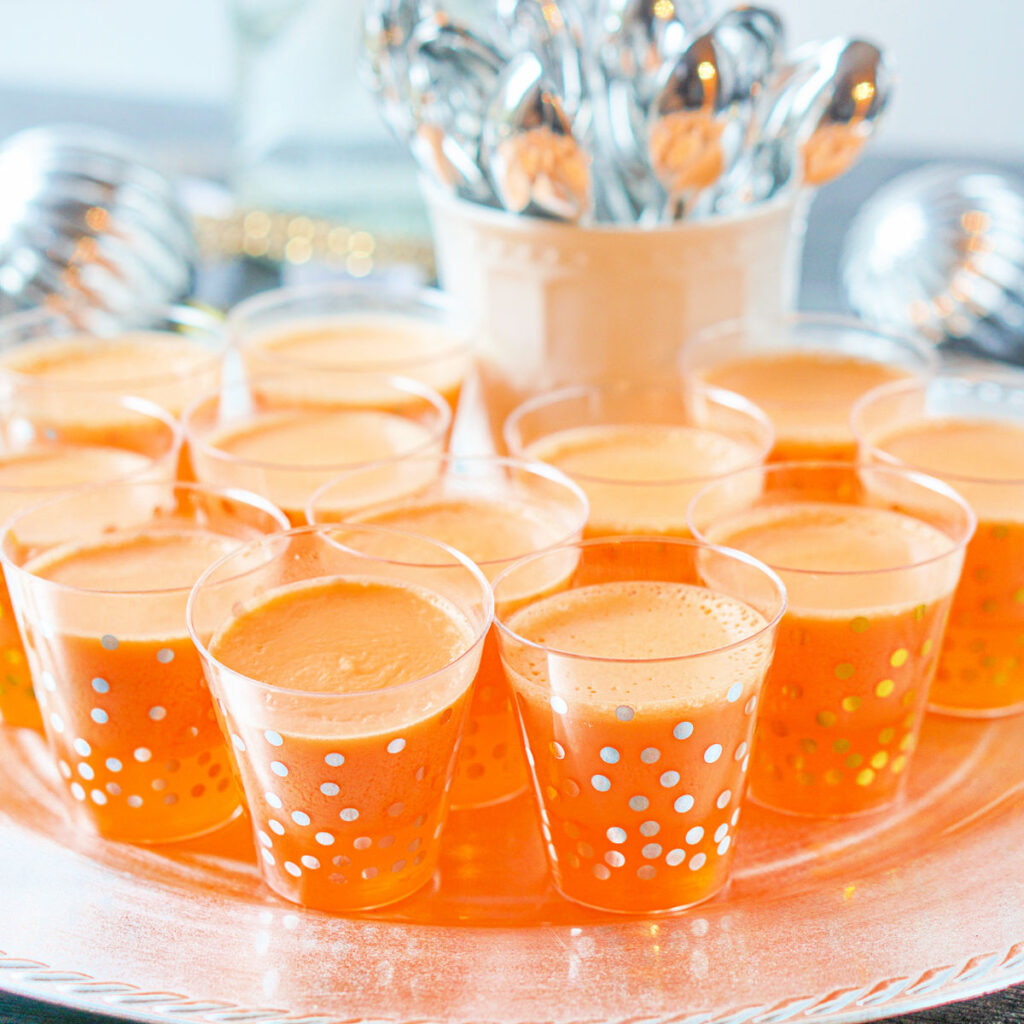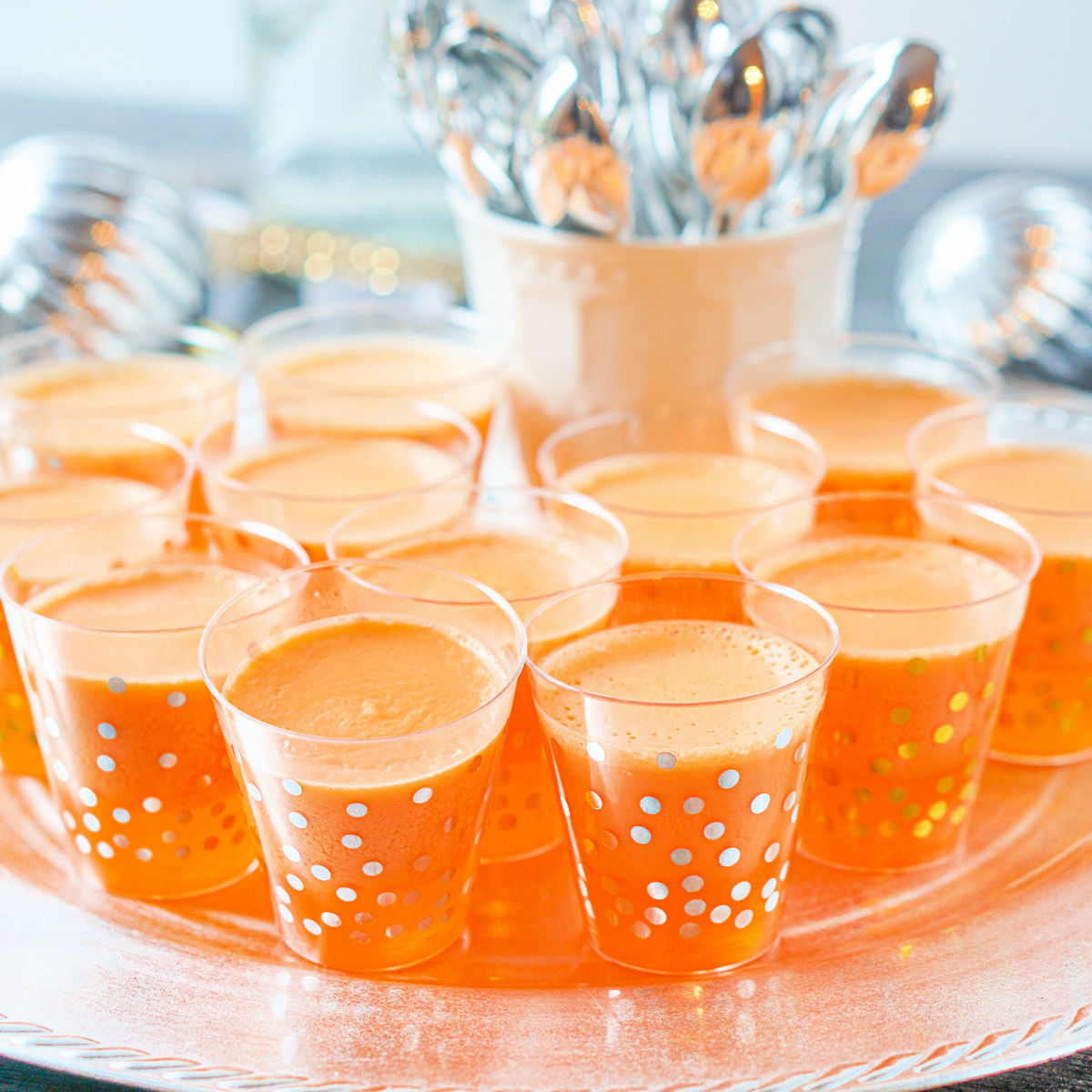 I'm on a jello shot kick these days. Last week I made some margarita flavored ones and today I made these creamsicle keto jello shots for New Year's Eve.
If you like those creamsicle bars from long ago you will love this recipe. It's has a tasty, creamy vanilla flavor mixed with orange jello and uses vanilla vodka.
So if you are looking for a New Year's Eve drink, these sugar free jello shots make a fun low carb treat for the adults. Best of all they don't have any carbs and you only need 4 ingredients!
The 4 ingredients you need.
All you need to make these keto jello shots are orange flavored sugar free Jell-O, vanilla Absolute vodka, vanilla extract and heavy cream.
Notes about this recipe.
I used two boxes of jello because the shot cups that I bought were about 2oz and this recipe made 19 servings.
I like Absolut flavored vodkas because they don't have added sugar. You can use another brand but make sure it's not sweetened. When in doubt you can just use plain vodka as well.
You could use unflavored gelatin but it would be difficult to get that orange flavor and keep it sugar free. Try sugar free orange soda but you would have alter the amount of liquids you use. A sugar free drink mix would work as well.
To make this dairy free you could substitute coconut cream for the heavy cream. It will effect the overall taste but I think it would still be delicious.
To make these non-alcoholic just substitute cold water for the vodka.
The basic keto jello shot recipe.
The basic recipe to make keto jello shots is to use a box of sugar free gelatin and if it calls for 2 cups of water you will use 1 cup boiling water to dissolve the gelatin. Then you will use ½ cup of cold water and ½ cup of alcohol for the rest.
How to make creamsicle jello shots.
Step 1: Boil or heat up the water in a tea kettle, on the stove or in the microwave. Pour the 2 cups hot water into a blender container. Add the 2 sugar free gelatin mixes and blend on very low for 30 seconds or so to dissolve the gelatin.
Step 2: Let the mixture cool for 2-3 minutes then add in 1 cup of heavy cream and blend on medium for 1 minutes. Lastly add in the 1 cup vodka and vanilla extract and blend on low to mix.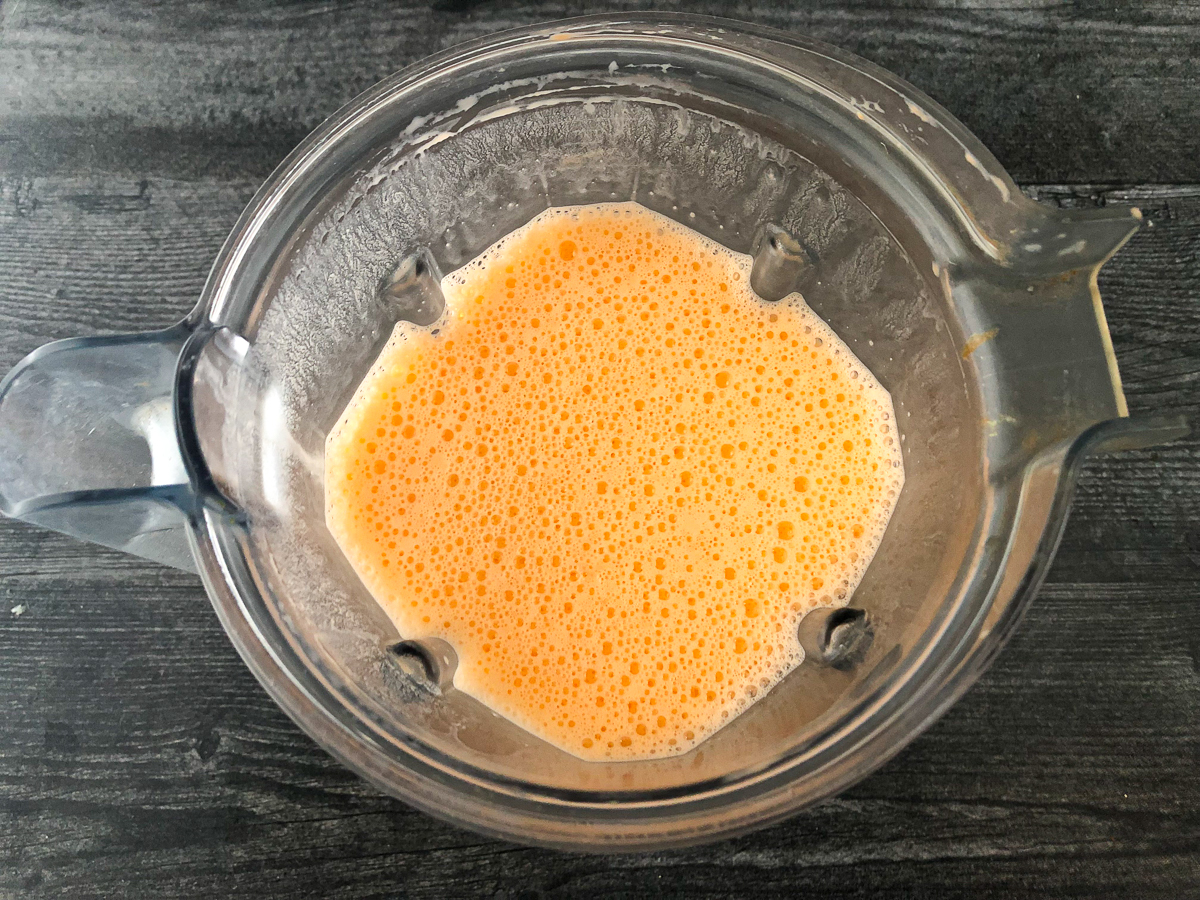 Step 3: Line up your shot glasses on a baking sheet and pour the jello mixture into them. Place in the refrigerator for 3-4 hours to gel. The cream will separate from the jello part a bit but it will look nice and add to the taste.
And while I made a classic orange creamsicle you could also use additional flavors of fruit flavored jello. (Please scroll down for the printable recipe card.)
How much alcohol is in each shot.
I used 1 cup of vodka which is 8 fluid ounces. This recipe made 19 shot cups for me so it comes to about 0.4 oz per shot for mine. Yours might be different. Just divide 8 by the number of shots and that is the ounces of vodka in each shot.
For reference, a shot is usually 1.5 oz for a drink made in a bar (source). So 3 of these would still have less alcohol than a drink in a bar.
Where to find plastic shot glasses.
I bought these nice polka dotted disposable shot glasses from the dollar store. They also have cute little silver spoons that you can use to eat these with. However you can find many different kinds on Amazon but try the dollar store first.
My Amazon store has a Jello Shot idea list has everything for this recipe except the heavy cream and vodka of course.
I thought these sugar free low carb jello shots would be great for a New Year's Eve party because they are fun to make and eat. Secondly they are bright and colorful and hopefully that is what the new year will be like for everyone. Enjoy!
The nutritional information for 1 of these orange gelatin shots is 72 calories / 4.2g fat / 0g carbs / 0.3g protein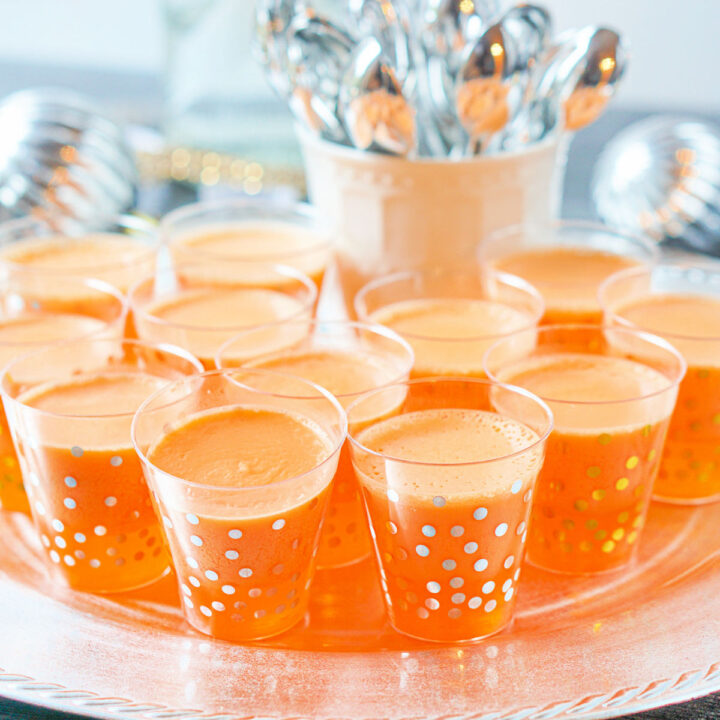 Creamsicle Keto Jello Shots Recipe
Total Time:
3 hours
10 minutes
These fun creamsicle keto jello shots will be great for a New Year's Eve celebration. For those on a keto diet, these creamy vanilla and orange jello shots will add some fun to a New Year's eve and help them stick to their plan.
Ingredients
2 boxes orange sugar free gelatin (0.3 ounce box)
1 cup heavy cream
2 cups boiling or hot water
1 cup Absolut Vanilla Vodka
1 teaspoon vanilla extract
Instructions
Add jello mixes to a blender container. Then pour over hot water and blend on low to help dissolve the gelatin. This should take 1-2 minutes.
Let the mixture cool for an additioina 2-3 minutes. Then add in the cream and vanilla extract and mix on medium high for 1 minutes.
Lastly pour in the vodka and mix on low to combine.
Place plastic shot cups on a baking tray and pour the creamsicle mixture into the cups. Place in the refrigerator for 3-4 hours until complete gelled.
Serve with a spoon and even a bit of whip cream if you wish.
Notes
This recipe made 19 shots for me. It may make more or less depending on the size of your shot glasses and how much you pour in them. If you are worried about the nutrtional information, it's easy to calculate yourself.
The alcohol content for 1 of these 19 shots is about 0.42 oz. An average shot poured for a drink in a bar is 1.5 oz for reference.
You can use any brand of vodka you want but make sure it doesn't have extra sugar. If it's sweet it probably has sugar in it. I know Absolut does not. When in doubt just use regular and add a bit more vanilla extract.
You can use any brand of jello you want. Check that your brand requires 2 cups of liquid per pack and that it's sugar free. You'll need 2 packs because you will using 4 cups total of liquid.
The cream and jello will naturally separate a bit when refrigerated. It tastes good this way and looks pretty to me.
You can find cute and inexpensive shot glasses at the dollar store.
The nutritional information for 1 shot is 72 calories / 4.2g fat / 0g carbs / 0.3g protein
Nutrition Information:
Yield:

19
Serving Size:

1
Amount Per Serving:
Calories:

72