This easy antipasto tortellini salad recipe is a colorful and delicious dish to take to parties and picnics. A mixture of cheese tortellini, deli meats, vegetables and olives tossed is Italian dressing. Next time you need to take something to a get together try this easy summer tortellini salad. It has amazing flavor and color and everyone will love it!
You might also like this easy antipasto cabbage salad recipe!
Recently for Labor Day I needed a quick and hearty salad for a small get together we were having. So I made this colorful and easy antipasto tortellini salad.
It's filled with already made cheese tortellini so it's hearty and filling and then I added cheese, Italian deli meats, olives, onions, cherry tomatoes, roasted peppers and artichoke hearts.
It was so good and really easy. It would be the perfect salad to take to a potluck party, backyard barbecue or even football parties. You can make it the night before and really pick any of your favorite antipasto ingredients.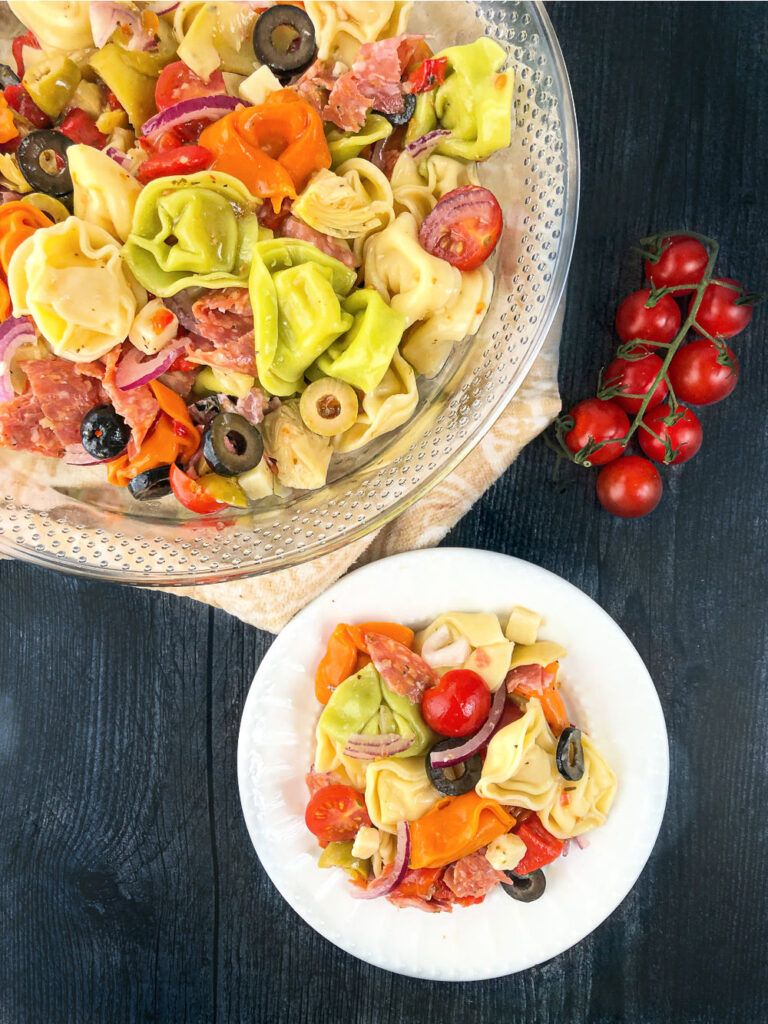 Recipe ingredients I used.
Below you can see all the ingredients I used which were fresh cheese tortellini, artichoke salad, cherry tomatoes, black olives, cheddar cheese, red onions, Italian deli meats and Italian dressing.
I bought everything from Aldi so these are easy to find ingredients. The only cooking I had to do was make the tortellini! The rest was just chopping and measuring. And you could use dry or frozen tortellini just make sure it's cooked before you mix with the other ingredients.
NOTE – If you wanted to make this low carb, just substitute lettuce for the tortellini. Everything else is pretty much low carb.
How to make an antipasto tortellini salad.
First thing you want to do is cook tortellini according to the package instructions. Once they are done, rinse in cold water and let set until it's cooled down to room temperature. If it's warm when you dressing this salad the tortellini will soak up the salad dressing instead of it coating.
While the pasta is cooling, start chopping and measuring the antipasto ingredients. I used both salami and pepperoni, sharp cheddar cheese, red onions, black olives, cherry tomatoes and a jar of artichoke salad. I chopped that too.
Once the tortellini has cooled down, add it to a large mixing bowl and add the antipasto ingredients. Pour the Italian dressing all over the salad and gently mix it all up. You can season with salt and black pepper if you wish or even some hot pepper flakes for some heat. I didn't think it needed it.
Cover the bowl with plastic wrap and set in the refrigerator for a few hours or overnight to chill before serving. If you make this days in advance you might want to add a little more dressing as the pasta might soak it up a bit.
Other antipasto ingredients to try.
Above you can see what I put in my antipasto salad but you can use whatever you want in yours. Below are some ideas of things you can use. (learn more)
any kind of cured meats(salami, sopressata, capricola, pepperoni, prosciutto, ham, etc.)
olives (black, green, kalamata, etc)
peperoncini (or other pickled vegetables like peppadew peppers)
marinated mushrooms, artichoke hearts, sun dried tomatoes
anchovies
fresh vegetables (onions, cucumbers, peppers, tomatoes, etc.)
cheeses (fresh mozzarella pearls would be great, provolone, asiago, cheddar)
herbs (fresh parsley, fresh basil, oregano, etc.)
make your own dressing with wine vinegar, good olive oil and fresh garlic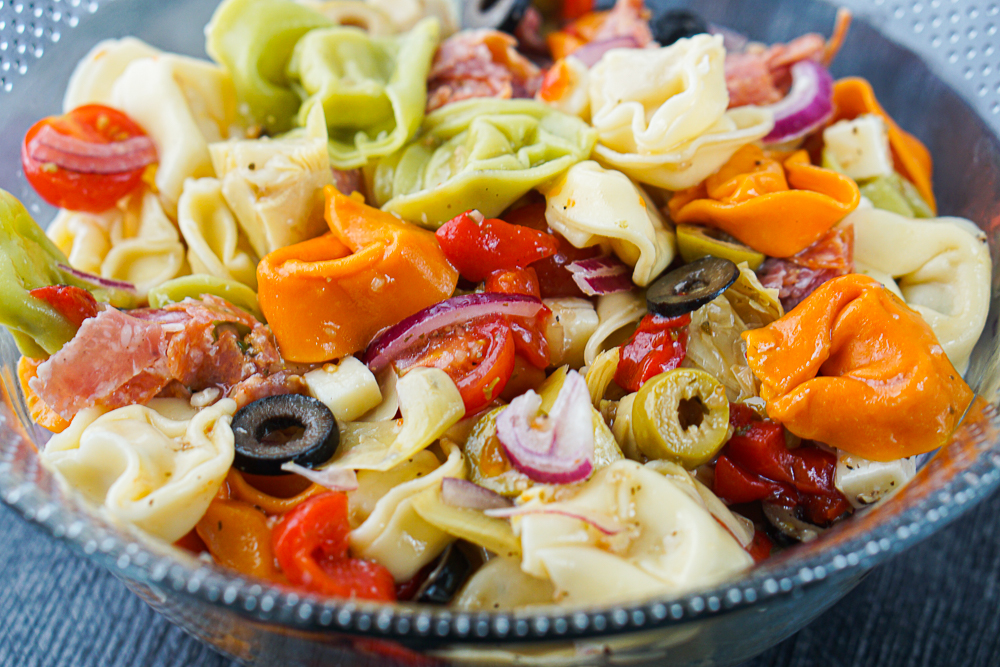 More salads to take to a party.
If you need or want other tasty salads to take to football parties or picnics, try a layered Cobb salad, Greek sweet potato salad or vegetable mint quinoa salad.
My Mexican bean salad and loaded broccoli cauliflower salads are two of my most popular party salads.
Note even though I made this for a party, you can definitely make this for a meal. It has pasta, meat and vegetables after all. And it's very filling and tasty. I hope you give it a try.
Easy Antipasto Tortellini Salad Recipe
This easy antipasto pasta salad recipe is an easy dish for potlucks, football parties or picnics. Full of delicious Italian meats, cheeses, olives, artichokes and more. Easy, colorful and definitely a crowd pleaser.
Ingredients
18 oz cheese tortellini
⅓ cup red onion, thinly sliced
¼ cup black olive slices
½ cup sharp cheddar cheese, diced
1 oz Italian salami, thinly sliced and chopped
1 oz pepperoni, thinly sliced and chopped
½ cup cherry tomatoes, halved
7 oz jar of artichoke salad (or marinated artichokes)
½ cup Italian dressing
Instructions
Prepare tortellini according to package directions. When done, rinse with cold water and then cool to room temperature.
While pasta is cooling, chop all the ingredients.
Place the tortellini in a large mixing bowl and then add all the other ingredients.
Pour the dressing over the salad and mix well.
Cover and place in the refrigerator for at lease an hour or until ready to eat.
You can make this a day ahead of time. You might want to add a bit more dressing right before you eat it though.
Nutrition Information:
Yield:

8
Serving Size:

1
Amount Per Serving:
Calories:

346
Total Fat:

16g
Saturated Fat:

7g
Trans Fat:

0g
Unsaturated Fat:

7g
Cholesterol:

48mg
Sodium:

664mg
Carbohydrates:

37g
Fiber:

3g
Sugar:

3g
Protein:

15g