These easy grilled short ribs have a delicious Moroccan rub that you can make in 10 minutes. This makes for a great low carb dinner or even a fun appetizer! Only 0.4g net carbs per serving. This post is sponsored by the Certified Angus Beef ® brand in conjunction with a social media campaign through Sunday Supper LLC. All opinions are my own.
You might also love these low carb BBQ smoked short ribs!
I was thinking of making another beef short ribs recipe when I learned about flanken short ribs. I went on a great event with the Certified Angus Beef® people who taught me so much like how to grill flanken short ribs! Once I tasted them I knew my family would love them. Today I added a Moroccan rub and grilled them all of which took only 10 minutes!
My Trip To The Certified Angus Beef® Culinary Center
There was so much fun packed in this 3 day trip that it could take up a whole post. To see some highlights, check out my video on Instagram. We went to a few crazy good restaurants, cut meat in the meat lab, made our own spice rub, learned about the various grades of meat (hint go for Certified Angus Beef®), had a tailgate cook off, sampled their chefs beef delicacies and much more. It was a life changing experience for this food blogger.
What Are Flanken Short Ribs?
You might have heard of flanken short ribs referred to Korean-style short ribs. They are thinly cut across the bones and grilled. .You can also marinate them to make them more tender. To learn more check out this post about flanken ribs along with a few delicious recipes.
4 Reasons I Love Flanken Grilled Short Ribs
The four reasons I love this cut of short ribs are:
they taste great
you can make them in less than 10 minutes
they are easy to eat by holding on to the bones almost like an ear of corn
they are naturally low carb
Flanken Short Ribs vs English Cut Short Ribs
I'm fairly new to short ribs but I've already made them a few times because once I tasted them I was hooked!
The English style short ribs are what I tried first in this bbq smoked short ribs recipe. My husband I were floored at how good they were. The English style are cut parallel to the bone. They are often braised and look like a 3-4 inch chunk of meat on a bone. These seem to be the easiest for me to find at the supermarket.
Flanken short ribs are cut across the bone. Each piece has a couple short sections of bones and a nice portion of meat around them. They are perfect for grilling. To learn more about the different short ribs styles, here is a good article.
If You Can't Find Flanken Short Ribs
To be honest I wasn't sure where I would find this cut of meat. I went to Giant Eagle and asked the butcher for some Certified Angus Beef® short ribs. The butcher pictured below was SO helpful. He went in back and found me a nice piece of meat and cut them for me right then and there.
He also gave me some recipe suggestions. So the moral of the story is TALK TO YOUR BUTCHER!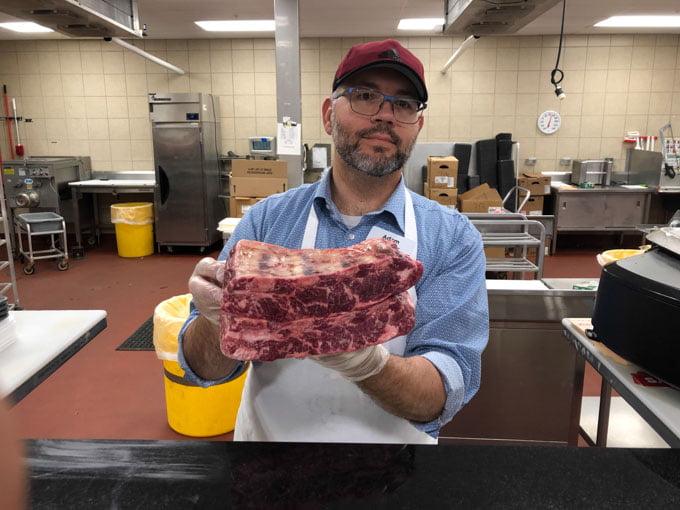 Yesterday I just bought some more from another Giant Eagle. Same story. I showed the picture below and he knew exactly what I was talking about. Next time I will remember to ask for Beef Chuck Certified Angus Beef® Bone In Short Ribs.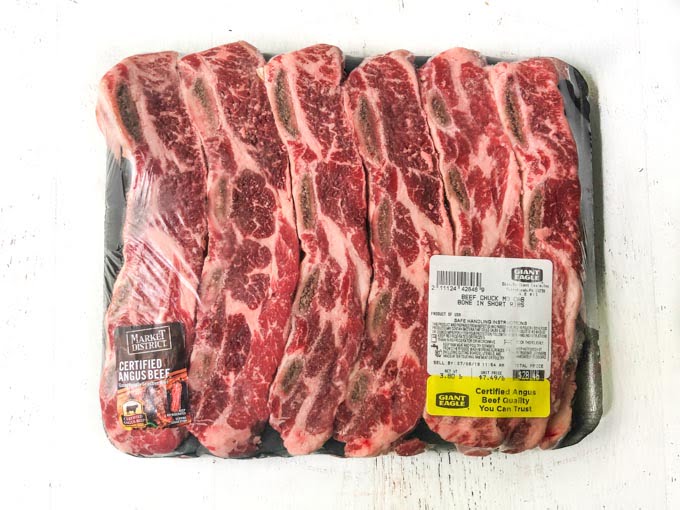 Moroccan Rub For Grilled Short Ribs
This rub is very similar to my Middle Eastern slow cooker ribs which my family really likes. The spices I used are: cumin, cinnamon, salt, paprika, ginger, cayenne and Lakanto golden sweetener. You just mix them altogether to make the rub. If you don't care about carbs, you can substitute brown sugar for the sweetener.
How To Grill Short Ribs
Because these ribs are thin, they only take 3 minutes on each side. Yep that's it. You add the rub while you are heating up the grill. Grill 3 minutes, flip for 3 minutes more. This is one of the reasons I have been making flanken short ribs over and over again this summer.
Great For A Summer Low Carb Appetizer!
This was another tip I got from the chefs at CAB culinary center. These ribs have 3 or 4 little bones on the one side which is great for holding when you eat them. So just cut the ribs in half or thirds and they would be a great low carb appetizer and fun for a summer party!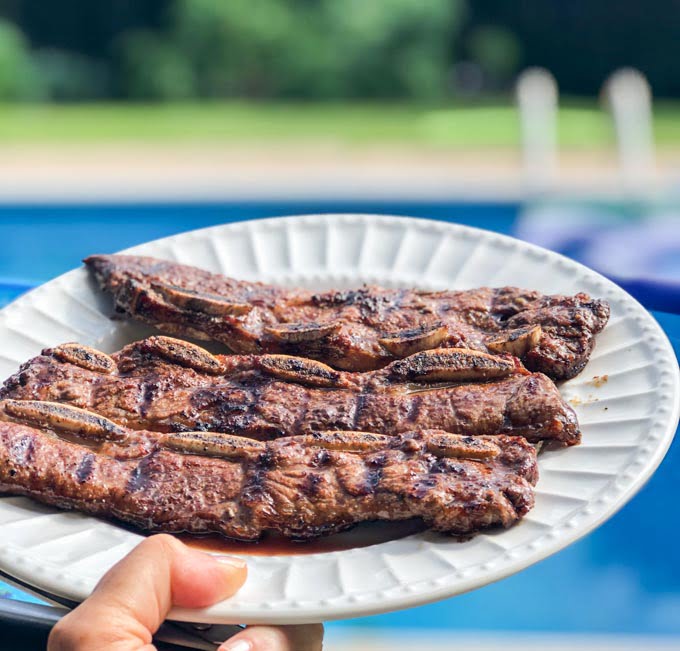 Well I hope you give this easy grilled short ribs recipes a try. It will only take about 10 minutes and your family will love them. You can also marinated them for a few hours with your favorite marinade and grill them. Either way they will be a hit! The nutritional information for 1 whole short rib is:
264 cals / 25.4 cals / 1.1g carbs / 0.7g fiber / 26.8g protein = 0.4g net carbs.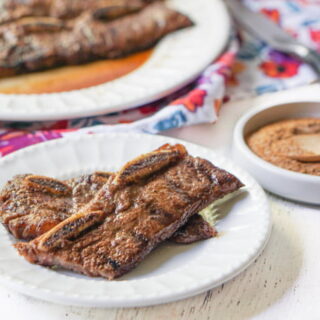 Easy Grilled Short Ribs with Moroccan Rub (low carb)
These easy grilled short ribs have a delicious Moroccan rub that you can make in 10 minutes. This makes for a great low carb dinner or even a fun appetizer! Only 0.4g net carbs per serving.
Ingredients
4

lbs

flanken short ribs

2

teaspoons

cumin

2

teaspoons

cinnamon

4

teaspoons

salt

4

teaspoons

Lakanto golden or brown sugar if not low carb

2

teaspoons

paprika

1

teaspoon

ground ginger

1

teaspoon

cayenne
Instructions
Heat up the grill to a high heat and then make the Moroccan rub.

Mix all of the spices in a bowl and then rub onto the flanken short ribs.

When grill is hot and ready, place the ribs on it and cook for 3 minutes.

Flip and cook for 3 more minutes.

Depending on the thickness of your ribs, you might need to cook them for a minuter or two longer on each side. Mine were roughly ½" thick.

Take off of grill and cover with foil for 5 minutes and then they are ready to eat!
By the way you might want to check this Certified Angus Beef® Kitchen Facebook group to learn some great beef tips and recipes. It really helped me to make my first prime rib! For more information about Certified Angus Beef ® brandfollow them on their Social Media Platforms: Facebook | Pinterest | Instagram | YouTube | Twitter