If you are stuck at home or really just need to treat yourself but want to stay committed to your keto or low carb diet, I have 42 really easy keto sweet snack recipes to treat yourself without the guilt. Some of these low carb recipes require just a few ingredients or take a couple of minutes. I know they have helped me with my cravings. Check them out.
You might also like to check out all my low carb recipe collections!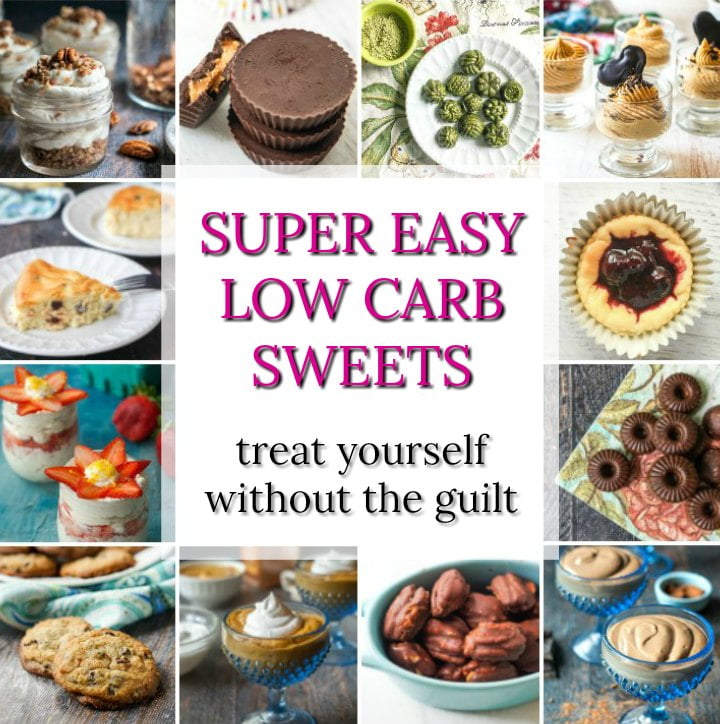 I don't know about you but there are times when I really feel the need to treat myself. And these last couple weeks I've felt that strongly. However since I am a low carb blogger, I find that I have accumulated many keto sweet snack recipes in which to treat myself.
I've collected for you today, 42 of my favorite keto sweet snack recipes which are also very easy to make.
I hope you find something in this compilation that will bring a smile to your face and still be part of your low carb diet.
First Things First – Low Carb Ingredients To Have In Your Pantry.
These are the low carb ingredients I always have on hand so that I can make a sweet treat in just a few minutes. Hopefully you have a few and if you are in an experimental mood they are all available on my Amazon storefront.
Swerve confectioners sweetener: I use this most of the time for any kind of sweetness. The confectioners just seems to blend nicer than the granular for me so I always have some on hand.
Swerve brown sugar Sweetener: I use this a lot in baking things like keto cookies, anything that is cookie dough flavored and in many Asian dishes.
liquid vanilla stevia: Sometimes I use this when I want something to be really sweet and I'm already using plenty of powdered sweetener. Or I sometimes like to use it in drinks.
coconut oil: I really like coconut as a base for freezer candy. I also use it in bulletproof coffee or tea drinks and fat bombs.
cacao butter: I use this to make homemade chocolate sometimes. It smells great and has 0 carbs.
shortening: I just started using this in my cookies and icing and its made a big difference.
good cocoa powder: Divine cocoa powder and Guittard cocoa powder have less carbs than most cocoa powders and my local grocery store sells the Divine brand.
almond milk: I mostly use this in drinks or smoothies but if a recipe would normally call for milk I always substitute almond milk. Must be the original, unsweetened flavor.
butter: Must use this in fudge but also necessary for baking.
heavy cream: Homemade whipped cream is a favorite of mine and heavy cream is a must for cheesecake treats.
cream cheese: Definitely need this for cheesecake treats.
flavor extracts: I find these can add a lot of flavor without carbs. However note that they are not sweet so you have to add sweetener too.
low carb chocolate chips: Lily's chocolate chips and ChocZero chocolate chips are great for snacking, trail mix and of course anything chocolate chip flavored.
dark chocolate bars: Since I'm a big Aldi shopper I buy their 85% Cacao Moser dark chocolate bars. Lately though I'm loving these Lindt 90% Cacao chocolate bars. They are lower in carbs (4g net carbs in 3 large pieces) and I love the taste. They are not very sweet but I like that about them.
pecans, walnuts, almonds, hazelnuts, etc: I like to make my own nut butter but I also like to use nuts in candy, to make crusts, and as a base in some fat bombs.
nut & seed butter: I use both nut butters (almond, hazelnut) and seed butter (sunflower seed, sesame seed, pumpkin seed) in little treats and candies.
shredded coconut & coconut chips: Toasted coconut is great with homade chocolate candy and it's good for granola or trail mix. Coconut flakes make great coconut chips.
chia seeds: These make great puddings and drinks. I have lots of chia seeds recipes.
amond flour: I like almond flour the best for baking.
coconut flour: I don't use this much in my baking but recently it worked out great for my mini muffins.
low carb protein powder: I use protein powder often in both chia puddings for flavor and thickening and also in protein treats. IsoPure Zero Carb protein powder is the best brand I've found carb wise.
low carb collagen powder: I just started buying these (Perfect Keto Collagen Powder & Primal Kitchen Collagen Fuel) and love the flavor. A nice change from typical protein powders. They also taste great in coffee or tea.
Great Lakes Gelatin: This is a really healthy product that is great to add protein and to make low carb gelatin desserts and panna cotta. It's fun to play around with.
Sugar free jello: I use this in my jello pops and sometimes just for a sweet, easy treat with no carbs.
frozen berries: Berries have the lowest carbs of all fruit so I keep frozen berries on hand for fruit toppings and jams.
avocados: Avocados make for yummy pudding. Add the best texture and it's such a healthy fat.
coffee and tea: I have so many Steeped flavored teas and they make great flavor additions without calories or carbs. I also love coffee flavored treats.
Torani sugar free syrups: If you know me at all you know I have a big selection of Torani syrups in my home at all times. Great for drink primarily but I do use it in my baking, especially for any kind of fruit topping or jams.
Super Easy Sugar Free Keto Fudge Recipes
I just discovered easy fudge recipes and have been making a lot of it. Almost too much LOL! I like it because it takes minutes to make and only requires 3 or 4 ingredients. The basic recipe is a mixture of nut butter, butter and Swerve confectioners sweetener. From there you can flavor it any way you want. Here they are.
Easy Low Carb Candy Recipes
I learned how to make quick and easy coconut oil candy many years ago and it has been a staple of mine for just as long. Below are a few different kinds of keto candy recipes for you to try. But they are all very easy and the perfect snack to store in your freezer or refrigerator to grab when you need one.
Easy Low Carb Candy Recipes
Keto Microwave Muffins And Cakes
I love these low carb microwave cakes and muffins for when you want a baked good and you want it fast. I especially love the lava cake. They take little time to mix up and then it's just a minute or two to cook in the microwave. Easy Peasy.
Keto Cheesecake Recipes (Bake And No Bake Treats)
Making no bake low carb cheesecake desserts has been one the best things I've learned on my low carb journey. It's so easy to whip up a little cheesecake mousse and it's not only delicious but very filling too. I have also included two air fryer cheesecake recipes because they are super simple and if you have an air fryer you should give them a try.
Keto Cheesecakes & Cheesecake Mousse
Easy Keto Fat Bombs & Protein Treats
Similar to the keto candy recipes above, these keto fat bomb recipes have a high fat content usually from nuts or coconut oil. I also have a few tasty low carb snacks which use protein or collagen powders.
Easy Keto Fat Bombs & Protein Treats
Tasty Low Carb Cookies & Puddings
I've add a few keto cookie recipes as an easy treat though they might take more time because you have to bake them. But the super quick low carb puddings really are super quick.
Low Carb Cookies & Puddings
I have so many other low carb sweet snack recipes on this blog but this post has some of my favorites. I hope you like them as much as I do.
Some of these recipes have been so helpful in keeping me from going off my diet. If you have any questions, please don't hesitate to ask.