Low carb berry chia pudding is a delicious and healthy breakfast, especially with the added protein! This chia seed pudding is made with almond milk and other simple ingredients for a sweet and creamy start to your day. Each serving has only 2.9g net carbs, 13.5g protein and 166 calories!
Check out this low carb coffee or tea chia breakfast pudding recipe too!
Lately I've been on a chia seed pudding kick. I like it because it's sweet, creamy and healthy. It also fills you up because it's high in fiber so it makes for a good low carb breakfast or snack.
Today I've made a low carb berry chia pudding with a new keto product I found. It's Primal Kitchen's Collagen Fuel which is a dairy free source of protein that tastes great in shakes and recipes like this chia pudding. More about that later in the post.
Basic Chia Seed Pudding With Almond Milk Recipe
First thing I do is make a batch of thick chia pudding by mixing 2 cups of plain almond milk with ½ cups of chia seeds. You mix it well and refrigerate for a few hours until the seeds swell and form a nice thick mixture like the one shown below.
This makes 2 cups of chia seed pudding but it's really thick so I only use ¼ cup of this mixture per berry chia seed pudding.
I keep the rest in a jar in the refrigerator to make different flavors depending on what mood I'm in. I use many different Torani sugar free syrups or I mix it with coffee or tea.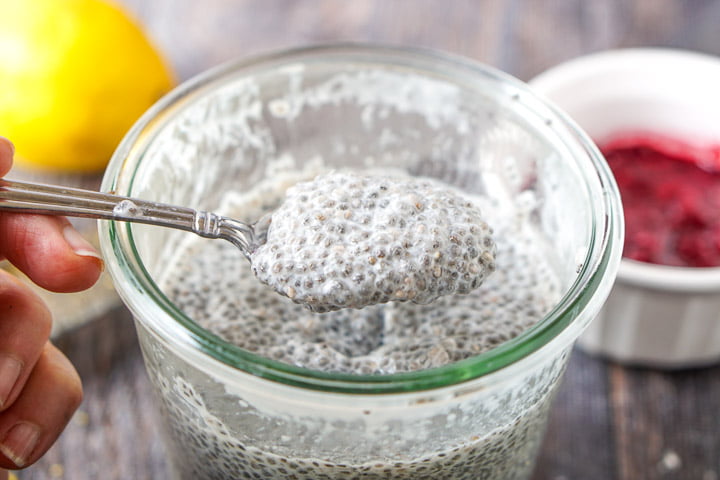 Making The Sugar Free Berry Sauce
This is really easy and I use it in many recipes. I just use a frozen berry blend from Aldi, Swerve confectioners sweetener and a little water. Mix it well and let it boil down and thicken. At the end I use a potato masher to mash the berries together. This is what it looks like below.
A New Kind Of Low Carb Protein Powder
As I mentioned above I used this Primal Kitchen Collagen Fuel mix. It's pretty tasty and only has 1g net carbs per scoop. I like that it's a collagen based protein source because it's good for hair, skin and nails. It's also dairy free so I'm really looking forward to using this more often.
The nutritional information for this collagen protein drink is 70 calories, 1g of carbs and 10g of protein per serving so it's good in a latte or just as a quick drink.
Now We Make The Low Carb Berry Chia Pudding!
Here is how I put it all together but you can play around with it to fit your needs.
First make the basic chia pudding as mentioned above by mixing 2 cups of plain almond milk with ½ cup of chia seeds. Place in the fridge for a couple hours until thicken.
Meanwhile place 1 cup of frozen berries in a pan with 2 tablespoons of Swerve confectioners sweetener and 2 tablespoons of water. Cook the berries down and mash to make a sauce. Take off the stove and let cool.
When ready to make the pudding, add ¼ cup of the prepared chia seeds + 1 scoop of the Collagen Fuel (or other protein powder) + 2 tablespoons of plain almond milk. Mix well and then top with 1 tablespoon of berry sauce.
Add more or less almond milk to get the consistency you like. The same goes for the berry sauce. If you don't have the collagen fuel you can use any protein powder your like. Some of the low carb protein powders I recommend can be found in my Amazon Storefront if you are interested.
If you are a peanut butter and jelly fan, you can add a little natural no sugar added peanut butter to your berry chia pudding. I've been doing this a lot lately. I also use almond butter, sunflower seed butter and sometimes pumpkin seed butter.
Other Flavor Combinations To Try
Here are more low carb variations to try.
Add cocoa powder into the chia pudding and then add the berries for a chocolate berry flavor.
Add a little orange or lemon zest to go with the berries.
As mentioned above try different nut butters like almond, sunflower seed, pumpkin seed, etc.
Add in mixtures like coconut flakes, cacao nibs, walnuts, pecans or Lily's chocolate chips
Instead of the berry sauce, try a low carb fruit spread like Jok n Al Low Calorie Fruit Spread or Lakanto sugar free maple syrup.
Use more almond milk to the pudding and mix in the berry mixture to make a thick shake or drink.
Try different Torani sugar free syrups for added flavor. I especially like the raspberry, s'mores, coffee and salted caramel.
NOTE: You can find many of these products and more in my Amazon Storefront.
Well I hope you enjoy this easy yet versatile low carb breakfast idea. Chia pudding is a healthy way to start your day and there as so many ways you can flavor it. I hope you give it a try! The nutritional information is as follows:
¼ cup of

plain

chia seed pudding mixture
82 calories / 5.8g fat / 5.5g carbs / 5.2g fiber / 3.2g protein = 0.3g net carbs
1 tablespoon of berry sauce
9 calories / 0.1g fat / 4.4g carbs / 2.9g fiber / 0.1g protein = 1.5g net carbs
1 serving as

prepared

(2 T of almond milk + 1 scoop of protein + ¼ cup chia seed pudding + 1 T berry sauce)
166 cals / 8.7g fat / 11.1g carbs / 8.2g fiber / 13.5g protein = 2.9g net carbs
---
Low Carb High Protein Berry Chia Pudding
Total Time:
3 hours
15 minutes
This low carb berry chia pudding with added protein is a healthy and delicious way to start your day!
Ingredients
Plain Chia Seed Mixture
½ cup chia seeds
2 cups plain, unsweetened almond milk
Low Carb Berry Sauce
1 cup frozen berry mixture ( raspberries, blackberries, strawberries and blueberries)
2 tablespoons Swerve confectioners sweetener
2 tablespoons water
To make the berry protein chia pudding
¼ cup of plain chia pudding
2 tablespoons of plain almond milk
1 tablespoon of berry sauce
1 scoop of Collagen Fuel or other flavored low carb protein powder.
Instructions
To make the plain chia pudding:
Add ½ cup of chia seeds to 2 cups of almond milk. Mix well and refrigerate for about 2-4 hours until seeds swell and mixture is very thick.
To make the low carb berry sauce:
Add frozen berries to a small pan, along with 2 tablespoosn of water and 2 tablespoons of Swerve sweetener. Mix and cook the berries down until the make a sauce. This will take 5-10 minutes. Use a potato masher or fork to break up the berries as they cook.

When done, set aside to cool before adding to chia pudding.
To make the final low carb berry chia puding with protein:
Take ¼ cup of the prepared plain chia pudding and mix with 1 scoop of the protein powder and 2 tablespoons of almond milk. Top with a tablespoon of the berry sauce.
Notes
This is a very versatile recipe. You can take add all kinds of flavors such as any sugar free Torani flavor or mix in cocoa powder, nuts, seeds, coconut, nut butters, sugar free chocolate chips, etc. See all the suggestions in my post.
You can find many of the products used in my Amazon storefront.
Nutrition Information:
Serving Size:

1
Amount Per Serving:
Calories:

166
Net Carbohydrates:

2.9gg
Protein:

13.5g