This healthy low carb pumpkin pie pudding is the perfect after school snack or dessert. It takes only a few minutes to make and has only 3.4g net carbs per serving! So if you like to feed your family healthy pumpkin dessert, give this one a try.
You might also like this low carb mini pumpkin pie in the microwave recipe!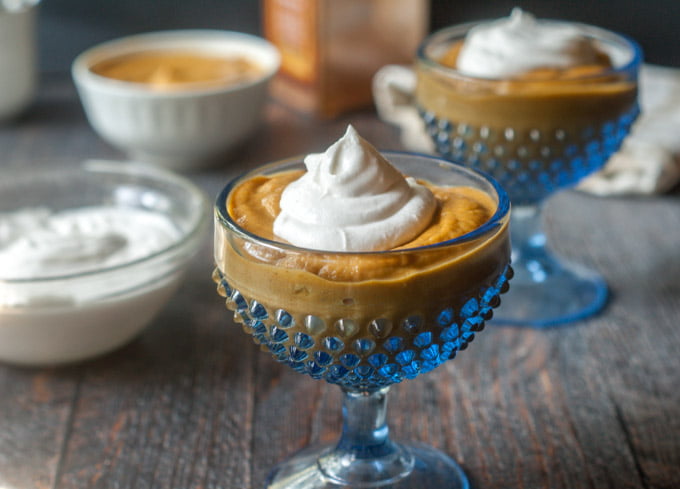 Guess what we are celebrating today on Sunday Supper…. after school snacks. I remember being so hungry after school and as a family we ate dinner pretty early, so our after school snacks weren't much. However these days my husband gets home a little late so my son usually has a substantial snack after school.
Toady I wanted to make a healthy pudding because I know that is something my son would love. So I have made a healthy low carb pumpkin pie pudding that is Max approved. It's full of healthy ingredients and only takes a few minutes to make. And it's even low carb enough for me to eat with only 3.4g net carbs!
Other Deliciously Healthy Pumpkin Desserts To Try
I use pumpkin for a lot of my low carb recipes because it gives a dish flavor and thickness. I have used it in soups, risotto, smoothies, and much more. Some of my favorite healthy pumpkin desserts you should try are:
Healthy Pumpkin Pudding Ingredients
This recipe is a combination of my mini low carb pumpkin pies and chocolate peanut butter protein pudding. The chocolate pudding was an eyeopener. I learned to use avocado to give it that creaminess naturally.
This pudding today is very healthy because avocados are a great source of healthy fats and vitamins, while pumpkin is full of fiber, potassium and vitamin A. The only other ingredients are a little almond milk, spices and natural stevia sweetener.
Making Keto Coconut Whipped Cream
Below you can see I topped it with some whipped coconut cream. I just bought some coconut cream from Trader Joes (similar to this) and whipped it up with some SweetLeaf vanilla stevia.
I used the vanilla stevia in the pudding too. Max is not a coconut fan so I didn't put it on his but I put it on mine. I find that it's really good with fresh strawberries too.
This recipe does not make huge portions because I was trying to keep the carbs down for me. You can always double this if you want to make more or bigger servings. As it is I think you will be very satisfied. Both my father and in law and my son really liked this so I was very happy with the outcome.
Healthy Pumpkin Pie Pudding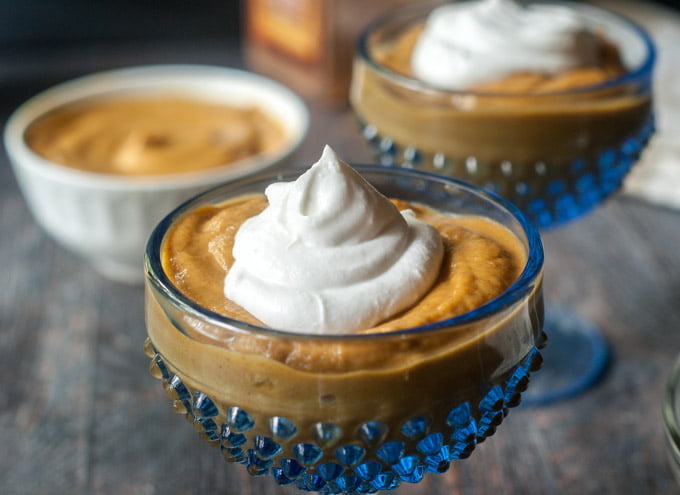 Well that is all I have for you today. I hope you like this after school snack of healthy pumpkin pie pudding. It's so easy to make and you can feel good about giving it to your kids.
Scroll down and see all the great recipes my friends from Sunday Supper have for you and the nutritional information for 1 serving (without the coconut whipped cream) is:
113 cals / 8.4g fat / 9.8g carbs / 6.4g fiber / 2.3g protein = 3.4g net carbs
And for another delicious treat, try my friend Davinah's Keto Pumpkin Bars!
Healthy Pumpkin Pie Pudding
This healthy pumpkin pie pudding is the perfect after school snack or dessert. It takes only a few minutes to make and has only 3.4g net carbs per serving!
Ingredients
½

avocado

½

cup

pumpkin, pure, not pie filling

¼

teaspoon

cinnamon

½

teaspoon

pumpkin spice

½

cup

almond milk

vanilla stevia to taste

coconut cream, optional for whipped topping
Instructions
Add all ingredients to a blender and blend on high until smooth and creamy.

Spoon into dishes and refrigerate until ready to eat.

For the coconut whipped topping, add just the coconut cream (not the water in the can) and a bit of vanilla stevia to a large bowl and using a hand mixer, whip until nice and creamy. Keep refrigerated.
Recipe Notes
Nutritional information for 1 serving (without the coconut whipped cream) is:
113 cals / 8.4g fat / 9.8g carbs / 6.4g fiber / 2.3g protein = 3.4g net carbs