One bite and you will be hooked on these keto microwave pumpkin pie treats. Especially because it only takes 5 minutes from start to finished. These mini microwave pumpkin pies are like a crustless pie in a cup. And since it's sugar free and gluten free, each has just 2.0g net carbs per serving!
You might also like my microwave chocolate lava keto mug cake.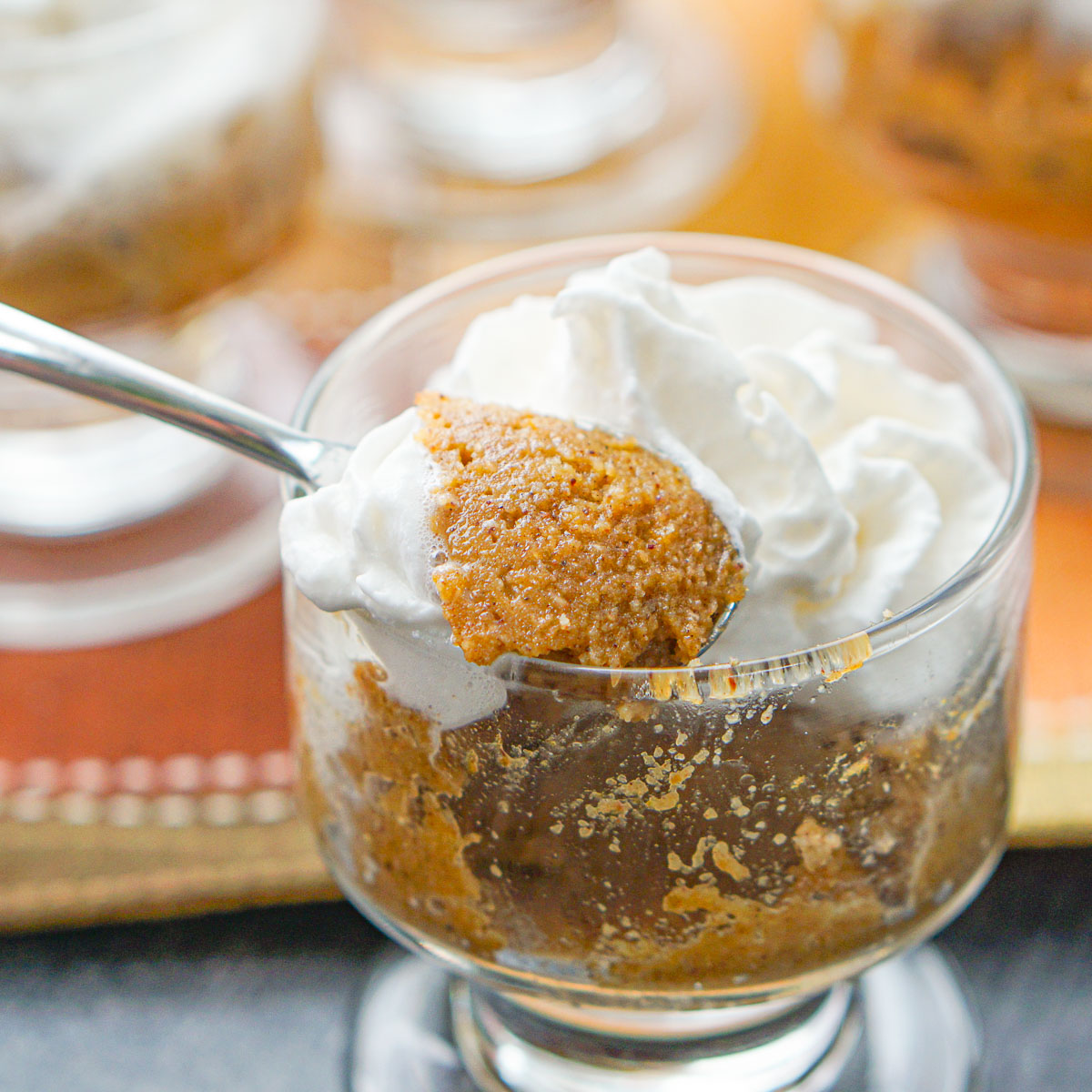 I make quite a few microwave mini dishes and today I wanted to make a small version of my keto crustless pumpkin pies but in the microwave. If you do it right you can make mug cakes and various low carb desserts in just minutes in the microwave. This is always a plus for me when on a low carb diet.
The result were these mini keto microwave pumpkin pie treats. They are small but perfect for a quick keto dessert or snack if you have a sweet tooth.
It only took about 5 minutes from the mixing to the end result. From there you can top them with some candied pecans or whipped cream or just eat them as is.
Recipe ingredients I used.
Of course you are going to need some canned pumpkin puree that you get in a can but make sure it's not classic pumpkin pie filling. The other ingredients are coconut flour, heavy whipping cream, egg yolk, butter, Swerve brown sweetener and pumpkin pie spice.
I chose to use coconut flour instead of almond flour because I wanted more of a softer texture and almond flour would make it more of a cake because you would have to use more of it than the coconut.
For sweetener I have usually use Swerve products but you can your sweetener of choice. Lakanto makes a nice Golden sweetener that has a bit of a brown sugar flavor and that work well here too. And you can use powdered or granulated sweetener. I've used both and they work equally well.
One thing I did play around with to great success was the flavoring. This recipe uses pumpkin pie spice but I've also substituted in maple extract and caramel extract. They were great! Or course you can add a bit of vanilla extract if you want.
I actually liked the caramel extract the best but I wasn't sure people would have that on hand so I went with the standard pumpkin pie spice blend. You can find many of the ingredients for this keto pumpkin pie recipe in my Amazon store if you are interested.
How to make keto microwave pumpkin pie treats.
Step 1: In a medium bowl, mix together the pumpkin, coconut flour, egg yolk, sweetener, heavy cream and pumpkin pie spice.
Step 2: In a small microwave bowl or ramekin add the butter and cook for 20 seconds or so in the microwave until melted. Let it cool a minute and then pour the melted butter in with the pumpkin mixture and mix well.
Step 3: Spoon the batter into small ramekins or dessert dishes. I make 4 of these treats in little 3.5oz glass dishes.
Step 4: Then one or two at a time place in the microwave and cook for 30 – 60 seconds. You want the mixture to be firm to the touch but not hard. You want to cook it so the middle is still a little moist, that way the pie won't be too dry. Cooking time may vary depending on how big your treats are.
If you were to make double the amount and make bigger treats it will take more time. So cook them in 30 second intervals until they are done.
You can eat these microwave pumpkin pie treats hot or cold. I put a little whipped cream on mine but you could also try adding some crushed nuts or a sprinkle of cinnamon.
Store leftover with plastic wrap in the refrigerator. Please scroll down to view the printable recipe card.
A note about the baking dishes and serving sizes.
I used little glass dessert cups that were 3.5 ounces in size. Doing so this recipe made 4 small servings. You could use small ramekins and make 2 servings but I would not make this recipe any larger than that. It will take longer to cook and won't cook as well.
How many carbs in whipped cream?
I like my pumpkin pie with whip cream. If you make your own it would have less carbs. Use heavy whipping cream and whip it up with your electric mixer along with some sweetener.
If you buy the kind in the canister (which I did today). There are 1g net carbs per 2 tablespoons of the whipped cream in the canister. I figured about that much on top of the smaller portion was worth it.
Well I hope you like these keto microwave mini pumpkin pies as much as I did. I really, really liked them. Especially with the extracts so give that a try someday.
Or just stick with the pumpkin spice which are also delicious. Using the microwave makes this like a mini keto pumpkin mug cake recipe. If you need sweet treats in your life try this one!
The nutrition info for 1 small serving without whipped cream is: 126 cals / 11.7g fat / 3.9g carbs / 1.9g fiber / 2.3g protein = 2.0g net carbs
If you love pumpkin as much as I do, you should also check this delicious low carb pumpkin cheesecake recipe!
Keto Mini Microwave Pumpkin Pie Recipe
One bite and you will be hooked on these keto mini pumpkin pies. Especially because it it only takes 5 minutes from start to finished and has 2.0g net carbs per serving!
Ingredients
2 tablespoons butter
2 egg yolk
2 tablespoons coconut flour
3 tablespoons sweetener (I use Swerve)
1 teaspoon pumpkin pie spice
2 tablespoons heavy cream
4 tablespoons pumpkin puree
Instructions
In a mixing bowl, combine the egg yolk, coconut flour, sweetener, pumpkin pie spice, heavy cream and canned pumpkin.
Place the butter into a small microwave safe bowl and microwave for 30 seconds until melted. Let it cool for a minute or so and then add to the pumpkin mixture and mix well.
Divide the mixture into 4 small dessert dishes. Then take 1 or 2 and microwave for 30 seconds. Check to see if they are done. You want the middle to be a bit moist so it doesn't over cook. If it needs more cooking, just cook for 10 seconds more until done.
You can eat these cold or warm. Top with whipped cream, cinnamon or crushed nuts. Or you can eat them as is. Cover leftovers with plastic wrap and refrigerate.
Notes
1 smaller serving without whipped cream is: 126 cals / 11.7g fat / 3.9g carbs / 1.9g fiber / 2.3g protein = 2.0g net carbs
Nutrition Information:
Yield:

4
Serving Size:

1 grams
Amount Per Serving:
Calories:

126
Unsaturated Fat:

0g