If you are looking for delicious low carb recipes to satisfy your sweet tooth, try these 14 recipes using Torani sugar free syrups. A variety of sweet recipes that are easy to make! Check out our coupon too!
I have been using Torani sugar free syrups for years and have over 20 bottles sitting on my counter at this moment. I make a lot of sugar free and low carb recipes with them because I have a very strong sweet tooth. Below I have 14 of my favorites that use these syrups so if you buy a bottle and don't quite know what to do, try one of these!
Here's a coupon for torani syrups!
Before I get started here is a Torani coupon code for you! They are offering 15% off your first order plus free shipping! They offer over 30 sugar free flavors so if you need any help picking a few just drop me a comment below and I'll let you know my thoughts.
---
Now for our 14 Low carb recipes
---
1) Low Carb Salted Caramel Cream Coffee
If you are looking for something special to sip this fall, try this salted caramel cream coffee. All the creamy sweet flavor of those classic candies in a low carb, sugar free coffee! Only 1.3g net carbs. (click on photo for recipe)
2) Coffee or Tea Chia Breakfast Pudding
This low carb chia breakfast pudding is a delicious way to start your day. Full of healthy ingredients it's low in carbs but high in protein. And it has the added kick of caffeine from either coffee or matcha! Only 4.9g net carbs for the coffee version. (click on photo for recipe)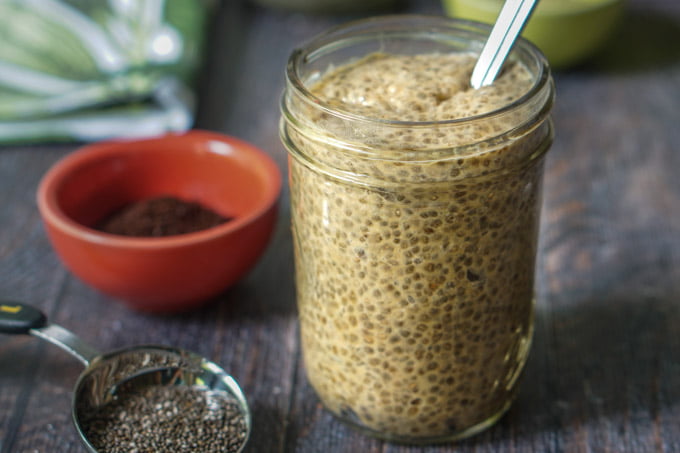 3) German Chocolate Cake Cold Brew
This German chocolate cake cold brew coffee is a great afternoon treat that you don't have to feel guilty about as it's sugar free and low carb! Only 1.5g net carbs. (click on photo for recipe)
4) Tiramisu Gelatin Desserts
These tiramisu flavored gelatin desserts make for an easy, low carb sweet treat full of all those traditional tiramisu flavors. Each dessert has only 2g net carbs with the added benefit of healthy gelatin! (click on photo for recipe)
5) Salted Caramel Pumpkin Smoothie
This low carb salted caramel pumpkin smoothie is just the thing to get you going in the morning. With only 5.4g net carbs per serving, you could eat it for dessert too! (click on photo for recipe)
6) Spiked Hot Cocoa
Santa's Little Helper – a low carb spiked cocoa is the perfect way to unwind during the holiday rush. Creamy, sweet and only 3.8g net carbs, you can drink this with or without alcohol to relax and treat yourself this Christmas. (click on photo for recipe)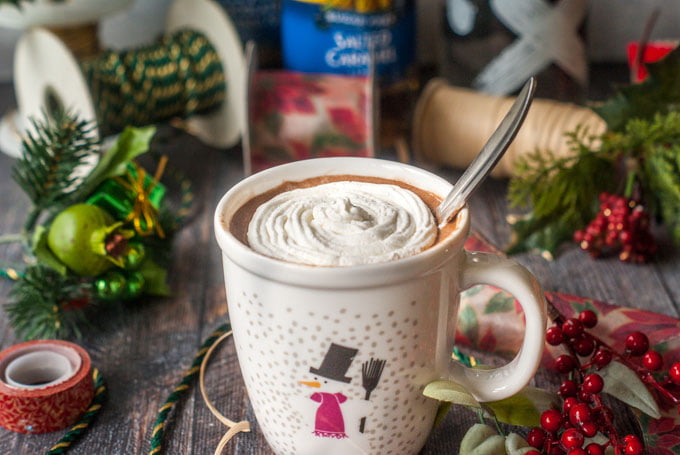 7) Spicy Pineapple Margarita
This spicy pineapple margarita is a festive, low carb drink that would be perfect for your next brunch or to pamper your mom on Mother's Day. Spicy infused tequila with sweet pineapple and tart lime make for a tasty drink. Only 2.0g net carbs. (click on photo for recipe)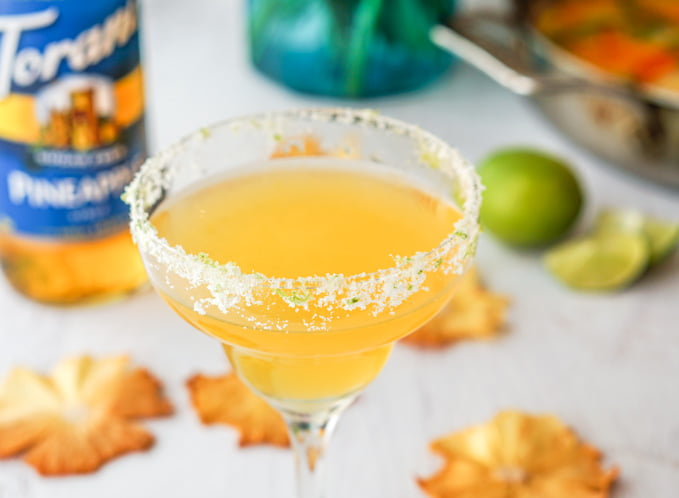 8) Raspberry Mimosa
This spicy pineapple margarita is a festive, low carb drink that would be perfect for your next brunch or to pamper your mom on Mother's Day. Spicy infused tequila with sweet pineapple and tart lime make for a tasty drink. Only 2.0g net carbs. (click on photo for recipe)
9) Burnt Almond Torte Chia Pudding
Try this burnt almond torte chia pudding and you won't feel denied on a low carb diet. Sugared almonds, creamy topping and that almond flavored chia pudding make for a delicious low carb dessert for only 2.5g net carbs! (click on photo for recipe)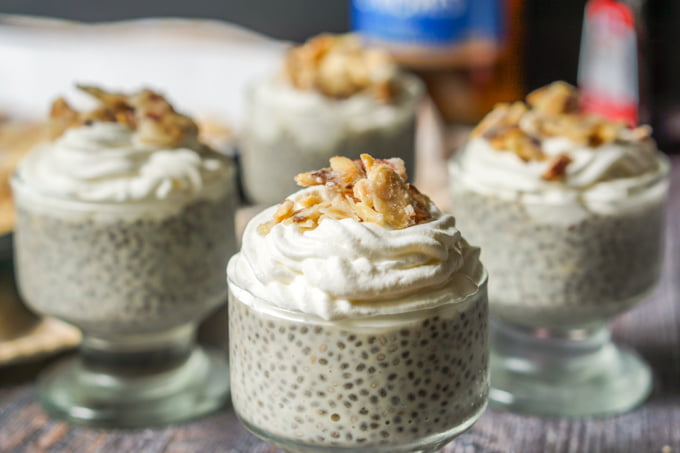 10) Raspberry No Bake Cheesecake
This raspberry no bake cheesecake is a delicious low carb treat that is easy to make and satisfies your cravings for cheesecake. Only 5.7g net carbs per serving. (click on photo for recipe)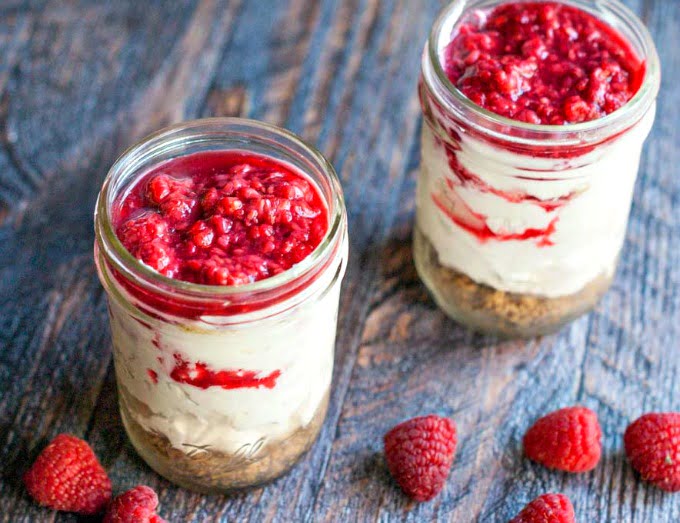 11) Candy Flavored Halloween Drinks
This raspberry no bake cheesecake is a delicious low carb treat that is easy to make and satisfies your cravings for cheesecake. Only 5.7g net carbs per serving. 5 drink recipes ranging from 0.6g net carbs to 3.8g net carbs. (click on photo for recipe)
12) Jelly Bean Flavored Gelatin
Looking for a low carb Easter treat? Try these low carb jelly bean gelatin snacks! Easy to make and virtually no calories or carbs and the added benefit of using healthy gelatin! Only 0.7g net carbs. (click on photo for recipe)
13) Boozy Pops
These low carb boozy pops are a fun way to celebrate this summer. Take some of your favorite cocktails and cool off with a low carb pop instead of a drink. Tastes great without alcohol too! 3 pop flavors range from 0.3g net carbs to 2.5g net carbs (click on photo for recipe)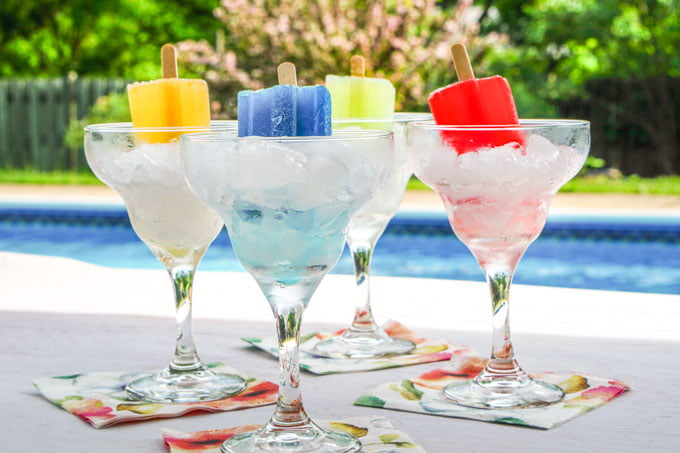 14) Fruity Tea Chia Drink
This low carb fruity chia tea is a healthy and tasty drink you can easily make at home instead of buying an expensive one at the store. Using fruity herbal tea you can make any variety of flavors you wish! Only 3.0g net carbs per serving. (click on photo for recipe)