If you want to try a quick and easy low carb dessert in your air fryer, try this keto chocolate chip cheesecake. You only need 5 ingredients and an air fryer to make a creamy, sweet cheesecake that has only 2.8g net carbs!
You might also like these low carb blueberry cheesecake tarts recipe!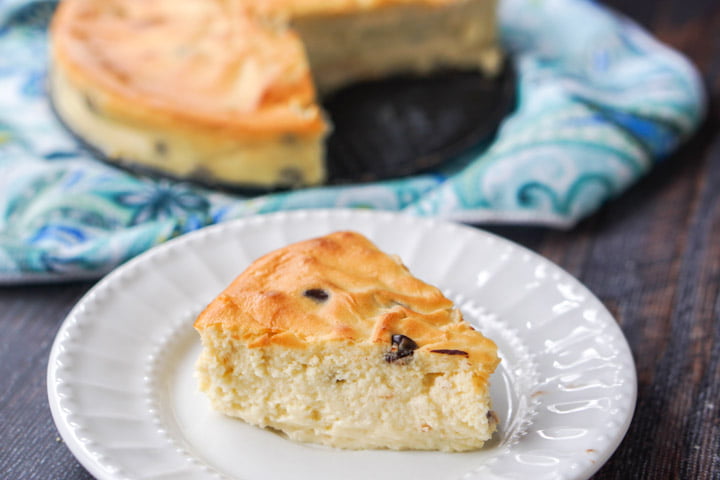 I've been playing around with low carb dessert recipes and I think I've created the easiest keto chocolate chip cheesecake recipe and you make in the air fryer. It is creamy and sweet and only requires 5 ingredients! So if your sweet tooth is calling you but you want to stick to your low carb diet, check this out.
My family loved it. Everyone from my husband who doesn't like sweets, to my 15 year old who does, to my diabetic father in law. I loved it because it was easy and had only 2.8g net carbs per piece.
What Kind Of Air Fryer I Use
I've started making more and more dishes in my air fryer because it's so quick and easy. In some cases it actually cooks better than my oven (ie fried or crunchy things). Even if you don't like to cook, you might like the convenience of an air fryer. It also might be a good Christmas present for you or someone else!
This is the air fryer I bought. So far so good. It has a pretty large basket (I've cooked a whole chicken and turkey breast) and it's simple to use (not too many buttons and gadgets). I did a little research and this is the one I thought would work best for me and so far it's been great!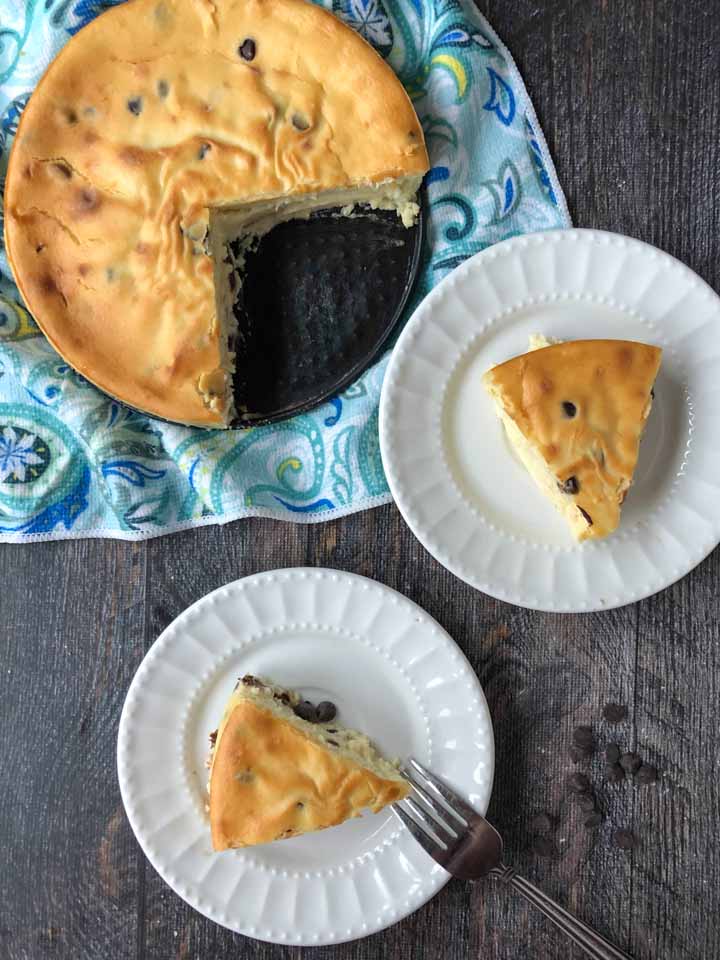 The 5 Keto Cheesecake Ingredients
All you need for this keto cheesecake is cream cheese, Swerve confectioners sweetener, vanilla extract, eggs and Lily's chocolate chips. A couple of notes about these ingredients.
I really like good old Philadelphia cream cheese for cheesecakes. It just seems to work the best.
Also I like Swerve confectioners sugar instead of the granular for baking.
Lastly Lily's chocolate chips are the lowest carb chocolate chips I can find so I use them in my baking as well.
But that is all you need! So you can see how simple this is and how you can change the flavors easily. Also I'll be making more easy cheesecake recipes so keep an eye out for them.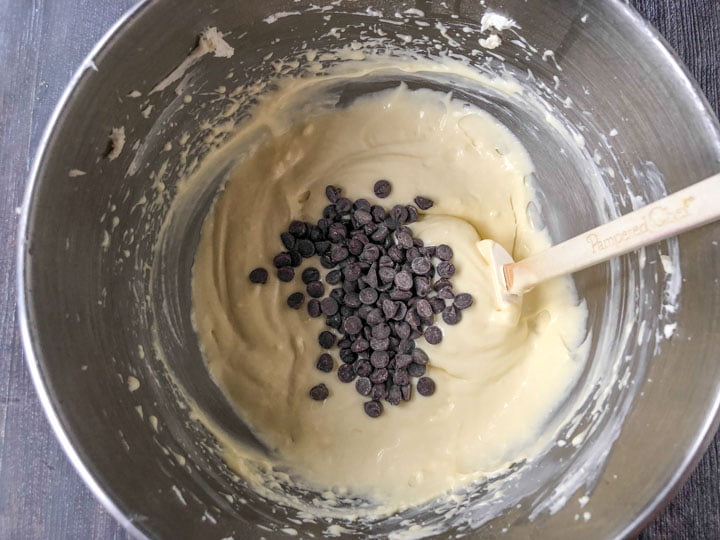 Let's Make The Easiest Keto Chocolate Chip Cheesecake!
Make sure the cream cheese has softened and the eggs are close to room temperature. Begin by using a mixer to cream the cream cheese and Swerve sweetener together. Once that is nice and creamy, add in the eggs and vanilla extract. When all of that is mixed well and nice and creamy, fold in the chips. It should look like the mixture above.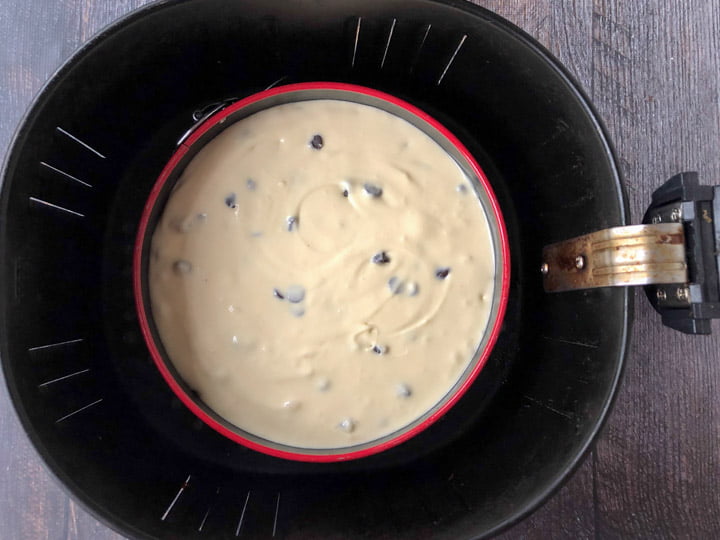 Pour the mixture into a greased springform pan. I used this 7″ springform pan that I bought for my Instant Pot. It's rather small but perfect for the air fryer too. Make sure you pan fits your air fryer before making this recipe!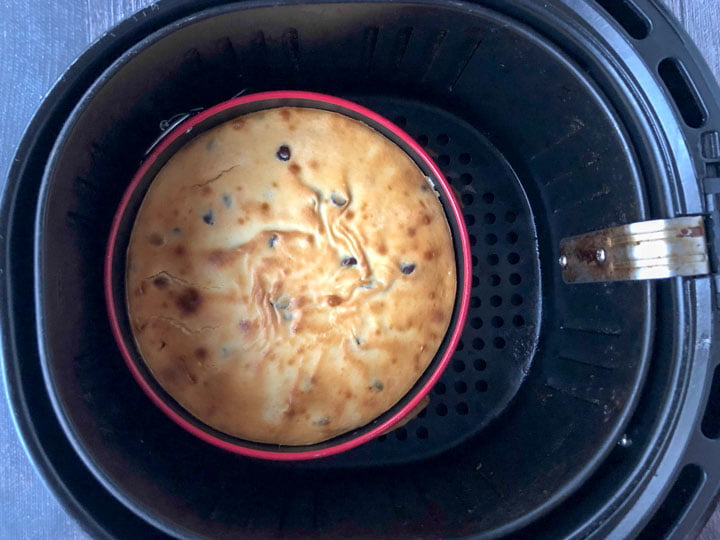 Bake at 300°F for 10 minutes and then lower the heat to 250°F for 35 minutes. So that's 45 minutes total.
How Do You Know When The Cheesecake Is Done
When you are close to done, gently shake the pan a little and if it seems set but jiggles a little in the middle it's done. If the whole thing jiggles it needs more time. You don't want to over cook it or it will crack. For more information check out this article about how to make a cheesecake.
Last step of the recipe
There is one more step in the recipe. You have to let it cool on the counter and then refrigerate it for at least 2-4 hours to make sure it sets up. You cannot skip this step. Sorry it's important.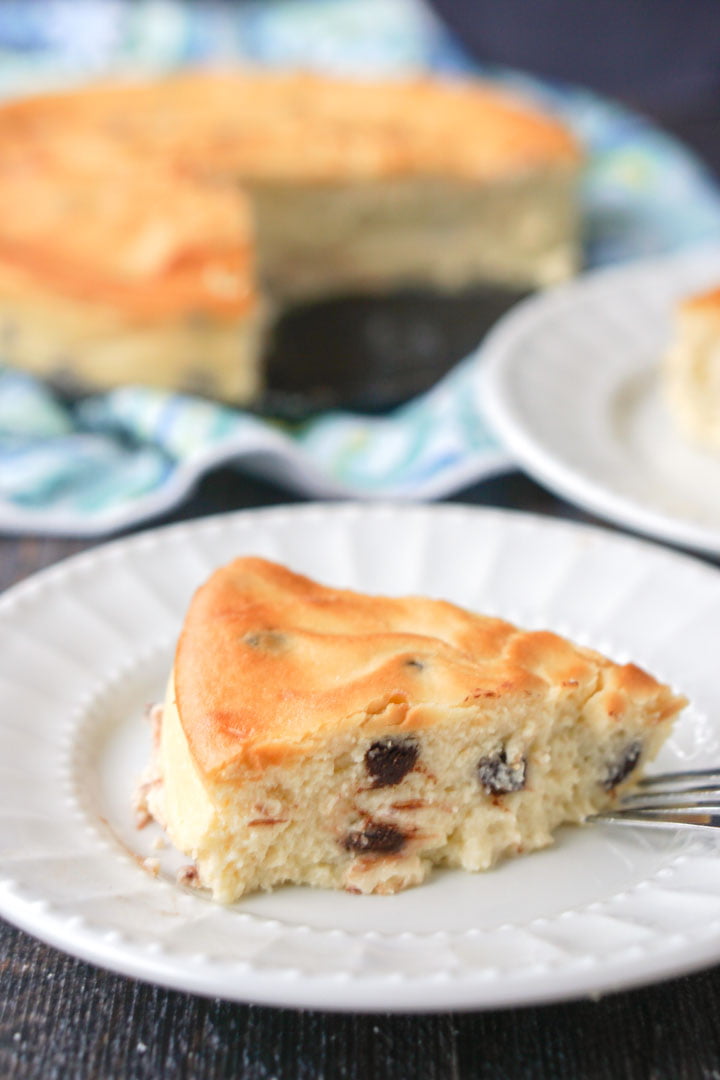 If you want to make this in a conventional oven
Disclaimer as I have not done this yet. I will give it a try over the holidays and come back to update you all. However I would try a 325°F temperature and cook for roundly 40 minutes and go from there.
Recipe Notes & Tips
First let me say this is a very simple keto cheesecake recipe. It's meant to be a recipe you can make for yourself or family when you want a keto dessert or treat.
I used an air fryer because I thought it would simplify the process. No need for a water bath or anything like that.
There is no crust to make it easier but you could add one. Just finely chop some pecans and mix it with a little butter to make it sticky. Press into the pan and precook for 10 minutes.
You can eliminate the chocolate chips and make a fruit topping. Cook down some berries with a little sweetener until thickened. Refrigerate until ready to use.
This recipe makes 8 servings using a 7 inch springform pan. They are not huge slices but PLENTY filling.
If you are a cheesecake fan, I think you are going to love this chocolate chip cheesecake recipe. I also made a plain raspberry keto cheesecake but I'm going to make that one again in a regular oven for you all. Enjoy!
The nutritional information for 1 piece is:
232 cals / 20.3g fat / 4.6g carbs / 1.8g fiber / 5.8g protein = 2.8g net carbs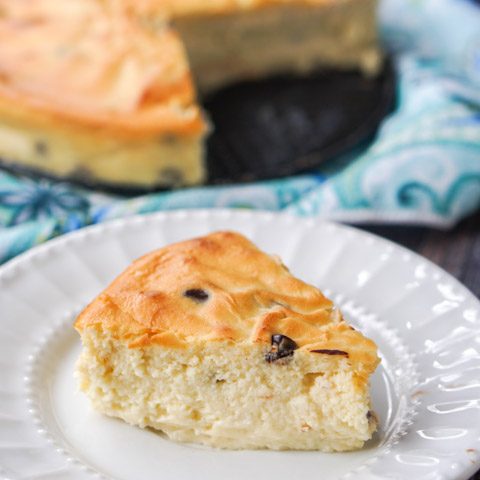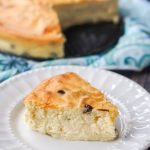 Easy Keto Chocolate Chip Cheesecake in the Air Fryer
If you want to try a quick and easy low carb dessert in your air fryer, try this keto chocolate chip cheesecake. You only need 5 ingredients and an air fryer and you will have a creamy, sweet cheesecake that's super easy to make with only 2.8g net carbs!
Ingredients
16

oz

cream cheese (2 packages)

1

cup

Swerve confectioners sugar

2

eggs

1

teaspoon

vanilla extract

¼

cup

Lily's mini chocolate chips (approxiately 150 chips)
Instructions
Using a mixer, cream the cream cheese and Swerve sweetener until well combined.

Add in the eggs and vanilla and mix until creamy. Fold in the chocolate chips.

Cook at 300°F for 10 minutes then lower the temperature to 250°F for 35 minutes. You know it's done when you gently shake the pan and everything seems set but the middle jiggles a little.

Take it out and let it cool down a bit before refrigerating. Keep it in the refrigerator for 2-4 hours. The longer the better to let it completely set up.