These low carb chocolate cheesecake bites are the perfect dessert or snack to have on hand when your sweet tooth comes a calling. Creamy chocolate cheesecake rolled in crunchy toasted coconut or toasted pecans for less than 1g net carbs per bite.
I'm already for the new year. I'm trying to make and freeze dishes that are low carb and satisfy certain cravings so I won't go off my diet. I have a lot of recipes for low carb sweets but I was craving cheesecake the other day and so I made these low carb chocolate cheesecake bites. I rolled some in toasted coconut and others in toasted pecans. Both were delicious and even got the thumbs up from my picky father in law! He's diabetic so whenever I make something sugar free and sweet I have him taste test.
As I mentioned above I have a lot of low carb sweet recipes to alleviate my sweet tooth cravings. Check out my recipes page and scroll down to low carb sweets.
Cheesecake bites recipe
This is another easy recipe. You simply beat all the ingredients together with your mixer. Then refrigerate the cream cheese mixture for an hour so it hardens and is easier to handle. Take a spoon full and drop into a bowl of toasted coconut or toasted pecan bits. Roll them around in the nuts or coconut and then you can take them out and roll them into a ball. One thing you need to note is that you need to keep these refrigerated.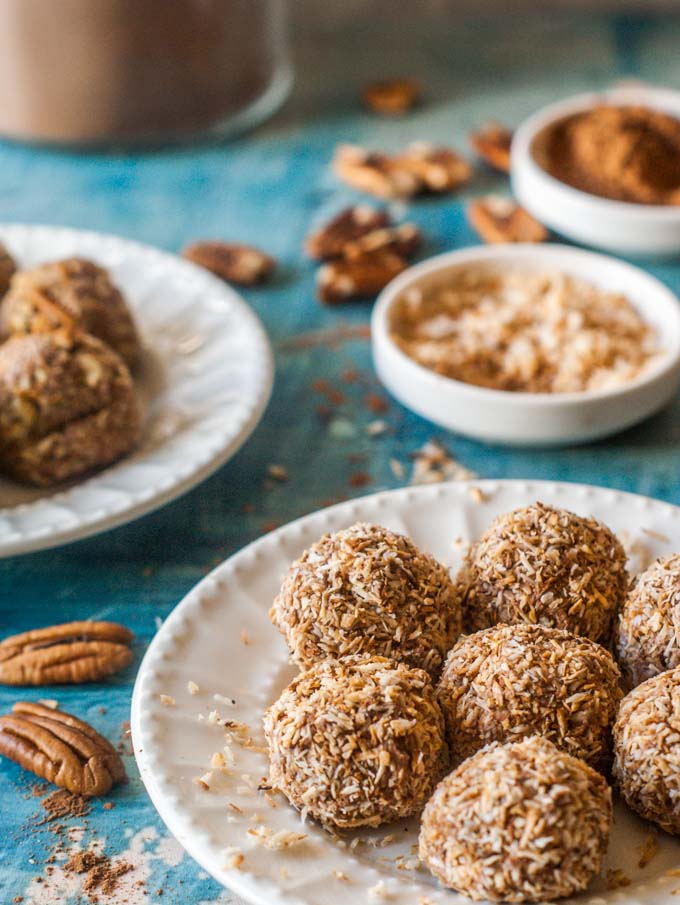 ---
Some of the special ingredients I use are:
You can use different sweeteners if you like but you will have to play around with amounts to get the desired sweetness you want.
---
Low Carb Chocolate Cheesecake Bites in a Nutshell
Beat together cream cheese, cream, sweetener and cocoa in a mixer.
Refrigerate for 1 hour to harden.
Drop spoonfuls in a bowl of toasted coconut or toasted pecan pieces and roll around.
Take out and form a ball with your hands and then store in the refrigerator.
Well I hope you enjoy these as much as I did. I can see myself making these on a regular basis and maybe playing around with the filling. I might try one of my many sugar free Torani syrups next time. The nutritional information for 1 bite (depending on the coating) is:
---
Coconut – 66 cals / 6.7g fat / 5.2g carbs / 4.3g fiber / 0.6g protein = 0.9g net carbs
Pecans – 72 cals / 7.3g fat / 5.0g carbs / 4.2g fiber / 0.7g protein = 0.8g net carbs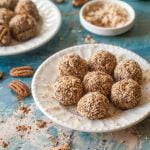 Low Carb Chocolate Cheesecake Bites
Ingredients
4

oz

cream cheese, softened

5

tablespoons

Swerve sweetener

1/8

teaspoon

Vanilla cream liquid stevia

3

tablespoons

cocoa, unsweetened

3/4

cup

heavy cream

1/2

cup

coconut, unsweetened and toasted

1/2

cup

pecans, chopped and roasted
Instructions
In a mixing bowl add cream cheese, Swerve and cream. Beat until well mixed.

Add the rest of the ingredients and beat on high for a minute or two until nice and creamy.

Place in the refrigerator for 1 hour to harden a bit.

Toast coconut in a dry skillet and the pecans in another skillet. Let cool and place in bowls and set aside.

Take the cream cheese mixture out of the refrigerator and take a spoonful out and place in the nut or coconut mixture. Roll around to cover in nuts or coconut. Roll into a smooth ball and place on plate.

Finish with the rest of the balls and then store them in the refrigerator.