If you are on a low carb diet and you don't know what to make for dinner, try one of these 11 keto dinner recipes that use 5 ingredients or less. Most of these low carb recipes use common ingredients you probably have on hand. And I've included my favorite ingredients to have on hand for quick low carb meals.
You might also like this 27 low carb ground beef recipes post!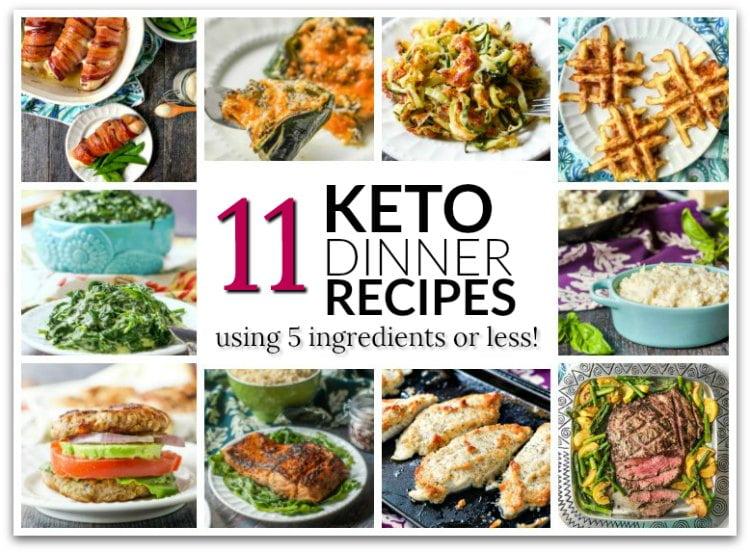 I don't know about you but I seem to cook the same old recipes for dinner, meanwhile I have over 800 recipes on this site! So today I thought I'd roundup 11 keto dinner recipes that use 5 ingredients or less.
There is bound to be one or two that you and your family will enjoy. Then you can add them to your regular dinner rotation.

Low Carb Foods I Keep On Hand For Easy Keto Dinners
Making dinner in a hurry is easier when you have certain foods on hand either in the freezer, pantry or as part of a weekly grocery run.
Here are few of my favorite foods for making quick low carb dinners:
ground beef: There is so much you can do with ground beef and it freezes well. I use it for burgers, casseroles, stir fries, meatloaf, meatballs and to stuff peppers etc. Check out this post of 27 low carb ground beef recipes for more dinner ideas.
cooked chopped chicken: I often write about buying rotisserie chicken from Costco because they seem to have the biggest rotisserie chickens at the best price. I take all the meat off the chicken, chop it and then put it into baggies to freeze it. Then I use it for soups, casseroles and dips. You can also use it to stuff peppers with. Use the bones to make bone broth and then store that in the freezer too for soup.
cauliflower: I always buy cauliflower at the grocery store. Cauliflower rice is the easiest and quickest side dish to make. I never serve it plain but have quite a few recipes on this blog. Also it's great roasted, mashed or as a thickener in soups (cauliflower cream). Lastly I often use it in casseroles because it adds bulk and stretches the dish.
tilapia or salmon: Frozen tilapia is always useful for an easy dinner. I especially like the easy asiago tilapia dish below but this easy peasy Mediterranean fish dinner is a winner too. And salmon is readily available at most grocery stores so I like to marinated like the chili soy salmon below or just broil it. It has so much flavor, is healthy and my family loves it.
bacon: When in doubt add bacon. I like bacon to wrap chicken breasts or even to top meatloaf with. However we often use it with vegetables like this green beans and bacon, or this cauliflower Brussels sprouts and bacon dish. Really any vegetable is good with bacon.
romaine lettuce: If you are a salad fan you can make all kinds of delicious salads that are low carb or keto. Add ground beef for a taco salad or burger salad or chopped cheese and lunch meat for a chef salad. My husband often make a salad with canned tuna (oil packed), blue cheese, peppers, olives and nuts. It's so good and filling.
frozen vegetables: Sometimes I personally can eat a bag of frozen veggies for lunch. Just defrost and saute in butter and maybe some slivered almonds. However they are great for casseroles, soups or as a side dish. I especially like frozen green beans, broccoli, spinach and Brussels sprouts.
thin boneless pork chops: I buy these at Aldi all the time. They are inexpensive and I often make air fryer crispy strips out of them. Or add them to the slow cooker with sauerkraut. Lately I have been making this pork chops Romano which is sooo good!
zucchini: Zucchini noodles are a favorite of mine, but I also love it sauted or roasted. I have a few zucchini soup recipes as well. Sometime I stuffed them with browned ground beef and top with a low carb tomato sauce. Zucchini is a versatile low carb vegetable that we eat often. My hubby loves zucchini waffles too!
So without further ado, here are those easy keto dinner recipes I promised you. I hope you enjoy them!
11 Keto Recipes That Use 5 Ingredients or Less!
Well I hope you found something that appeals to you. If you have any questions or comments, please let me know. I love hearing from you.
If you like these keto dinner recipes please pin the graphic below for later!