If you love a big salad, you will love these 18 keto salad dressing recipes. They are all very easy to make and will give your salads a burst of flavor. These low carb salad dressings are homemade and there is everything from keto blue cheese dressing to Japanese carrot ginger!
You might also like these 38 keto salad recipes!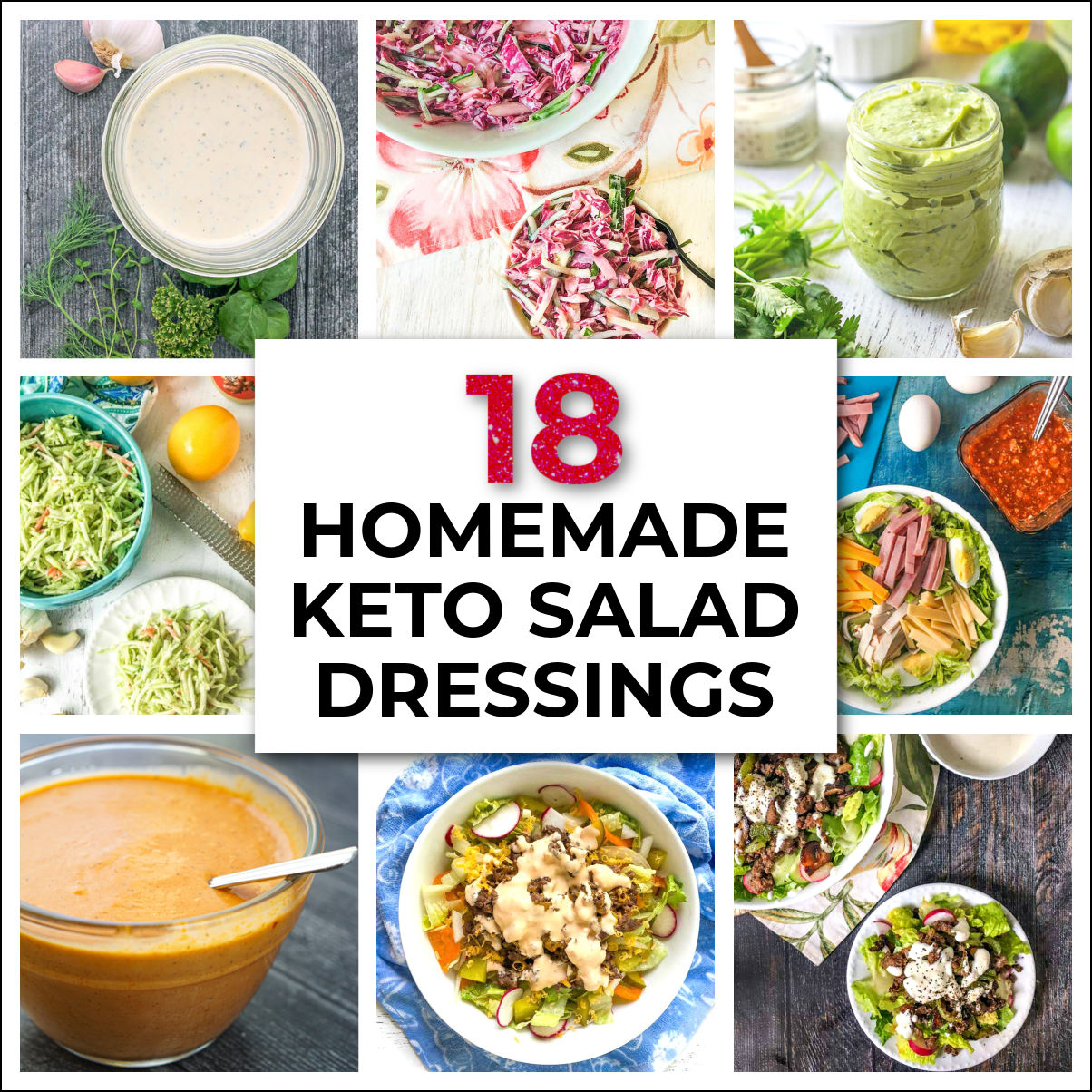 I love, love, love salads. Here in Pittsburgh we have something called the Pittsburgh salad and it usually has steak (or chicken), fries and cheese on it. It's not keto but boy is it good. Ever since I had one in college I order them almost every single time I go out to lunch.
But I'm not limited to those salads, I love all kinds and I made quite a few at home. A big salad is healthy as you can fill it with colorful healthy veggies. And you can add all kinds of meats, cheese, nuts, seeds and more for a keto friendly meal.
And nothing goes better with a big salad than homemade salad dressing. So if you are on a keto diet you will love these easy 18 keto salad dressing recipes. They will take your lettuce to the next level.
My recipe for a delicious big salad.
I eat a salad just about everyday. I'm talking big salad for meal kind of salad. These simple ingredients are what I usually throw together though some of them are extras for a special salad.
lettuce base – My go to lettuce base is usually romaine, sliced cucumbers, radishes, red onions and peppers.
meat or protein – I like to use leftovers like chicken, steak, hamburger or even pulled pork. Shrimp and canned tuna are also good options. I also LOVE gyro strips if I can find them in the freezer section.
cheese – If I'm using cheese it's usually crumbled blue cheese, feta, goad cheese, asiago, etc. I like a strong cheese or otherwise I don't bother.
something crunchy – I like some crunch so I'll add a few pecans, walnuts or sliced almonds. Seeds work well too like sunflower or pepitas.
miscellaneous – These are the type of things I add for an extra burst of flavor every once in awhile. There are foods that I eat on a rare occasion: hard boiled eggs, bacon bits, olives, artichoke hearts, hearts of palm, pickled onions, pickles etc.
herbs – Herbs are great for certain types of salads. I like cilantro for Asian or Mexican flavored salads. Basil is great for caprese types of salads. Fresh parsley always adds a freshness to things like tabouli. Lastly in the summer my favorite fresh herb to use is mint on a simple salad which adds a cooling effect.
Carb counts for different salad ingredients.
Below is a little chart for your to see the carb counts of items I like to use on a salad. You can pick and choose what you want according to your likes.
Types of lettuces to try.
Below is a graphic showing all the different kinds of lettuces and greens you can try. My go to is romaine lettuce but some of my other favorite as are butter lettuce, spinach, leaf lettuce and arugula.
Arugula and watercress have a peppery taste that I love but it's hard to find around me. However Aldi's Artisan Lettuces usually have leaf lettuce and sometimes butter lettuce.
So if you need a change of pace from Romaine or Iceberg give one of these a try or grow them yourself!
Other bases to use in your salad other than lettuce.
Some other things I like to use for my salad base are:
coleslaw, shredded cabbage, broccoli slaw, etc.
raw cauliflower rice
chopped fresh vegetables of any kind
veggie noodles
chopped raw broccoli or even chopped raw cauliflower
cooked turnips, rutabagas or celeriac (these are for faux potato type salads)
just cucumber slices or just tomatoes
meats like chicken salad and tuna salad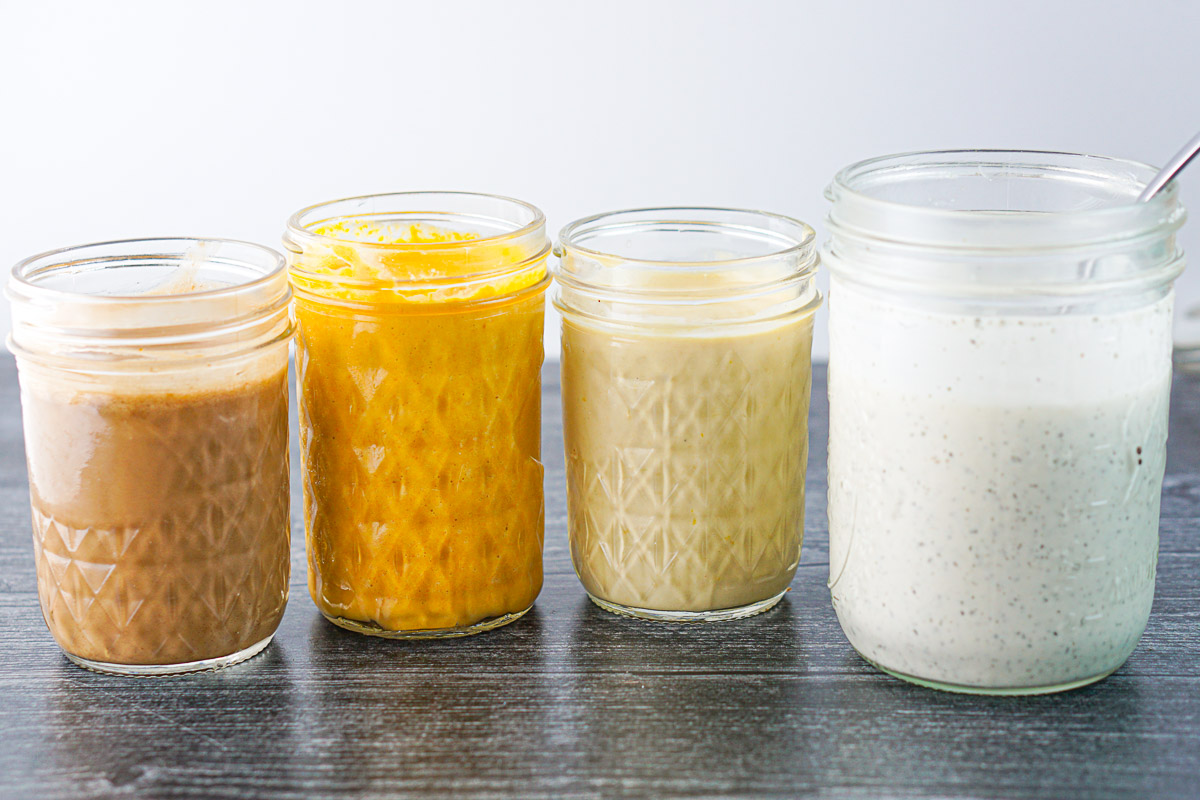 Now we know how to make the "Big Salad" let's check out the 18 keto salad dressing recipes I have for you today. I like to make a few and store them in a mason jar. They should keep for a couple weeks in the refrigerator and really be helpful for those on a low carb diet.
18 Easy and Delicious Keto Salad Dressing Recipes
If you love big salads, you will love this collecition of 18 keto salad dressings. They are all very easy to make and homemade dressing is just so much tastier than store bought dressing. There is a wide array of dressings to pick from like homemade ranch or creamy French. Many store bought recipes use a lot of sugar so substituting with keto friendly sweetener takes the carb count down.
Well I hope you give a few of these recipes a try. They will really help you with your keto lifestyle and take your boring salad to the next level. These recipes use just a few basic ingredients and seasonings yet create tons of flavor. Enjoy!