A Pittsburgh Cobb Salad goes perfectly with homemade, creamy French dressing. Steak and home fries for dinner becomes a tasty salad for lunch the next day.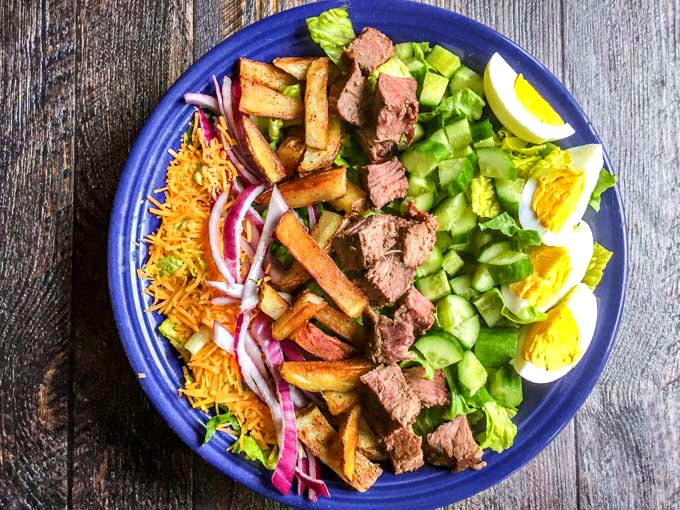 I didn't become acquainted with the Pittsburgh steak salad until grad school. While out to lunch one day, my date told me about these yummy salads with steak and fries piled on top, along with cheese and other salad toppings. I had never heard of salads like that before but afterwards, I was hooked. Since then I've had just about every variation of steak salad you can think of… some healthy, some not … but always delicious. Till this day, this is my most ordered meal when going out to lunch. So in honor of the day I fell in love….with the steak salad….I give you a Pittsburgh Cobb Salad.
Now I call this a cobb salad but I'm not sure it's technically a cobb. Any kind of salad that has the ingredients neatly placed in rows is a cobb to me (remember my Taco Cobb Salad?) I just read this in wikipedia: you can remember what goes in a cobb salad by remembering EAT COBB – eggs, avocado, tomato, chicken, onion, bacon, blue cheese. There is also a funny tidbit about how they mention the cobb salad on Curb Your Enthusiasm. I have to start watching that show. It sounds really funny.
Anyway, the basics of this salad is a steak, fries and cheese over lettuce. I also added some of salad favorites such as hard boiled eggs, cucumbers and red onions. I personally like romaine or even ice burg in this salad because you want a hearty lettuce to stand up to such heavy ingredients.  (By the way, I could not come up with a mnemonic device for this salad, can you? SEFCCO)
Usually I eat ranch or blue cheese dressing on these types of salads but today I've made for you a creamy french dressing. I've been wanting to make a french dressing for some time and I'm so happy it came out great! I don't know if you know this, but my blog is also my recipe archive. Sometimes when I want to make something I go to my blog to pull up the recipe. It's been such a blessing for me. So now I have a great french dressing in my repertoire.
One note on the dressing: I made it sugar free by using Splenda. I know most people don't care about that so use white sugar if you prefer. French dressing is a rather sweet dressing and I wanted to keep the carbs down for other days when I'm counting. (Though this would be a good low carb salad if you took away the fries. That's something I do often in restaurants.) Well I hope you like this salad. I'm sure you can find steak and chicken salads everywhere but I remember hearing that it's a Pittsburgh thing so I'm sticking to that story. 🙂 Enjoy!

Pittsburgh Cobb Salad & Creamy French Dressing
A Pittsburgh Cobb Salad goes perfectly with homemade, creamy French dressing. Steak and home fries for dinner becomes a tasty salad for lunch the next day.
Author:
Denise Wright (MyLifeCookbook.com)
Ingredients
Creamy French Dressing
⅓ cup onion (about ¼ of a large onion)
½ cup tomato paste
¾ cup mayonnaise
6 Tablespoons white balsamic vinegar (or apple cider vinegar)
¼ cup Splenda or white sugar
¾ cup avocado oil (or olive or vegetable)
1 teaspoon paprika
½ teaspoon salt
½ teaspoon dried mustard
¼ teaspoon pepper
½ teaspoon garlic powder
Pittsburgh Cobb Salad
Romaine lettuce chopped
1 hard boiled egg sliced
1 cup cucumber chopped
¼ red onion sliced
¼ cup cheddar cheese shredded
4 oz cooked steak, cubed
1 medium potato made into fries
Instructions
For the dressing
In a food processor add your onion and process until finely chopped.
Add the rest of the ingredients and process until smooth and creamy.
Store in an airtight container in the refrigerator.
For the salad
Arrange romaine lettuce in a large bowl.
Top with cheese, onions, potatoes, steak, cucumbers and eggs, each in their own row.
Add dressing and enjoy!
Dressing makes about 3 cups.
Pittsburgh Cobb Salad & Creamy French Dressing add