This homemade keto creamy French dressing is sweet and tangy and takes just 5 minutes to make! It goes great with big steak salads or chicken salads but would also make a tasty keto dip and serve with fresh vegetables. Best of all it has just 0.6g net carbs so it's great for those on a keto diet.
You might also like this keto red roquefort dressing recipe!
The other day I remembered a random thing I used to eat as a teenager. I would chop up celery and eat it creamy French dressing. Not the dark red Catalina French, but the lighter creamy one.
That got me to thinking that I could make my own and make it low carb. So today I have for you my keto creamy French dressing. It's so good! It's creamy and thick with the perfect blend of sweet and tangy flavor.
You only need a few simple ingredients and spices and you can make this dressing in just 5 minutes! And best of all it only has 0.6g net carbs per tablespoon.
If you are looking for the Pittsburgh Cobb salad.
This is a very old post that I decided to redo. Originally I had made a Pittsburgh Cobb salad which was much like a regular Pittsburgh steak salad but in the form of a Cobb salad. You can see that pictured below.
I decided to make the salad more of a traditional Pittsburgh steak salad with the air fryer. And as a separate post coming soon. I'll link it here when I'm finished.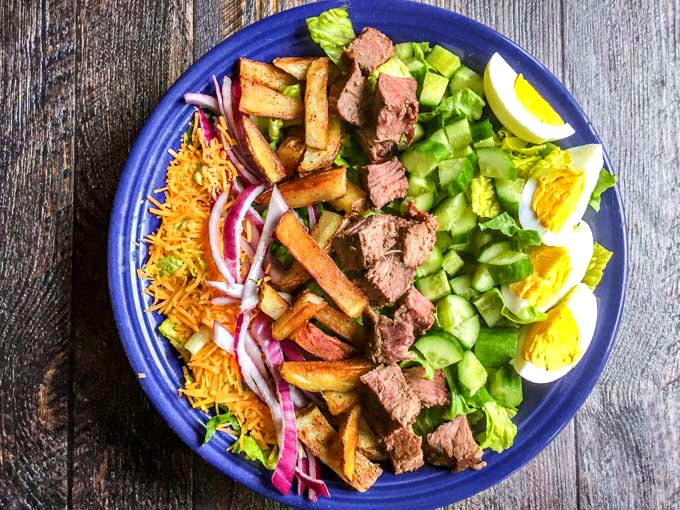 In case you came here looking for a Pittsburgh Cobb salad this is what I used.
Romaine lettuce chopped
1 hard boiled egg sliced
1 cup cucumber chopped
¼ red onion sliced
¼ cup cheddar cheese shredded
4 oz cooked steak cubed
1 medium potato made into fries
Now I call this a cobb salad but I'm not sure it's technically a cobb. Any kind of salad that has the ingredients neatly placed in rows is a cobb to me like my Taco Cobb Salad.
Keto creamy French dressing ingredients.
All I used for this homemade dressing is: mayonnaise, olive oil, apple cider vinegar, tomato paste, onion, paprika, sweetener, dry mustard, garlic powder, salt and pepper.
Some people like to use ketchup instead of tomato paste but that tends to have more carbs than tomato paste. However if you have a low carb ketchup that might work. But if you can stick with the tomato paste.
How to whip up this keto salad dressing in 5 minutes.
Add the onion to a food processor or high speed blender and pulse until finely minced.
Next add in the rest of the ingredients and blend until it's nice and creamy.
Pour into a medium bowl or mason jar and serve with your favorite salad.
Just make sure to store in an airtight container. It should keep for at least a week in the refrigerator. (Please scroll down for the printable recipe card.)
One note on the dressing: I made it sugar free by using a keto friendly sweetener like Swerve. I know most people don't care about that so use white sugar if you prefer.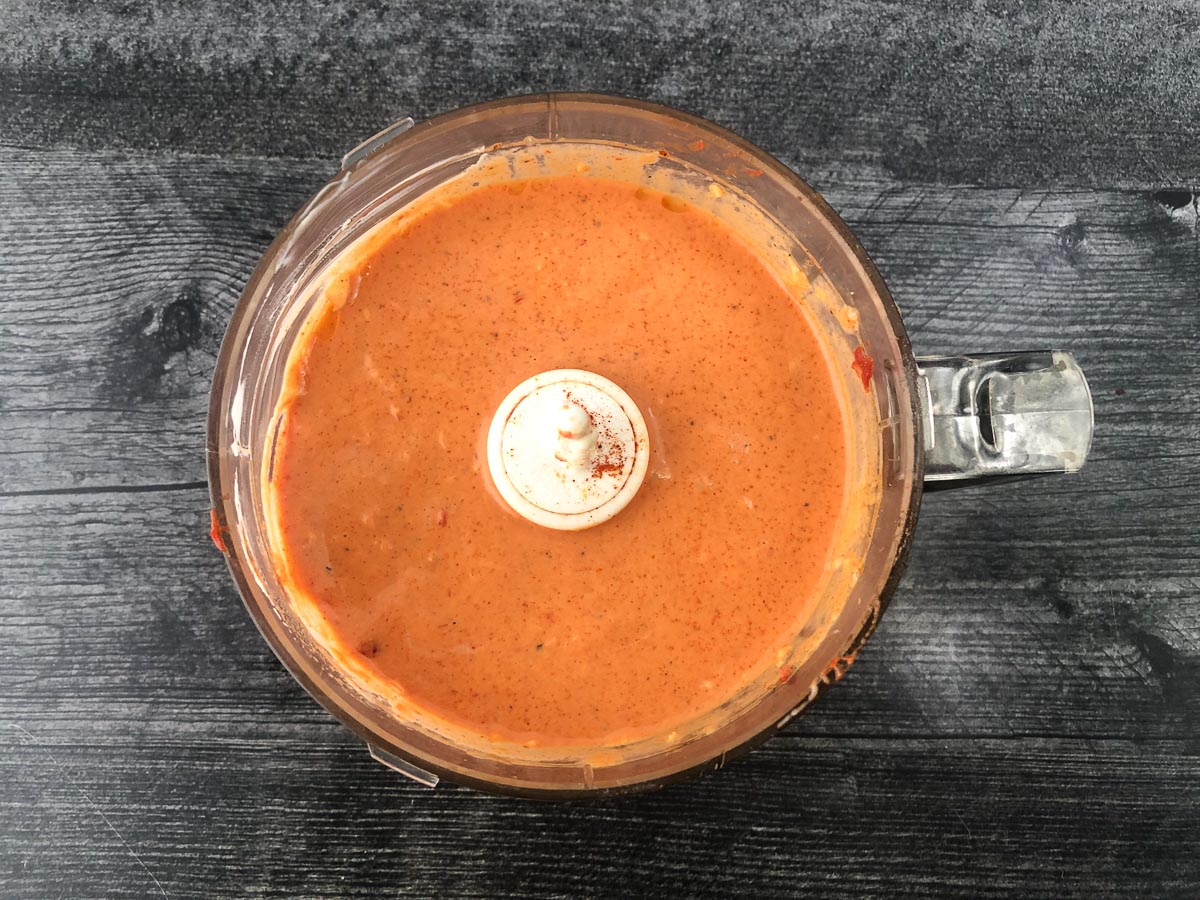 Other homemade keto salad dressings to try.
Since I LOVE salads I have quite a few recipes on this blog. Homemade is so much better tasty than store bought and it takes minutes to make. Some of my favorites and most popular keto salad dressing recipes are:
For more keto salads and dressing recipe check out this post for 38 keto salads.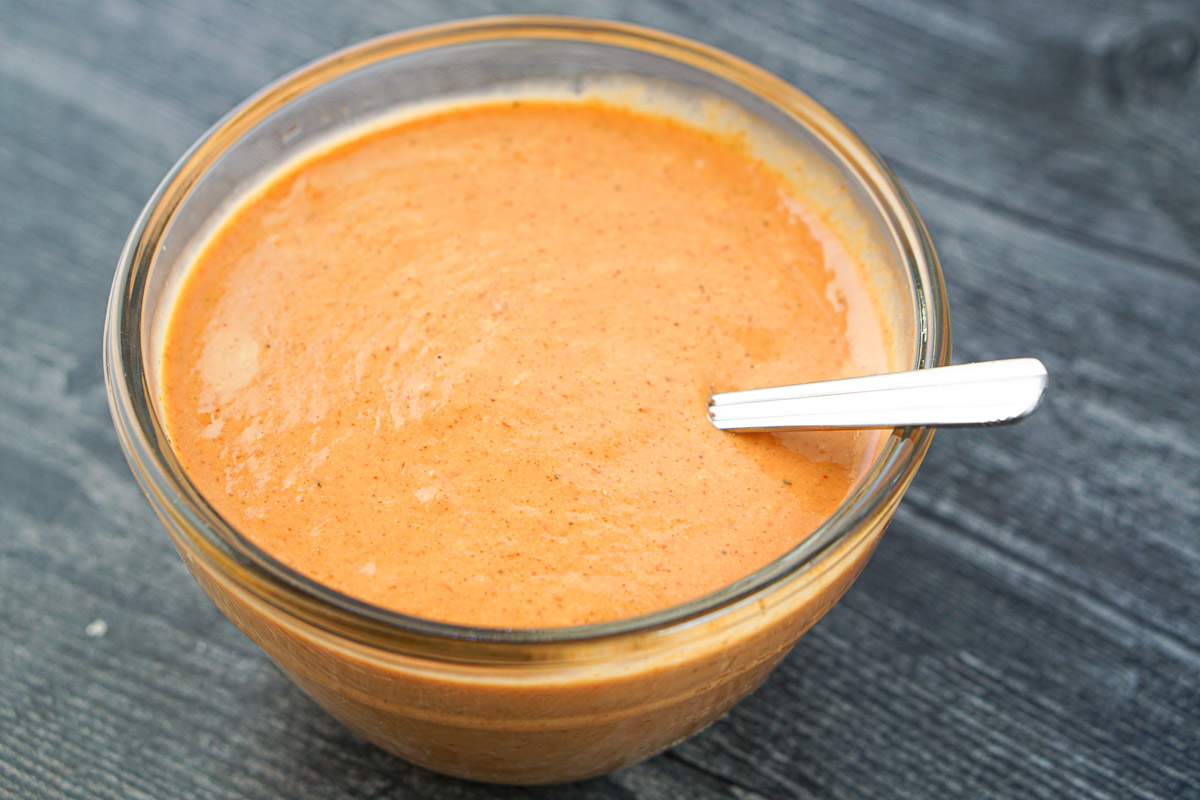 French dressing is a rather sweet dressing and I wanted to keep the carbs down for other days when I'm counting. I hope you love it as much as I do!
The nutritional information for 1 tablespoon the creamy French dressing is 67 calories / 7.1g fat / 0.8g carbs / 0.2g fiber / 0.1g protein = 0.6g net carbs
Note this recipe makes approximately 2 ½ cups of dressing.
Homemade Keto Creamy French Dressing Recipe
This homemadeketo creamy French dressing takes just 5 minutes to make with just a few simple ingredients. It's thick, sweet and tangy and goes perfectly on a steak or chicken salad.
Ingredients
Creamy French Dressing
⅓ cup onion (about ¼ onion)
½ cup tomato paste
¾ cup mayonnaise
6 tablespoons apple cider vinegar or white vinegar
¼ cup granular sweetener or white sugar
¾ cup olive oil
1 teaspoon paprika
½ teaspoon salt
½ teaspoon dried mustard
¼ teaspoon black pepper
½ teaspoon garlic powder
Instructions
In a food processor add your onion and process until finely chopped.
Add the rest of the ingredients and process until smooth and creamy.
Pour into a bowl or store in an airtight container in the refrigerator.
Notes
The nutritional information for 1 tablespoon the creamy French dressing is 67 calories / 7.1g fat / 0.8g carbs / 0.2g fiber / 0.1g protein = 0.6g net carbs
Nutrition Information:
Yield:

40 tablespoons
Serving Size:

1 tablespoon
Amount Per Serving:
Calories:

67 calories
Unsaturated Fat:

0g