A fresh and delicious strawberry salmon salad is perfect for spring and summer weather. The sweet kick of honey ginger dressing compliments the fresh and colorful salad and savory seared salmon. It's super easy to make for a healthy keto lunch or dinner.
You might also like low carb spring vegetable soup to go with this salad
I have been a strawberry fanatic these days. Maybe it's because they are in season and there always seems to be a buy one get one free bargain at the grocery stores.
One way I really enjoy using strawberries is in salads like this salmon strawberry salad. They have such beautiful color and add a bit of sweet yet tart flavor that works well in most salads.
In this particular spring keto salad they go great with the crunchy pecans and savory salmon. Then everything is a simple dressing of honey ginger vinaigrette. This is an easy keto salad that's perfect for spring and summer!
What's in this spring keto salad.
All that is in this simple keto salad is a base of baby spinach, fresh strawberries, red onion and pecans. Then it's topped with a piece of seared salmon.
In the past I've used baby greens like kale or chard but the spinach salad is always available so I've been using that lately. You could also use romaine lettuce if you want.
How to make the simple honey ginger dressing.
This is a simple ginger vinaigrette dressing and only uses fresh ginger, apple cider vinegar, olive oil, honey, salt and black pepper. All you need to do is whisk the ingredients together. It's very light and refreshing.
You can play around with different vinegars if you have them. Originally I use white balsamic vinegar but that has a few carbs and it's hard to fine. White wine vinegar would work nicely too.
I have seasonal allergies so I like to use local honey as they say that helps a bit. However you can use any kind of honey you have on hand.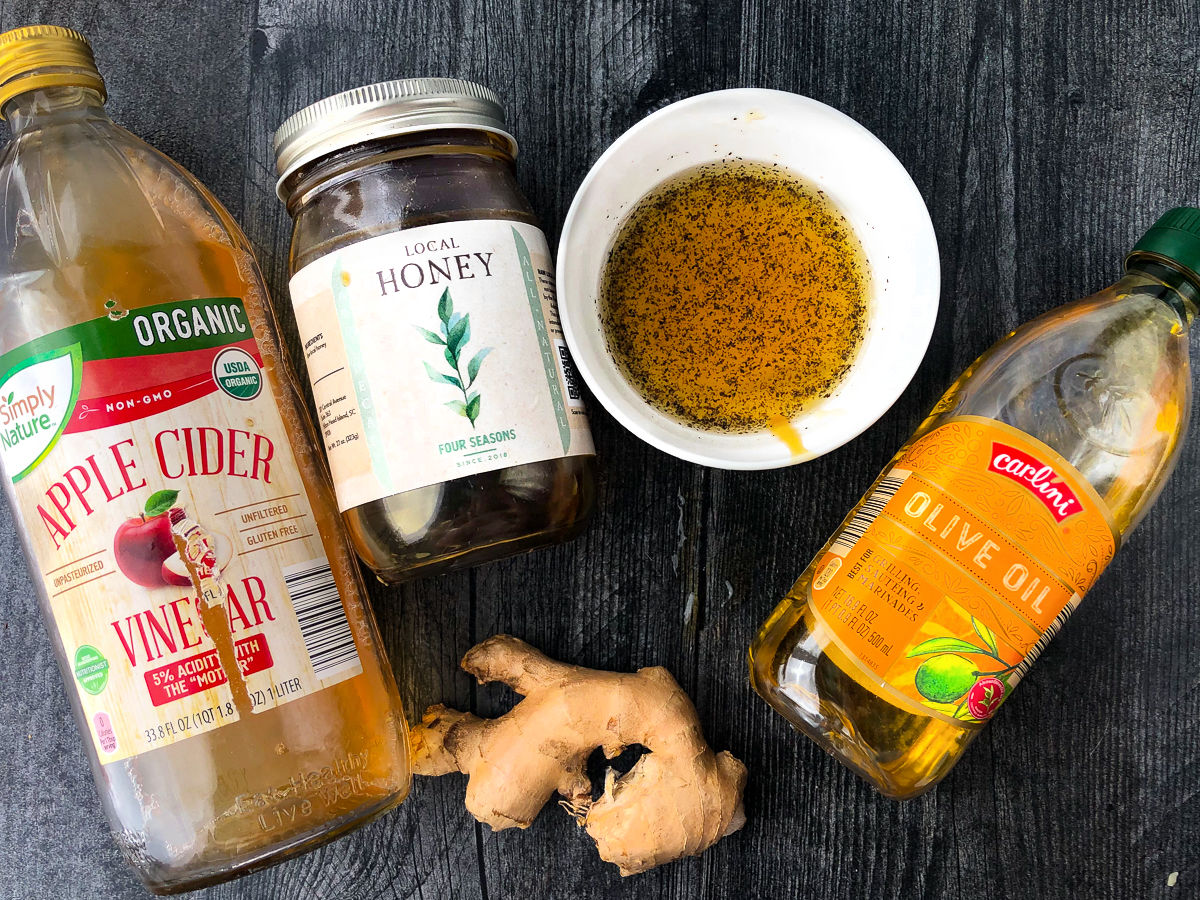 How to put this salmon strawberry salad together.
This spring keto salad will literally take only 5 minutes to make if you are using cooked salmon.
To make the honey ginger dressing, whisk together the olive oil, vinegar, fresh grated ginger, honey, salt and black pepper and set aside.
I usually use leftover salmon for the salad but if you need to make it learn how to sear salmon here. Essentially you get a pan nice and hot and add butter or oil. Sprinkle salt and pepper over raw salmon and then place the salmon skin up. Leave it there until it cooks about ⅓ of the way up. Then flip and cook it until it cooks about ⅓ of the way up from the bottom. Take the pan off the heat and let sit for 5 minutes to let it continue to cook. This will give you a rare piece of salmon.
Meanwhile make the salad by placing the baby spinach or other salad greens in a large bowl. Add very thin slices of red onion and slices of strawberries.
Toss with the honey ginger dressing and sprinkle pecans on top. If you want extra crunch you can roast the pecans in a dry pan until they become fragrant.
Top the salad off with the cooled, seared salmon.
Store leftover salad in an airtight container in the refrigerator. If using baby greens they should hold up ok for a second day. (Please scroll down to view the printable recipe card.)
We had salmon for dinner the night before and I made extra so I could eat this for lunch the next day. I'm always thinking ahead…when it comes to food at least. 😉
Other low carb ingredients to use in the salad.
As I mentioned above you can use different greens. Really any kind of lettuce would work but I think iceberg would not. But butter or leaf lettuce would be nice or a mixture of spring greens.
I love strawberries in the spring and summer but if you are partially to another berry like raspberries, blueberries or blackberries they would all work.
As for the pecans you can substitute almond slivers, walnuts or even some kind of seed like pepitas or sunflower seeds.
I love the honey and ginger together in the dressing but if you want it even lower in carbs you can use the favorite sweetener. You can also substitute maple syrup.
Though I have not tried it I think some blue cheese, feta or goat cheese would make this a bit fancier if you are serving guesses.
There is not so much a recipe but a low carb idea for a meal. I thought you might like the flavor combination and I especially liked the honey ginger dressing.
This could easily be a keto dinner with the big piece of salmon on top. But you could skip the salmon and eat this as a spring keto side salad. And if you like strawberries in your salad, check out my low carb strawberry capresse salad.
The nutrition for one serving (this recipe makes 2 servings) is as follows:
567 cals / 50.7g fat / 11.8g carbs / 3.5g fiber / 18.7g protein = 8.3g net carbs.
The nutritional information for 1 tablespoon of dressing is 83 calories / 9g fat / 1g carbs = 1g net carbs.
Salmon Strawberry Salad & Honey Ginger Dressing
A fresh and delicious salmon strawberry salad with the sweet kick of honey ginger dressing. Easy to make for a healthy low carb lunch or dinner.
Ingredients
2 cups of baby spinach (or spring greens, kale etc)
¼ red onion, thinly sliced
4 strawberries thinly sliced
½ cup of pecans
4 oz salmon filet, cooked
Dressing
1 teaspoon honey
½ teaspoon fresh grated ginger
¼ teaspoon salt
¼ teaspoon pepper
2 tablespoons apple cider vinegar
¼ cup olive oil
Instructions
To make the dressing, add your vinegar, olive oil, honey, ginger, salt and pepper to a bowl and whisk until blended.
In a large bowl add your greens, onions, strawberries and pecans and then add the dressing. Start with half of the dressing and add more as your like.
Plate the salad and place a cooked salmon filet on top.
Enjoy!
Nutrition Information:
Yield:

1
Serving Size:

1
Amount Per Serving:
Calories:

567
Unsaturated Fat:

0g