This carrot ginger dressing is fresh and tasty! It's similar to the kind you get a Japanese hibachi restaurant and only 5 minutes to make this tasty dressing!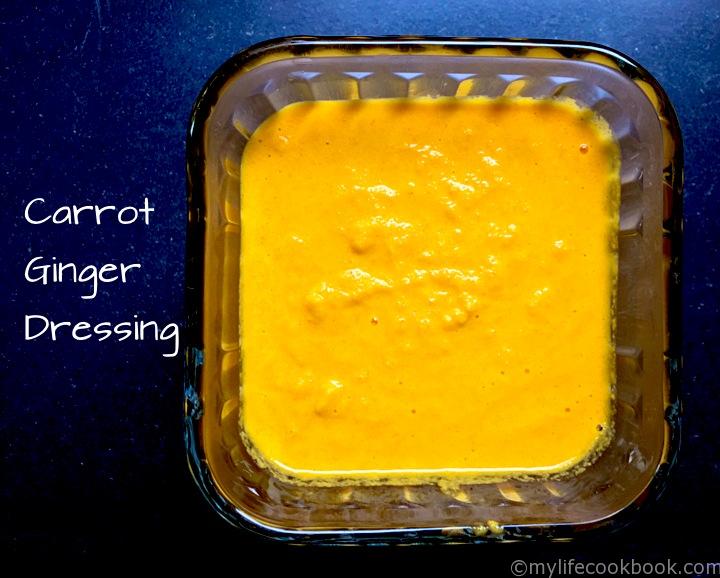 Every time I go to a Japanese restaurant I tell myself I'm going to make some of that delicious salad dressing at home. You know the thick, ginger-y, orange dressing they bring to you at the hibachi tables. It's so fresh and bright tasting and just so yum to me. So today I remembered it out of the blue (I haven't even been to a Japanese restaurant lately) and decided to make a batch. Luckily I had a lot of ingredients to play around with so I went to town.
I found an interesting recipe at Just One Cookbook and adapted it to my taste. The key ingredient in my opinion is fresh ginger. I love, love, love ginger and still had some left from my Strip District shopping spree last month. Basically you just put everything in your Vitamix or high powered blender and puree until it's smooth. The ingredients I used are ginger, onion, garlic, sugar (I used Splenda), sesame oil, avocado oil (or olive oil), rice wine vinegar, tahini, fish sauce and salt and pepper to taste. This literally took 5 minutes to make and it's so fresh and fragrant.
Japanese Carrot Ginger Dressing
I am in the process of making some bone broth and had some chicken breast on hand so I made a delicious salad to go with my dressing. It had fresh spinach, radishes, chicken and sliced almonds topped with my Japanese Carrot Ginger Dressing. Actually it was so good I had some for dinner too.
So next time you are craving some of that delicious Japanese restaurant style salad dressing, you know where to come. Enjoy!
Recipe: Carrot Ginger Dressing
This is a fresh and tasty dressing similar to the kind you get a Japanese hibachi restaurant.
Ingredients
1/4

cup

+ 2 Tablespoons rice wine vinegar

3

Tablespoons

avocado oil

or olive oil

1

large carrot

1

clove

garlic

1/8

onion

1/2

inch

ginger

peeled

1

Tablespoon

Sugar or Splenda

2

teaspoons

tahini

2

teaspoons

fish sauce

1

teaspoon

sesame oil

salt and pepper to taste
Instructions
Roughly chop carrot and onion.

Add all ingredients to a high speed blender.

Blend on high for a few minutes.

Refrigerate for 1 hour.
THIS POST MAY CONTAIN AFFILIATE LINKS. FOR MORE INFO PLEASE VISIT OUR POLICIES PAGE.
---
More delicious salads to try!