Next weekend is Valentine's Day and that doesn't mean that you have to blow your diet. Try one of these hand picked keto Valentine's Day recipes to make with or for your sweetheart. I have a selection of low carb main dishes, side dishes, desserts and drinks so you can plan your menu with ease.
Here is a post with a lot more keto drinks recipes to try if you want more selection.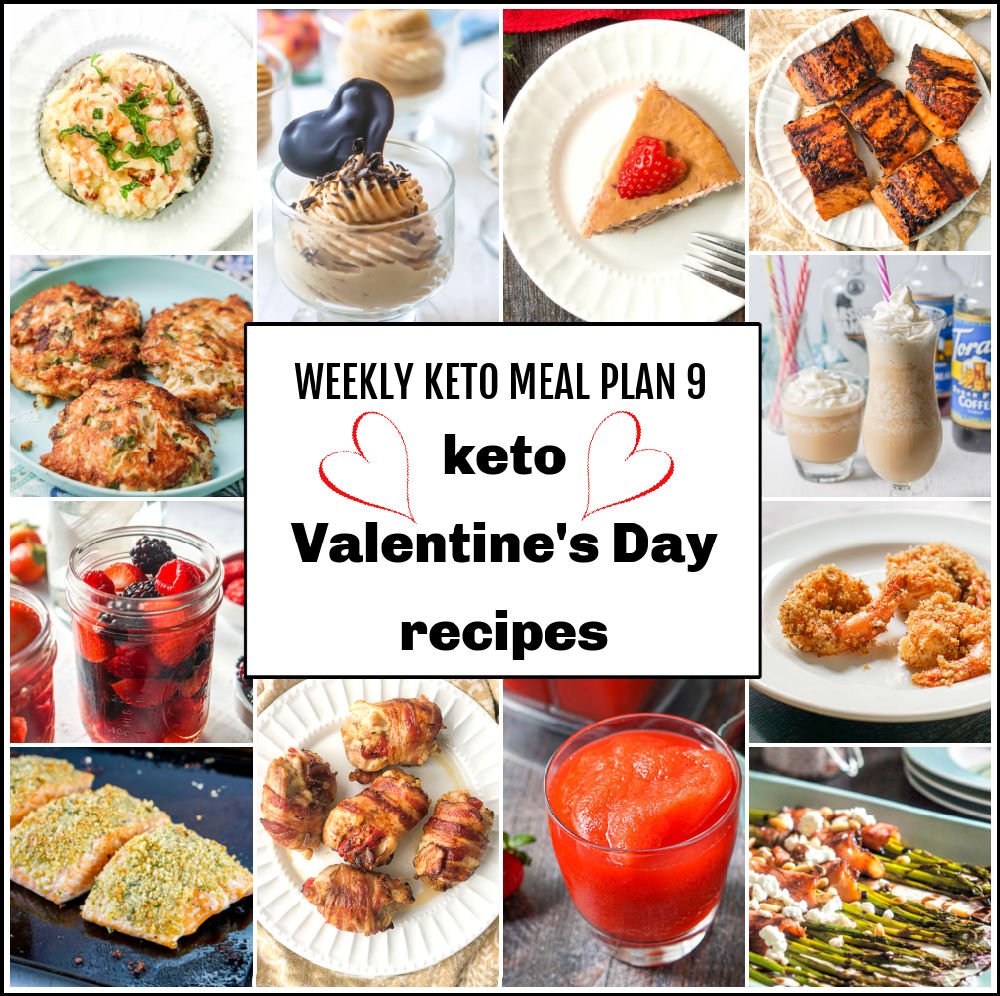 My hubby and I are not ones to do much for Valentine's Day. Since I've been blogging I end up making a special keto recipe for the blog and that is what we have.
This year we are sharing the special day with my father in law who lost his wife recently. My mother in law was one of those special people you are lucky enough to have met in your life. So this year we are making our family recipe of Uncle Abe's shrimp which he loves.
However below are some of the keto Valentine's recipes I've made for my hubby over the years. There are a few keto main dishes to pick from as well as sides, desserts and even drinks.
If you are looking to buy some keto chocolate for your sweetie.
Below are some suggestions for keto chocolate sweets you can buy. I've had some of them and the others I am definitely going to try.
Valentine's Day Dinner Tips
Whether you are having dinner with a special someone, your kids or celebrating with friends, try some of these tips to make it special.
Set the table with the good stuff. Break out that wedding china or just use those fancy martini glass you got as a gift. While you are at it, treat yourself to flowers – something that will make you smile every time you look at them. Even if you have little kids, they will get a kick out of using fancy plates or glasses.
There is nothing wrong with making a simple meal. Using quality ingredients and cooking it with care will go a long way to a satisfying meal. Our special dinners often involve steaks or seafood, both of which are very simple to cook.
Delegate some of the work. Ask your significant other or friends to make the drinks, grill the steaks or make the salad. If you have kids, have them set the table or make cards for you.
Gather the recipes a few days before and make sure you have everything you need to cook with. Cook anything you can the day before. If you are making dessert, you can usually make that the day before. If you have to marinate meat, do that the night before.
Have a drink and make dinner together. Put on some music and have a nice talk as you prepare everything. Sometimes this is a good way to bond with your sweetheart. It's also fun to do with friends.
And my final tip is to take your time enjoying the meal and spending time with your loved ones. Meals are wonderful times to talk about your day, your hopes and wishes, your plans for the future or just to reminisce about when you first met.
Well I hope those tips gave you a few ideas for a special day. Here are my easy yet tasty keto recipe suggestions for Valentine's Day.