This is the perfect sous vide filet mignon dinner for two, and it's just in time for Valentine's Day. These filets are topped with buttery shrimp and sit on a bed of asparagus for a delicious low carb dinner as well. This post is sponsored by the Certified Angus Beef ® brand in conjunction with a social media campaign through Sunday Supper LLC. All opinions are my own.
You might also like this filet mignon with blue cheese butter recipe!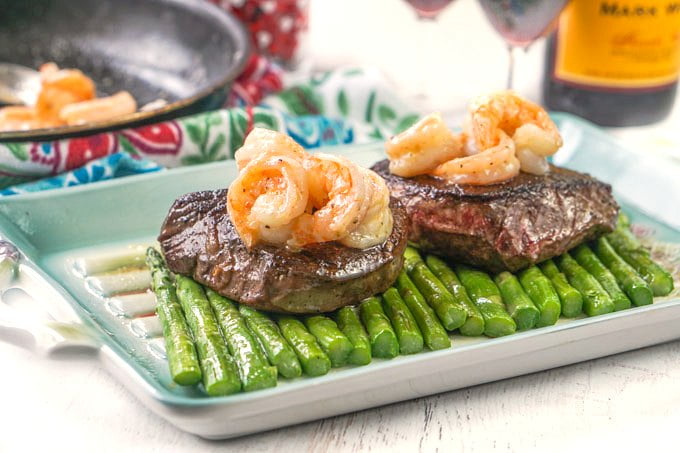 I don't know about you but sometimes my hubby and I like to stay in on Valentine's Day. However we still like to keep it special and that means a fancy dinner at home.
I got a sous vide immersion circulator for Christmas so I tried it out to make this perfect sous vide filet mignon dinner for two! Filet mignon happens to be my favorite cut of meat and with the buttery shrimp and asparagus this is a very low carb dinner! (Plus it's really easy too.)

What is sous vide?
Sous vide mean under vacuum. It's a method of cooking in which you place your food in a vacuum sealed pouch and cook in a regulated temperature water bath. It's usually at a lower temperature and cooked for longer times. However the food is cooked very evenly and therefore it's retains it's moisture and not overcooked. It's perfect for steaks!
5 Steps to the perfect sous vide filet mignon
1) Use Certified Angus Beef®. It is the best in my opinion. At my local Giant Eagle they sell a lot of Certified Angus Beef® and the butchers are very helpful in picking out the best type of beef for your dishes. I remember my mom always talking to store's butcher back in the day and now I can see why. They know alot!
2) Rub the steaks with oil, salt & pepper. You want to rub a little olive oil or melted butter on your steaks and liberally sprinkle salt and pepper on both sides.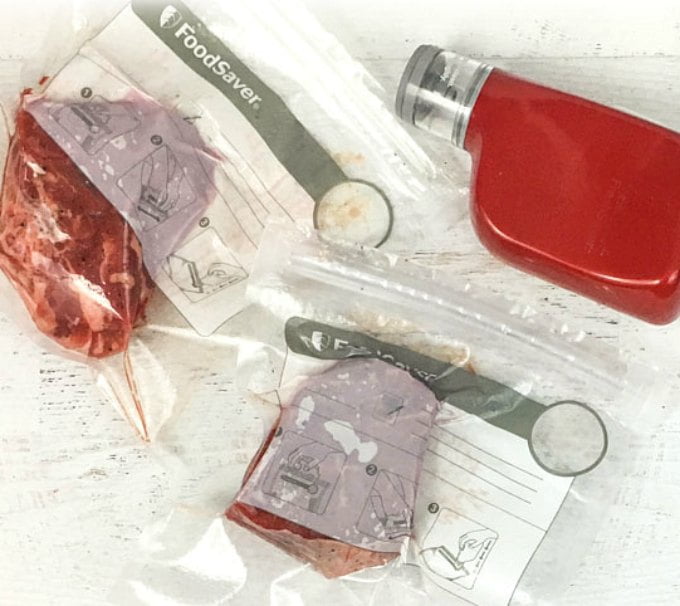 3) Vacuum seal the steaks. This is easier than it sounds. I bought this handy dandy hand held vacuum sealer and bags on Amazon and they work great. One time it wasn't charged and I use my vacuum hose! Worked like a charm.
4) Set time and temperature on immersion circulator. Depending on how you want your steak done will determine the temperature and time. I wanted mine medium rare so I set it to 130° F for 1 hour. The nice thing about sous vide cooking is that you can leave it in there longer if you are busy and it won't effect the cooking of the meat. So it's a set and forget device!
Take them out of the bags when the meat is done and let them cool down before searing. Also dab them to dry any moisture that will keep it from searing quickly.
5) Sear steaks in hot pan. The steaks will now be evenly cooked so it's time to sear them. I use a cast iron skillet heated up to medium high with melted butter. Sear each side just for a couple minutes. Above you can see how perfectly they are cooked. No gray bands of meat, just even color and a delicious sear!

For more about sous vide cooking, please follow my Pinterest board for recipes and information
Low Carb Sides for the filet mignon
I wanted to keep it low carb so I steamed the asparagus in the microwave while the meat was setting and sautéed the shrimp with a little garlic butter as well. Both of these you can do while the meat is setting.
To serve I laid the asparagus on the bottom, placed the filets on them and topped with the shrimp and garlic butter. Make extra garlic butter so you can drizzle it on both the steaks and asparagus. Super easy, very low carb and delicious!
Low Carb Drinks and Dessert for Valentine's Day
On Monday I showed you my drunken berries which can be a very easy low carb dessert for your Valentine's Day as well as drink!
Well I hope you enjoy this perfect sous vide filet mignon and that it gives you some easy and delicious low carb dinner ideas for Valentine's Day. I'm not kidding, they are very easy to make and we just loved our test run dinner!
Note that the prepared filet had no carbs therefore the nutritional information for the rest of the meal is:
For 6 asparagus stalks – 20 cals / 0.2g fat / 3.7g carbs / 1.8g fiber / 2.2g protein = 1.9g net carbs
For 6 buttery garlic shrimp – 139 cals / 11.9g fat / 1g carbs / 0.1g fiber / 7.2g protein = 0.9g net carbs
By the way you might want to check this Certified Angus Beef® Kitchen Facebook group to learn some great beef tips and recipes. It really helped me to make my first prime rib! For more information about Certified Angus Beef ® brand follow them on their Social Media Platforms: Facebook | Pinterest | Instagram | YouTube | Twitter
How to make the perfect sous vide filet mignon
Here is a quick video that shows just how easy it is to make the perfect sous vide filet mignon dinner.
The Perfect Sous Vide Filet Mignon for 2
This is the perfect sous vide filet mignon dinner for two, and it's just in time for Valentine's Day. These filets are topped with buttery shrimp and sit on a bed of asparagus for a delicious low carb dinner as well.
Cook Time
1
hour
10
minutes
Total Time
1
hour
15
minutes
Ingredients
1

tablespoons

olive oil

2

filet mignon steaks (roughly 1 inch thick)

1

lb

fresh asparagus, cleaned

12

oz

shrimp, raw and peeled

4

tablespoons

butter

1

clove

garlic (large or 2 small) crushed or chopped

salt and pepper to taste
Instructions
Get your immersion circulator going by attaching it to your water bath. Set the temp and time to 130°F and for 1 hour.

Meanwhile rub your steaks with olive oil and salt and pepper on both sides. Add them to a vacuum bag and seal tightly.

When your bath water is ready, lower the bags of steak in and let it cook. When the time goes off, take the bags out and place the steaks on a plate to cool.

Once they are cool, dab the moisture off and get your pan ready to sear.

Add 2 tablespoons of melted butter to a cast iron skillet and turn the heat up to medium high. When ready, sear the steaks for a minute or two on each side. Baste with melted butter. Then take them out to rest.

While the meat is resting, microwave the asparagus for 4 minutes. While that is cooking get a large skillet and heat it up with the remaining butter and crushed garlic. Add the raw shrimp and saute until the shrimp turns pink.

To serve, place the asparagus on bottom, then the filets and finally top with the shrimp and drizzle the extra garlic butter. Enjoy!