If you are looking for and easy low carb skillet dinner, you have to try this keto creamy cabbage and ham recipe. You only need 6 simple ingredients and you can make this keto comfort food in about 15 minutes! Creamy cabbage noodles with healthy spinach and leftover ham make this a quick and easy low carb dinner. Each serving has just 4.9g net carbs.
You might also like this easy creamy ham and vegetable casserole.
We recently had a big ham dinner and I had lots of leftovers. So I made my keto broccoli and ham casserole and froze portions for a quick keto lunch. And also made my ham and cabbage soup but still had leftovers!
So I decided to make some cabbage noodles and came up with this creamy cabbage and ham skillet recipe. It was rich and decadent and the flavors reminded me a little of a pasta Alfredo with ham.
The cabbage was cut into pieces that mimicked wide pasta noodles and when cooked it had a similar texture. The sauce was a cheesy cream sauce and then there was spinach and ham. This low carb one pan meal took just 15 minutes to make a wonderful comforting meal for someone on a keto diet!
The 6 ingredients in this skillet dinner.
I used just a few basic ingredients including leftover chopped ham, raw green cabbage, fresh baby spinach, cream cheese, asiago cheese and heavy whipping cream.
For the cabbage noodles, I tried to cut them into the size of a wide egg noodle. In my opinion this adds to the dish and makes the cabbage seem more like noodles than a vegetable.
The spinach was more for color and nutrition. And the creamy cheese sauce that is made of the cheeses and cream is very rich and thick. You can substitute a grated cheese like parmesan or romano for the asiago if you don't have it.
How to make creamy ham and cabbage noodles.
Step 1: First thing you want to do is chop the veggies and ham. I would not put them in the food processor but rather chop the cabbage into noodles by hand. Then microwave for 3 minutes to soften them.
Step 2: In the meantime, make the cream sauce by adding the cream cheese, cream and asiago shredded cheese to a large skillet over medium heat. Whisk until the cream cheese melts and combines with the cream and asiago cheese.
No need to season with salt because the cheese is pretty salty as well as the ham but you can add some black pepper if you wish.
Step 3: Add in the cooked tender cabbage into the sauce for 2-3 minutes to further soften it and get the cream sauce well incorporated.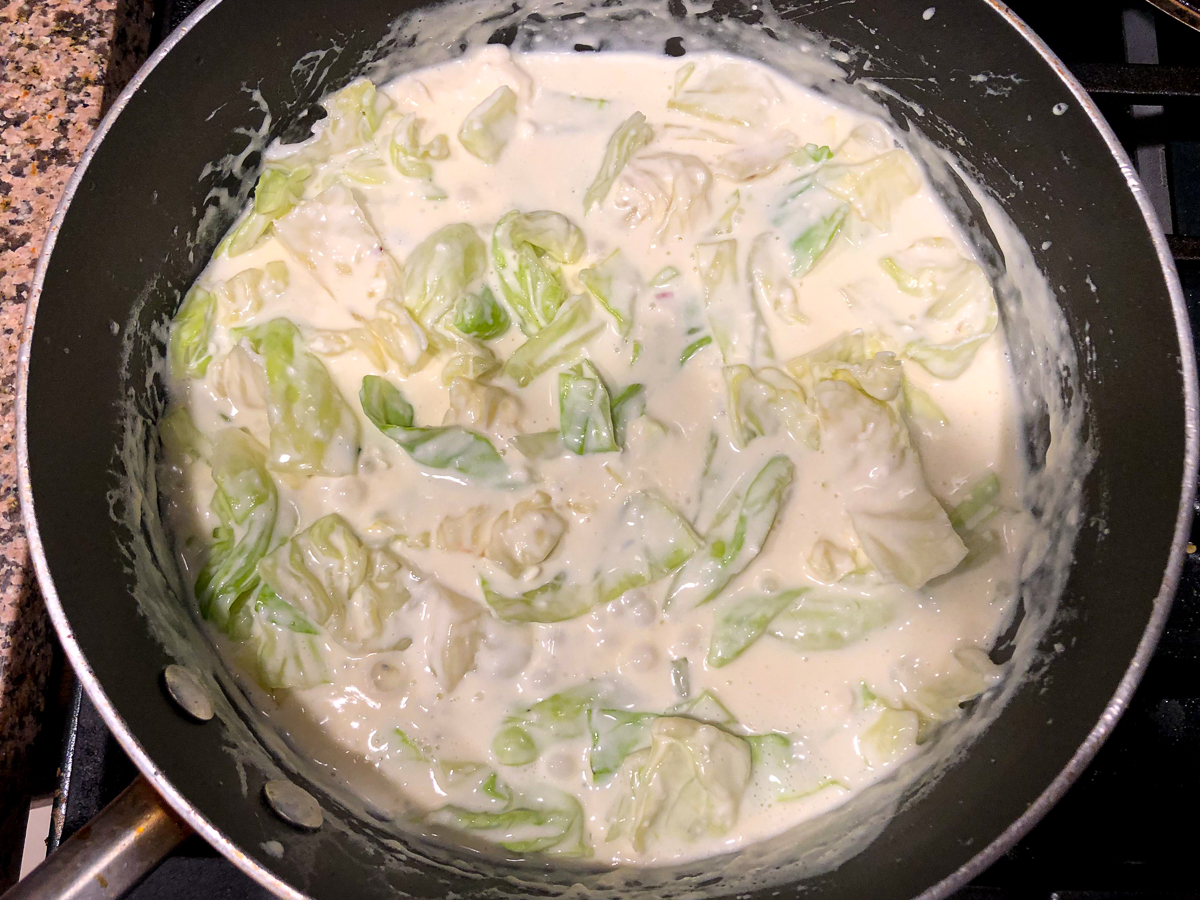 Step 4: Add the ham and let cook for 1 minute then take off the stove and stir in the spinach until wilted. (Please scroll down to view the printable recipe card.)
You can store leftovers in an airtight container and I like to even freeze portions for a microwave lunch.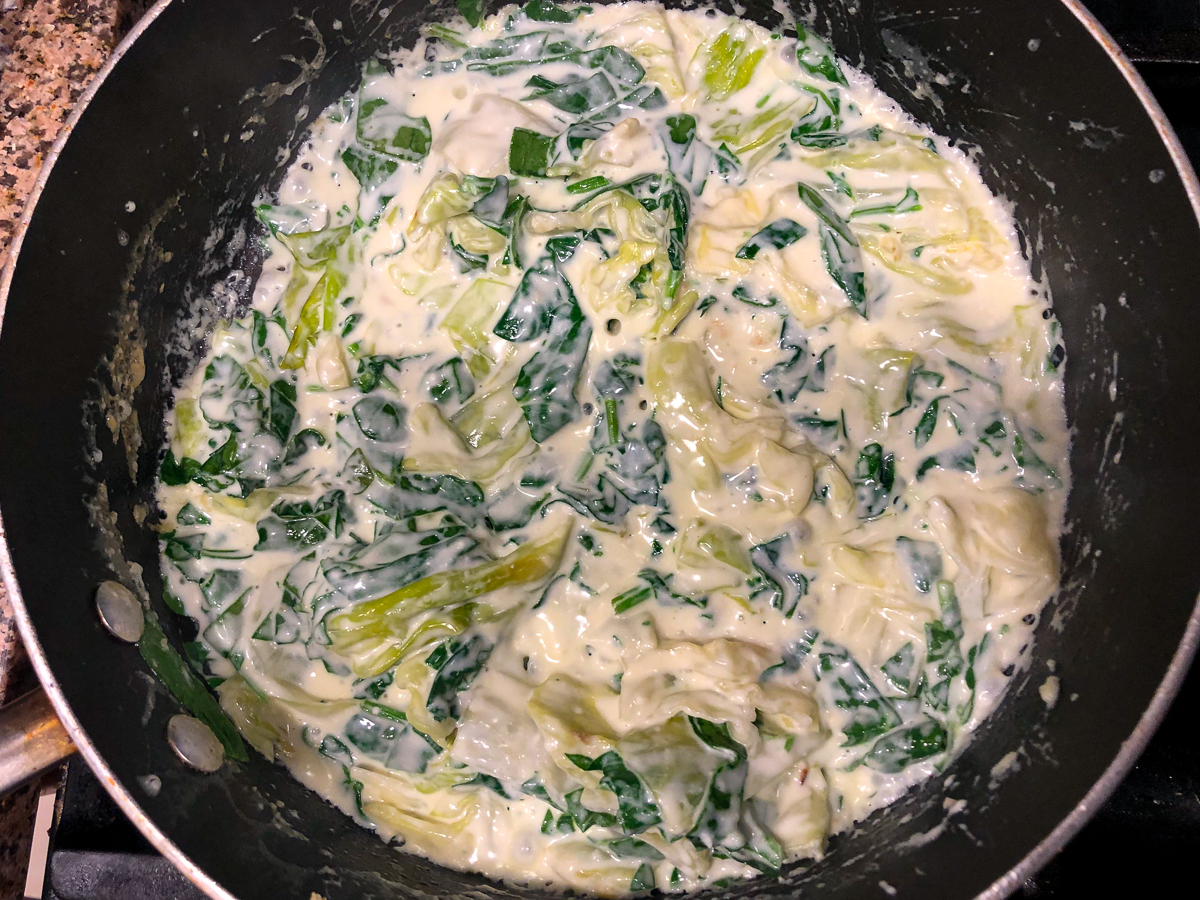 This creamy keto ham and cabbage dish is very rich. You don't need a big portion to be satisfied. If you however you want to make this recipe stretch you can add more cabbage and spinach to the dish.
If you are watching your carbs just make sure to take in to account if you add more cabbage. It is the highest carb ingredient even though it isn't a high carb vegetable.
Other keto cabbage recipes you might like.
I really like cabbage and it's one of my favorite low carb veggies to play around with on a keto diet. Here are a few of my favorite low carb recipes that you might want to try.
Low carb leftover ham recipes to try.
And if you have leftover ham give one of these low carb recipes a shot.
So if you are in the mood for some rich and creamy keto comfort food, give this ham and cabbage casserole a try. It's a quick and easy meal that's good for the winter months and will make you feel like you are cheating but you're not! Enjoy.
The nutrition information for 1 serving is 355 calories / 28.4g fat / 7.3g carbs / 2.4g fiber / 17.7g protein = 4.9g net carbs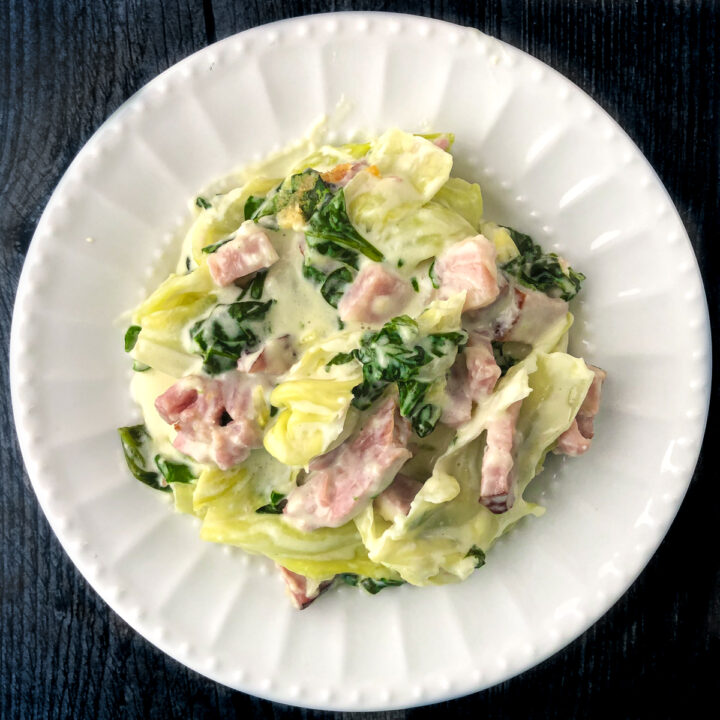 Keto Creamy Cabbage and Ham Skillet Dinner Recipe
For an easy 15 minute low carb family dinner, try this creamy keto cabbage and ham skillet dinner. You only need 6 ingredients to make this rich and decadent cabbage noodle dinner and it's great with leftover ham.
Ingredients
3 cups fresh cabbage, cut into wide noodles
2 oz cream cheese
2 oz Asiago cheese, shredded
½ cup heavy whipping cream
1 cup baby spinach
4 oz cooked ham, chopped into bite size pieces
Instructions
Sliced the cabbage into wide noodles shapes like an egg noodle shape. Chop the ham into bite sized pieces.
Add the cabbage to a microwave safe bowl with a tablespoon of water and mix. Cover with plastic wrap and microwave for 3 minutes. Let sit and you make the cream sauce.
Get out a large skillet and heat to medium high heat. Add the heavy cream, cream cheese and shredded asiago cheese. Whisk until everything melts and comes together to make the cream sauce.
Drain the cabbage and add to the skillet. Mix with the sauce and cover the skillet with a lid. Cook for 3 minutes then take of the lid and add the ham. Mix well and cook for 1 minute.
Then take the skillet off the stove and mix in the spinach until it wilts. Let cool a couple minutes and then serve.
This dish is very rich. You don't need a big portion to be satisfied. If you however you want to make this recipe stretch you can add more cabbage and spinach to the dish. But if you are counting your carbs make sure to calculate your own nutritional information. The baby spinach should be negligible but the cabbage will have carbs.
Notes
The nutrition information for 1 serving is 355 calories / 28.4g fat / 7.3g carbs / 2.4g fiber / 17.7g protein = 4.9g net carbs