If you miss crunchy hard pretzels while on a low carb diet, try these easy keto pretzel sticks recipe. You only need 4 ingredients to make this very tasty savory low carb snack. Use them to dip into mustard or dips or just grab some to crunchy when you want a salty snack. These gluten free pretzels have just 2g net carbs for 10!
You might also like these keto almond flour crackers.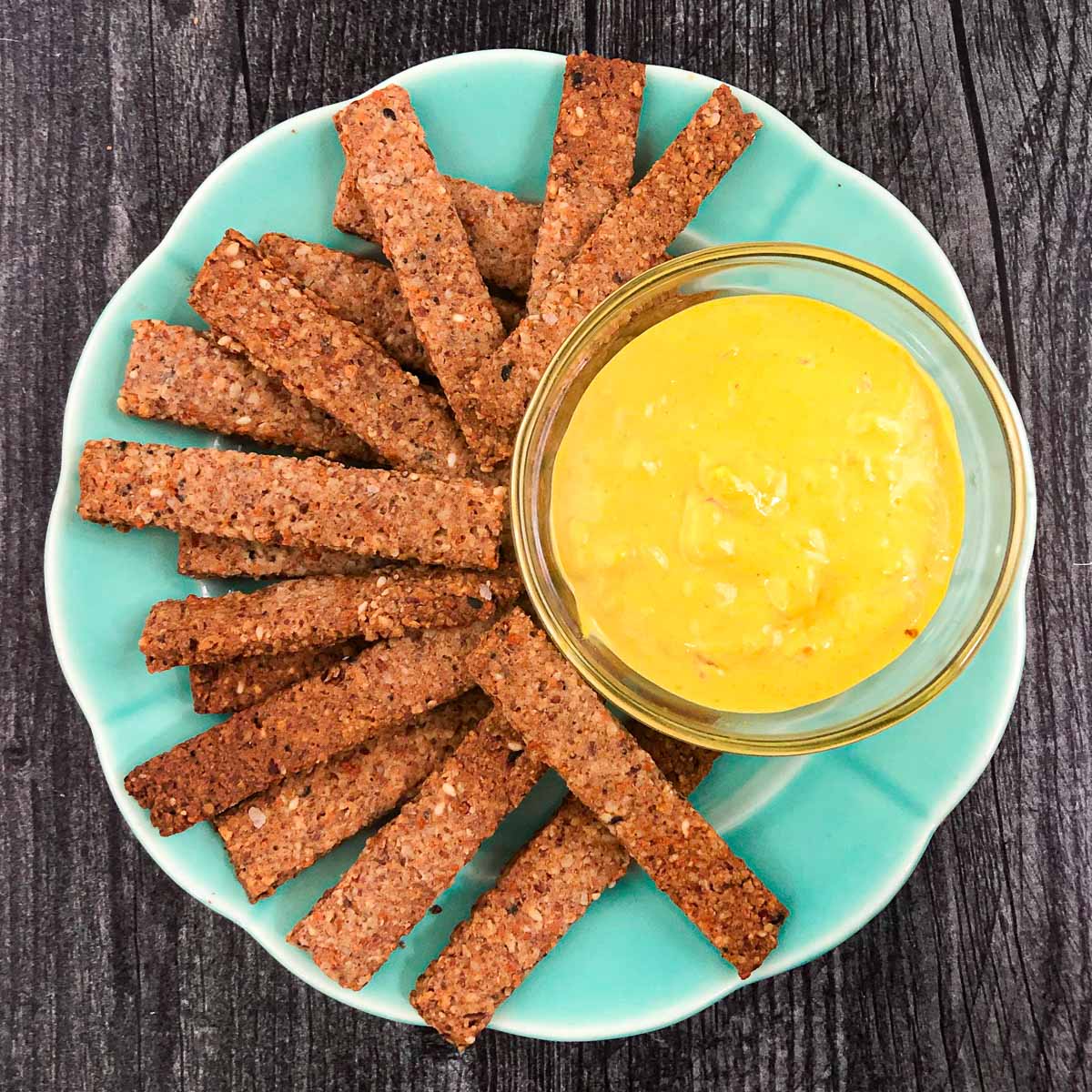 I have been craving salty pretzels lately. I'm not talking about soft pretzels that use fathead dough and mozzarella cheese, but more the crunchy salty type. So I decided to make my own version and make them low carb. That means I did not use any yeast, wheat flour or even almond flour to make salty keto snacks.
These keto pretzel sticks came out great! They are very flavorful and easy to make. They are my way of satisfying that salty snack craving and best of all I only used 4 ingredients!
The primary ingredients is pecan nuts along with parmesan cheese and everything bagel spice to give them a kick of flavor. They are crunchy, salty and really, really flavorful. And they great to dip into some flavored mustards, low carb cheese sauce or a cream cheese dip.
Recipe ingredients I used.
As I mentioned above all you need are 4 simple ingredients to make this crunchy, salty snack. Below you can see the everything bagel spice, raw pecan halves, egg whites and parmesan cheese – all of which I bought at Aldi so this is an inexpensive snack as well.
I use pecans because they are pretty crunchy on their own and when baked they get crispy as well. It think they are the most like pretzels. You could use other nuts like almonds or walnuts but you will get the best results with pecans.
How to make your own everything bagel spice.
If you don't have any everything bagel spice you can make your own. Just mixed equal parts sea salt, dried minced onion, dried minced garlic, sesame seeds and poppy seeds.
Of course it's just easier to buy it as they sell it at most stores these days and you can use it in many recipes. Here are few more keto everything bagel spice recipes if you are interested.
And if you want to add a little heat, add some hot pepper flakes or a bit of cayenne pepper.
How to make keto pretzel sticks.
This just takes a few minutes to make but you have to spend a little time in the baking process.
Step 1: Preheat oven to 375°F. Cover a rimmed baking sheet with parchment paper. You could also use a silicone baking mat like I did.
Step 2: Place the pecans in a food processor and chop until well ground but make sure it doesn't start to look like a nut butter.
Step 3: Spoon the pecan mixture into a medium mixing bowl and add the parmesan cheese and everything bagel spice. Add the egg white to the dry ingredients and mix together to form a dough. You might want to get in there and use your hands to make it come together.
Step 4: Divide the pretzel dough into two equal pieces. Then place the dough portions on the silicone mat prepared baking sheet and the spray a piece of wax paper with nonstick cooking spray. Place the wax paper onto of the dough ball and roll out until the dough is thin – about ¼ – ⅛th inch thick.
Step 5: Using a knife or pizza cutter, cut through the dough to make your pretzels. Below you can see two batches I made.
By trial and error, I found it easier to break apart the pretzels if I made them a bit thicker and wider as shown in the two pictures on the left below. The thinner pretzel shape I made were from the right picture.
Also they bake better if you have two smaller batches rather than one big batch as pictured on the left side below. The sides always get browner before the middle ones and you want to break them off and keep baking so it's easier with the smaller surface area.
Step 6: lace in the preheated oven and bake for 12-15 minutes or until the edges start to turn brown. You make find the edges cook faster so check on them at 10 minutes and just break them off and place back in the oven.
Let the baked pretzel pieces cool completely then place in an airtight container. I like to place mine in a baggie and store in the freezer so they keep longer. (Please scroll down for the printable recipe card.)
Pretzel related keto recipes.
I love using pecans as a substitute for pretzels in my keto recipes and I also have a keto pretzel bagel (no pecans) recipe. Here are some delicious recipes to try.
More keto salty snack recipes to try.
While I'm more of a sweet snacker, as I get older I do appreciate a good salty snack so here are a few of my favorite salt snack recipes. All are very easy to make.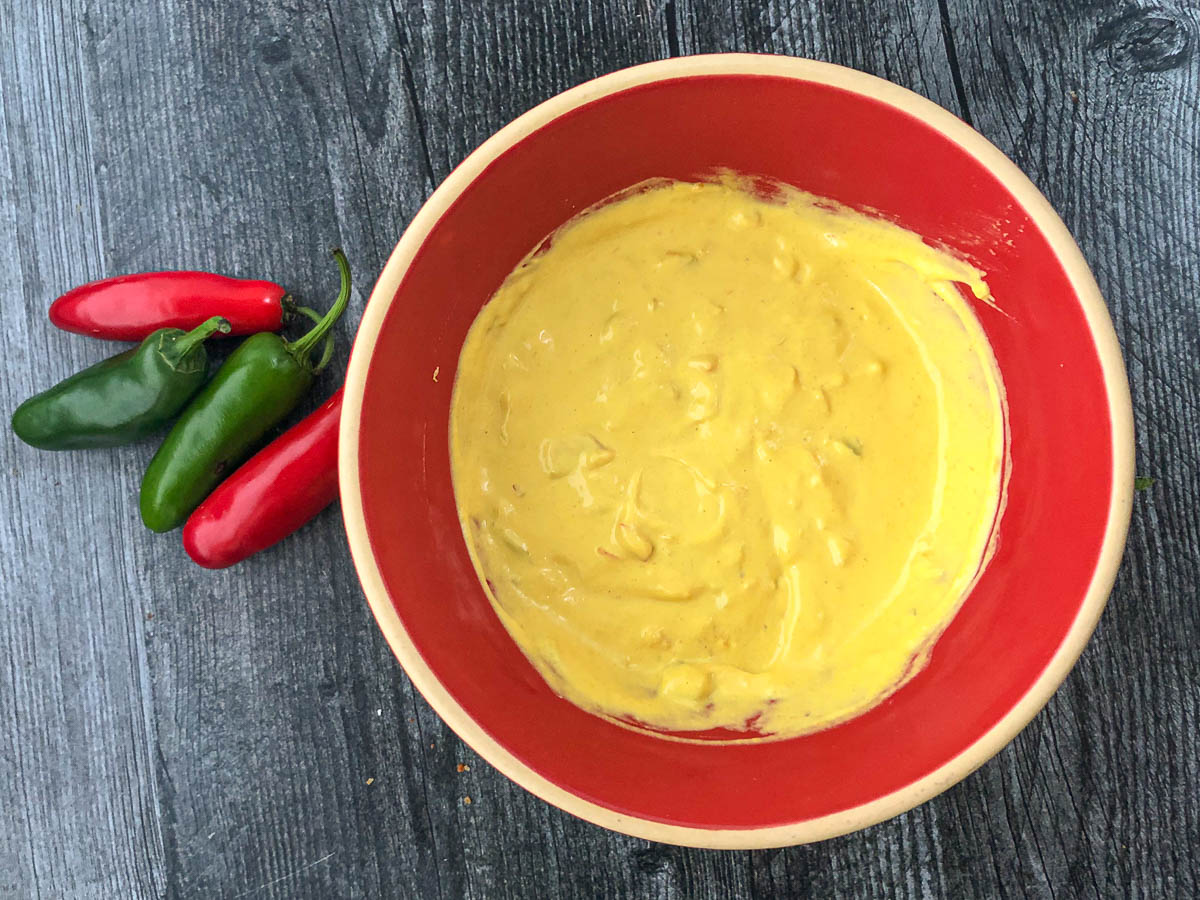 Above you can see the hot pepper mustard that I made the other day specifically to go with these pretzels. It is SO good and great for spreads, in salad dressings, on roasts, etc. Give it a try with these amazing keto pretzel sticks.
These would be a great snack for game days too. I hope you like this healthy pretzel recipe as much as I did.
The nutritional information for 1 is 33 calories / 3.1g fat / 0.6g carbs / 0.4g fiber / 0.7g protein = 0.2g net carbs
Keto Pretzel Sticks Recipe
This easy and delicious low carb pretzel sticks recipes is perfect for your crunchy salty snack cravings on a low carb diet. Use them to dip in mustards or they taste great on their own.
Ingredients
1 cup pecans, raw
2 tablespoons parmesan cheese, grated
1 egg white
1 tablespoon everything bagel spice
Instructions
Preheat oven to 375°F. Get out a cookie sheet and cover it with a sheet of parchment paper or silicon mat.
Place the pecans in a food processor and chop until well ground but make sure it doesn't start to look like a nut butter.
Add the parmesan cheese and spice and pulse to combine.
Pour into a mixing bowl and mix with the egg whites until well blened and forms a dough.
Divide the dough ball in half and place on the baking sheet. Spray a piece of wax paper and place on the dough. Roll out to make a thin rectangle about ⅛th thick. Score the pretzels with a knife or pizza cutter. You want to go all the way through the dough or at least mostly through so you can easily break them off when they are done baking.
Place them into the oven and bake for 10-15 minutes. Check them at 10 minutes and if the edges are burning, break them off and place the tray back in the oven. When they are golden brown take them out and let cool completly. Finish breaking the apart and serve.
Store in an airtight container in the refrigerator or freezer.
Notes
The nutritional information for 1 is 33 calories / 3.1g fat / 0.6g carbs / 0.4g fiber / 0.7g protein = 0.2g net carbs
Nutrition Information:
Yield:

28
Serving Size:

1
Amount Per Serving:
Calories:

33