This week's keto meal plan is all about keto breakfast recipes. There is something for everyone from keto sweet muffins to low carb egg and sausage cups.
Check out all of my low carb recipe collections!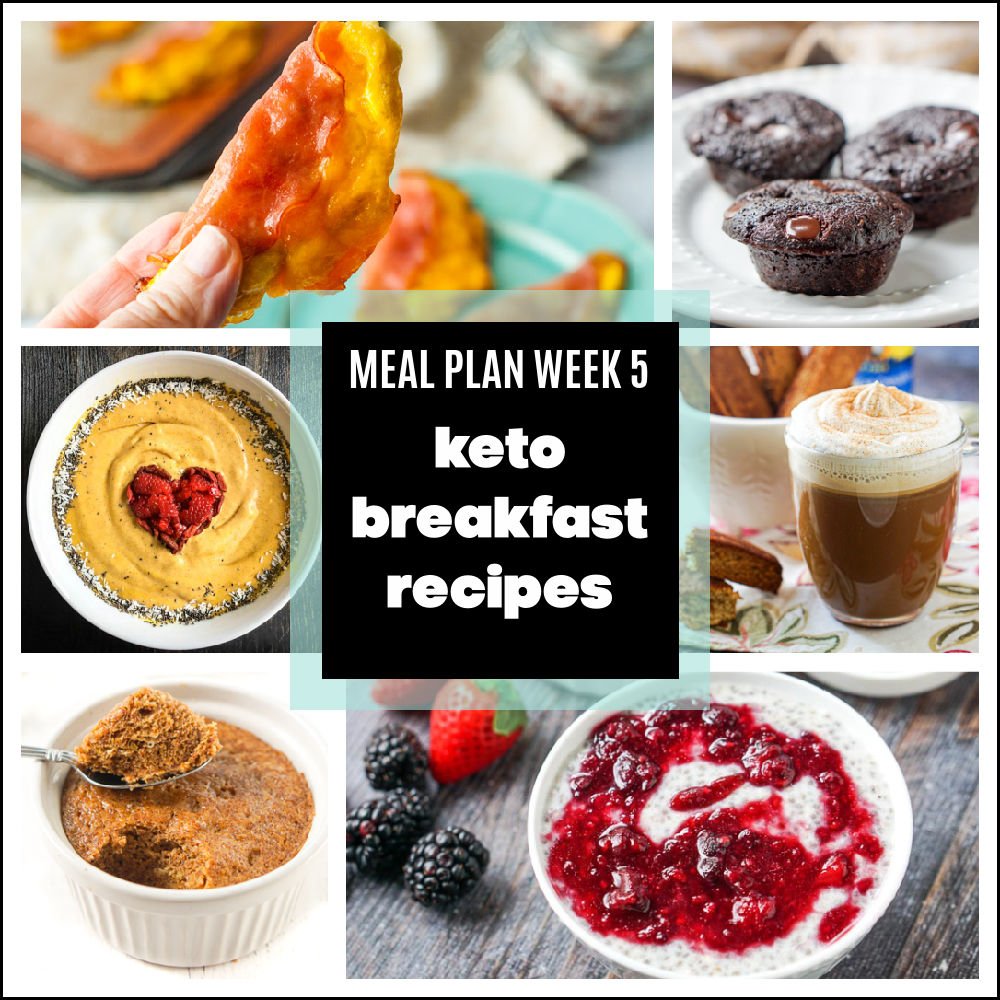 I have A LOT of keto breakfast ideas on this blog. Actually I have over 80 recipes!
I know everyone is different. Some people love savory food, some like sweet baked goods, and some just want a smoothie or protein drink.
I truly have something for everyone so if you don't see what you want on this list, just click on Low Carb Breakfast in the menu on mobile. Or click on Low Carb Breakfast under Low Carb in the menu on Desktop and you will see those 80+ recipes.
In this list I have a little of everything from a sausage egg muffin, to coffee chia seed protein pudding. I love them all so I don't think you will go wrong.
TIP: Remember, you can eat breakfast food for lunch or dinner! It's usually easier to make and can be a nice break from your regular meals. Give it a try!
---
🍽 MENU PLANNING TIPS 🗒
If you find a recipe you really like, make a double batch and freeze it for dinner some other day.
Eat leftovers for lunch the next day or free for lunch some other day.
Plan double duty dinners. That is if you make a roasted chicken, plan on using leftovers in another recipe like a casserole or soup.
Try have a few go to meals that you can easily make and the you know you love. Then experiment with a few new recipes to fill in.
Get organized with freezer containers, ziplock baggies, masking tape and sharpies.
Write your grocery list according to your supermarket layout. That is make columns with freezer section, dairy section, meat, produce, deli, and various aisles.
Start a spread sheet on Google docs with all of your meal plans so you can copy and paste meal plans.
Buy in meat or proteins in bulk or when it's on sale. Prepare it simple and portion in baggies and freeze to add to casseroles, soups, stews, etc.
MY FAVORITE MEAL PREP TOOLS
I love glass containers because they don't stain and you can freeze, microwave and even bake in them. Baking is helpful when you want to make a small amount of something like keto buffalo chicken dip. 😉
To take for lunch I like these glass 2 compartment containers. Sometimes you don't want a saucy item to mix with a salad say. The two compartments come in handy so you don't have to take to containers. Plus it helps with portion control.
I just bought these plastic Rubbermaid containers for leftovers. I like that the stack neatly in the cupboard. My husband said getting a container was like playing Jenga. I took the hint and bought this set.
These contners are great for dry goods. I put all of my flours, nuts, seeds, sweeteners, coconut flakes, cocoa powder, etc. It keeps it fresh and it's very visual so you know when something is getting low. It's been working very well for me.
If you lose your lids for containers, these silicone stretch lids work great. They are much better than cling wrap or foil.
I love these glass custard cups with lids. I use them to make my omelets in a cup meal prep. They can go from oven to freezer and have lids. I also use them for making small batches of buffalo chicken dip.
Lastly I have used vacuum sealed baggies with my vacuum cleaner. They have a round section on the bag that you use a vacuum sealer but I just use the hose section of my vacuum cleaner to suck the air out. These are great if you sous vide or just to portion fish or marinated meats. The less air in the bags, the less chance of freezer burn.
You can find all of the above and other keto ingredients and tools in my Amazon storefront.
---
Weekly Keto Meal Plan 5 - Keto Breakfast Recipes
A wide variety of keto breakfast recipes to choose from in this week's keto meal plan!