This easy 1 minute pumpkin muffin is a quick treat or a nutritious breakfast. Not only are they low carb at 4.6g net carbs but they are high in protein and fiber too!
I love sweets. I admit this is my biggest downfall when trying to lose weight or stay healthy. It's only gotten worse since I've gotten older. However over the last few years I've noticed the mug cake recipes pop up and then the 1 minute muffins. This seemed like it could work for me.
You see, even if I make Paleo or low carb desserts, I want to eat the entire thing. I have no control. But the 1 minute pumpkin muffin seemed like it could work like a charm. The best thing about this pumpkin muffin recipe is that it's low carb, high fiber and high protein.
It's a simple and adaptable recipe. The base is almond flour, ground flaxseed, sweetener, baking powder and an egg. Then you can add different ingredients to change the flavor. In this recipe I used pumpkin puree and pumpkin pie spices. For the sweetener, I used Swerve which a natural sweetener that's great for baking. (You can read all about it and my other favorite sweeteners here.) If you wanted to keep it more natural you can use honey, maple syrup or coconut sugar.
The 1 Minute Pumpkin Recipe
So it's very simple. Spray your microwave safe ramekin or mug with cooking spray. You can also use melted coconut oil or butter. Add your egg and pumpkin puree and beat with a fork to mix well. In a separate bowl, mix your dry ingredients together and then add to the pumpkin and egg mixture. Again you need to mix this well. (See picture above for what it looks like before cooking.) Microwave for 1 minute. Timing may differ depending on your microwave. You want it to be moist so don't over cook.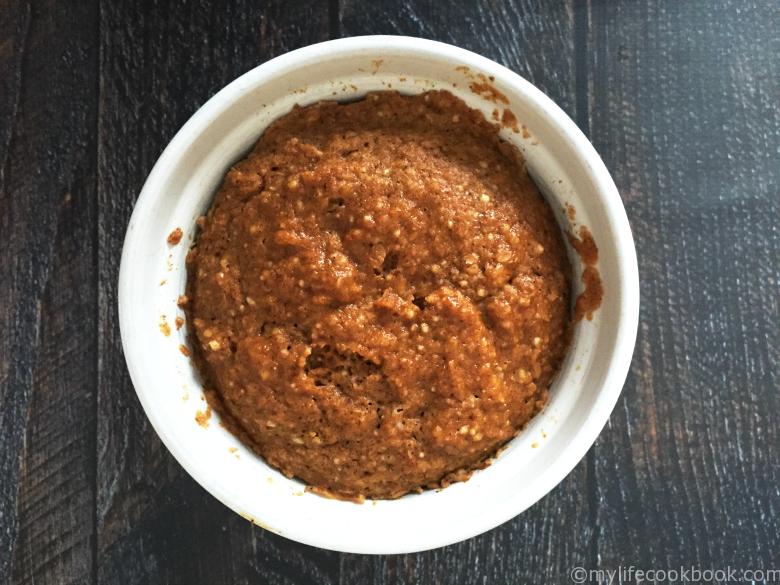 And this is what it looks like after cooking. A delicious moist pumpkin muffin that is not only low carb but also high in protein and fiber. Look at these stats:
1 Muffin =240 cals / 16.6g fat / 41.5g carbs / 36.9g fiber / 12.7g protein / net carbs 4.6g
*Note that Swerve has 30 g of carbs and 30 grams of fiber rendering it a 0 net carb.
The best thing about it is…there is only one to eat! No gorging on sweet deliciousness! And it's very filling too!
Now if you wanted to make this fancier you could certainly add a cream cheese frosting or some coconut whipped cream. However I felt it was fine as it is. This is definitely filling! It could be your breakfast and you will feel totally full. So please try it and let me know how you like it. I will try to add more variations in future posts.
1 Minute Pumpkin Muffin (Low Carb)
This muffin is very filling due to the fiber and a lots of protein. Perfect for your breakfast on the run.
Ingredients
1

egg

2

Tablespoons

almond flour

2

Tablespoons

flaxseed

ground (golden)

2

Tablespoons

of Swerve sweetener

can substitute other sweeteners

2

Tablespoons

of pumpkin puree

1/4

teaspoon

baking powder

1 1/2

teaspoon

pumpkin spice

cooking spray
Instructions
Spray a ramekin with cooking spray.

Add egg and pumpkin and mix well.

In a separate bowl add the almond flour, flaxseed, Swerve, baking powder and pumpkin spice.

Mix well and add to egg mixture and mix again.

Microwave for 1 -2 minutes. Check to see if done. Don't overcook. Mine took 1 minute and 40 seconds.

Let cool a bit and eat.