This mocha maca matcha it the perfect healthy and low carb pick me up drink to start your morning. It's full of healthy and energizing ingredients and you can make it in minutes.
You might also like these 5 morning matcha drink recipes!
Recently both my stepdaughter and a good friend have told me that they tried maca and it was giving them so much energy. Of course I have tried maca before (I've tried just about every crazy healthy food out there) so I knew what it was but at the time it didn't seem to give me any energy.
However that was quite a while ago and I thought it might time to give it another try. Hence the mocha maca matcha drink recipe!
What is maca?
Maca is a starchy tuber that looks like a radish. It's grown in Peru and is thought to do everything from treating infertility to depression. There has also been research on it's effectiveness as a treatment for low libido in men and small studies on improving mood and libido in women too.
It's generally considered safe but if you are pregnant, breast feeding or have a hormone sensitive condition, you should check with your doctor first. Learn more about maca here.
Now for the Mocha Maca Matcha recipe!
This mocha maca matcha recipe is an adaptation of the one my lovely stepdaughter gave me that was delicious! It had a lot of ingredients but I felt they were all good for you and added to the taste of the drink.
I included matcha to the recipe and it certainly gave me energy. I'm just not sure if it was the matcha or the maca….or perhaps both? Regardless this is the perfect energizing yet low carb drink to start your morning; especially in winter when a smoothie just doesn't seem appealing.
Mocha Maca Matcha Ingredients
To make this drink (please see the recipe below) you need maca, matcha, raw cacao, coconut oil, turmeric, cayenne, cinnamon, almond milk and sweetener.
TIP! That's a lot of ingredients but you can make a double or triple batch without the coconut oil and refrigerate it. When you want to make a batch just heat it, add your coconut oil and blend. Back to the ingredients.
Let's go over the great health benefits of these ingredients.
maca: treats infertility and female hormonal imbalances, naturally stimulating similar to ginseng
matcha: great source of anti-oxidants and phytochemicals, less caffeine than coffee gives you a boost of energy without the jittery side effects (You can learn all about the wonderfully properties of match tea in my post Matcha Magic. )
raw cacao: has a wide variety of antioxidants, supports healthy heart functions, enhances physical and mental well being
coconut oil: protects against infections and may protect against heart disease
turmeric: anti-inflammatory and improves brain health (Learn more about turmeric in my post Turmeric Tonic.)
cayenne: stimulates digestion, breaks up congestion and anti-fungal
cinnamon: anti-inflammatory effects may help lower the risk of disease, can improve cholesterol, triglycerides and blood pressure and has a potent anti-diabetic effect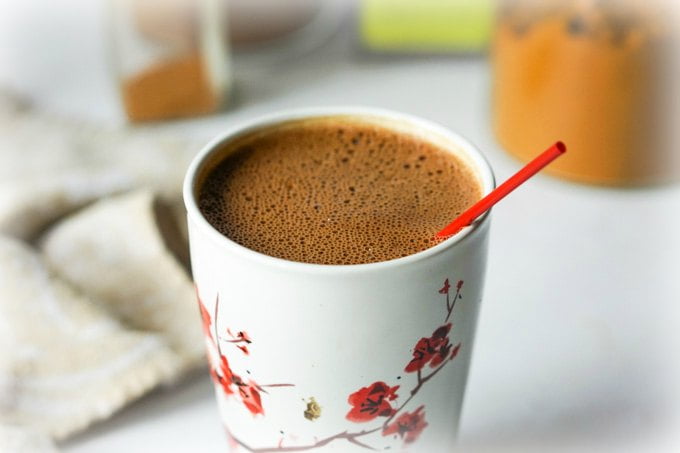 Mocha Maca Matcha Recipe in a nutshell

Boil your water or if you are using almond milk heat it on the stove.
Add it to your blender along with all the other ingredients (cacao powder, coconut oil, maca, matcha, turmeric, cayenne, sweetener, cinnamon) ] and blend until frothy.
Pour, sip and enjoy!
(Note: I use half almond milk and half water but sometimes I just use water and it tastes fine to me. For sweetener you can use pure maple syrup, stevia or what ever sweetener you like. To me it does need sweetener.)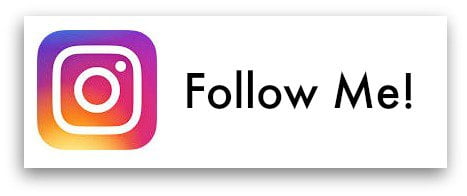 The nutritional information for 1 serving is:
189 cals / 17.3g fat / 7.3g carbs / 4.4g fiber / 2.8g protein = 2.9g net carbs
For more great Matcha and other tea recipes, check out my Pinterest board called Tea Please! Also I buy my Matcha from my friend Debbie who sells the best tea around, Steeped Tea. You can find some on her site if you are interested.
Mocha Maca Matcha - an energizing, low carb breakfast drink
This mocha maca matcha it the perfect healthy pick me up drink to start your morning. It's full of healthy and energizing ingredients and you can make it in minutes.
Ingredients
1/2

teaspoon

matcha powder

1/2

teaspoon

maca powder

1

tablespoon

raw cacao powder

1

cup

water or almond milk or a combination of the two

1

tablespoon

coconut oil

1/2

teaspoon

turmeric

1/4

teaspoon

cinnamon

1/4

teaspoon

cayenne powder or black pepper

sweetner to taste, I used stevia but you can use maple syrup if you aren't low carb
Instructions
Heat the water or almond milk up to almost boiling.

In a blender add your hot water or almond milk and all the ingredients.

Blend on high until frothy.

Pour and enjoy!
Recipe Notes
The nutritional information for 1 serving is:
189 cals / 17.3g fat / 7.3g carbs / 4.4g fiber / 2.8g protein = 2.9g net carbs