If you are looking for new soup recipes to keep you warm this winter, try this week's keto meal plan which is all about keto soup recipes! While I have over 40 soup recipes on this blog, this collection is my 15 most popular keto soup recipes.
For more selection, check out all of my soup recipes!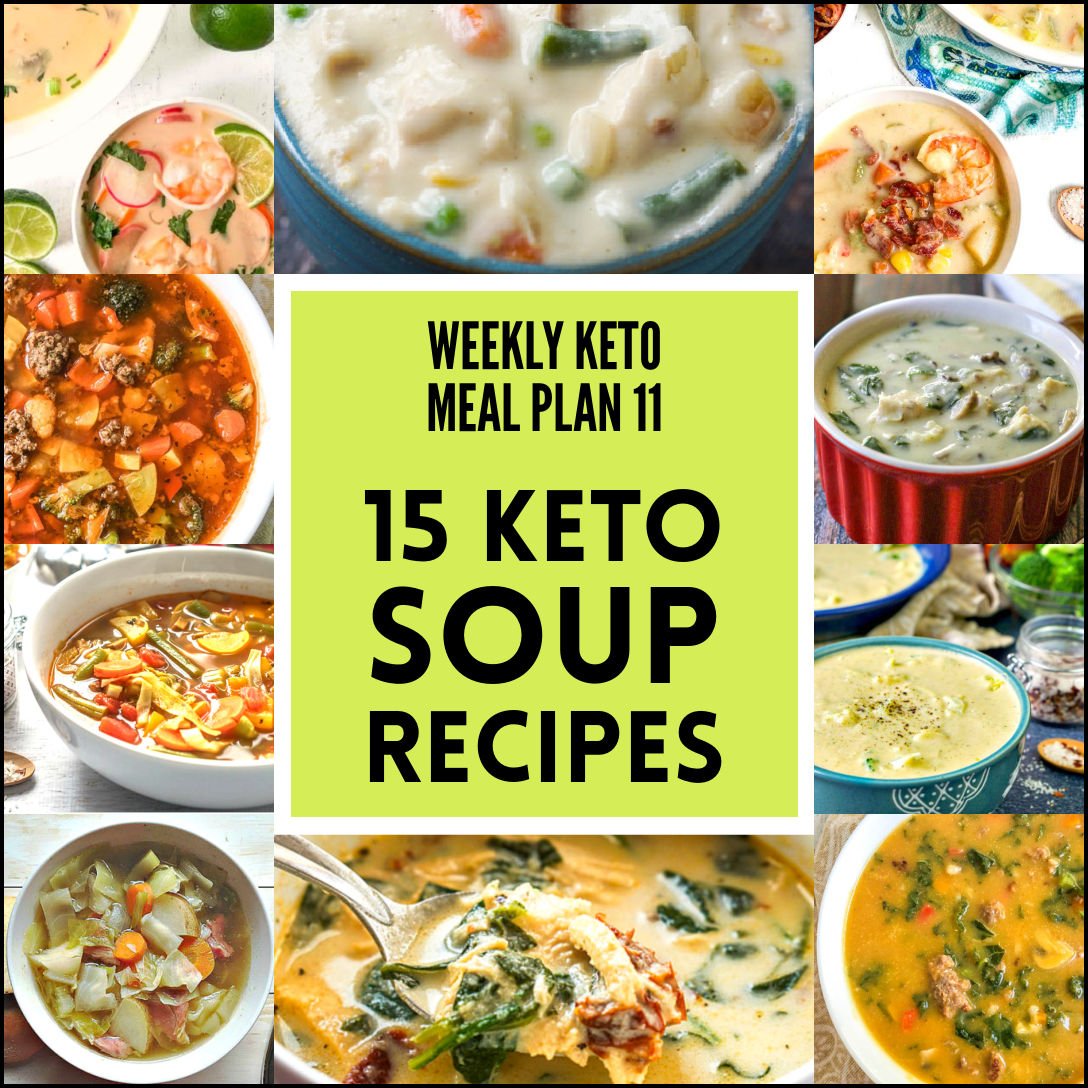 If there is one thing I really learned how to make over the years, it's soup. I have made so many different kinds of soup and IMO they all have great flavor. That's why this week it's all about keto soup recipes.
My husband just loves my soups and even my son get's excited for my wedding soup. Below I will also share with you my easy soup flavor tips and show you my formula for making a quick and tasty low carb soup.
My formula for making a tasty yet easy keto soup.
Often when I'm in the mood for a quick soup for lunch or dinner, I use this basic formula.
frozen veggies + some type of meat + Better than Bouillon base + broth + herbs and spices
You don't even need measurements. Just visually add as much as you think would be good of each component and keep tasting.
For example if I was in the mood for a keto taco soup,
I would use ground beef, ground turkey or chicken chunks. I would then cook/brown them in the soup pan with lots of spices (cumin, chili powder, garlic powder, onion powder, paprika, oregano, etc).
Next I would add the broth, Better than Bouillon, frozen veggies and simmer until everything is cooked through. Sometimes like for this recipe, I would even add a can of chopped tomatoes along with the broth.
Along the way I would taste it and adjust the flavors. Does it need more broth? More spices, salt or pepper? Do you need more vegetables or meat?
And when it's done, I might top my bowl of soup with cheddar cheese, sour cream, jalapenos, chopped green onions or fresh cilantro, etc. All of these add even more flavor.
Low Carb Soup Flavor Tips
Uses herbs and spices to add flavor without many carbs. I use a spice blend that I made for my Italian sausage recipe on some chopped mushrooms to give them a sausage flavor without using meat. You can also try taco spices, curry powder and curry pastes which can add so much flavor.
I mentioned this many, many times in my posts, I love Better than Bouillon for adding tons of taste to soup recipes. They have various flavors and very few carbs for a lot of taste.
Try cauliflower cream to make soups creamy and to thicken them. It's very easy and you can see how I make it in this pot pie post. Other thickeners to try is xanthan gum, glucomannan powder or Thick-It-Up.
Buy rotisserie chicken, clean off the meat and freeze it in 1 cup portions for soup. Then take the bones, throw it in a slow cooker along with water, spices and vegetables for 24 hours to make bone broth.
You can use Parmesan cheese to most tomato based recipes as it adds virtually no carbs and again adds another layer of flavor.
If a recipe calls for crushed garlic, sometimes I add it at the last few minutes of the cooking, This really keeps that garlic flavor in the forefront.
You will learn more soup making tips in these following recipes. I hope you enjoy them and they bring you some comfort on those cold days.
Keto Meal Plan 11 - Keto Soup Recipes
If you are looking for a new go to keto soup recipe, this week's keto meal plan is all about soups. I've included my most popular and tastiest low carb soup recipes below.