This easy Italian wedding soup recipe is one that we make all the time. And it it is the best Italian wedding soup, according to my son and husband! Using frozen meatballs and rotisserie chicken you can make this deliciously flavorful soup in 30 minutes. I also have a low carb wedding soup version if you are on a low carb diet!
You might also like this Italian pasta e fagioli recipe too!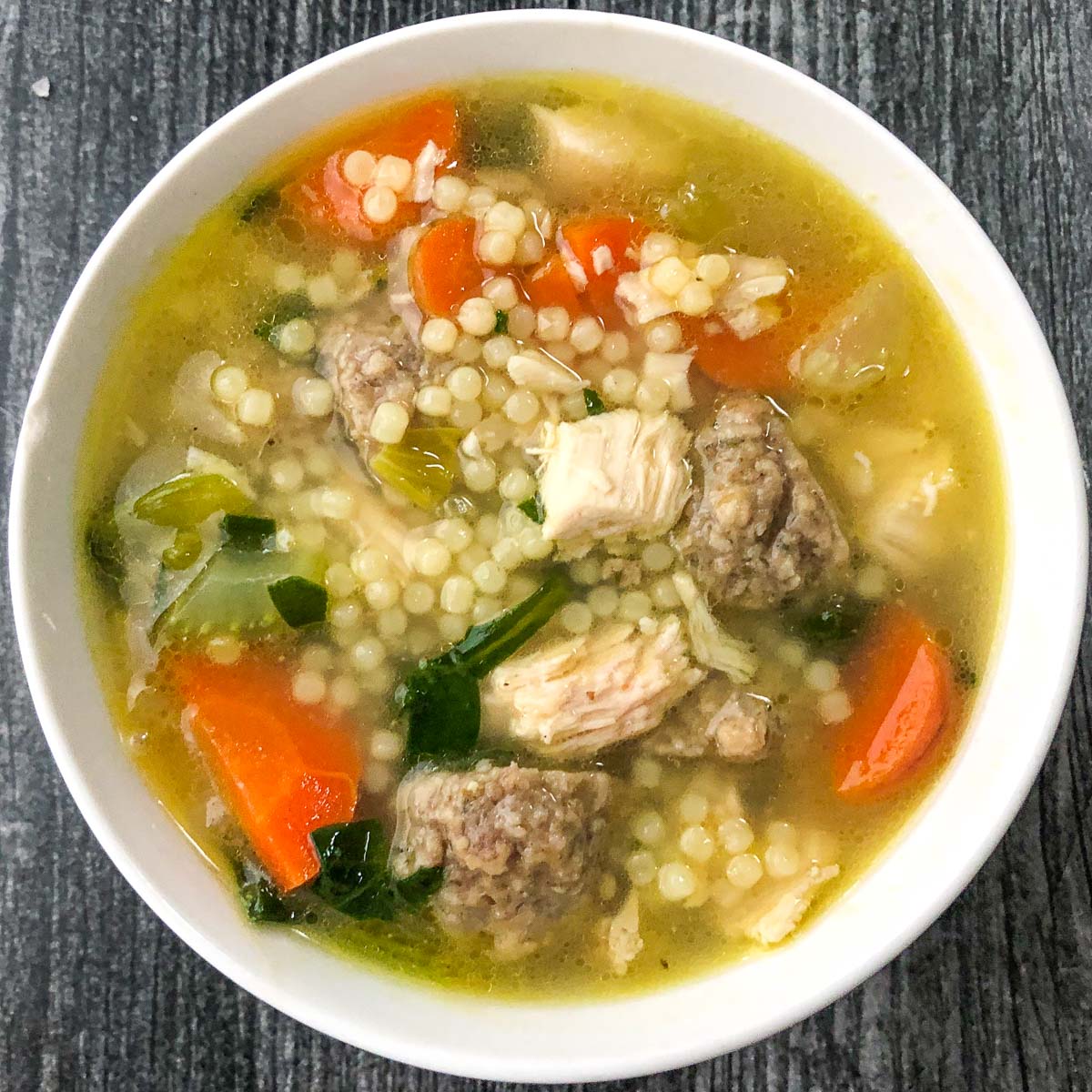 My son has long since called this easy Italian wedding soup recipe the best wedding soup ever and so I made it quite often. It was the first soup he ever really ate and so I wanted to encourage him. Now I have it down to a science.
I used rotisserie cooked chicken and frozen meatballs as a short cut and keep both stock in my freezer. I also make a big batch of homemade chicken broth and freeze that to have on hand. but don't worry you can just use store bought and doctor it up to have more flavor.
This wedding soup is therefore semi-homemade but the flavorful broth tastes like you slaved all day. It's the perfect comfort food on a cold winter day for my family. And by the way I also have an easy low carb wedding soup version that you can try if you watching your carbs.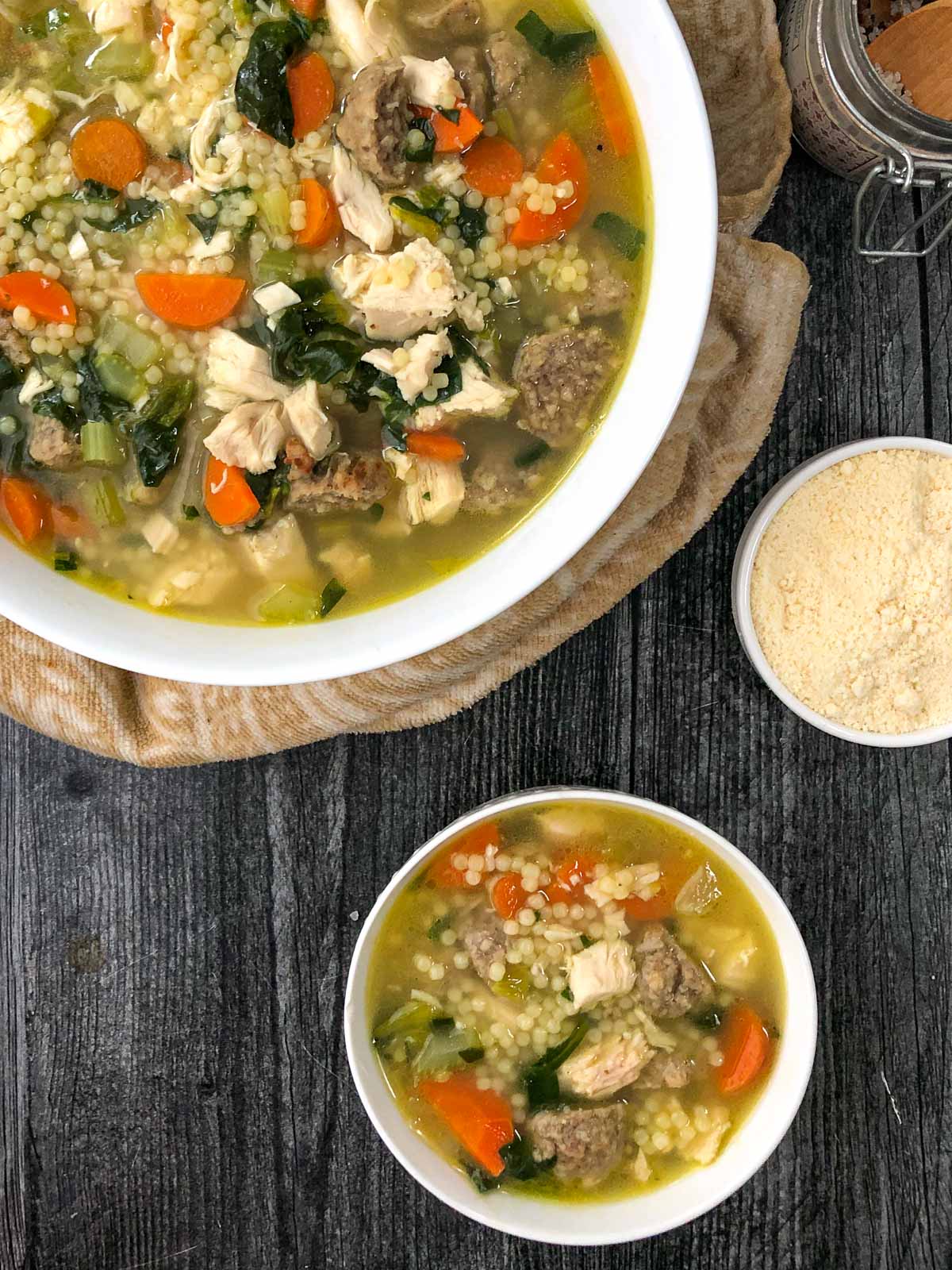 My grandmother used to make the best wedding soup though hers was not as chunky as mine. It had more broth and she made tiny meatballs by hand. She also cooked the chicken that she used in the soup and probably got the broth from that.
I wish I had the patience and time to do all that but I don't. And I think this version is just as good as hers albeit different.
If you want to make your own chicken bone broth.
You don't have to use bone broth or homemade broth but it is very good for you and super tasty. You can aways use store bought. However, I like to make a big batch in the crockpot and then freeze all of it for soup recipes like this.
This is a photo of a batch I made. Just add all the ingredients and let them cook on low in the crockpot for about 24 hours and you have a ton of bone broth that you can freeze or use in your cooking.
Recipe ingredients I used.
All you need to make this delicious soup recipe is chicken broth, olive oil, carrots, celery, parsley, fresh garlic, ginger, salt, ground black pepper, Better than Bouillon chicken base, acini de pepe pasta, frozen beef meatballs, fresh baby spinach leaves, cooked chopped chicken breast and parmesan cheese (optional).
Some notes about the ingredients. I used frozen meatballs because this is supposed to be an easy recipe. I usually buy Italian meatballs from Aldi and cut them into fourths. If you can find frozen mini meatballs that would ideal but they are hard to find around me.
I highly recommend Better than Bouillon bases. They add tons of flavor and I use them in most of my 35+ soup recipes! If you don't have any you can use regular bouillon or just skip it. You might want to adjust the salt and spices though.
Lastly I like acini de pepe which are small pasta balls. But you could substitute orzo pasta or another small type of pasta if you want.
I would normally use chopped yellow onion in this recipe but my son doesn't care for it. If you want to use onion just add it with the celery and carrot.
Let's make this easy Italian wedding soup recipe.
Step 1: Get out a large soup pot and heat to medium high heat. Add the olive oil and then the chopped celery and carrots. Turn the heat down to medium heat. I like to use the celery leaves as well as they add a bit extra flavor.
Step 2: Once the veggies start to soften, add in the broth, Better than Bouillon and water. Bring to a boil and cook for 5 minutes to cook the veggies through.
Step 3: In the meat time microwave the meatballs for 1-2 minutes to defrost them a bit. Take them out and cut into 4ths. Add them to the mixture along with Better than bouillon chicken base, garlic, ginger and parsley. Cook for another 5 minutes then add in the spinach.
Step 4: Add the pasta and cook for however long it says on the package. Usually it's about 10 minutes. Below is what it should look like when the pasta is fully cooked.
Step 5: Lastly add in the cooked chopped chicken and let it heat up for a few minutes with the rest of the ingredients and that is all there is to it. Sometimes we sprinkle a little grated parmesan cheese and ground black pepper on top before serving but that is optional.
Note that the pasta will soak up more and more of the broth as it sits in the refrigerator. I personally like it like this but you can always add a bit extra broth when you reheat it if you want.
Store leftover soup in an airtight container. This is a good recipe to freeze for another time. Please scroll down to view the printable recipe card.
To make a low carb version of this soup.
If you are a regular reader here you know I like to eat low carb. Below is what I eat when I make wedding soup. First let's talk meatballs. Many pre-made meatballs have carbs in them so watch for that.
If you can make low carb homemade meatballs. If you make a big batch you can freeze them for dishes like this.
I also skip the pasta and add a beaten egg like in an egg drop soup. You just beat an egg and slowly pour into the simmering broth. I also add extra chicken and spinach and go easy on the carrots.
To me this is just as good as regular wedding soup. I have a similar soup – low carb vegetable sausage soup – that you should check out.
You could use less pasta and meat if you like it a more brothy soup but this is the way my family likes it. It's such a hearty and filling soup you could serve with some crusty bread and a green salad and easily make it a meal.
So I hope you give this easy Italian wedding soup a try as it's a family favorite for us and I'm sure your entire family will love it too. Enjoy!
The nutrition facts for 1 serving of the low carb wedding soup is: 241 cals / 8.6g fat / 5.7g carbs / 1.6g fiber / 30.1g protein = 4.1g net carbs
Easy Italian Wedding Soup Recipe
This easy Italian wedding soup recipe is full of rich savory broth, shredded chicken, meatballs and pasta to make a flavorful and hearty soup. Serve a comforting bowl with a salad and crusty bread for a meal! Freezes great too!
Ingredients
4 cups chicken stock or broth
2 cups water
1 tablespoon olive oil
2 carrots, sliced
2 stalks celery, sliced (leaves too)
½ cup fresh parsley, chopped
2 cloves garlic, crushed
salt and black pepper to taste
1 teaspoon grated ginger
1 tablespoon Better than Bouillon chicken base or regular bouillon
½ cup Acini Di Pepe pasta, (you can use orzo and any other small pasta if you like)
2 cups meatballs, frozen
1 cup fresh spinach, chopped
2 cups chicken, cooked and chopped
Instructions
Get out a large soup pot and heat to medium high heat. Add the olive oil, carrtos and celery. Turn the heat down to medium heat and saute the veggies for 5 minutes.
Next add the broth, Better than Bouillon and water to the pan and bring to a boil. Let simmer for 5 minutes.
In the meat time cook the frozen meatballs in the microwave for 2 minutes and then cut into 4ths if they are large.
Add the thawedd meatballs, spinach, garlic, ginger and parsley and continue to simmer for about another 5 minutes. You can season with salt and black pepper at this point as well.
Add pasta and cook according to the package instructions (about 10 minutes). Lastly add the cooked chicken and cook for a few minutes to incorporate with the rest of the soup. Make sure the pasta and the vegetables are cooked.
You can sprinkle a little grated parmesan cheese to top before serving but that is optional. Store leftovers in an airtight container.
For the low carb version: Use 2 eggs instead of the pasta. Just beat the eggs and slowly pour into the simmering soup at the end of the recipe. I also used 6 large Trader Joe's frozen meatballs. For nutritional information see above. You can make this lower carb by making your own meatballs and eliminating the carrots.
Nutrition Information:
Yield:

6
Serving Size:

1 grams
Amount Per Serving:
Calories:

407
Total Fat:

28g
Saturated Fat:

8g
Trans Fat:

0g
Unsaturated Fat:

17g
Cholesterol:

110mg
Sodium:

1664mg
Carbohydrates:

11g
Fiber:

3g
Sugar:

5g
Protein:

28g