This is the easiest & best wedding soup ever, according to my son and husband! Rich chicken broth, shredded chicken, meatballs and pasta make for a hearty soup. I even have a delicious low carb version too!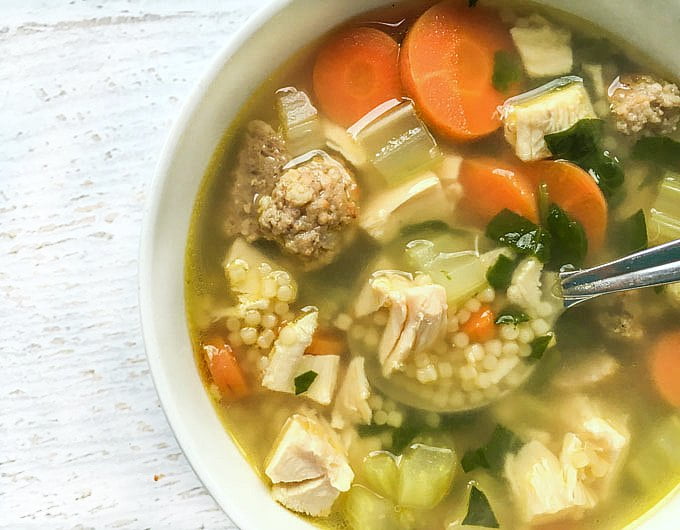 This is a really quick and easy soup that I am sure your family will love. I say that because my family does. My son calls this the Best Wedding Soup Ever and he requests it quite often. I keep a lot of the ingredients in my pantry and freezer so I can make it anytime I want. It's very hearty and the broth is rich and flavorful. It's semi-homemade because I use frozen meatballs and pre-cooked chicken but the flavor tastes like you slaved all day.
My grandmother used to make the best soup. Her wedding soup was not as chunky as mine. It had more broth and she made tiny meatballs by hand. She also cooked the chicken that she used in the soup and probably got the broth from that. I wish I had the patience and time to do all that but I don't. And I think this version is just as good as hers albeit different. Also if I don't have any bone broth in the freezer I use regular chicken stock or broth along with Better Than Boullion.
If You Are Using Bone Broth
You don't have to use bone broth or home made broth but it is very good for your and super tasty. You can aways use store bought. However, I like to make a big batch in the crockpot and then freeze all of it for soup recipes like this. Bone broth (recipe here) is a well known ingredient or recipe in the Paleo sphere because of it's gut healing properties. It also happens to be quite delicious too.
Below is a photo of a batch I made. I usually put a chicken in a crockpot and cook it on high for about 4 hours. I take it out, clean the meat off of it and then throw it back in the crockpot (except for the skin). Then add some filtered water, carrots, celery, onions, garlic, ginger, salt, pepper, apple cider vinegar (a couple tablespoons) and a few bay leaves. Let that cook on low in the crockpot for about 24 hours and you have a ton of bone broth that you can freeze or use in your cooking.
Best Wedding Soup Recipe
To make this soup you basically just saute some carrots and celery in olive oil until softened. Add your bone broth or chicken stock, spinach, ginger, garlic and water and cook for awhile. Add the meatballs and cook for about 5 minutes. Add the pasta and cook for about 10 minutes and then lastly add your cooked chicken at the end. I really like the flavor of Better Than Boullion in my soup but if you don't have it you can use regular bouillon or eliminate it altogether.
Low Carb Wedding Soup
If you are a regular here you know I like to eat low carb. Below is what I eat when I make wedding soup. First let's talk meatballs. Many pre-made meatballs have carbs in them so watch for that. If you can make your own low carb meatballs do that. Make a big batch and freeze for dishes like this.
I also skip the pasta and add a beaten egg like in an egg drop soup. You just beat an egg and slowly pour into the simmering soup. I also add extra chicken and spinach and go easy on the carrots. To me this is just as good as regular wedding soup. If you like soups like this I have great low carb vegetable sausage soup you should check out.
You could use less pasta and meat if you like it more brothy but this is the way my family likes it. So if your family is a fan of wedding soup, I think you should give this easy soup recipe a try. It's easy and is full of flavor. Enjoy!
The nutritional information for 1 serving of the low carb wedding soup is:
241 cals / 8.6g fat / 5.7g carbs / 1.6g fiber / 30.1g protein = 4.1g net carbs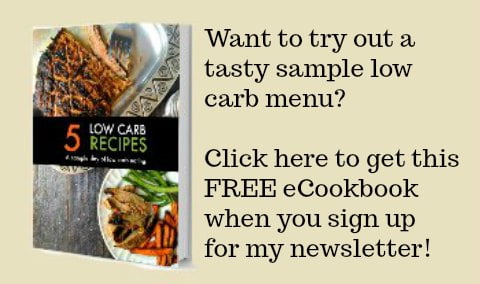 Best Wedding Soup Ever
This is the best wedding soup ever, according to my son and husband! Rich chicken broth, shredded chicken, meatballs and pasta make for a hearty soup.
Ingredients
4

Cups

Homemade bone broth or chicken stock

2

Cups

water

1

Tablespoon

olive oil

2

carrots

Chopped

2

celery stalks

Chopped

½

Cup

parsley

Chopped

1

teaspoon

crushed garlic

salt and pepper to taste

1

teaspoon

grated ginger

1

Tablespoons

chicken base or bouillon

Optional

½

Cup

Acini Di Pepe

(you can use orzo and any other small pasta if you like)

2

Cups

meatballs

frozen

1

Cup

fresh spinach

Chopped

2

Cups

Chicken

cooked, Chopped
Instructions
In a stock pot, add oil, carrots and celery. Saute for a few minutes then add your broth and water. Bring to slow boil and cook for 5 minutes. If you are using bouillon or chicken base, add it here.

Add the frozen meatballs, spinach, garlic, ginger and parsley and continue to simmer for about another 5 minutes.

Add pasta and cook for another 10 minutes. Lastly add the cooked chicken and cook for 5 more minutes. Make sure the pasta and the vegetables are cooked. I'm just estimating the time but you can add everything but the chicken and pasta at the beginning if you are pressed for time.
For the low carb version
Use 2 eggs instead of the pasta. Just beat the eggs and slowly pour into the. simmer soup at the end of the recipe. I also used 6 large Trader Joe's frozen meatballs. For nutritional information see above. You can make this lower carb by making your own meatballs and eliminating the carrots.