If you have a Dash mini waffle maker or just bought a waffle maker, I have 30 keto waffles recipes for you to try. There is a variety of sweet and savory waffle recipes to pick from and some unusual ways to eat them! All are perfect for a quick breakfast or snack on a low carb diet.
You might also like these low carb breakfast recipes!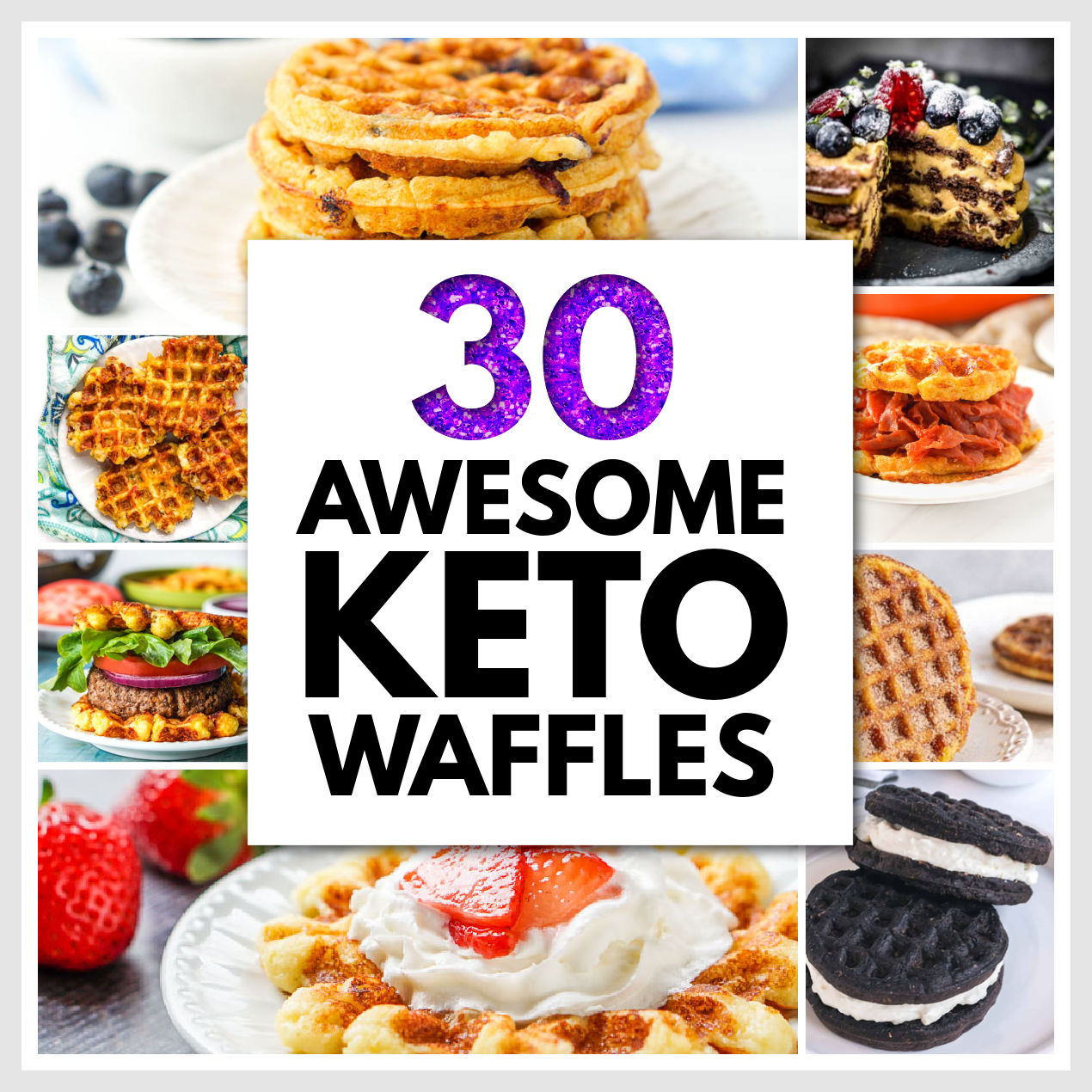 Recent I bought a Dash mini waffle maker and makes the perfect size keto chaffles. I loved it so much I gave it as a gift to my older nieces for Christmas!
So to go with that I have compiled a list of 30 keto waffles recipes from both myself and my keto blogger friends so you can have fun experimenting. There are lots of sweet and savory waffle recipes to try. There is even a cake and keto bun recipe.
Fun ways to use your waffle maker.
There are many more things you can make with waffle iron than just sweet waffles. Below are a few fun things to try.
make an omelet or fried egg
pizza waffles – see below
stuffing waffles with leftovers or this keto version below
make cheese waffles (chaffles) as buns for burgers or ham bbq
make a grilled cheese or quesadilla using low carb tortillas or bread
keto hash browns using shredded celery root, radishes or turnips
make a keto cake (see below) or Oreo cookie flavored waffles (also below)
waffles for dogs! (see below)
garlic bread sticks (see below)
make a keto chaffle bowl for desserts (see below)
Different types of keto waffles.
Keto waffles can be either savory like pizza waffles or they can be sweet like traditional ones.
Either savory or sweet most keto waffles are made with low carb flour, eggs, etc. like traditional ones or they are made with a variety of cheeses and eggs and called chaffles (cheese waffles).
Chaffles in my opinion are best for savory flavors but they can work with sweet flavors. They are really easy to change the flavors around and take less time to make too.
Keto waffle ingredients.
As I mentioned above keto chaffles are usually made with cheese and eggs but sometimes people use cauliflower as well to give it bulk and because it has a neutral flavor.
For a more traditional taste you can substitute almond flour or coconut flour for regular all purpose flour.
And lastly Fathead dough can be used too and that is a combination of eggs, mozzarella, cream cheese and almond flour.
Now let's move all those delicious recipes!
30 Keto Waffle Recipes
If you just got a new Dash mini waffle maker or any kind of waffle iron and are on a keto diet, here are 30 recipe you will love!