These keto air fryer salmon bites are chunks of deliciousness that only take 20 minutes to make. The simple low carb marinade gives these salmon nuggets tons of flavor and only uses 3 ingredients. This keto seafood dinner is sure to be one of your favorites and it's both low carb and high protein. Each serving has only 4.2g carbs but 61g protein.
You might also like these keto air fryer chicken nuggets recipe!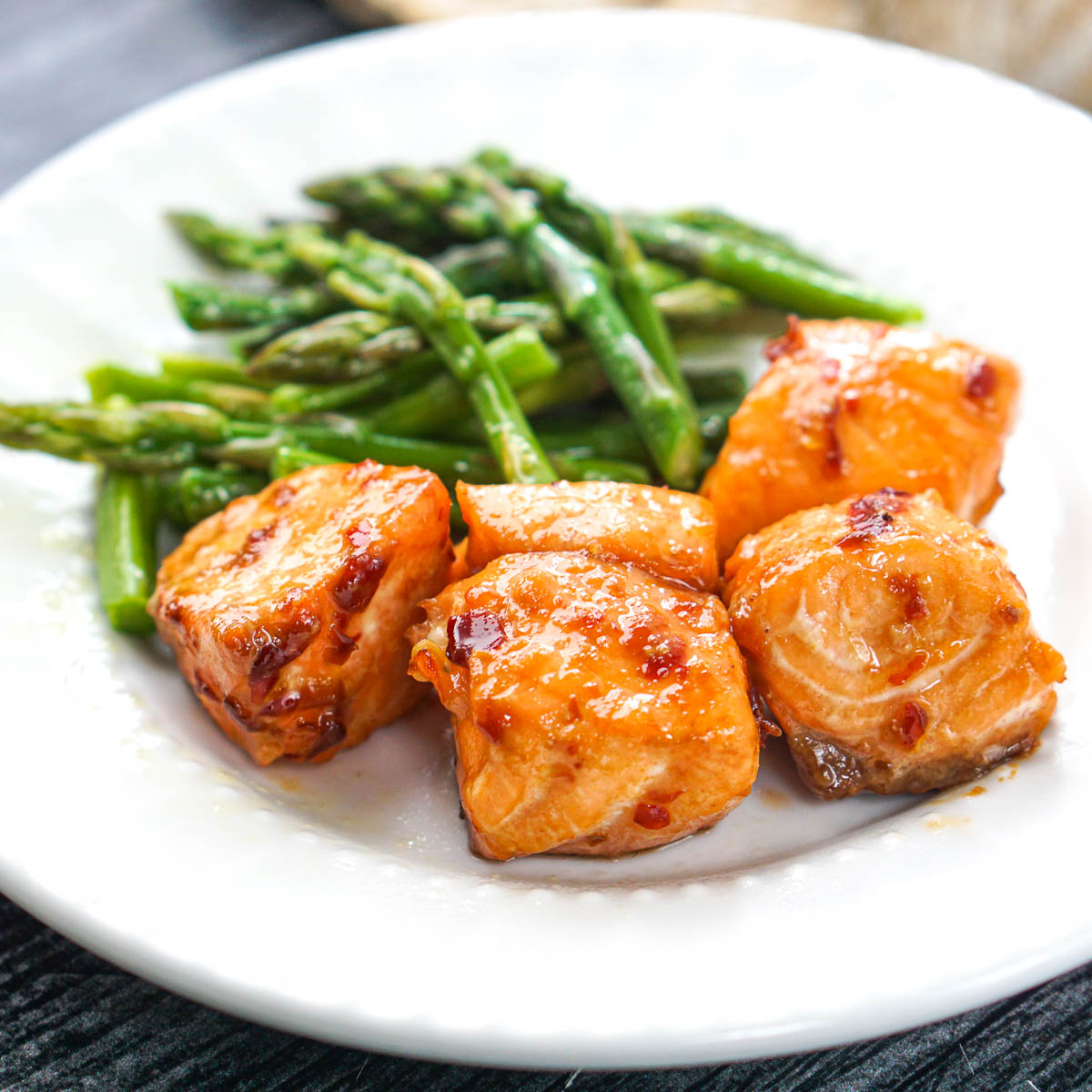 I've been wanting to make these for a long time. My family loves salmon and it's a good healthy meal to make, especially on busy weeknights. So I made these keto air fryer salmon bites using a 3 ingredient marinade and they came out so flavorful!
You just mix the marinade and let sit for a few minutes then pop them in the air fryer and dinner is done in 20 minute which is perfect for a busy weeknight dinner. This low carb high protein dinner is simple but delicious.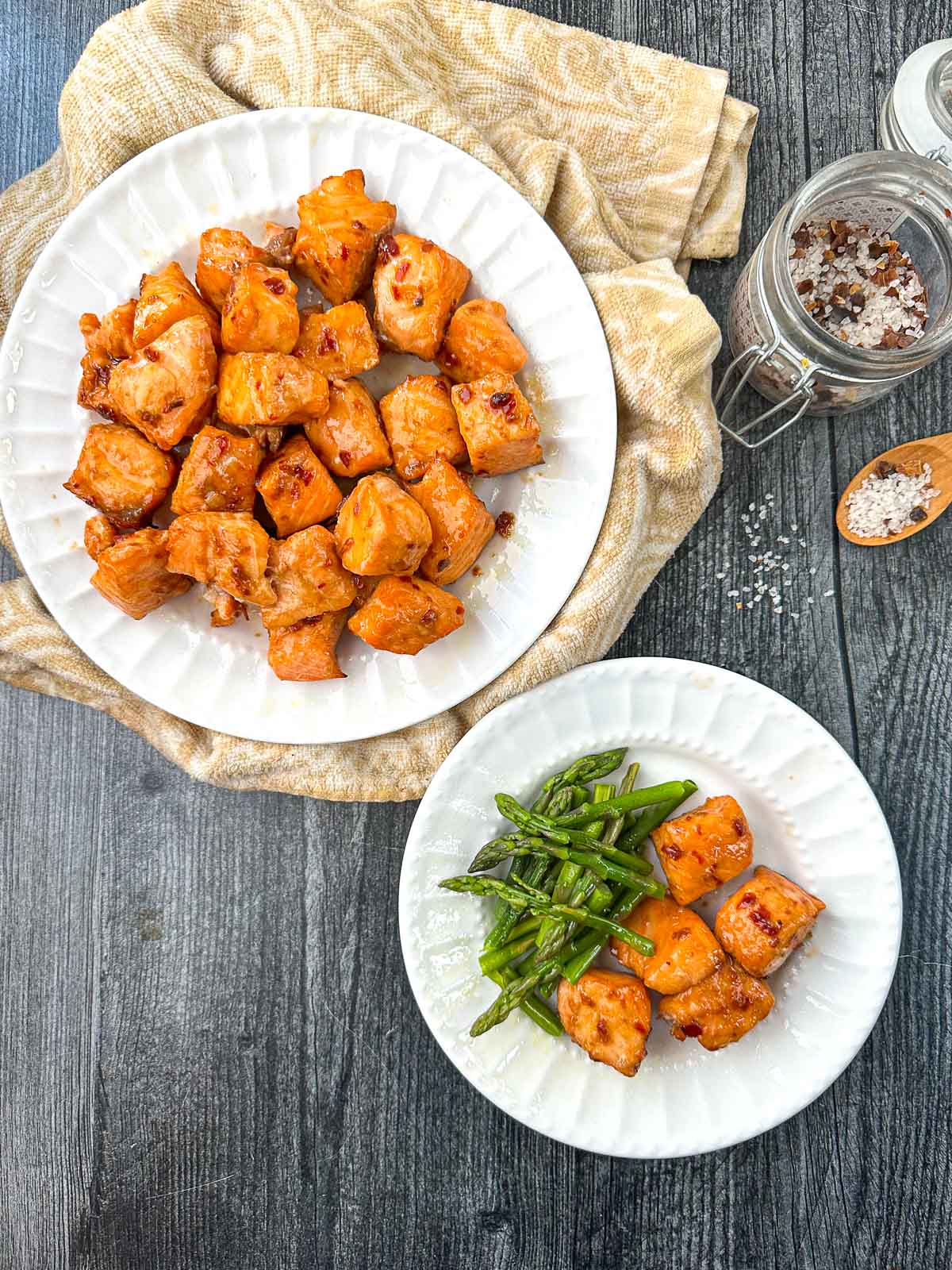 The 4 recipe ingredients I used.
All you need to make this recipe is 4 simple ingredients – a piece of salmon, chili garlic sauce, soy sauce and Swerve brown sugar sweetener. No spices or seasonings – not even salt and black pepper. The soy sauce brings the salt and chili garlic sauce brings the heat while the sweetener brings the sweetness.
I bought my fresh salmon at Aldi and sometimes I buy a whole fish at Costco. It's readily available at most grocery stores. I haven't tried this with frozen but I don't see why that wouldn't work. Also buy skinless salmon fillets if you can other wise you can skin yourself.
As for the chili garlic sauce you can usually find this in most bigger grocery stores. I like it because you get the heat, garlic, and tanginess all in one product. That with the salty soy sauce and sweet brown sugar sweetener makes a great marinade.
As of the Swerve brown sugar sweetener, you can also use Lakanto golden or any other brown sugar sweeter of choice. You can also use regular sweetener if You don't have brown. However the brown gives it more flavor in my opinion.
Lastly you can always use regular brown sugar if you don't care about carbs.
Let's make these keto air fryer salmon bites.
Step 1: Get out the air fryer and spray the basket with cooking spray.
Step 2: Using a paper towel, dab the filets dry. Cut the salmon into bite sized chunks roughly 1 inch cubes. You might have to first take off the skin for this recipe. Use a sharp knife and just skin the fish as best you can. I found it's easier to cut the filet in half first and then do each piece. If you can buy a skinless one do that!
Step 3: Place the salmon cubes in a bowl. In a medium bowl mix together the marinade and pour over the salmon and mix again. Marinade for 5-10 minutes.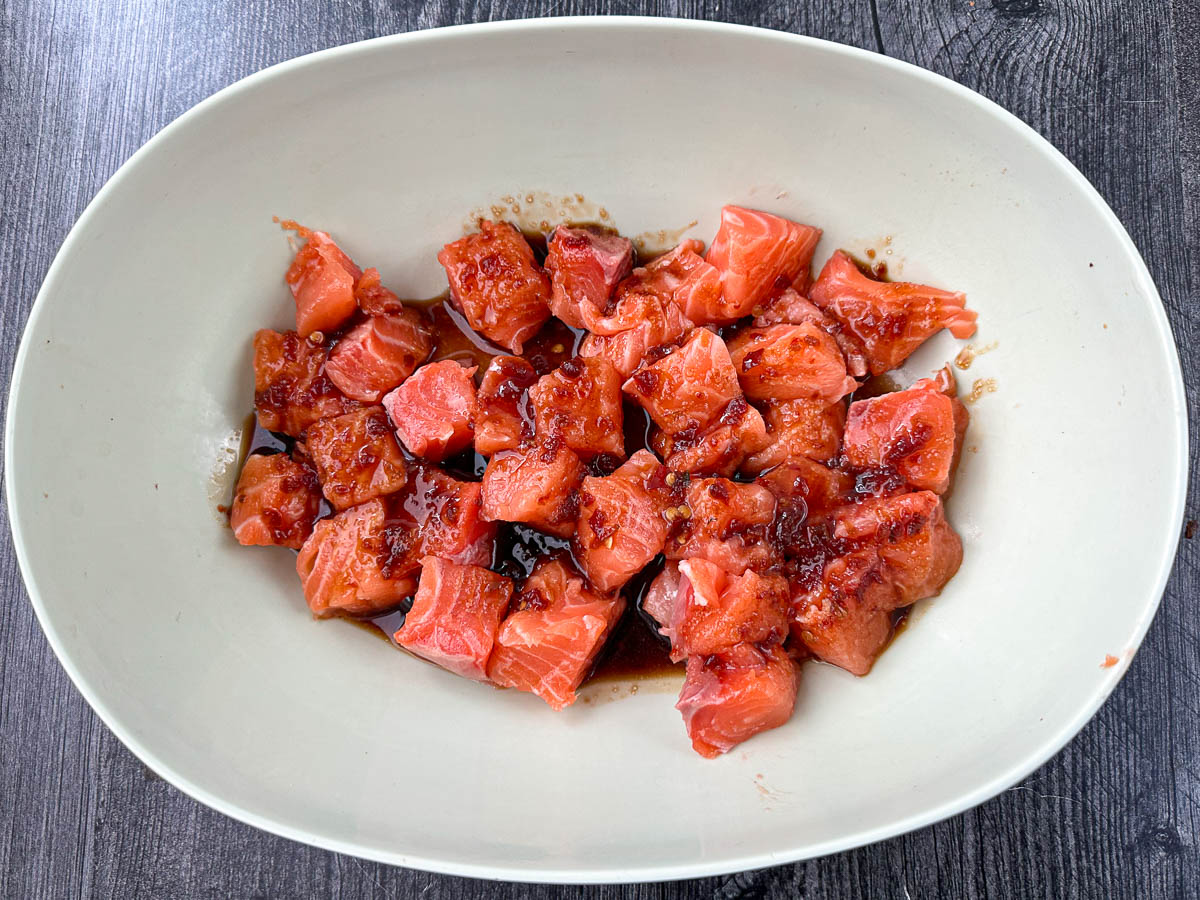 Step 4: Spoon or place the salmon cubes onto the prepared air fryer basket. Set the air fryer temperature to 400°F. You want to cook for 5-8 minutes.
Step 5: Check at 5 minutes and see if they are done. If not cook for a few minutes more. Cooking times may vary.
When the nuggets are nicely browned and cooked through they are done. You don't want to over cook them and they really don't take much time. The internal temperature should be between 135°F – 145°F using a meat thermometer.
Place the tender salmon bites on a plate and serve. Store leftovers in an air-tight container. Please scroll down to view the printable recipe card.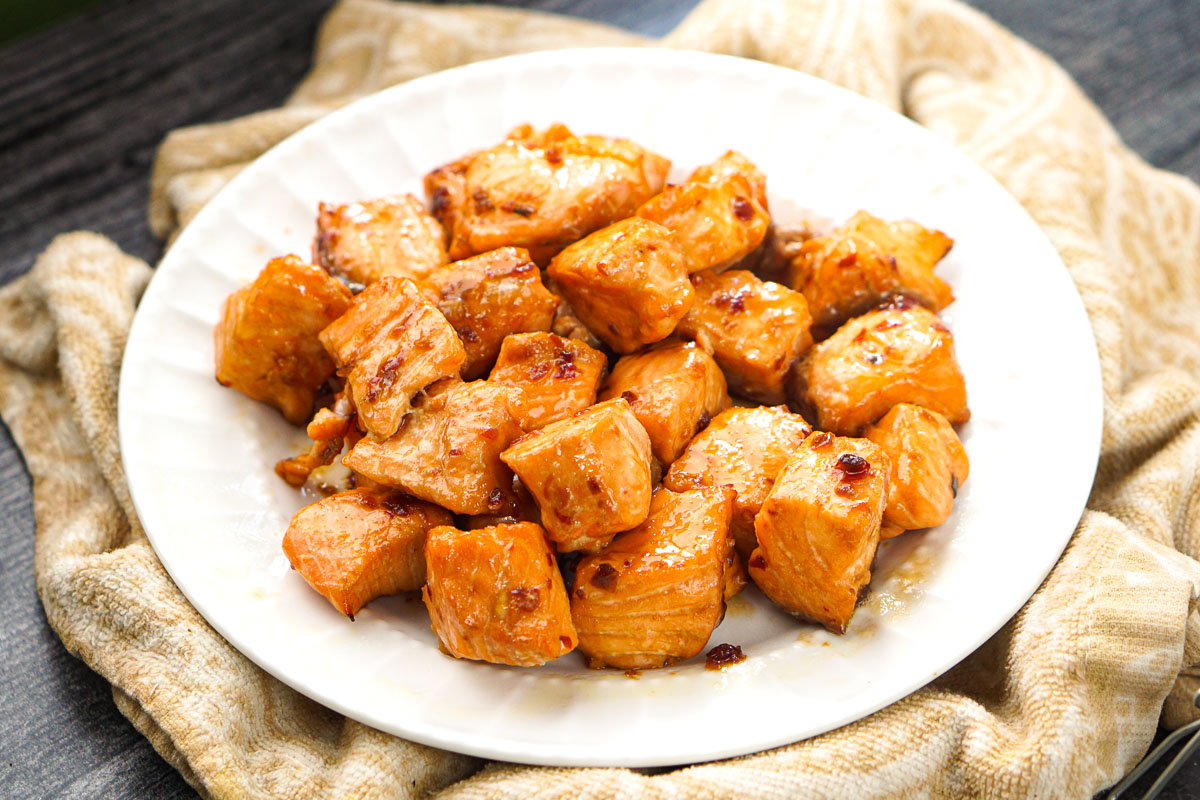 The marinade give these salmon chunks a caramelized flavor and it just makes them so delicious. It seems like a simple recipe but it really does have a great flavor.
I also made this with garlic butter and these by far are better.
Keto side dishes to try with this recipe.
I served these with a keto cauliflower rice, mushrooms and pea recipe that I have coming out soon. Other keto side dishes that would go well would be:
If you are not low carb, you can just serve with your favorite side dish like potatoes, pasta or rice to make it a delicious meal. You could also just serve with a steam vegetable and green salad.
More keto salmon recipes to try.
As I mentioned above we love salmon and it's great for me being on a low carb diet. Here are some of my favorite ways to eat it:
Well I hope try this keto recipe for air fryer salmon bites. With the 3 ingredient marinade and the air fryer it's so easy and best of delicious. I really think the whole family will love it.
And not only is this a quick weeknight meal, but it also would make a great keto appetizer. You could make one of these hibachi sauces to go with it! Enjoy.
The nutritional information for 1 serving is 365 calories / 10g fat / 4.2g carbs / 61g protein = 4.2g net carbs
Keto Air Fryer Salmon Bites Recipe
If you are looking for an easy seafood recipe try these keto air fryer salmon bites. Using a 3 ingredients Asian marinade you can make this tasty keto dinner in just 20 minutes!
Ingredients
1 pound salmon, no skin, cubed
6 tablespoons soy sauce
4 tablespoons Swerve brown sweetener
2 tablespoons chili garlic sauce
Instructions
First make sure you salmon filet doesn't have any skin. If it does, take it off. Then cut the salmon into large bite sized pieces or chunks roughly 1 inch cubes. Place in a large bowl.
In a smaller mixing bowl, combine the soy sauce, sweetener and garlic chili sauce. Pour over the salmon pieces and mix around to coat all the bites. Let sit for 5-10 minutes.
Spray the basket of the air fryer. Pour the bites and make sure they are in a single layer and don't overlap. Set temperature to 400°F then baking for 5-8 minutes.
Check at 5 minutes to see if the bites are golden brown and done. If not put them back in and cook for a few more minutes. Cooking times may vary. The internal temperature should be between 135°F - 145°F using a meat thermometer.
Take out and serve. Store leftovers in an airtight container.
Note this could also be a great keto appetizer. Or try them on top of a salad with with cilantro and an Asian dressing. You can also mix with mayo, green onions, celery and sliced almonds to make a salmon salad.
Notes
The nutritional information for 1 serving is 365 calories / 10g fat / 4.2g carbs / 61g protein = 4.2g net carbs
Nutrition Information:
Yield:

2
Serving Size:

1
Amount Per Serving:
Calories:

365