For a deliciously easy dinner, try this keto salmon with chunky avocado salsa. A nice pan seared salmon fillet topped with fresh avocado tomato salsa that only takes minutes to make and is full of fresh flavors. This easy and healthy salmon dinner is perfect for a busy weeknight as you can make it in 15 minutes! One tablespoon of the salsa has only 0.6g net carbs.
You might also like this salmon with mango salsa recipe!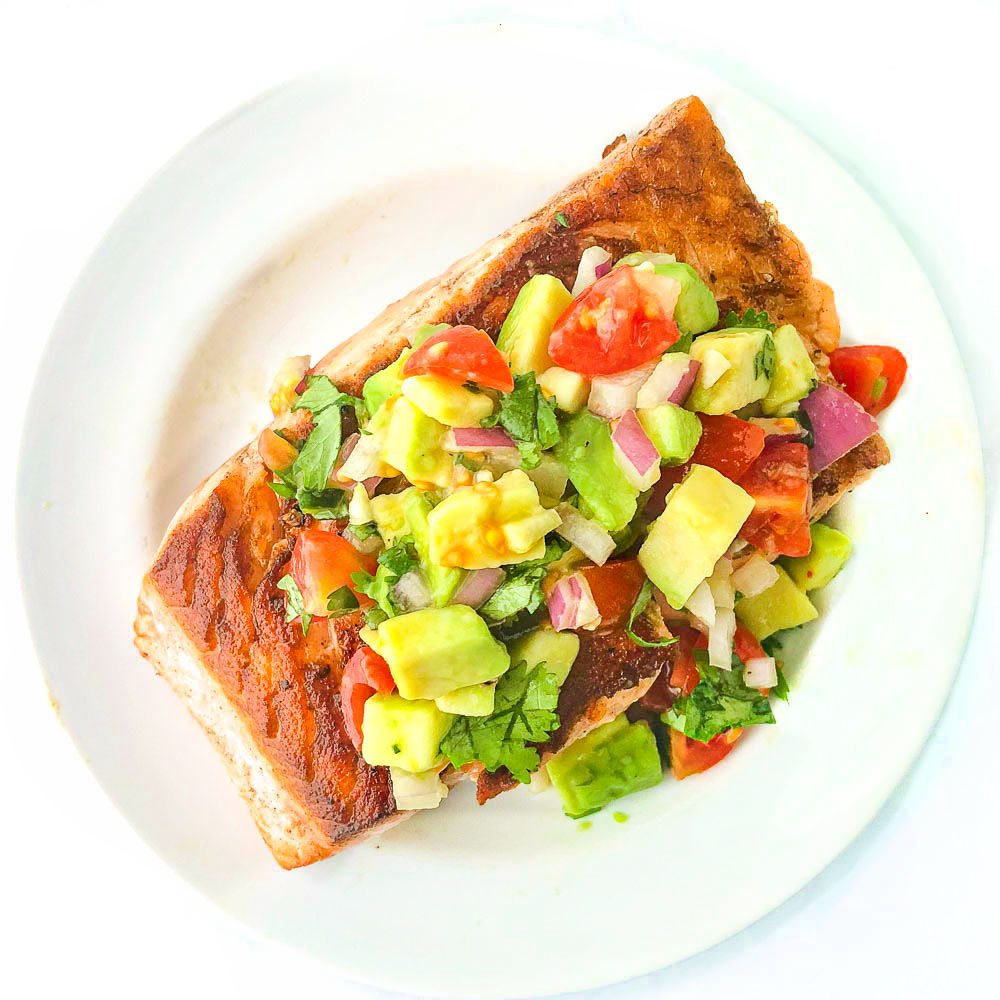 A few week's ago I bought a whole salmon and played around with making a mango salsa and also made this chunky avocado salsa. It was hard to pick which one we liked best!
This recipe is filled with creamy avocado and sweet cherry tomatoes and just a few other ingredients so you can quickly whip this up for a quick summer dinner.
And if you have leftovers, you can mix them together and make a delicious salmon and avocado salad!
Recipe ingredients I used.
All you need to make this chunky avocado salsa is a firm but ripe avocado, cherry or grape tomatoes, garlic, fresh cilantro, jalepeno, red onion and squeeze of lime juice.
If you don't like it too hot, clean out the ribs and seeds of the jalapeno pepper when you make this. That is where all the heat is. If you do like the heat, just clean out the seeds and keep the ribs.
You can also use other hot peppers if you like. Though I like the flavor of fresh jalapenos.
How to make salmon with chunky avocado salsa.
This recipe couldn't be more simple. I pan seared a piece of salmon but you could grill salmon or bake it if you want. I like the flavor of the sear myself.
Get out a skillet and heat to medium high heat. Season the salmon filet with salt and pepper and then add a little bit of butter to the pan.
Place the salmon skin side up to the melted butter in the hot pan, turn it down to medium heat and cook for about 3-5 minutes until you see that it is cooked about ⅓ of the way up the fish from the bottom.
Flip the filets and cook the other side for another 3-5 minutes or until almost cooked through. I like to keep the center a little pink. When you set them aside for a few minutes to rest they will continue to cook a little. (Note cooking time may vary depending on the size of your fillets.) The internal temperature of the thickest part of the salmon should be between 125°-135°F for medium rare and 145°F for well done. (source)
To make the avocado tomato salsa just chop the cherry tomatoes, avocado, red onion, garlic and cilantro and add to a medium bowl. Mix together along with a squeeze of fresh lime juice. Mix well and the spoon on the top of the cooked salmon or serve along side on the dish.You can also sprinkle some extra chopped cilantro on top.
Cover the leftover salsa with plastic wrap and place the fish in an airtight container and store in the refrigerator. If you want you can chop any leftover salmon and the salsa together to make a salmon avocado salad! (Please scroll down to view and print the recipe card.)
This recipe only makes roughly 2 cups of avocado salsa but you really only need a spoonful or two for each serving of fish.
Also note that you can use this 5 minute salsa on other types of fish or with shrimp or grilled chicken! The chunky texture makes it a dip as well with some keto tortilla chips if you are on a low carb diet. I like Quest protein chips but they are expensive IMO.
More keto salmon recipes to try.
My family LOVES salmon and I have over 15 keto salmon recipes on the blog for you to try. This smoked salmon is one of my favorite recipes and we eat it at least once a month.
But this bbq salmon with herb sauce or these lemon jalapeno salmon cakes are delicious as is keto salmon alfredo recipe with zucchini noodles. You could easily make that if you have leftover salmon from this meal.
So next time you are looking for a quick and easy low carb dinner recipe, try this pan seared salmon with chunky avocado salsa. It's full of bright flavors and so tasty. It's great for a healthy summer dinner. Enjoy!
Salmon, 1 cup avocado, ¼c red onion, ¼ cup cilantro, ½ cup tomatoes, 1 clove garlic, ½ jalapeno pepper
The nutritional information for 1 tablespoon is 15 calories
1.2g fat / 1.3g carbs / 0.7g fiber / 0.2g protein = 0.6g net carbs
Keto Salmon with Chunky Avocado Salsa Recipe
For an easy and delicious dinner try this keto salmon with chunky avocado salsa. Just pan sear the salmon and top with the fresh ingredients of this avocado tomato salsa that only takes minutes to make!
Ingredients
2 salmon fillets
1 cup avocado, chopped
¼ cup red onion, chopped
½ cup cherry or grape tomatoes, chopped
1 garlic clove, crushed
½ jalapeno pepper, finely minced
a squeeze of lime juice
¼ cup cilantro leaves, chopped
Instructions
To get the salmon cooking, get out a saute pan and heat to medium high heat. Add a little bit of butter to the pan and then take the salmon fillet and season with salt and black pepper.
Add your salmon skin side up to the melted butter in the hot pan, turn it down to medium heat and cook for about 3-5 minutes until you see that they are cooked about ⅓ of the way up the fish from the bottom.
Flip the filets and cook the other side for another 3-5 minutes or until almost cooked through. I like to keep the center a little pink. When you set them aside for a few minutes to rest they will continue to cook a little. (Note cooking time may vary depending on the size of your fillets.) The internal temperature of the thickest part of the salmon should be between 125°-135°F for medium rare and 145°F for well done.
While the salmon is cooking, chop all the salsa ingredients and mix gently, then squeeze about half of lime and gently mix again.
Serve the avocado tomato salsa on top or on the side of the salmon.

Cover the salsa leftovers with plastic wrap and place the fish in an airtight container and store in the refrigerator. I
Nutrition Information:
Yield:

2 cups
Serving Size:

1 tablespoon
Amount Per Serving:
Calories:

15