You have to try this keto salmon alfredo recipe with zucchini noodles. It's rich, decadent and yet low carb and healthy. The best thing is that this salmon with alfredo sauce only takes 20 minutes to make. And each serving has only 5.7g net carbs.
You might also like this keto chicken with alfredo sauce recipe too!
I've been craving fettuccine alfredo lately. I remember a restaurant I used to go to many years ago that had the best alfredo pasta with salmon in it. So today I tried to recreate that meal and made this keto salmon alfredo recipe with of course zucchini noodles.
It's low carb, gluten free and healthy to boot. It really came out good and it only took 20 minutes to make.
How To Make An Easy Low Carb Alfredo Sauce
This keto alfredo sauce is really easy to make. You only need 5 ingredients to make it and you can use it in many different recipes.
You start by melting some butter in a small sauce pan, along with crushed garlic.
Once the butter has melted, add in cream cheese, heavy cream and parmesan cheese.
Whisk everything to mix well and then cook until everything is melted and blended. That's it!
Salmon With Keto Alfredo Sauce Ingredients
You only need 7 ingredients to make the dish and they are: salmon, zucchini and the alfredo sauce ingredients I mentioned above. I bought everything at Aldi, even the fresh salmon. I recommend using fresh salmon and not canned for frozen.
Let's Make Some Zucchini Alfredo Noodles!
In order to get this done in 20 minutes you have to get a couple pans going. Start with spraying a saute pan with cooking oil and lay your salmon skin side up. Cook over medium heat for about 5 minutes each side. Makes sure to sprinkle some salt and pepper on it first.
While that is cooking get your alfredo sauce made. I made mine in a small pot but I think you should make it in a large pan or skillet. Once you have the sauce made, add in the zucchini noodles. Mix well and then turn down the heat if the salmon isn't done.
Once the salmon is done, take it off the stove and cut up into big chunks. Carefully fold the salmon into zucchini noodles and serve!
Other Recipes That Use This Keto Alfredo Sauce
I used this keto alfredo sauce with chicken and I also made slow cooker power greens. You could really use the sauce on any vegetable that are made into veggie noodles or just top off steamed vegetables. I had some leftover cauliflower rice and just mixed it with a little of this sauce and it was great.
Recipe Notes And Tips
I used 3 medium sized zucchinis to make the zucchini noodles and it came to about 4 cups. I think you could add more zucchini if you wanted to stretch this recipe but that was all I had.
Or you could not use all of the sauce and use it with other recipes.
I used my Paderno spiralizer to make the zucchini noodles but if you don't have one try just using a vegetable peeler and make wide zucchini noodles.
Try to use fresh salmon as that will have the best taste in this recipe.
You could also substitute chicken or shrimp for the if you wish.
And if you are not low carb, simple add cooked fettuccine instead of the zucchini noodles.
Well this is definitely a keeper for me. Because my son has developed a love of salmon this keto salmon alfredo recipe will come in handy. Enjoy!
The nutritional information for 1 serving is:
429 cals / 33.1g fat / 7.2g carbs / 1.5g fiber / 27.2g protein = 5.7g net carbs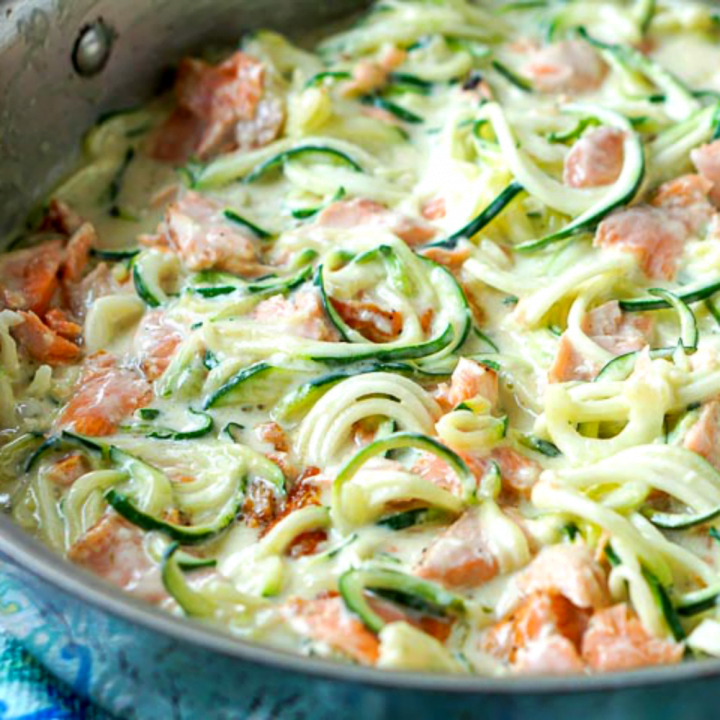 Keto Salmon Alfredo Recipe with Zucchini Noodles in 20 minutes!
This keto salmon alfredo dinner only takes 20 minutes to make and is a healhty and delicious meal your whole family will love!
Ingredients
10 oz fresh salmon filet
3 medium zucchinis made into noodles
2 tablespoons of butter
1 teaspoon of crushed garlic (2 cloves)
2 tablespoons of cream cheese
¾ cup heavy whipping cream
¾ cup grate parmesan cheese
Instructions
Spray a skillet with cooking spray and heat it up to medium high heat. Sprinkle salt and pepper over the salmon filet and place skin side up.
Cook the salmon about 5 minutes on each side until done.
Meanwhile get a large skillet and melt the butter with the crushed garlic. Mix in the cream cheese, heavy cream and parmesan cheese.
Whisk and cook until the cheeses melt and everything is blended.
Add in the zucchini noodles and cook for a minute or two.
When the salmon is done, chop up into pieces and carefully blend in with the zucchini mixture.
Serve immediately.
Notes
1 serving has:
429 cals / 33.1g fat / 7.2g carbs / 1.5g fiber / 27.2g protein = 5.7g net carbs
Recommended Products
As an Amazon Associate and member of other affiliate programs, I earn from qualifying purchases.
Nutrition Information:
Yield:

4
Serving Size:

1
Amount Per Serving:
Calories:

429
Net Carbohydrates:

5.7gg