If you are missing chips on a keto diet try this easy keto tortilla chips recipe. You only spices and low carb tortillas to make this crunchy, salty snack and you can make them in the air fryer or oven. These low carb chips only have 0.4 g net carbs per 10 chips!
You might also like these keto zucchini nacho chips recipe.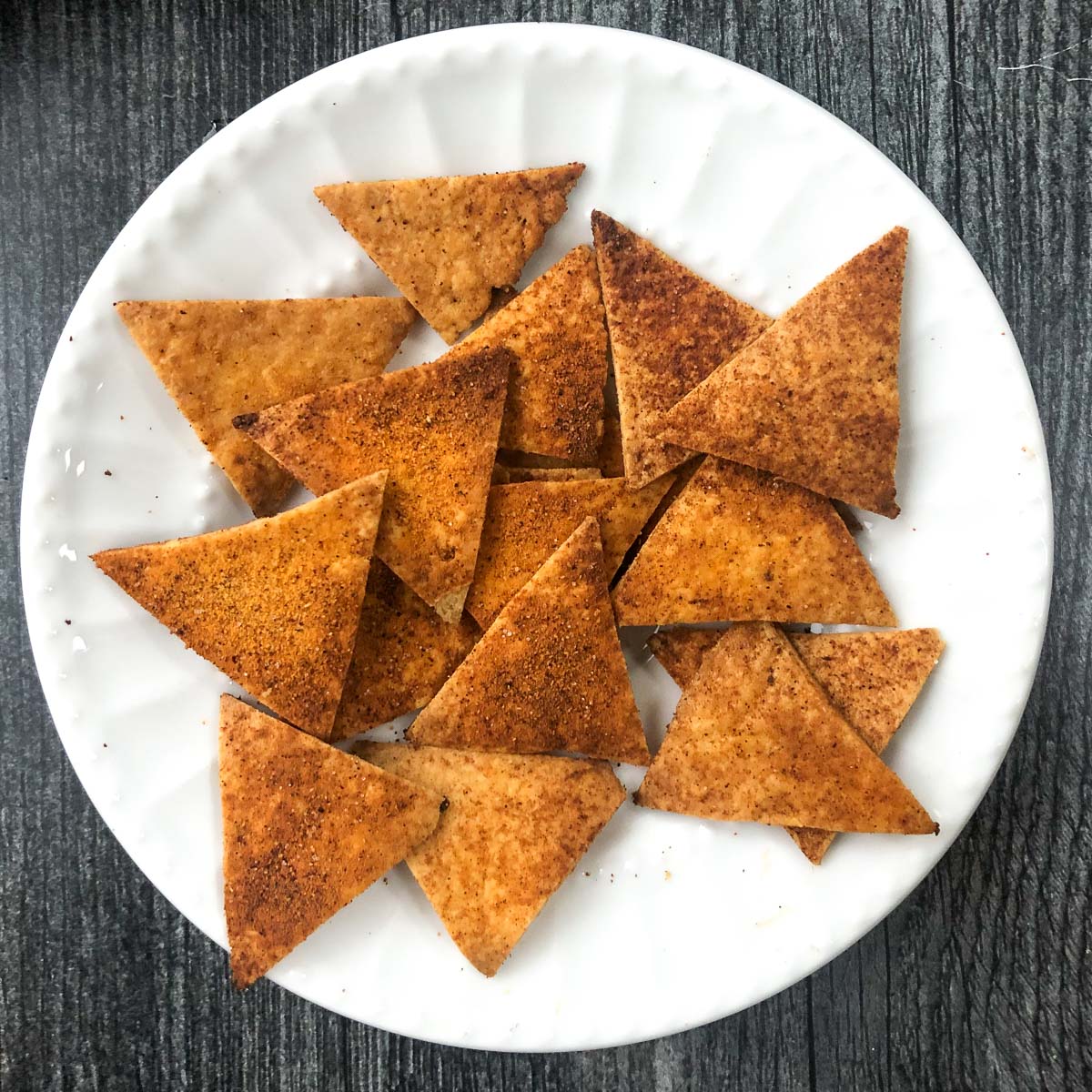 I don't know about you but sometimes I crave potato chips, crackers and bready type snacks when I'm on my low carb diet. However recently I found some keto tortillas at Aldi grocery store that have 0g net carbs. I have been using them for everything lately.
Last week I shared with you my keto air fryer tortilla pizza and this week I have keto tortilla chips. I use that secret ingredient – zero carb tortillas – and few spices to make crispy, crunchy chips and it only took about 15 minutes! You can eat them with your favorite low carb salsa, guacamole or make your own keto nachos.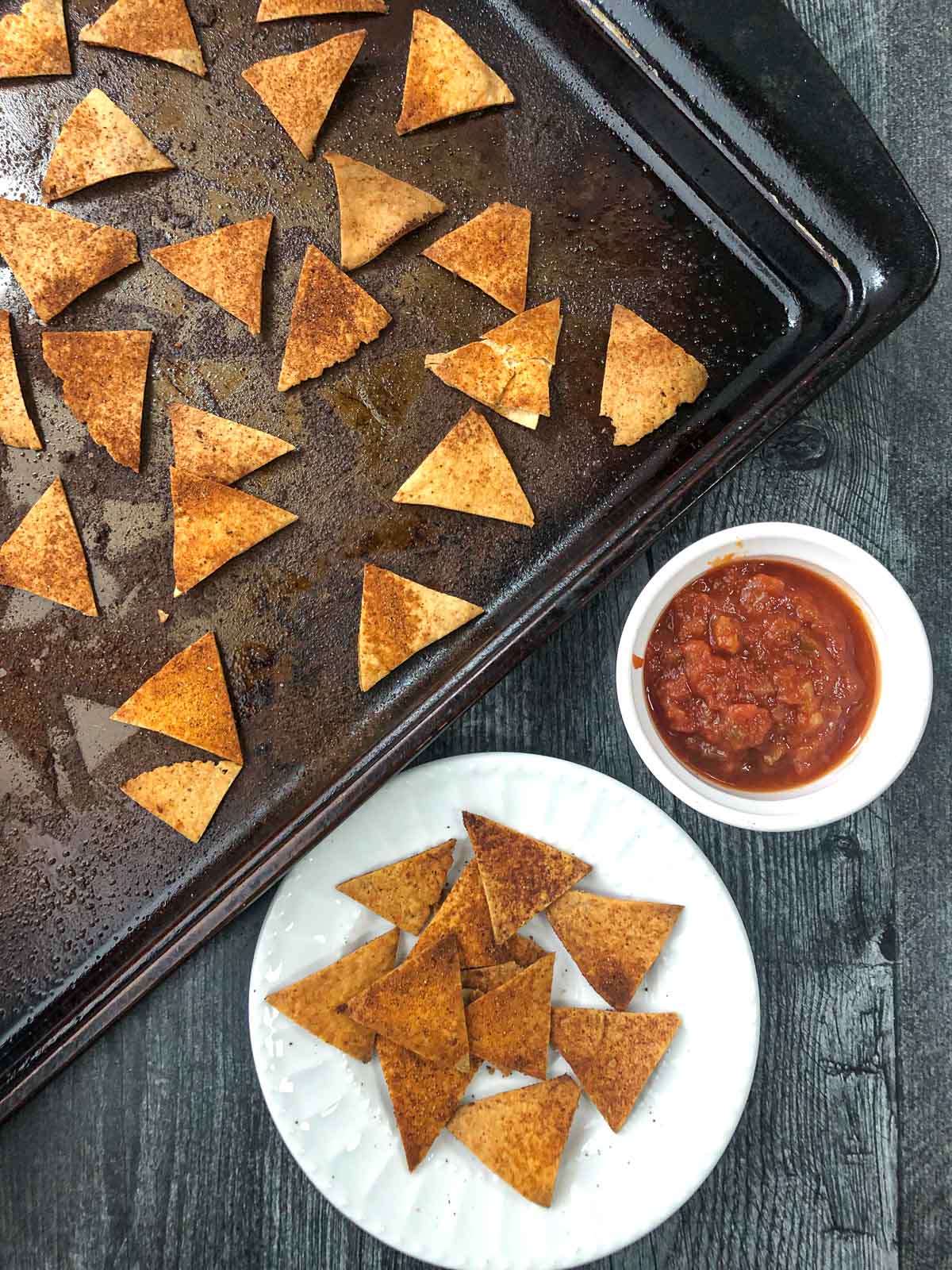 Of course there are other ways of making low-carb tortilla chips. One such way is using fathead dough which is a combination of almond flour, mozzarella cheese and cream cheese.
It involves making a ball of dough, using a rolling pin to roll out the dough and cutting it into chips. It produces a rather thick dough and it's hard to make thin chips.
Another way to make homemade tortilla chips is to make your own almond flour or coconut flour tortillas. Again you have to make the dough, use a tortilla press and make the tortillas and then bake or fry them.
However I find that this method is easiest way and has less carbs for sure when you are using these zero carb tortillas. Regular tortilla chips have way more carbs and while they are usually made with corn tortillas,
Recipe Ingredients I used.
All you need to make these low carb tortilla chips are a few simple ingredients – keto tortillas, nonstick cooking spray and spices. I used a combination of garlic powder, onion powder, salt, chili powder, cheese powder and sweetener for my spices.
You can use all of these spices or just few if you want. I was trying to go for a Dorito feel. Taco seasoning would work well too and they would be good with just sea salt if you prefer that. There are more ideas if you scroll down.
Below you can see the Aldi tortillas I used. They have 0g net carbs which is why I used them. I bought the cheddar cheese powder online and it comes in handy for lots of recipes.
How to make Keto Tortilla chips.
Step 1: Preheat the oven to 350°F. Get out a rimmed baking sheet and spray well with nonstick cooking spray and set aside.
Step 2: Stack a couple of low carb tortillas on a cutting board and using a pizza cutter or sharp knife cut the tortillas into wedges.
Today I used a bigger size and hand to cut them like you see below. You can cut them in any way you want for this recipe. It's best to keep the all about the same size if you can.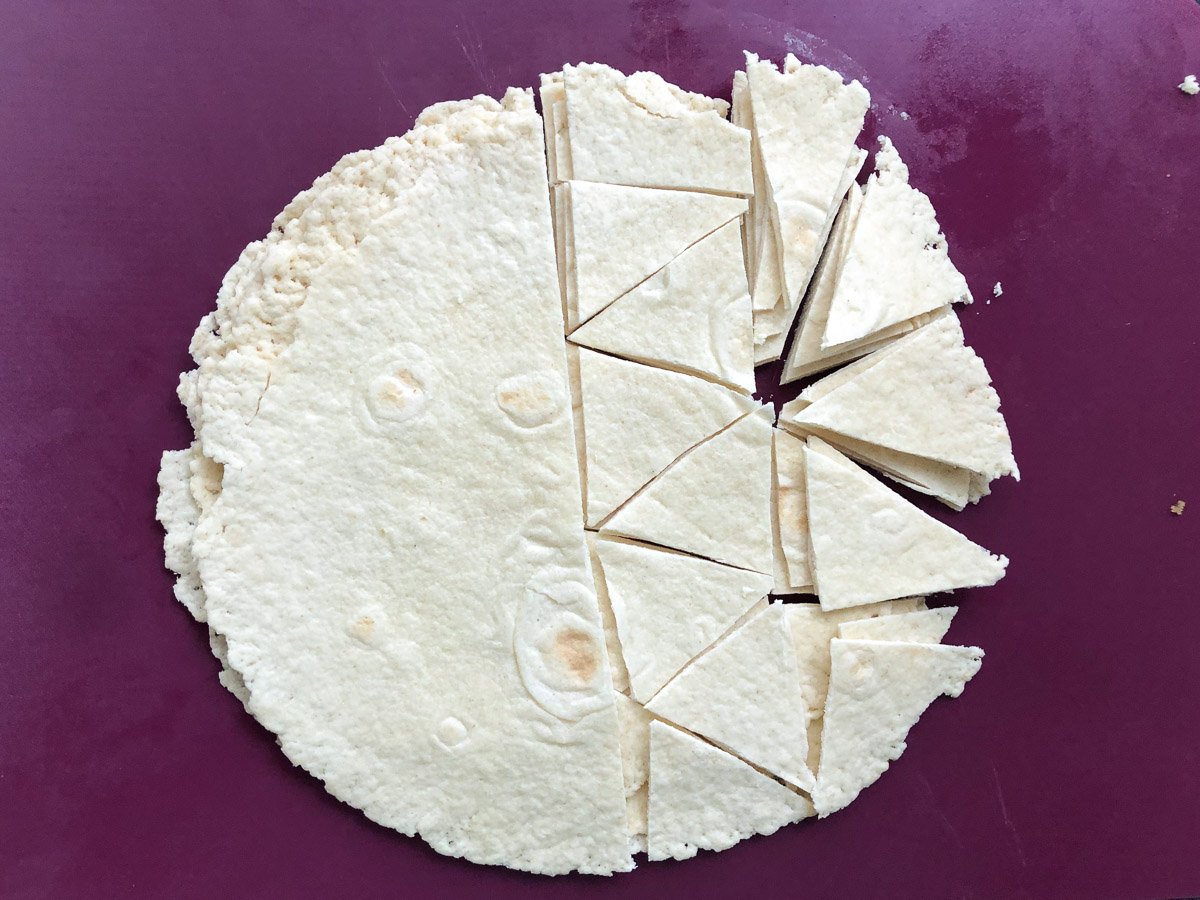 Place them in a single layer on the prepared baking sheet. Spray with more cooking spray over all of them.
Step 3: In a small bowl mix together the spices. It is a bit difficult to sprinkle the seasonings over the chips so I used a small pyrex measuring cup and small mesh strainer.
I poured a little of the spices into the strainer while hovering over the the baking sheet and sprinkle them little by little over the chips. Make sure to only use half of the seasoning mix. It worked pretty well.
Step 4: Place the baking sheet into the oven and bake for 7 minutes. Take them out of the oven, flip them over and spray with nonstick cooking spray one more time. Use the rest of the spices and sprinkle them over.
Place back into the oven and cook for 5-7 minutes until golden brown. Take them out let the cool to room temperature before eating.
Store leftovers in an airtight container or ziplock bag. Please scroll down to view the printable recipe card.
To Make these with the air fryer method.
You can make this keto tortilla chip recipe in the air fryer and it's pretty much the same as the oven. You just use the air fryer basket or trays.
Bake them at 350°F and for 5 minutes on each side. However I didn't prefer this way because you are limited in how many you can make and the size of your air fryer basket. Making them in the oven you can use two baking sheets and make more.
Note I have not tried deep frying these. I think the extra oil and calories wouldn't be worth it.
But if you want to, heat up 1 inch of oil in a deep skillet or pot. Add the plain tortilla pieces and fry for just a few seconds until they are browned on both sides.
Fish them out with a slotted spoon or tongs and place a some paper towel to absorb some of the grease. Then hurry sprinkle with your favorite seasonings so they will cling to the damp chips.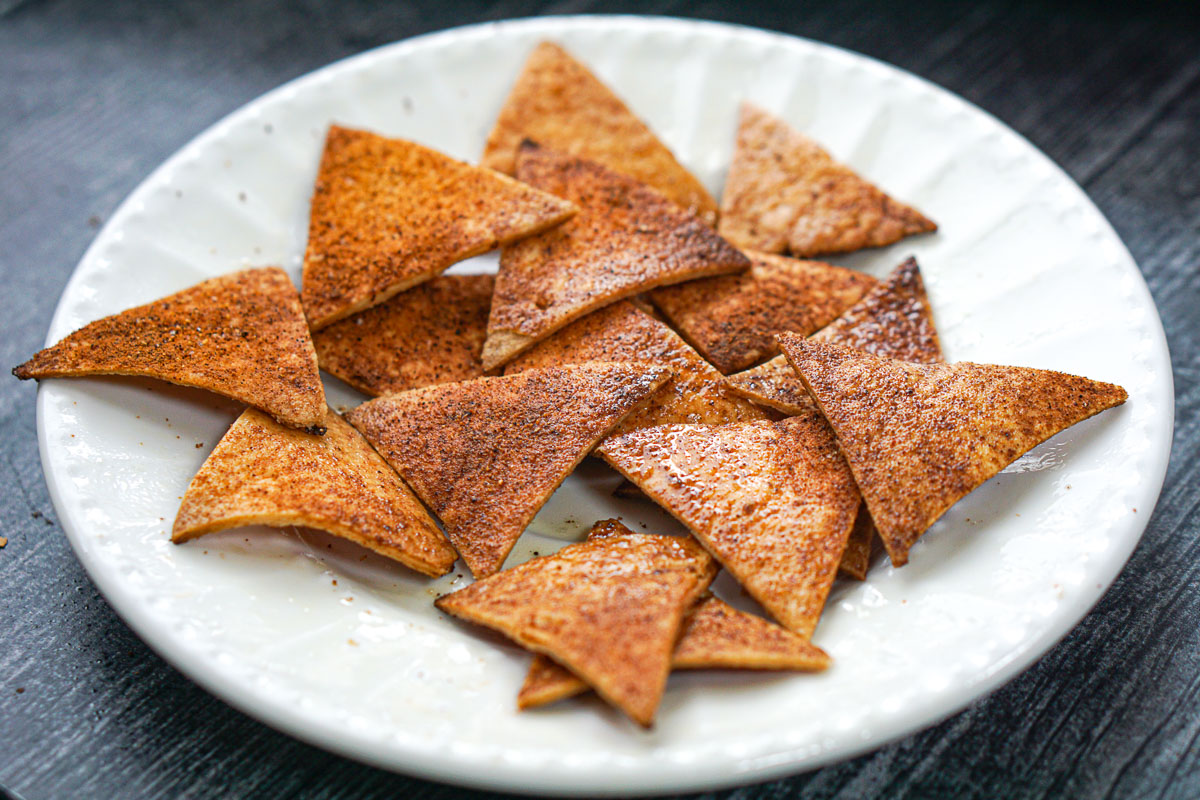 Way to use these keto chips.
You can use these in a variety of ways. Here are a few suggestions.
Other spice and flavor combinations to try.
For a sweet spice combination to try are cinnamon sugar for a churro type of flavor. You can also make a sweet spice combination using sugar and pumpkin pie spices and eat it with the keto pumpkin cheese cake dip.
Other savory spice combinations to try are using taco seasoning, ranch dressing mix, dried cheese powder, everything bagel spices or try one of the pop corn seasoning blends you can buy.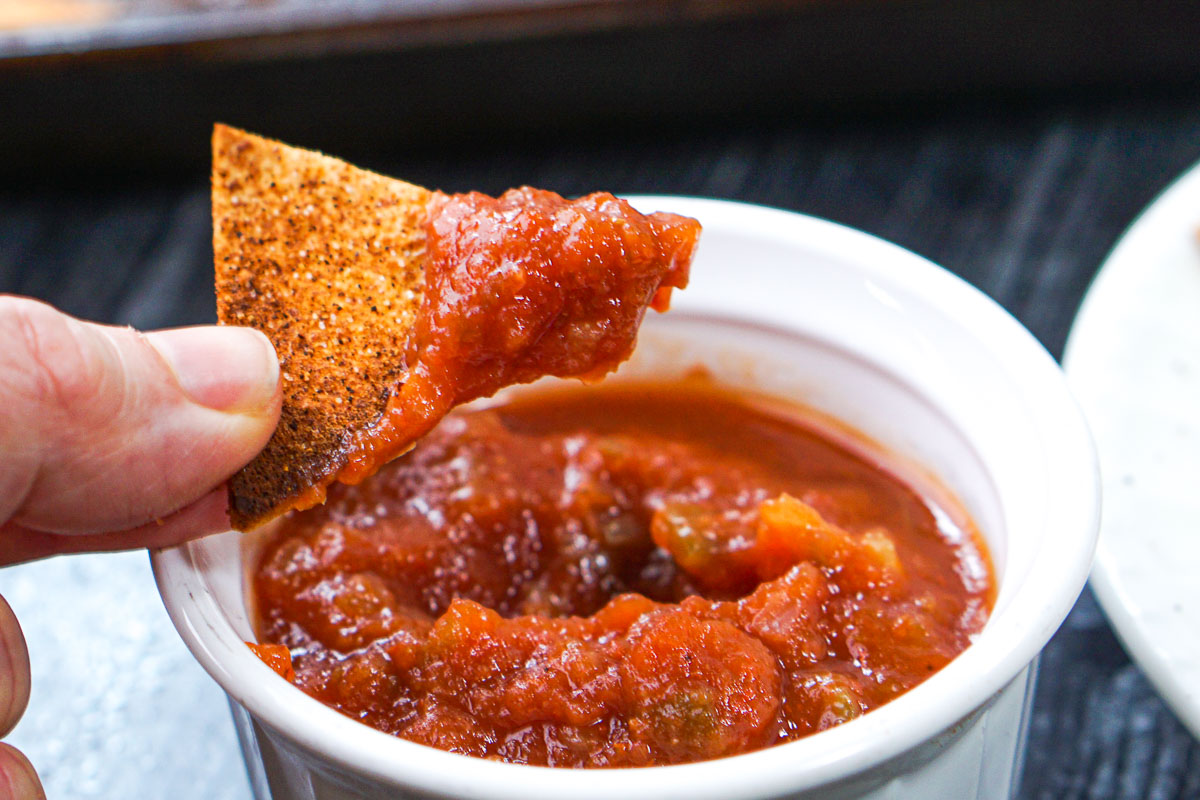 Well next time you have some crispy chip cravings try these homemade keto tortilla chips. It's such an easy recipe and would be perfect for game night or other party where you want salty snacks.
The nutritional information for 10 chips is 14 calories / 0.8g fat / 2.4g carbs / 2g fiber / 0.8g protein = 0.4g net carbs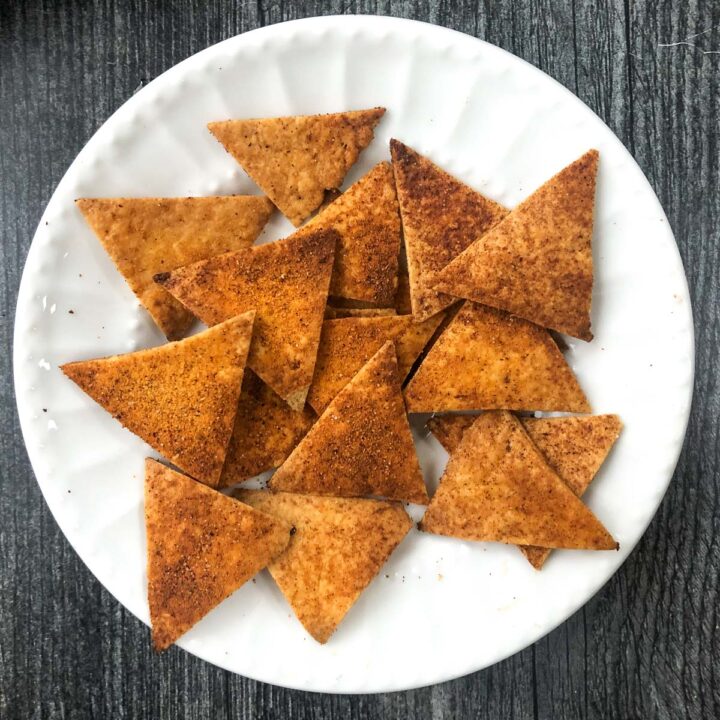 Easy Keto Tortilla Chips Recipe
This easy keto tortilla chips recipe is super simple in that you just need spices and keto tortillas. Make them in the oven or air fryer for a crispy, salty keto snack.
Ingredients
3 keto tortillas (I used Aldi L'Oven brand)
1 tablespoon cheddar cheese powder
½ teaspoon salt
½ teaspoon garlic powder
½ teaspoon onion powder
½ teaspoon chili powder
½ teaspoon paprika
½ teaspoon Swerve sweetener
nonstick cooking spray
Instructions
Preheat the oven to 350°F. Get out a rimmed baking sheet and spray well with nonstick cooking spray and set aside.
Stack the 3 tortillas and using a sharp knife or pizza cutter, cut them into triangular chip shapes. The size will depend on you. You might have to put these on 2 baking sheets or make them in batches.
Place the unbaked chips on the prepared baking sheet. Spray them with the nonstick cooking spray and then sprinkle ½ of the spices over top. I used a small mesh strainer and tried to sprinkle them evenly over the chips.
Place the baking sheet into the oven and bake for 5-6 minutes. Take them out, flip them over and spray with the nonstick cooking spray. Sprinkle the remaining spices over top and place them back in the oven.
Bake for 5-6 more minutes or until they are golden brown. Check a few times to make sure they are not burning. Cooking times may vary.
Eat immediately or store in an air tight container or ziplock bag.
Notes
The nutritional information for 10 chips is 14 calories / 0.8g fat / 2.4g carbs / 2g fiber / 0.8g protein = 0.4g net carbs
Nutrition Information:
Yield:

80
Serving Size:

1o
Amount Per Serving:
Calories:

14