If you are looking for a quick and tasty keto dinner, try this easy low-carb tortilla pizza that you make in the air fryer or oven. Using a few simple ingredients you can satisfy a pizza craving and still stick to your keto diet. Great for a low carb snack too. Each one has just 1.6 grams of net carbs.
You might also like these low carb pizza eggs.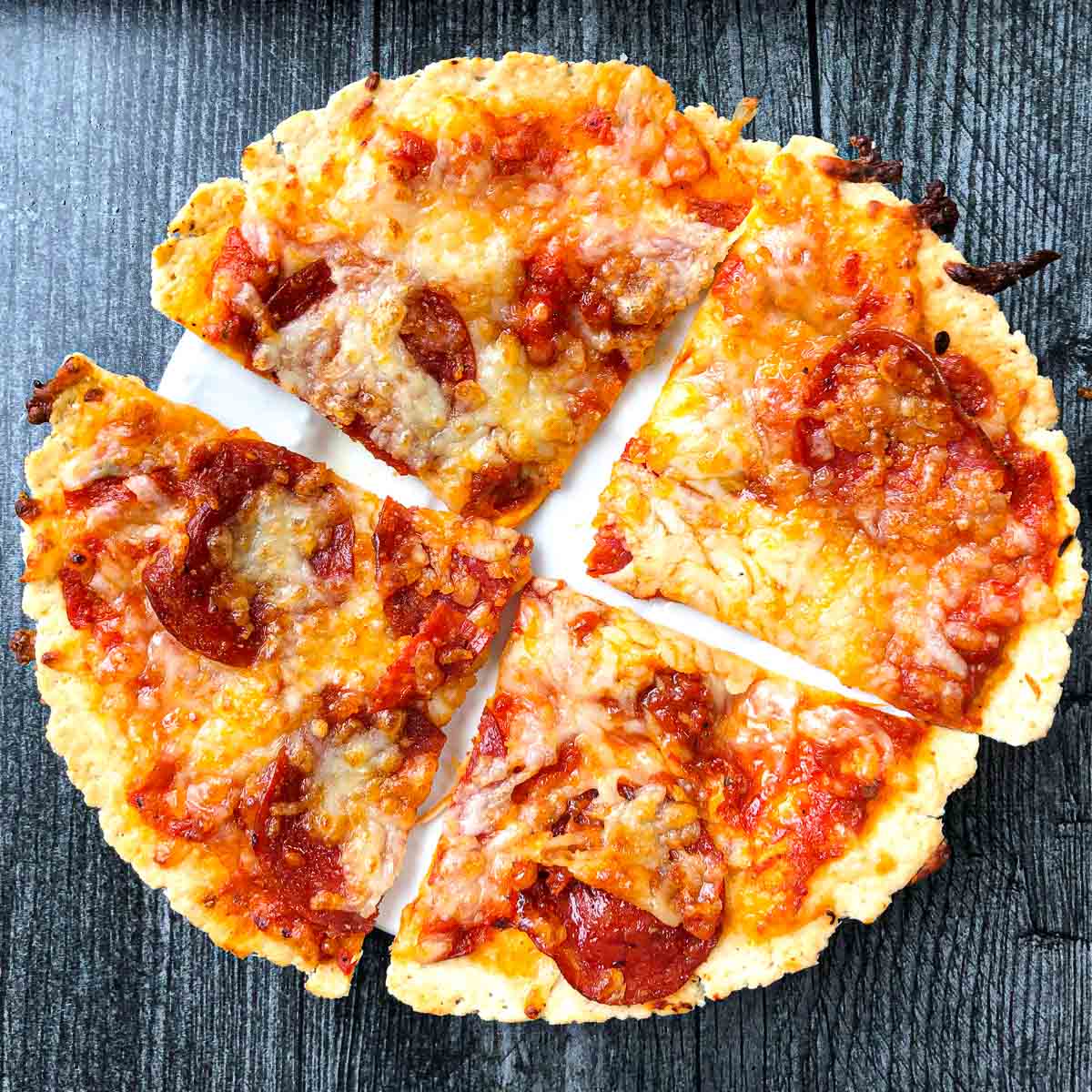 I learned to use tortillas for a pizza crust from my aunt many years ago. She used to make what she called Armenian meat pizzas with them but I realized then how delicious and easy pizza tastes with tortillas as the crust.
Since my family is a fan of thin crust pizza this low-carb tortilla pizza is the perfect dinner for busy weeknights or even pizza night. And because there are only 1.6g of net carbs in the whole thing, they would also be great for a keto snack or lunch.
While pepperoni pizza is a family favorite you can use any toppings you want and I'll share some other combinations you can make below. And while I made them in the air fryer you can also just make them in the oven on a baking sheet. Besides the taste, my favorite thing about this recipe is how quick and easy it is to make. Start to finish it takes just about 10 minutes!
Recipe Ingredients I used
All you need to make this easy recipe is low-carb tortillas, pizza sauce (I used marinara sauce), mozzarella cheese and your favorite toppings. You can also use fresh herbs, Italian seasoning or other spices like onion powder or garlic powder. However the sauce I use is pretty tasty and therefore you don't need any.
The hardest part about this recipe is finding a good low carb tortilla and that's not hard at all. The ones I used today are the Keto Friendly Flour Tortillas from Aldi. They have just 60 calories and 0g net carbs. They also make a low carb control tortilla but they have a few more carbs.
Mission Carb Balance Tortillas are also good too with just 45 calories and 3g net carbs. New brands are popping up in the grocery store all the time. If you don't mind ordering on Amazon I've bought these mini La Banderita tortillas and they were fantastic. You don't want to use corn tortillas as they are not low carb.
As for the sauce I like Rao's marinara. Aldi Specialty Selects Marinara is also a go low carb sauce to try though I like the flavor of Rao's. You want to use a no sugar-added sauce as some store bought ones are full of sugar. Check the labels.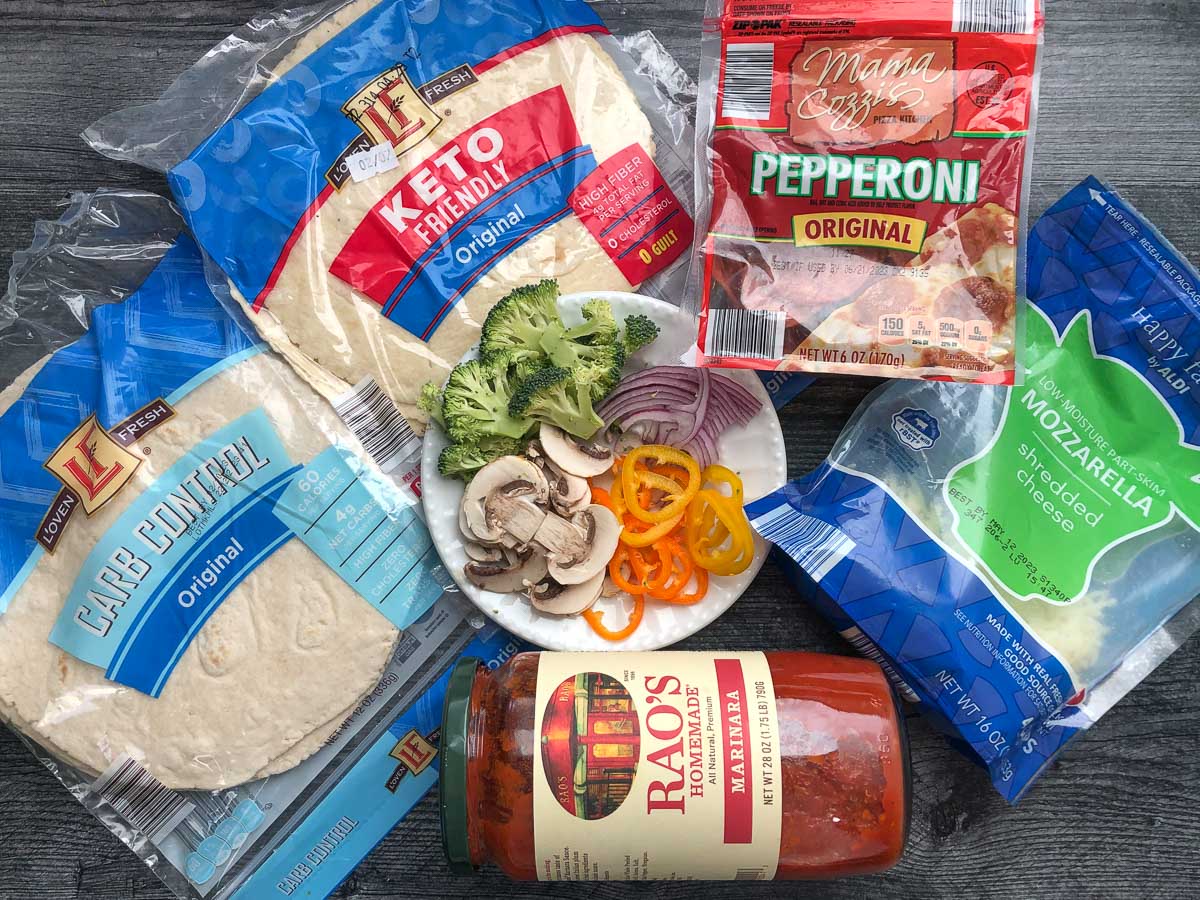 How to make low carb tortilla pizza.
Step 1: Preheat the air fryer and then spray the air fryer basket with nonstick cooking spray.
Step 2: Place a low carb flour tortilla on a plate or cutting board. Then spoon the tomato sauce over top. Spread it out with a spoon to cover the whole tortilla.
Step 3: Add your favorite toppings before you add the cheese. They air fryer tends to blow around light foods so you want your toppings to stay put and the cheese weights it down.
My son usually uses a few slices of pepperoni See below for some other ideas. Also if you have a lot of the tortilla showing when you make these you can spray the edges of the tortillas with cooking spray or brush with olive oil.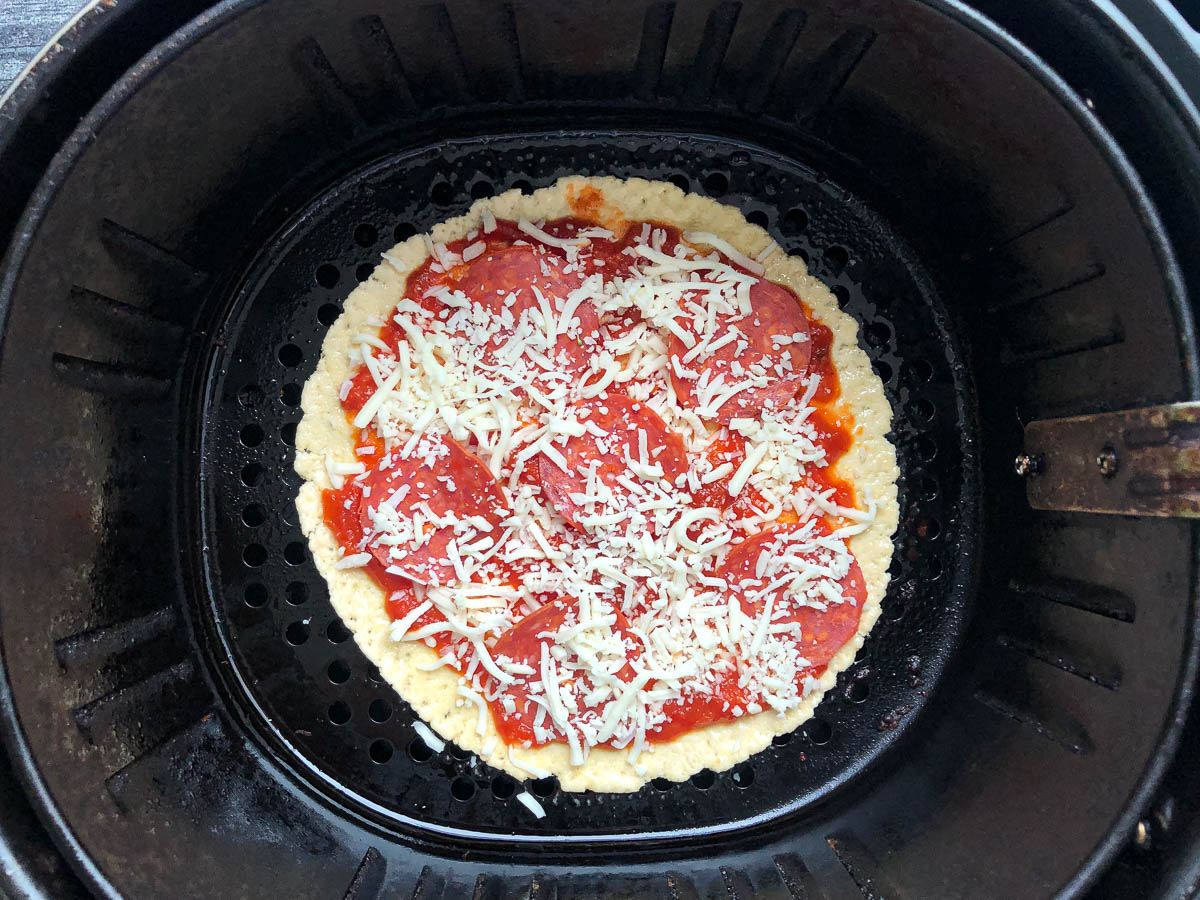 Step 4: Place the pizza in the preheated air fryer and cook at 400°F for 4-5 minutes. Note cooking times may vary.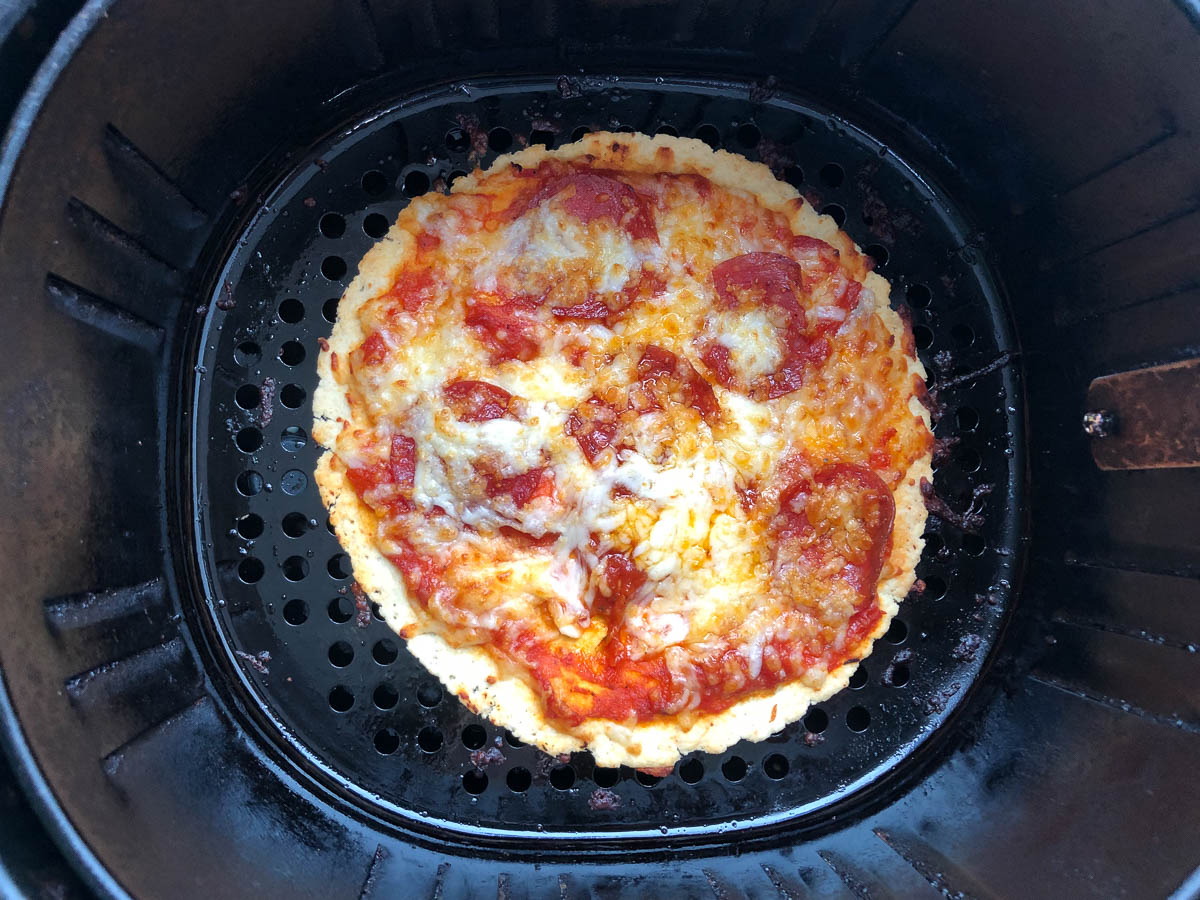 Step 5: Check on your pizza and see if it's done a minute or so before it's done. When it's cooked to your liking take it out and let cool for a few minutes to set up. Then getting out the pizza cutter and serve.
Store leftovers in an airtight container or wrap with aluminum foil. Please scroll down and view the printable recipe card.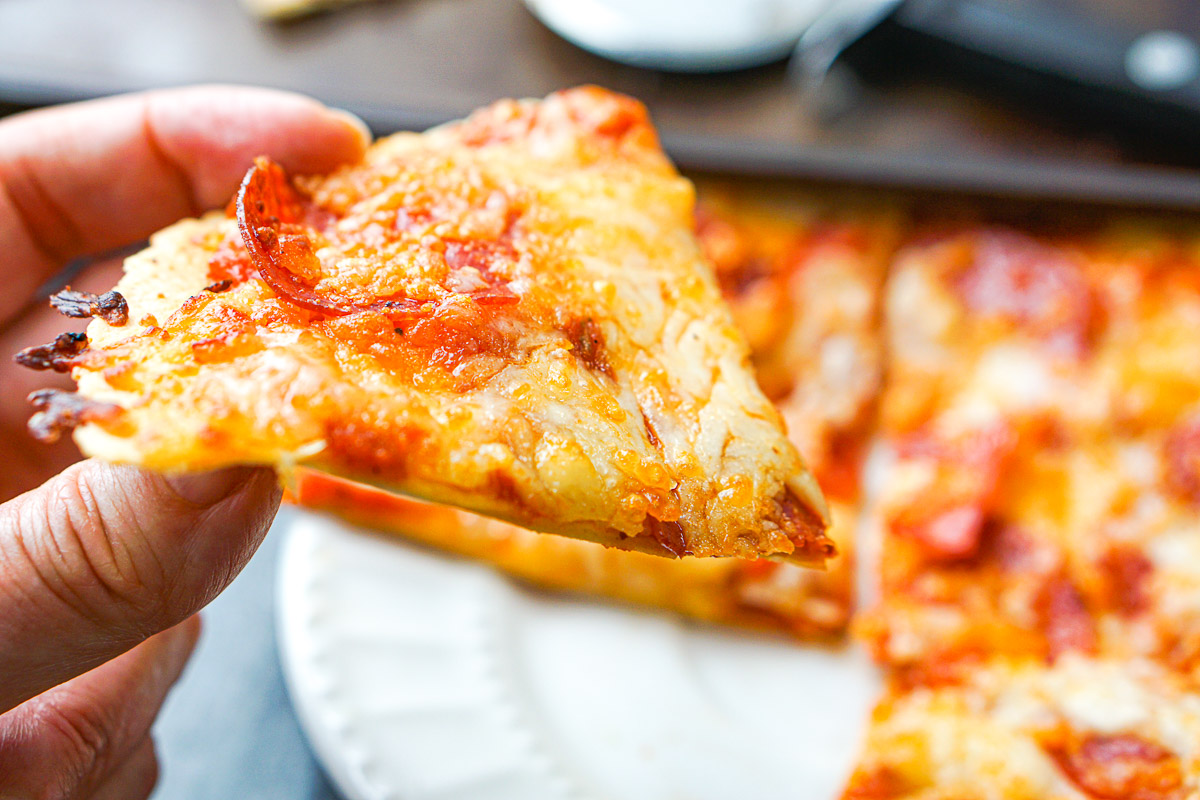 The crispy tortillas are such an easy way to make a keto pizza crust.
These are more like personal pizza and you will probably eat the whole pizza but i find that I can just eat half if I have a nice green salad or a vegetable to fill me up.
A small piece of regular thin crust pizza has about 252 calories and 20.4g net carbs (source). Where this whole pizza has just 206 calories and 1.6g net carbs. That is a savings of 46 calories and 18.8g net carbs!
To make these in the oven.
Since we use a 7 inch tortilla they fit fine in the air fryer. But if you are using a larger size you will want to make it in the oven.
Preheat the oven to 400°F and prepare a rimmed baking sheet by spraying with nonstick cooking spray. You can also use parchment paper or a silicone mat to cover the baking sheet if you wish. Place prepared pizzas on the cook sheet then place into the preheated oven and bake for 5 minutes.
For a veggie tortilla pizza.
I also made a veggie version that you can see below. I just used about 1-2 teaspoons of olive oil mixed with 1 clove of crushed garlic and spread all over the tortilla along with a sprinkle of Italian seasonings. Then I place the thinly sliced veggies and topped with mozzarella.
I cooked it in the air fryer at 400°F for 5 minutes. It was really tasty too. The possibilities are endless.

Low carb toppings to try.
Below are the carb counts for other traditional pizza toppings. That's one my favorite things about this recipe. You can each choose your own toppings so no fighting!
pepperoni slices (5 small pieces) 50 calories, 0g net carbs
ham, diced (2 tablespoons) 57 calories, 0g net carbs
onons, diced (2 tablespoons) 6 calories, 0.9g net carbs
peppers, diced (2 tablespoons) 6 calories, 0.7g net carbs
mushrooms, sliced (2 tablespoons) 5 calories, 0.6g net carbs
black olives, sliced (2 tablespoons) 20 calories, 0.5g net carb
hot red pepper flakes, a sprinkle really has no calories or carbs
fresh mozzarella (1 ounce) 70 calories, 0g net carbs
cheddar cheese (2 tablespoons) 57 calories, 0.2g net carbs
parmesan cheese (2 tablespoons) 43 calories, 0.4g net carbs
regular mozzarella (2 tablespoons) 42 calories, 0.3g net carbs
fresh basil leaves (2 tablespoons) 1 calories, 0.1g net carbs
chopped cooked chicken (¼ cup) 58 calories, 0g net carbs
Italian sausage (1 link) 125 calories, 1.8g net carbs
bacon, cooked (2 slices) 87 calories, 0.2g net carbs
broccoli, cooked chopped (2 tablespoons) 7 calories, 0.8g net carbs
cauliflower, cooked chopped (2 tablespoons) 4 calories, 0.2g net carbs
Here are few great options to try. You can make a meatlovers pizza by using pepperoni, sausage and bacon. Or an all veggie pizza with mushrooms, peppers, onions, broccoli, etc. A white pizza doesn't use sauce but rather olive oil and fresh garlic. Top with fresh mozzarella and fresh basil leaves to make that one.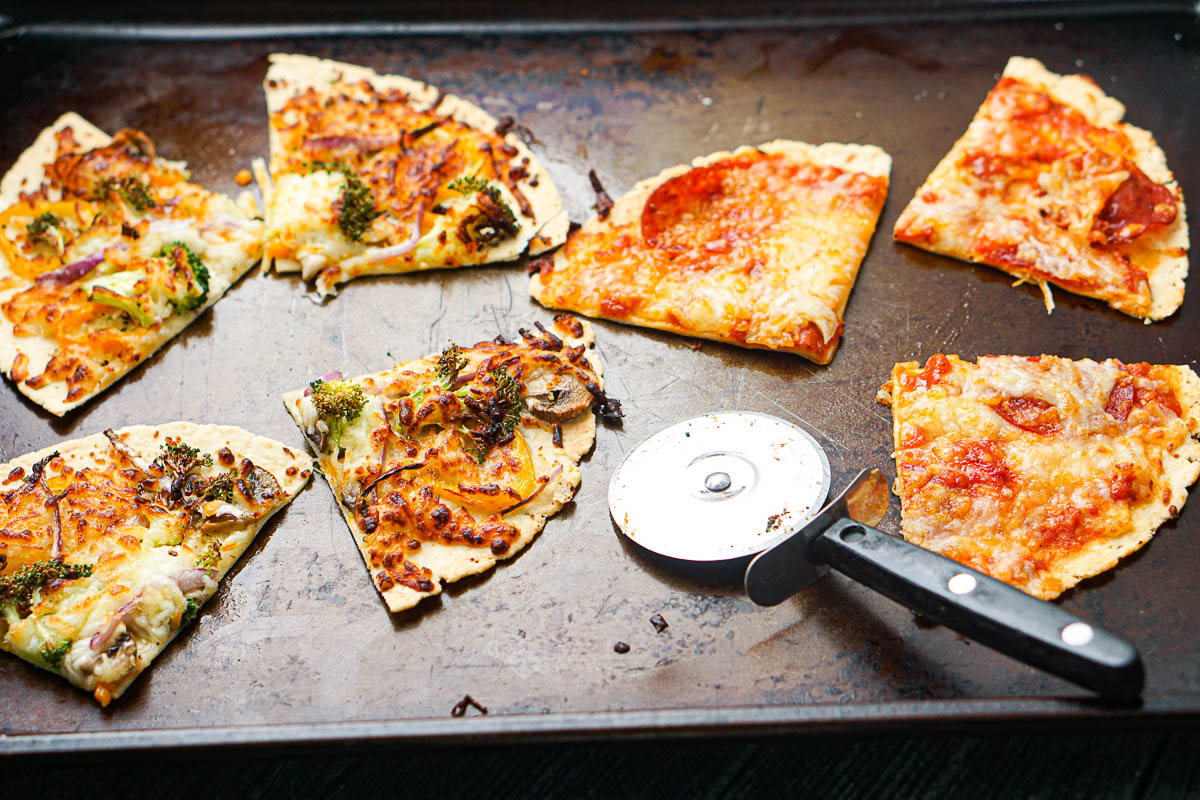 Other keto-friendly pizzas recipes to try.
I've made all kinds of keto pizza but this was the easiest. Below are few more low carb crusts to try.
Well I hope you give this low-carb tortilla pizza a try. They are so tasty and something that I can make just about anytime for a quick meal. If you like thin-crust pizzas you will love this these.
The nutritional information for the whole pepperoni pizza has 206 calories / 10.3g fat / 14.9g carbs / 13.3g fiber / 12.1g protein = 1.6g net carbs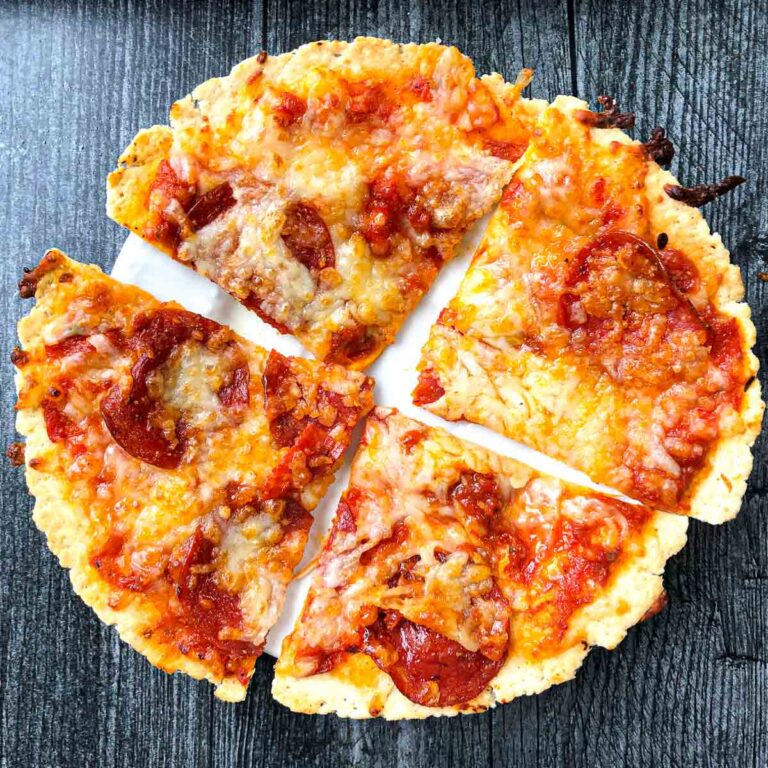 Low Carb Tortilla Pizza in the Air Fryer
These air fryer low carb tortilla pizzas are super easy to make with just a few ingredients. Using keto tortillas you can make a low calorie and low carb pizza with a variety of toppings in just 10 minutes!
Ingredients
1 keto flour tortilla (I like Aldi brand)
2 tablespoons low carb sauce (I like Rao's marinara)
5 small slices pepperoni
¼ cup mozzarella cheese shredded
Instructions
Preheat air fryer then place a tortilla on cutting board or plate. Spoon the sauce over top and spread around with the back of the spoon.
Place the pepperoni or any toppings you are using on the sauce. The air fryer will blow things around so the toppings need to be under the cheese. Next sprinkle the cheese on top.
Spray the basket of the air fryer with nonstick cooking spray then gently place the tortilla inside.
Bake at 400°F for 4-5 minutes until the cheese is browned and bubbling. Let cool for a few minutes and serve.
Notes
The nutritional information for the whole pepperoni pizza has 206 calories / 10.3g fat / 14.9g carbs / 13.3g fiber / 12.1g protein = 1.6g net carbs
See post for other low carb toppings and their carb counts to use.
I used Aldi brand keto tortillas which have 0g net carbs. They also have other low carb flour tortillas as do other brands. Adjust nutriton info accordingly.
Nutrition Information:
Yield:

1
Serving Size:

1
Amount Per Serving:
Calories:

206