These easy keto pizza eggs are great for those pizza cravings on a low carb diet. It only needs a few simple ingredients and this delicious egg recipe is done in less than 10 minutes. Add all your favorite pizza toppings to jazz up next keto egg breakfast! Each serving has just 3.6g net carbs and 15.3 grams of protein!
You might also like this low carb pizza skillet recipe.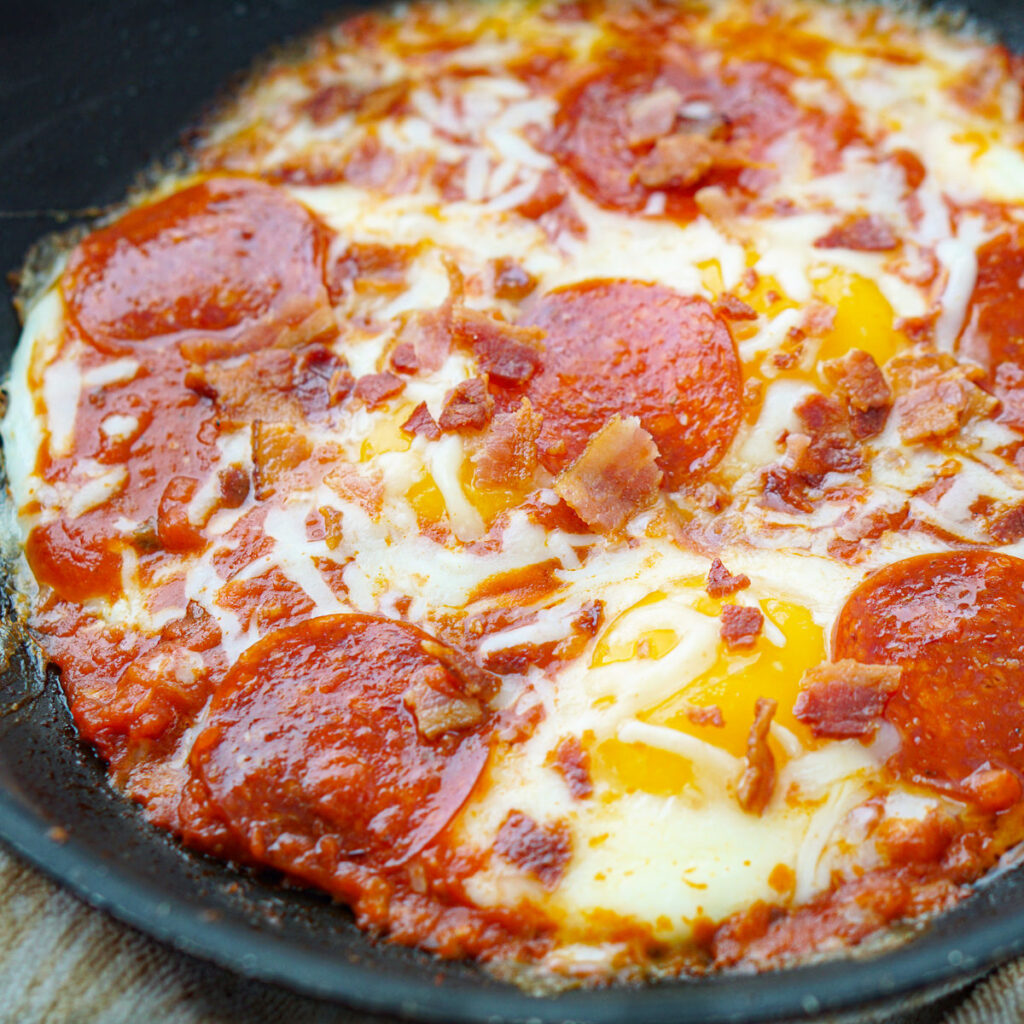 I don't know about you but I eat a lot of eggs on a keto diet and I'm always looking for new ways to make them. So today I'm sharing with you a ver easy and quick recipe of keto pizza eggs.
Sauce and cheese go great with fried eggs and from there you can add your favorite pizza topping. I opted for pepperoni and bacon to make it extra decadent.
This delicious keto breakfast only took 10 minutes to make and I used simple ingredients I had on hand. And not only is it low carb it's high protein too. Here's how I did it.
3 simple ingredients I used.
All you really need to make this egg dish is eggs, low carb sauce and mozzarella cheese. I also used pepperoni slices and cooked bacon as my toppings.
For the sauce I really like the taste of Rao's marinara sauce. It has just 5g net carbs per ½ cup and it's really delicious in my opinion. You can use any kind of pizza sauce you like as long as it's low carb.
As for the toppings you could also use Italian sausage, peppers, onions, mushrooms, black olives, ham etc. You could also add spices like Italian seasoning, hot pepper flakes, even parmesan cheese.
I just wanted to keep it simple but you change it up any way you want.
How to make keto pizza eggs with pepperoni and bacon.
If you bacon isn't cooked you can make it ahead of time or fry it up in the pan before you make the eggs. That way you can use the grease from the bacon to fry the eggs.
Step 1: Add some nonstick cooking spray to a medium skillet and heat to medium heat. Crack the 3 eggs around the skillet and season with salt and black pepper.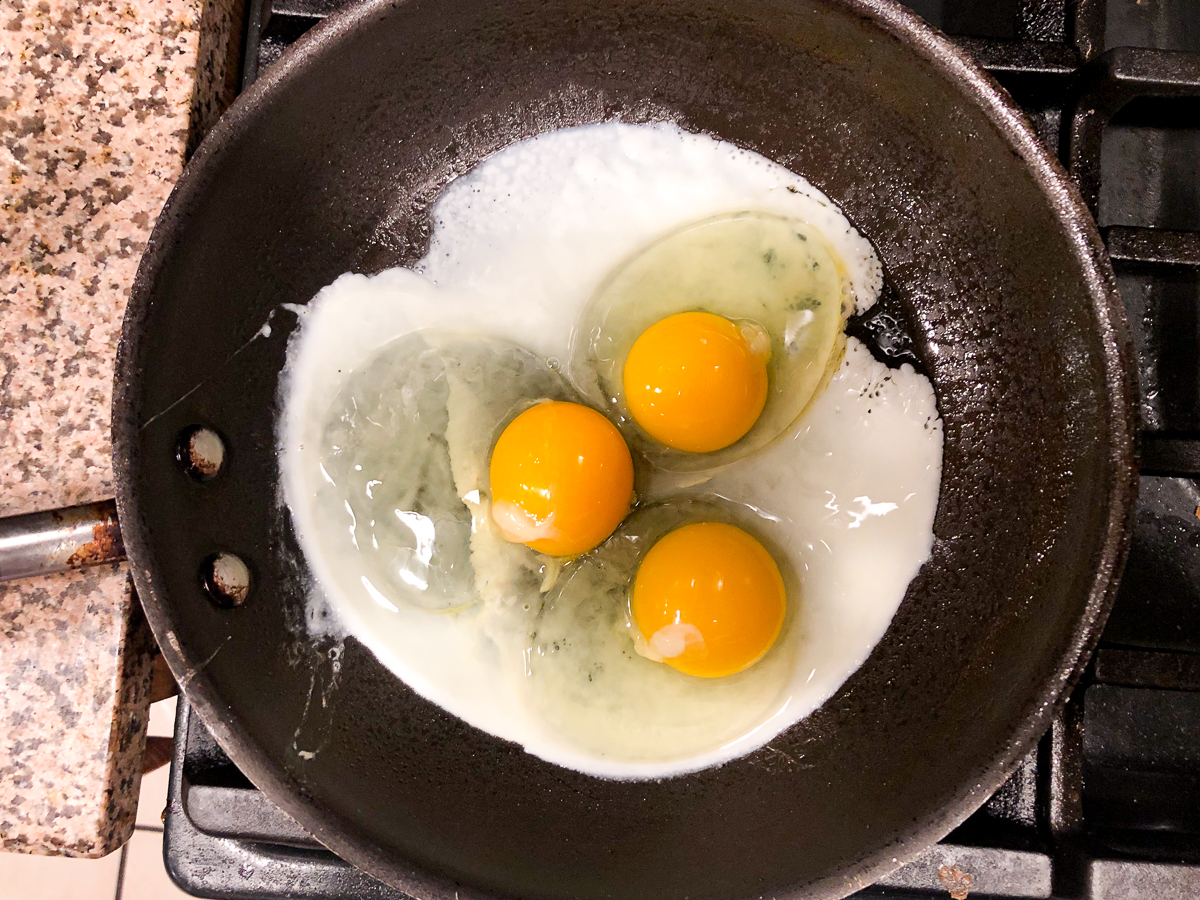 Step 2: Let the eggs start to turn white and then add the sauce. I like to spoon it between the egg yolks. I used about 6 tablespoons total for this dish but you can use less if you don't like so much sauce.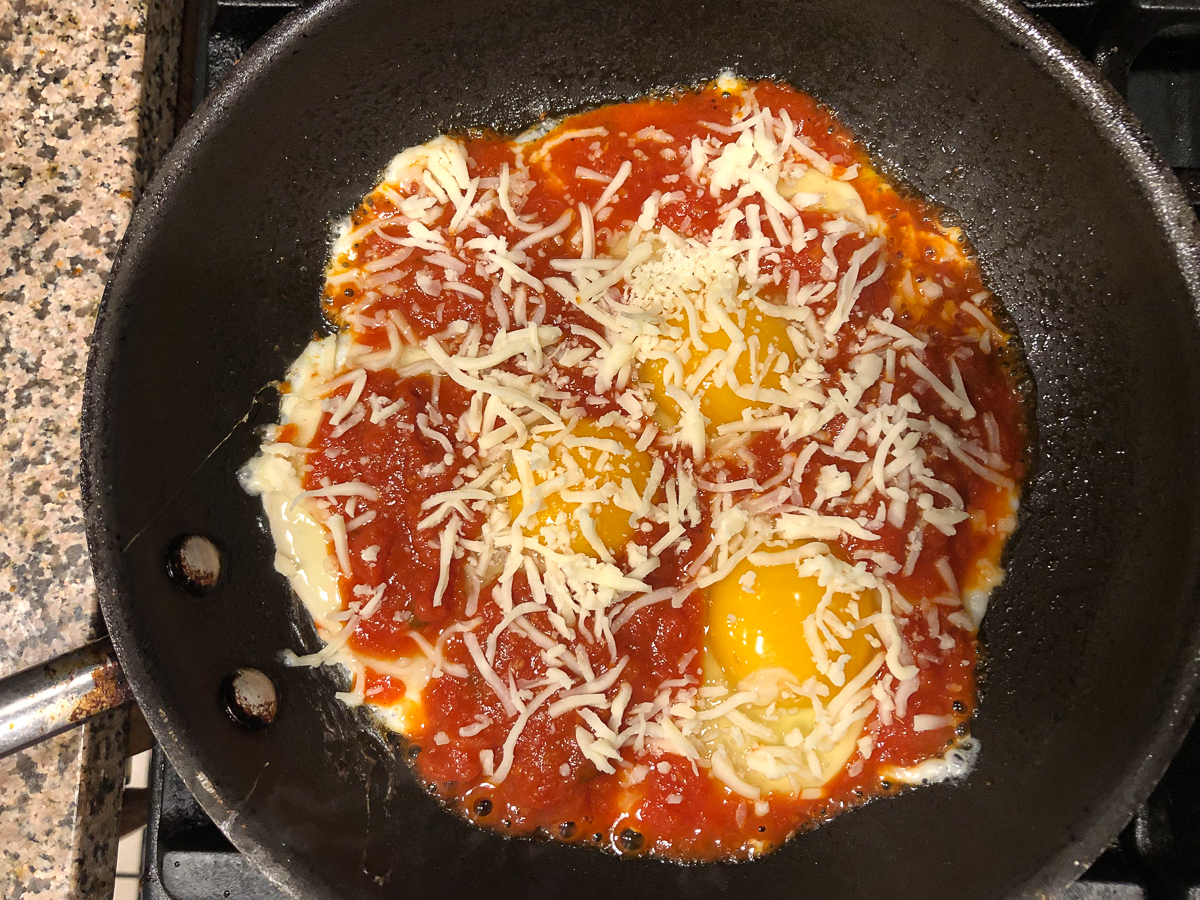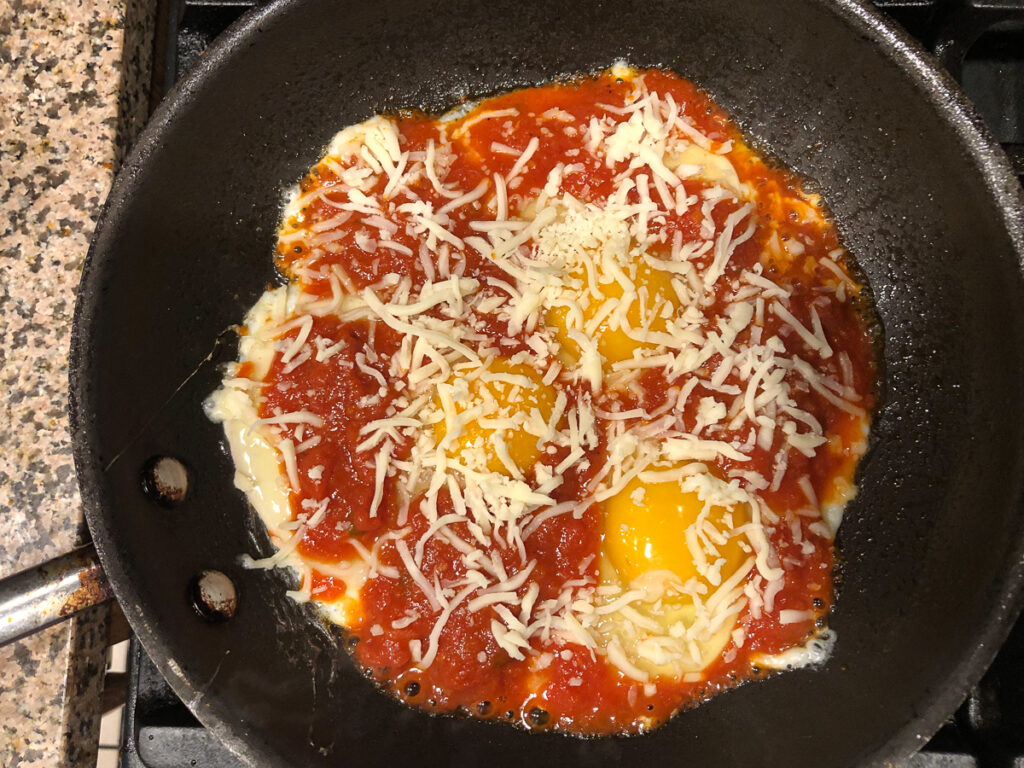 Step 3: Next add sprinkle the mozzarella cheese over everything and place a lid on the skillet and cook. This will firm up the eggs and melt the cheese. Let them cook for a couple of minutes.
Step 4: Now you can add your toppings. I used slices of pepperoni and cooked bacon bits. Scatter then around and place the pan under the broiler for a few minutes until cheese browns. I like the cheese a little browned but you can skip this part if you want.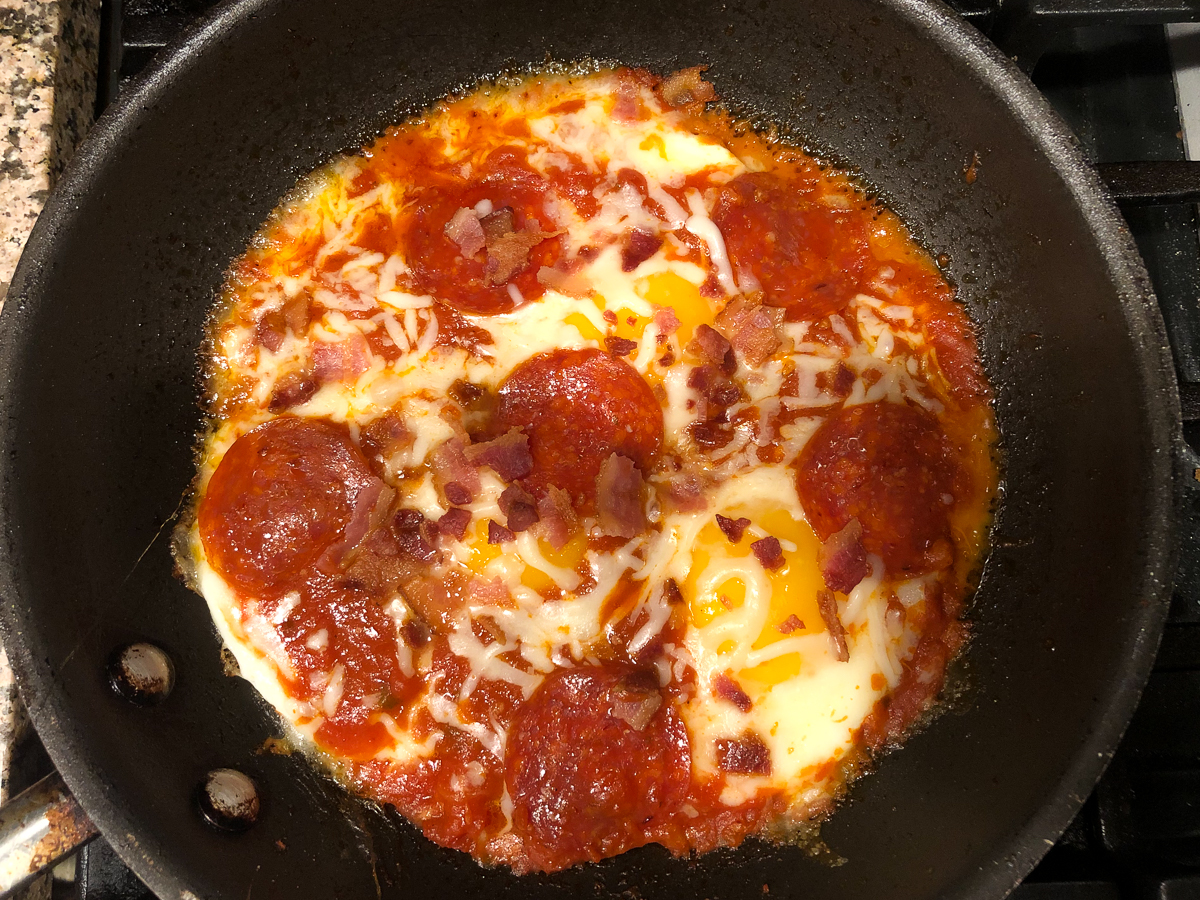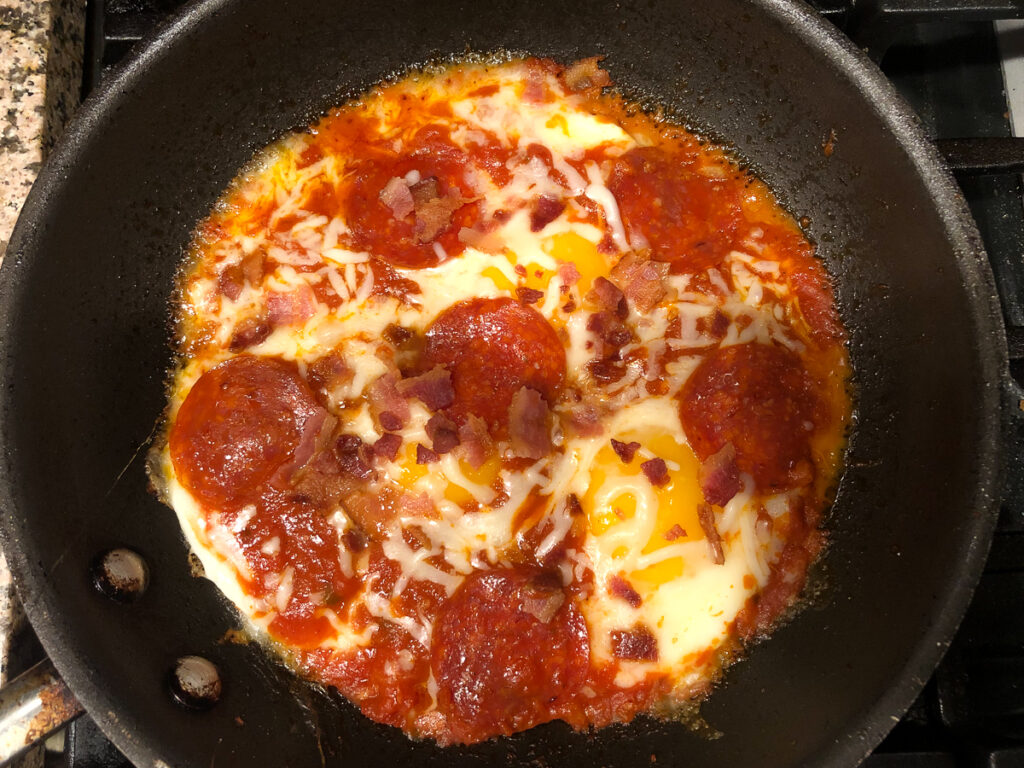 I ate half of this for a low carb lunch. You could eat the whole thing but I would think it's a bit much for a breakfast. Store leftovers in an airtight container in the refrigerator. (Please scroll down to view and print the recipe card.)
I forgot to mention you can cook these as you would any egg dish. I don't like my eggs runny so I get the yolk pretty well cooked but if you want runny yolks just cook the eggs at the beginning less time.
Using a Dash mini griddle to make single servings.
I love my Dash mini griddle and waffle makers for single serving keto meals like this one. They are very inexpensive and come in hand. If you have one of these you can easily make a single serving pizza egg:
Spray the mini griddle with nonstick cooking spray.
Break and egg onto the griddle and close the lid for 1 minute until it starts cook and the whites are showing.
Open lid and spoon a tablespoon or two of sauce then sprinkle the mozzarella cheese. Close again and cook for another minute or 2 to melt the cheese.
Lastly add the pepperoni and bacon bits if using and close for just about 30 seconds to heat up these items. That's all there is to it!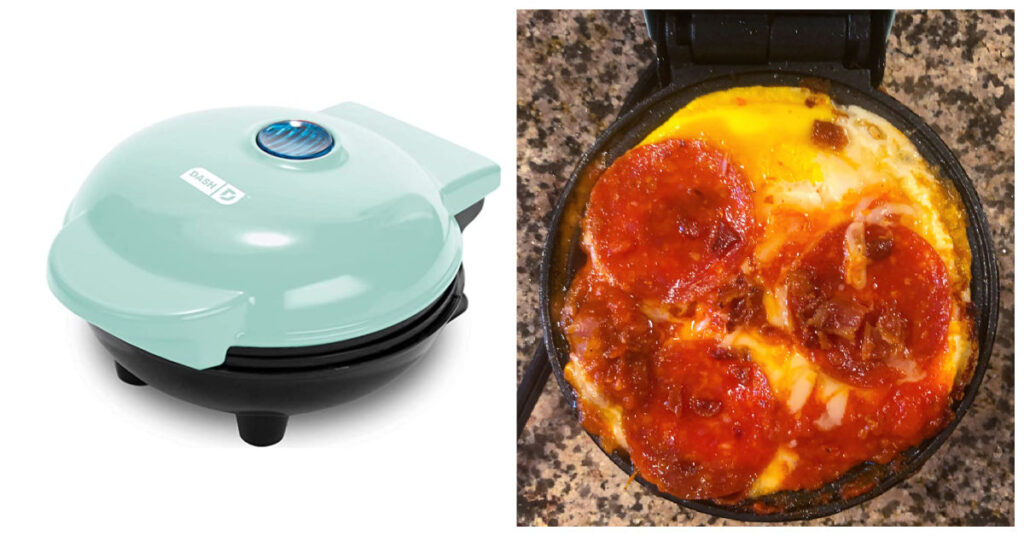 In the mini Dash griddle it cooks the egg yolks faster because the heat is coming from the lid and the bottom. Take that into account if you like a runnier egg.
More keto pizza flavored dishes to try.
You might have noticed I like pepperoni flavored recipes so here are a few keto pizza flavored recipes you might like.
Well I hope you give this keto pizza egg bake a try. If you love pizza I think you will really enjoy them plus they are so quick to make and use everyday ingredients. And you can eat them for any meal.
The nutritional information for 1 serving is 232 calories / 16.7g fat / 3.9g carbs / 0.3g fiber / 15.3g protein = 3.6g net carbs
Easy Keto Pizza Eggs Recipe
If you love pizza on a low carb diet, you will love these super easy keto pizza recipe with eggs. You can eat them for breakfast, lunch or dinner and you only need a few ingredients but you'll get all the flavor.
Ingredients
3 eggs
6 tablespoons Rao's marinara
¼ cup mozzarella cheese
1 piece bacon, cooked and crumbled
6 slices pepperoni, thinly sliced and small
Instructions
Spray a medium sized skillet with non stick cooking spray and heat to medium heat.
Break the 3 eggs in the skillet and let cook until the eggs start to turn white.
Spoon the marinara sauce between the egg yolks then top with shredded mozzarella. Place a lid on the skillet for a couple minutes to cook the eggs and melt the cheese.
Take off the lid and add the pepperoni and bacon. Place under the broiler to brown the cheese if you wish. Cooking times may vary depending how you like your eggs.
Notes
The nutritional information for 1 serving is 232 calories / 16.7g fat / 3.9g carbs / 0.3g fiber / 15.3g protein = 3.6g net carbs
Nutrition Information:
Yield:

2
Serving Size:

1
Amount Per Serving:
Calories:

232