This Pittsburgh steak salad recipe is the divine combination of a juicy steak and fries atop a salad then sprinkled with cheese. You can cook the steak and fries together in the air fryer to make this awesome steak salad in just 15 minutes! It's a whole meal in salad form.
You might also like this cheesesteak salad with creamy parmesan dressing.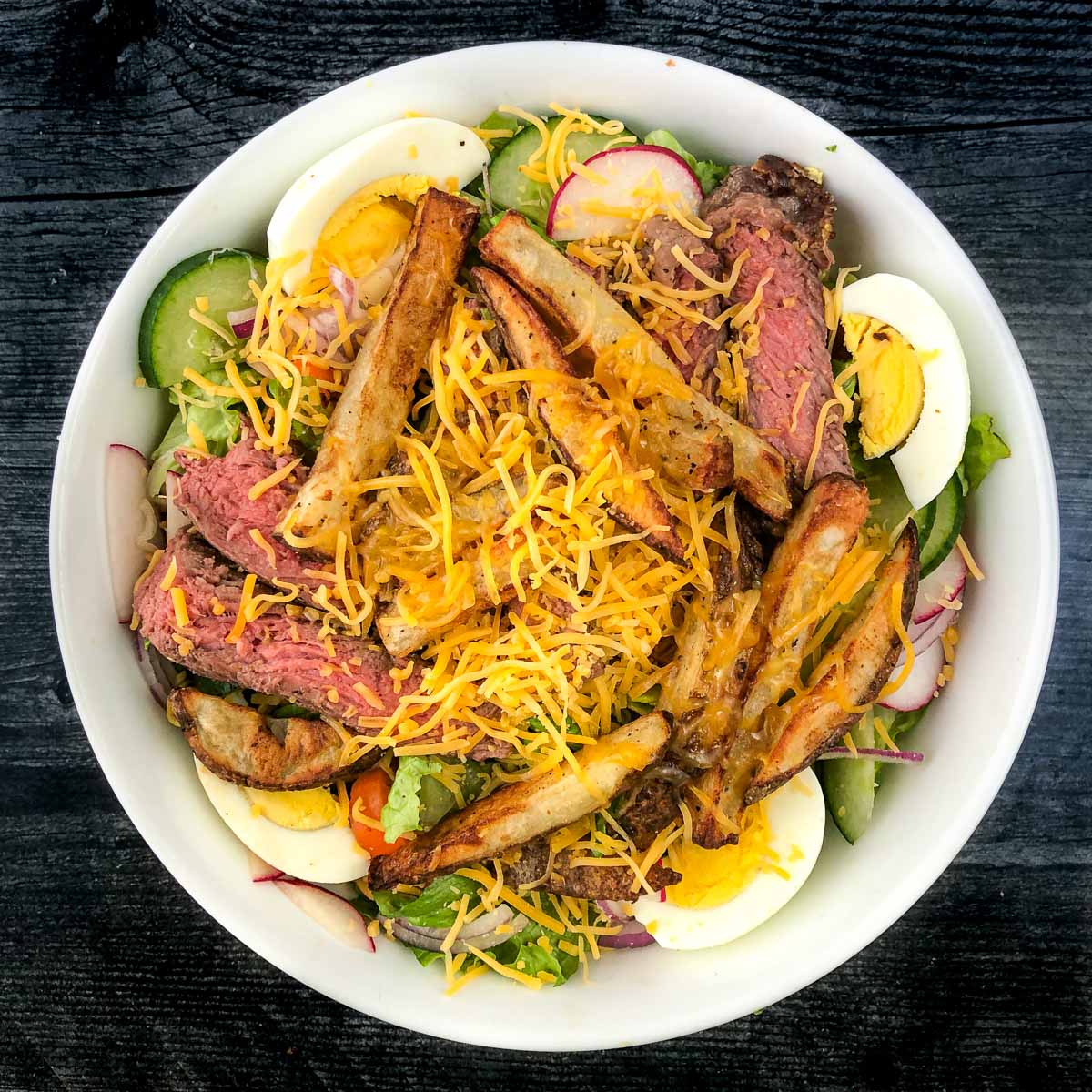 I've lived in Pittsburgh most of my life but didn't have a Pittsburgh steak salad until grad school. While out to lunch one day, my date told me about this amazing salad with steak and fries piled on top, along with cheese and other salad toppings.
That day had changed my life. Since then I've had just about every variation of steak salad you can think of… some healthy, some not … but always delicious.
This is my one of my favorite foods and most ordered meal when going out to lunch and dinner. But today I made my own and used the air fryer. I couldn't believe I could make the steak and fresh cut friends together in the air fryer in just 15 minutes! Here's how I did it.
What is a Pittsburgh salad?
A Pittsburgh salad is made up of a bed of lettuce and vegetables, topped with steak or chicken, shredded cheese and French fries. It's considered a regional dish from Western Pennsylvania. (source)
Different places change up the meat with steak or chicken, breaded or grilled, and even buffalo style. The fries can be curly, shoestring, seasoned etc.
It the texture and tastes of the various components that make this salad a popular dish in Pittsburgh.
How to make a steak and fries together in the air fryer.
Step 1: Let your steak set out to for about 20 minutes to come to room temperature and then sprinkle with salt and pepper on both sides. Sometimes I use steak seasoning on the steak but usually just salt and pepper.
Step 2: In the meant time cut your potato into fries. I LOVE this Prepworks vegetable chopper as it makes uniform potato pieces for me and it's easy to clean.
Step 3: Preheat the air fryer for 5 minutes at 400°F. Dry off the fries as best you can and them mix them with a little olive oil, salt and pepper. You can use any seasoning you want on both the steak and fries but salt and pepper are just fine too.
Step 4: Spray the basket of the air fryer with nonstick cooking spray and then place the steak to one side and the raw potatoes to the side. Cook for 10 minutes then flip over and mix up the fries. Cook for 5 minutes until the steak is done.
Step 5: While that is all cooking, you can assemble your salad into a big shallow bowl or 2 good sized bowls and get your dressing ready.
Step 6: When steak and fries are done, slice the steak and place it with fries on salad. Top with shredded cheddar cheese. Please scroll down to view the printable recipe card.
Recipe Tips and Notes
f you don't have an air fryer you can make your steak in a cast iron skillet or even grill it. Frozen fries are also fine but I like the fresh cut myself.
This recipe serves two people.
Note in the recipe card I listed what I put in my salad but you can use whatever toppings and lettuce you want. Some of toppings that I use on my salads are bell pepper, red onion, radish, cucumber, tomato, olives, croutons, avocado, etc.
You can also use your favorite flavor of cheese though I recommend cheddar for more flavor. It also seems like the most popular cheese along with mozzarella.
You can substitute the steak with chicken and make a Pittsburgh chicken salad!
What kind of dressing to serve with this recipe.
You can use any dressing you want on this salad but I tend to like thick and creamy dressings like ranch dressing and blue cheese but my husband likes Italian. When you got into a restaurant they offer all the various dressings so you can use your favorite with this salad.
Here is the homemade ranch dressing recipe and the creamy blue cheese dressing recipe that I like for this dish. I also have a delicious creamy French dressing that I have also been using lately.
Here is a post with 18 homemade keto salad dressing recipes if you are interested.
Other big meaty salads to try.
I love a big salad and as I mentioned above I have one for lunch or dinner just about everyday. Seriously. Here are some of my favorite big salads with meat toppings for you to try.
I hope you enjoyed this Pittsburgh salad recipe using the air fryer. It is truly one of my favorite dishes and just looking at it again I want to have it for dinner tonight. Using the air fryer to make steak and fries is just so easy that this will be my go to way from now on.
If you like this recipe you will love a Pittsburgh Primanti sandwich. It's famous here in Pittsburgh as they put fries on their sandwiches along with other delicious things. I have a Primanti style sliders recipe you might want to check out.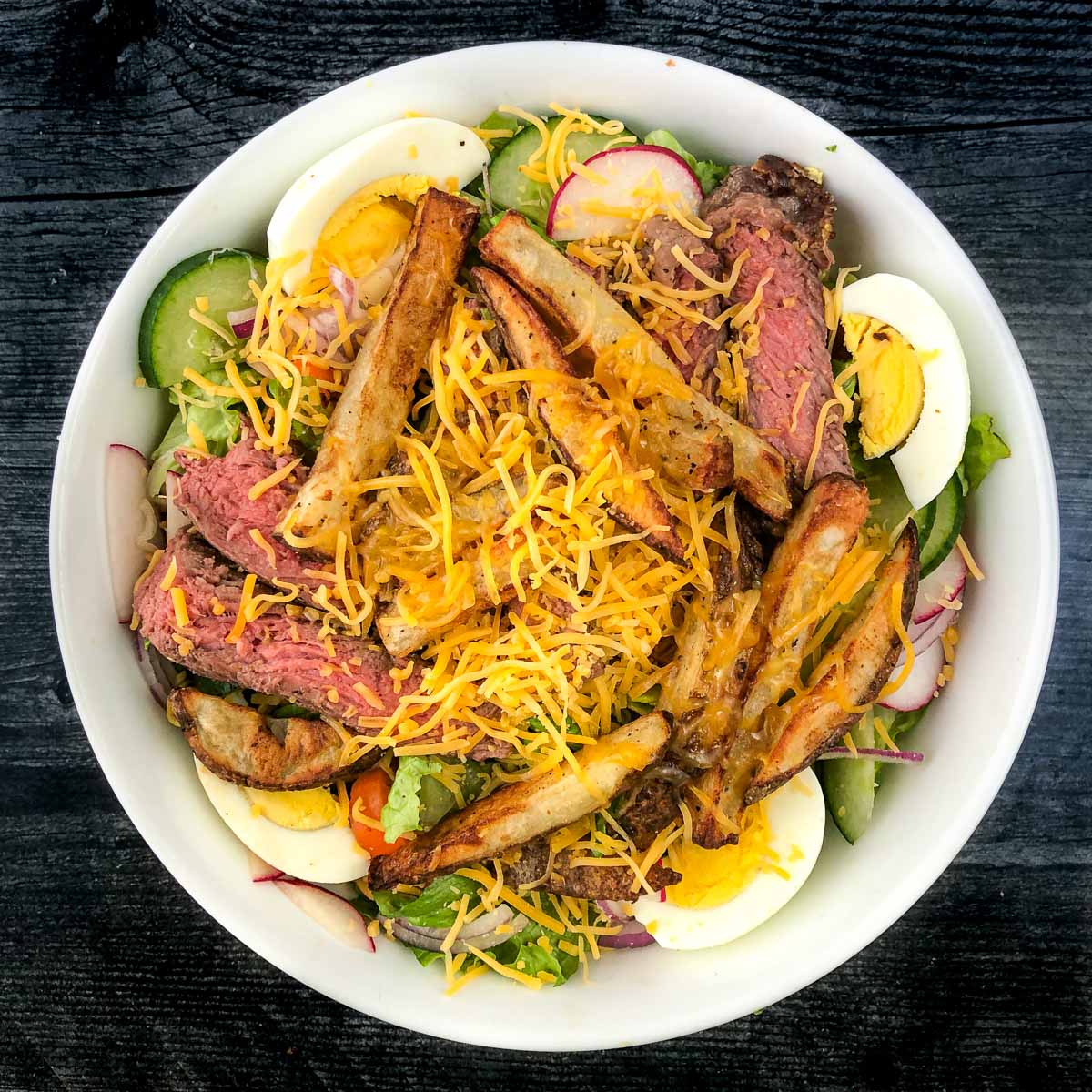 Pittsburgh Steak Salad using the Air Fryer
If you are looking for a delicious twist on a steak dinner, try this Pittsburgh style steak salad. You can make the steak and fresh cut fries in the air fryer in just 15 minutes while you assemble the salad. It's a delicious dinner combination in form of a salad!
Ingredients
1 russet potato cut into fries
8 oz strip steak, boneless
salt and black pepper
2 tablespoon olive oil
¼ cup cheddar cheese, shredded
For the Salad Base (toppings are optional)*
4 cups chopped romaine lettuce
4 mini bell peppers sliced
¼ cup red onion, thinly sliced
2 radishes thinly sliced
1 hard boiled egg, quartered
¼ cup cucumber slices
Instructions
Preheat the air fryer at 400°F for a few minutes while you cut the potatoe into medium size fries. Sprinkle salt and pepper liberally over the steak and on both sides.
Spray the basket of the air fryer and place the steak on one side. Mix the raw fries with a tablespoon of olive oil, salt and pepper. Mix well then place in the air fryer basket next to the steak.
Bake for 10 minutes at 400°F for 10 minutes then flip the steak and cook for 5 minutes more. If the fries are done at this point take them out. If not flip them around when you do the steak and continue to cook until crispy.
Meanwhile make up your salad base anyway you want. *My ingredient list is just a suggestion as you can use your favorite salad toppings. Other options are cherry tomatoes, olives, croutons, etc.
When the steak and fries are done, slice and place steak on greens and then add the fries on top. Lastly sprinkle shredded cheddar cheese of them and serve.
The recipe should make enough for 2 people.
Nutrition Information:
Yield:

2
Serving Size:

1
Amount Per Serving:
Calories:

832
Total Fat:

50g
Saturated Fat:

15g
Trans Fat:

1g
Unsaturated Fat:

31g
Cholesterol:

199mg
Sodium:

621mg
Carbohydrates:

54g
Fiber:

8g
Sugar:

7g
Protein:

43g