If you have a sweet tooth you will want to check out this week's meal plan theme which is quick keto sweets recipes! All of the low carb recipes are easy to make and will satisfy your cravings for desserts, candy, cookies, etc.
Check out all of my low carb sweets recipes!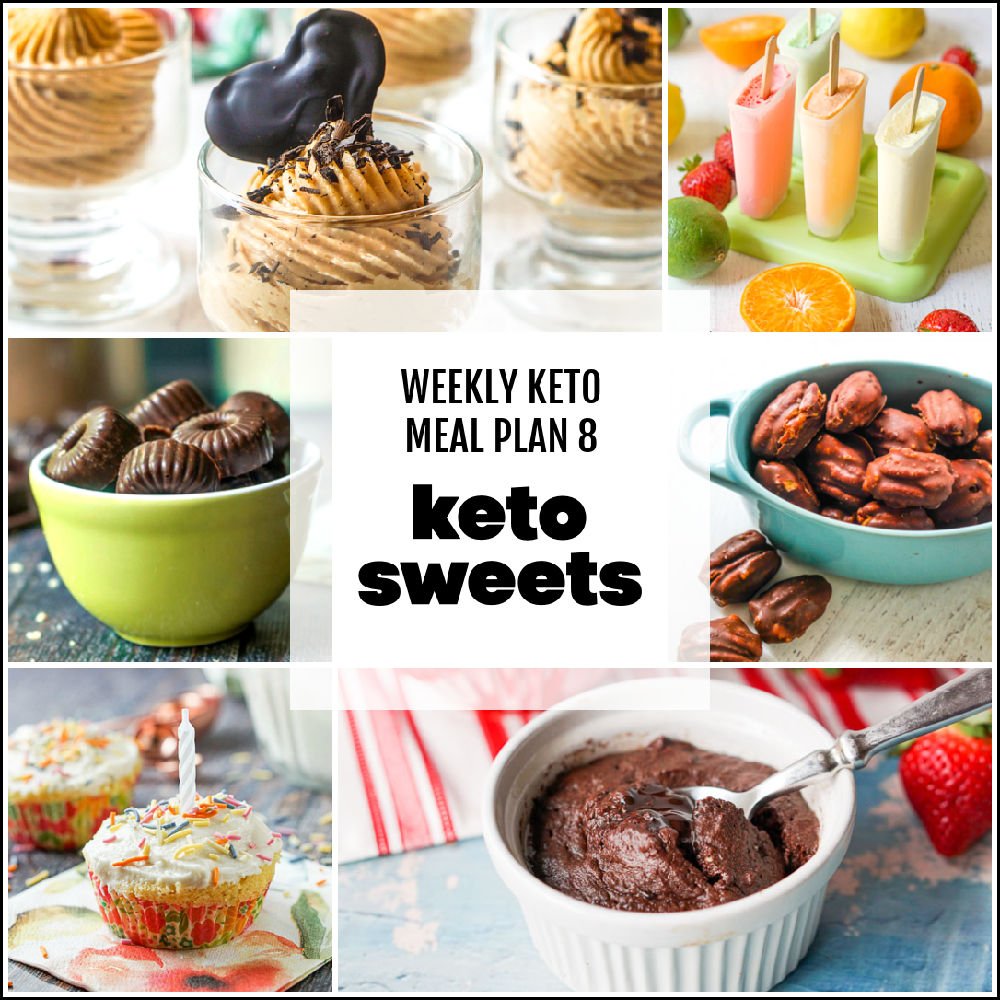 I don't know about you but I love sweet things. Luckily I am not much of a baker so I don't have too many baked goods at my house. However when I want dessert, I just make one of these sweet treats that I have listed below.
These quick keto sweets recipes take minimal time and ingredients so you can treat yourself easily and not go off your diet.
I tried to select a variety of sweets so there is something for everyone. There are sugar free mug cakes, candy, fudge and cheesecake recipes to try.
Ingredients you need to have on hand to make keto sweet recipes.
Swerve sweeteners – Swerve confectioners sweetener and Swerve brown sugar sweetener are my go to for almost all of my desserts. You can find them in most grocery stores but you can get better prices on Amazon or Vitacost.com.
Almond flour – You can buy almond flour just about anywhere these days. I often buy it at Aldi or Costco.
Sugar Free Jello – I often buy a variety of sugar free jello flavors at Walmart for both the selection and price. You can make jello pops or try this strawberry pretzel salad.
Heavy cream and cream cheese – These are necessary for any kind of no bake cheesecake or even regular cheese cake.
Pumpkin puree – I use this for smoothies, puddings, and all things pumpkin pie flavored.
Sugar free chocolate chips – Lily's chocolate chips and ChocZero chocolate chips are both really good and sugar free. Great for desserts or just to eat as a snack. I also buy dark chocolate from Aldi (Moser's 85% cacao bars) and chop them up for recipes if I don't have chips. Lindt's 90% cacao bars are also yummy but very dark chocolate so it's an acquired taste.
Coconut oil – I use coconut oil for all of my chocolate candies and you can usually buy this in Aldi or any grocery store. If you find you use a lot of it, Costco has a good deal on a huge jar.
Nuts, seeds and shredded coconut – These are usually add-ins for other recipes. I buy a lot of them on Vitacost or Amazon. Costco has good deals on raw nuts.
Cocoa powder – I love Divine cocoa powder or Guittard cocoa powder. They have less carbs than regular cocoa powder and are very flavorful. You can buy them on Amazon.
Now for my easiest and tastiest
keto sweets recipes!
Below I picked a few of my most easiest sweet recipes. These are recipes I make for myself all the time.
I also included 🍪 my chocolate chip cookie recipe 🍪 which does involving baking but it's so good I thought you should try it if you love chocolate chip cookies.
I hope they are helpful to you on your low carb journey.
Weekly Keto Meal Plan 8 - Keto Sweets
This weeks meal plan is all about keto sweets and these recipes are my favorites. There is a wide variety of recipes and all most all of them take very little time to make and with only a few ingredients.