It's back to school time and that means time to get ready with these easy high protein lunch box ideas! Fill your kids or your own lunch with healthy carbs and protein rich foods that don't take much time to put together.
This post is sponsored by the Beef Checkoff in conjunction with a social media campaign through Sunday Supper Media. All opinions are my own.
It's almost time for school to start and I'm already thinking about how I can organize myself to make our mornings run smoother. My son always wants to take his lunch and so if I'm prepared we are off to a good start.
Recently my family met with a nutritional counselor and she stressed the importance of a balanced and healthy lunch for my son – no peanut butter and jelly sandwiches or junk food.
She emphasized lots of protein, good carbs and fats from fresh ingredients. So today I am sharing with you some of my easy high protein lunch box ideas so you too can be prepared for your back to school lunches.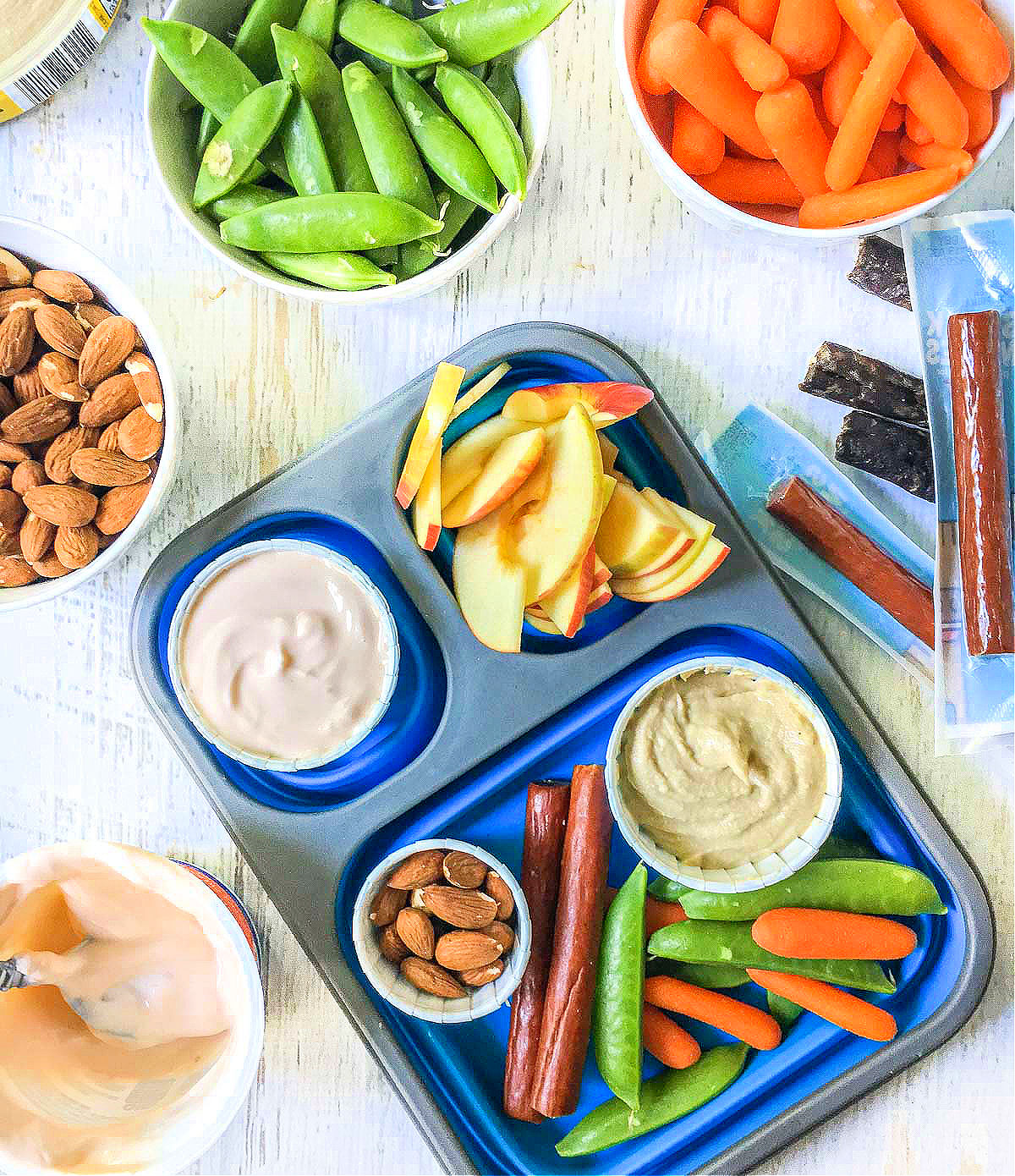 Why is protein good for kids?
Protein is very important for a child's development.
It helps them build, maintain and replace tissues in their body.

It is essential in the generation and regeneration of cells and aids in healing wounds and is important for the growth of hair and nails.

Their muscles, organs and immune system are mostly made up of protein.
So providing a good protein rich lunchbox is one way to keep your kids strong and it also is a good source of energy. There is a great graphic about the grams of protein needed by age.
Meat is a complete protein.
Meat is an excellent source of protein that contains beneficial amounts of iron, zinc, selenium and vitamin B12. It is also a complete protein in that it contains all the amino acids necessary for good health.
So when I can I try to use meat in my son's lunch box for those reasons and he really likes it.
Food ideas for nutritional carbs and fats for your kids.
For my son's lunch I like to keep to fresh fruit and vegetables for healthy carbs because they are full of fiber and beneficial nutrients. Some of the kid friendly veggies we eat are carrots, celery, broccoli, snow peas and green beans. Grape tomatoes and red pepper slices are other popular veggies for kids.
For fats, I like dips such as hummus and Greek yogurt. You can eat the yogurt as is or dip fruit in it. And the hummus is great with the veggies. These dips along with nut butters offer nutritional fats plus protein so that's an added bonus!
Avocados are also a good fat to try. My son does not like them … yet but avocados are also high in fiber and a great source of potassium.
Because it's hard to have a hot lunch at school, you can try making brown rice or white rice bowls that can be eaten cold. Just add cooked rice, cooked chicken and veggies with a sauce. And if you don't want to eat rice for your carbs you can try cauliflower rice.
High protein lunch box food ideas
I don't know about your kids but my son really likes his protein. Below are a few pictures of high protein foods that he likes to eat. He loves:
beef jerky sticks

cottage cheese

meatballs

roast beef rollups

beef salami
trail mix
peanut butter and other nut butters
hard boiled eggs
Other kid friendly lunchbox ideas are leftover chicken breasts and chicken legs, fish & shellfish (tuna, shrimp, salmon), quinoa, seeds, turkey breast rollups, pumpkin seeds, sunflower seeds, string cheese, classic chicken salad, egg salad, etc.
If your child likes edamame, black beans, white beans, peas, lentils and other legumes they are also good sources. However sometimes people don't like to add more soy to their diet and legumes can be hard to digest.
Note you can make your own lunchmeat if you are worried about artificial ingredients and added preservatives in grocery lunchmeat. It's not very hard and makes a great snack, especially if you place some cheese and veggies and roll them up!
Don't forget after school protein snacks.
Though we are talking about protein rich lunch box ideas, many of the foods you eat for lunch also make great after school snacks and tide you over until dinner.
I know my son has a very early lunch time so when he comes home from school mid – afternoon he is starving. Here are some more snack-like high protein recipes that your kids will love:
Well I hope you enjoyed these high protein lunch ideas for your child's lunch box. Sometimes I forget how much energy they expend at school and that they need to replenish before, during and after school. Enjoy!
Easy High Protein Lunchbox
It's back to school time and that means time to get ready with these easy protein rich lunchbox ideas!
Ingredients
1 oz beef jerky stick
¼ cup plain hummus
½ cup snow peas
4 baby carrots
½ cup apple slices
1 low fat Greek yogurt
¼ cup dry roasted, unsalted almonds
Instructions
Assemble and refrigerate.
Nutrition Information:
Yield:

1
Serving Size:

1
Amount Per Serving:
Calories:

490
Unsaturated Fat:

0g