I love veggies and dip. I've been known to eat them for lunch sometimes, especially if I'm on the go and don't want to order fast food. Regardless for my reasons, I thought it would be nice if there was a high protein dip for my veggies on those days I don't have time for a proper lunch. Then I remembered that cottage cheese is packed with protein and I decided to use it for a base for my dip. It worked great!
Since this was an experiment, I decide to just mix in my sister's Ranch Mix instead of inventing something different. I added 3 Tablespoons of her mix to 2 cups of cottage cheese and blended it on high in my Vitamix. The result was a  thick and creamy, delicious dip!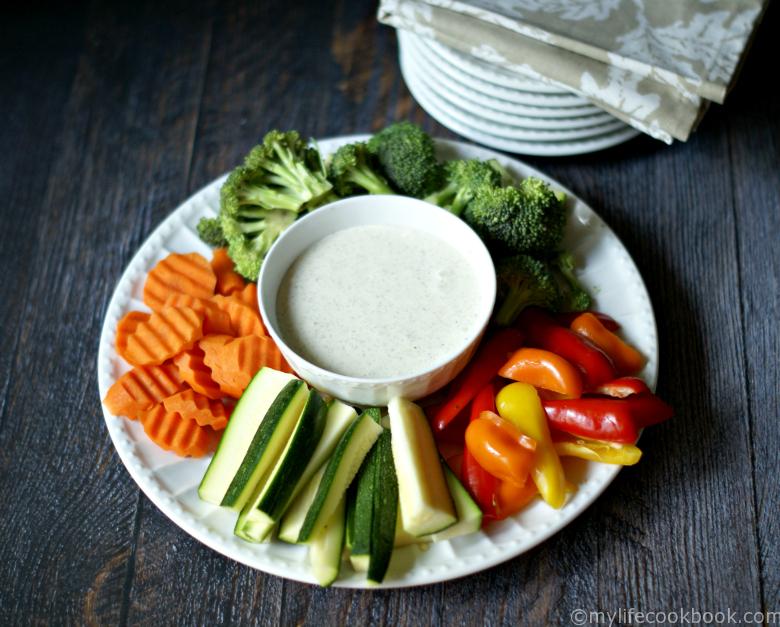 I know some people do not like cottage cheese. I personally love it and surprisingly my son does too. I think it's all those curds that turn people off but when you blend it, it just becomes a smooth and thick cream. A perfect base for a dip. Approximate nutrition: 2 Tablespoons = 34 cals / 1.4 g fat / 2 g carbs / 3.4 g protein. 
So if you are trying to get more natural protein in your diet, and don't like the consistency of cottage cheese, try this dip. You can use any herbs and spices you like. Just blend on high and you'll have a thick, creamy, high protein dip!
High Protein Ranch Dip
Ingredients
2

cups

cottage cheese

3

Tablespoons

Ranch Mix
Instructions
Blend all ingredients together in a high speed blender.

It's ready to serve. Refrigerate until you are ready to eat.

Approximate nutrition for 2 Tablespoons is 34 cals / 1.4 g fat / 2 g carbs / 3.4 g protein.