This easy buffalo chicken dip & wontons recipe is the perfect party food especially for game day. The wontons make great finger food and the dip can be used with veggies or chips.
I love buffalo chicken dip. I only just tasted it about 5 years ago but I am hooked. I make it for many of our parties and I always make a lot so there are leftovers for me. 😉 Today I've used my buffalo chicken dip to make wontons. Wonton wrappers are so versatile and easy to use. Putting the dip into a wonton form makes it easy finger food for a party. So if you are like me and a fan of buffalo chicken dip, you've got to try these.
Buffalo Chicken Dip & Wontons Recipe
This buffalo chicken dip recipe is probably similar to others you've had. I've made it all kinds of ways, with taco mix and chiles and now with hot sauce and jalapeños. This is my newest rendition and I hope you like it. This recipe makes enough for 24 wontons and a decent size bowl of dip. If you just want to the dip, skip the wontons and microwave for about 5 minutes. Serve along with chips or celery sticks. And if you just want the wontons, go for it. You won't have to cook the dip in the microwave, just spoon it straight out of the food processor bowl.
To make the wontons, you simple put a teaspoon or so of the uncooked mixture in the middle of the wonton. Make sure you don't put too much or they will get messy and hard to close. Next wet the edges of the wonton with water, fold over and press down to make the edges stick.
Bake them for about 8-10 minutes in a 375 degree oven until they are golden brown. That's all there is to it!
You end up with a crispy, hand held packet of yumminess!
Well I hope your like this recipe as much as I do. I also recently made Blue Cheese Filled Buffalo Chicken Meatballs for those looking for something lower carb. But this recipe gives you two great dishes to take to a party and would be perfect for the playoffs or the Superbowl. Just remember to make a little extra so you can eat some yourself. Enjoy!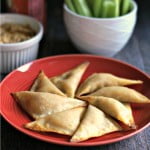 Easy Buffalo Chicken Dip & Wontons
This easy buffalo chicken dip and wontons recipe is the perfect party food especially for game day parties.The wontons make great finger food and the dip can be used with veggies or chips.
Ingredients
2

cups

cooked chicken breast

1 8

oz

package of cream cheese softened

1

Tablespoon

pickled jalapeños

¼

cup

mayonaise

1

cup

shredded cheddar cheese

4

Tablespoons

hot sauce.

small wonton wrappers
Instructions
For Buffalo Wontons

Preheat oven to 375 degrees.

In a food processor add your chicken and jalapeños and pulse until chopped up well.

Add the cream cheese, mayo, hot sauce and ¾ of the cheddar cheese. Process until well combined.

Spoon half of the he mixture into a microwaveable dish and sprinkle remaining ¼ cup of cheddar cheese on top.

Spray a cookie sheet with cooking spray and get a small bowl of water for making the wontons.

Take out a wonton wrapper and place on a plate.

With the remaining dip, add about a teaspoon of mixture in the middle of the wonton. Then dip your finger in the water bowl and run along the edges of the wonton.

Fold over to make a triangle and press the edges to make a seam.

Repeat with remaining wrappers and dip.

Place the filled wontons on the prepared cookie sheet and bake for 7-10 minutes or until golden brown.

For Buffalo Dip

Place the first filled bowl with the shredded cheddar on top in the microwave and heat for 5 minutes Check half way to make sure the mixture doesn't burn on the edges.

Eat with chips or cut vegetables (celery, carrots, peppers)

PLEASE NOTE: This recipe is should yield a nice smaller sized bowl of dip and about 24 wontons.If you want to only make wontons it would probably make 48.