These easy sheet pan Italian nachos are a fun twist on traditional nachos. Packed with all the ingredients of a good sausage pizza or pasta but in sheet pan form so all can share. Makes for a fun dinner or great for party appetizer on game day.
You might also like these keto pulled pork nachos recipe!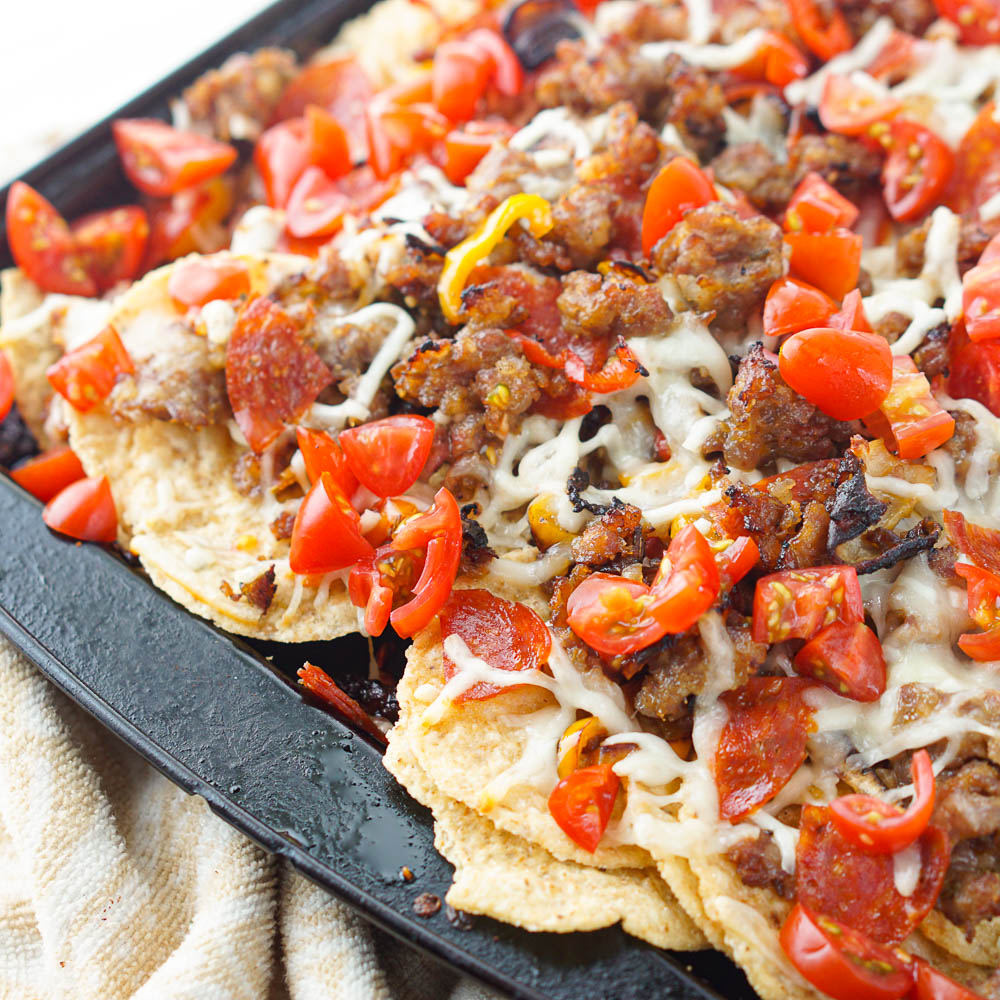 I always see those beautiful pictures of sheet pan classic nachos on Pinterest and want to try them. I also love a good pizza (or pasta) with all my favorite fixings like sausage, mushrooms, peppers and onions.
So when you marry these two ideas you get these easy sheet pan Italian nachos. All the goodness of a loaded pizza in a nacho form.
This was lots of fun to eat for dinner one night. We just laid the sheet pan on the table and picked at it as we talked about our day. So it's good for a meal too!
Other recipes with sausage and peppers flavor combination.
Peppers and sausage are a favorite in our house. I've made sausage and peppers sandwiches , flatbreads, pasta and even soup! So it stands to reason that it was only a matter of time that I would make them into nachos!
Recipe ingredients I used.
These are pretty easy nachos to make and I used our favorite pizza toppings for them. So I used Italian flavored sausage, sweet bell peppers, onion, mushrooms, pepperoni, garlic, Italian shredded cheese, tomatoes and of course tortilla chips.
How to make Italian nachos.
First thing to do is get out a large skillet and heat to medium high heat. Turn down to medium heat and continue to cook until the sausage is nice and brown. Add the olive oil to heat up a bit and then add the garlic and vegetables. Saute for a minute or so and then add the Italian sausage. Continue to cook until the sausage is nice and brown.
Preheat the oven to 350°F and prepare a baking sheet by spraying with nonstick cooking spray. Scatter the tortilla chips evenly to make a single layer on the baking tray.
Spoon the sausage mixture over the chips then top with mozzarella cheese or an Italian blend. Scatter the chopped up pepperoni over the cheese.
Place in the oven and bake for 8-10 minutes to melt the cheese. You could also just place it under the broiler to melt the cheese but make sure it doesn't burn.
When it comes out fo the oven, add the fresh chopped tomatoes and serve.
You can also add some hot pepper flakes if you want or chopped fresh parsley or basil for color. Actually you can use any of your favorite pizza toppings for that matter. Please scroll down to view and print the recipe card.
As I mentioned above, me and my husband had fun eating this for dinner. It's not something I normally serve but it was fun to pick at and talk about our days.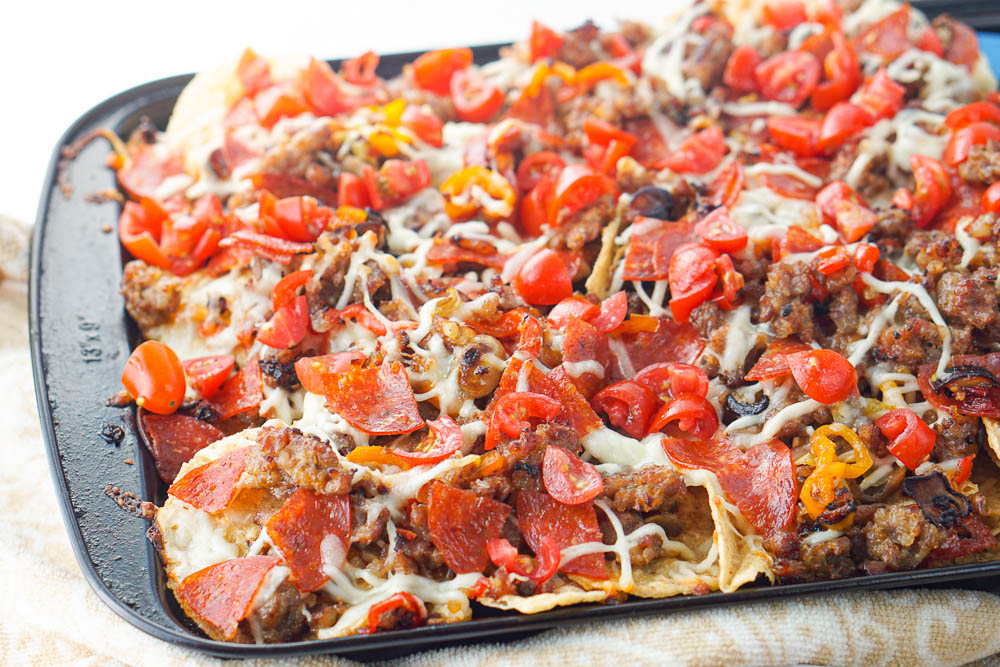 This would also be nice to have at a party, especially if you were watching the game on tv. I'll have to remember this one for next fall when Steeler season starts – a big deal in our house. 😉
Other fun nacho toppings to try.
One of the best things about these nachos is that you can customize with just about anything. Like for these Italian nachos you could add some black olives, roasted red peppers, sundried tomatoes, parmesan cheese, green onion etc.
For other flavor combinations try one of these.
bacon and banana pepper rings
Hawaiian pizza toppings like ham and pineapple
roasted veggies and shredded gouda cheese
bbq chicken toppings like cooked chicken, caramelized onions, cheddar cheese and bbq sauce
I hope you like these easy Italian nachos. They make a fun family dinner or snack and are even great for a party.
We are going to stick with this combination because it's our favorite. What would you put on your nachos?
Easy Sheet Pan Italian Nachos
These easy sheet pan Italian nachos are a fun twist on the usual. Packed with all the ingredients of a good sausage pizza or pasta but in sheet pan form so all can share.
Ingredients
1 tablespoon olive oil
1 pound Italian sausage, casings removed
2 cups sweet bell peppers, sliced
1 onion, thinly sliced
1 cup mushrooms, sliced
½ cup pepperoni, sliced
2 garlic cloves, crushed
½ bag of tortilla chips, you can use more if you like
1 cup Italian cheese blend or mozzarella, shredded
2 Roma tomatoes, diced
hot pepper flakes, optional
Instructions
Preheat oven to 350° F.
In a large saute pan, add the olive oil, onions, peppers and mushrooms.
Once the onions become translucent, add the Italian sausage and garlic.
Break up the sausage as you are browning it.
Once the sausage is browned take off the stove.
Scatter your chips all over a cookie sheet. I used a whole bag the first time and it was a bit too many chips for me. So I recommend ½ to ¾ of a bag. That is up to you.
Scatter the sausage mix evenly over the chips and then top with cheese and pepperoni.
Bake for 10 minutes until the cheese is melted.
Top with the fresh tomatoes and hot pepper flakes if using.
Serve immediately.
Notes
You can add other Italian flavors to these nachos. Try some black olives, roasted red peppers, sun dried tomatoes, parmesan cheese, green onion, fresh basil or parsley, etc.
Nutrition Information:
Yield:

6
Serving Size:

1
Amount Per Serving:
Calories:

567
Total Fat:

40g
Saturated Fat:

15g
Trans Fat:

0g
Unsaturated Fat:

26g
Cholesterol:

81mg
Sodium:

967mg
Carbohydrates:

25g
Fiber:

3g
Sugar:

6g
Protein:

27g