This crispy air fryer tortellini makes the best snack or even appetizer and only takes about 20 minutes. They are crispy outside and have creamy cheese on the inside. Then you can serve them with some marinara sauce to dip in. You only need 3 ingredients to make this easy air fryer appetizer!
You might also like this creamy tortellini soup recipe.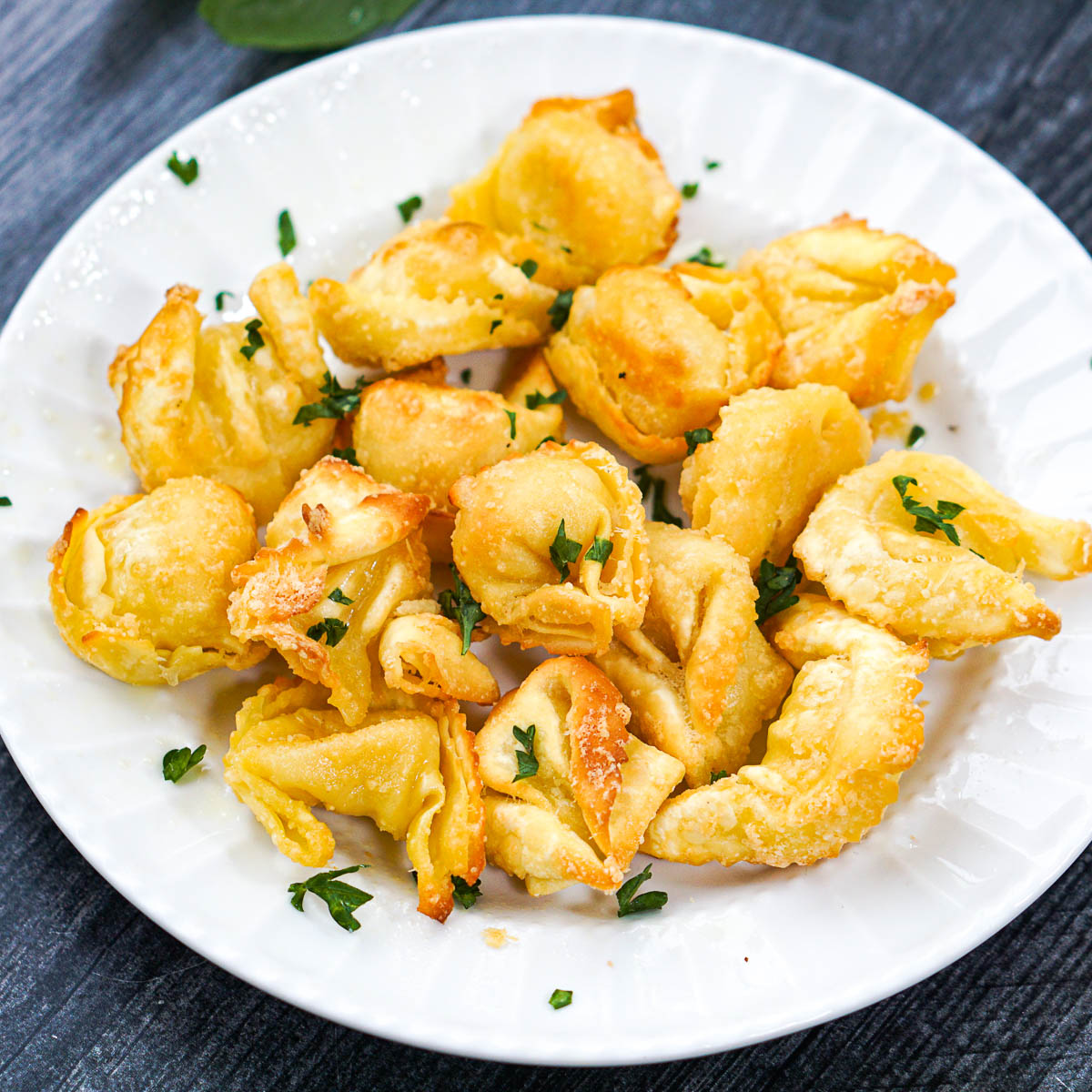 Recently I had a graduation party for my son and I had bought way too much cheese tortellini from Costco. So I have 3 tortellini recipes coming up and today we are starting with these easy and crispy air fryer tortellini.
They make a fun snack or appetizer. My son scarfed them up as did I. You only need 3 ingredients but no eggs nor bread crumbs! And they only take about 20 minutes.
Air frying creates a crispy texture outside and creamy cheese inside. You can serve these air fried tortellini with a marinara dipping sauce or just pop one in your mouth and eat it as is.
Recipe ingredients I used.
The simple ingredients I used for this recipe were fresh tortellini, parmesan cheese and olive oil. I also used marinara sauce for dipping but that is optional.
Tortellini
First of all I used fresh cheese filled tortellini that I bought at Costco. I have not tried these with frozen tortellini nor dried. Also I liked the cheese filled because the melty cheese center was a great contrast to the crispy pasta.
I think you can try other flavors of tortellini but I would first try the cheese.
Parmesan Cheese
I used the parmesan cheese to coat the pasta instead of breadcrumbs. They also add extra flavor to the dish. You could also use grated Romano cheese if you want. I think it needs to be more of a powder so it sticks to the pasta.
Marinara Sauce
I used Rao's Marinara sauce because it's my family's favorite tomato sauce and I like it because it's fairly low in carbs. While this is not a low carb recipe I used it in my other low carb recipes. You can use your favorite pasta or pizza sauce though.
Olive Oil
I used olive oil to coat the pasta and help the parmesan cheese to stick. However you can use also spray the tortellini with cooking spray if you are try to save calories.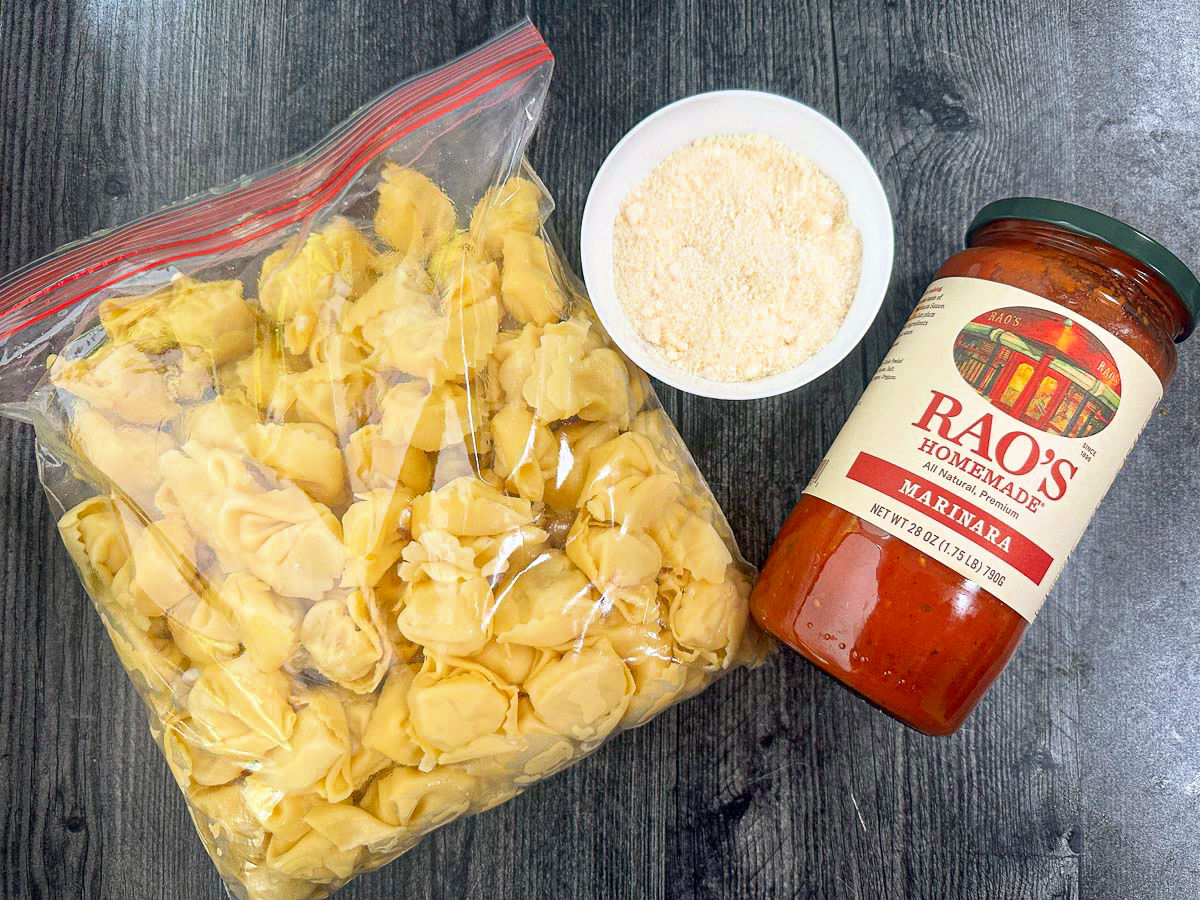 How to make air fryer tortellini.
Step 1: I precooked the refrigerated tortellini first before air frying them. So get out a large pot of water boiling on the stove. When ready add the tortellini and cook only for a minute or two. What ever length of time the directions say, substrate a minute or two and take them out.
Step 2: Drain the pasta completely and try to get as much water off as possible then add to a large bowl. Pour the olive oil on top and mix around to coat all the pasta pieces. Then sprinkle the parmesan cheese to coat the pasta.
Parmesan cheese seems to have enough salt for me but if you want you can sprinkle salt and black pepper at this stage if you want.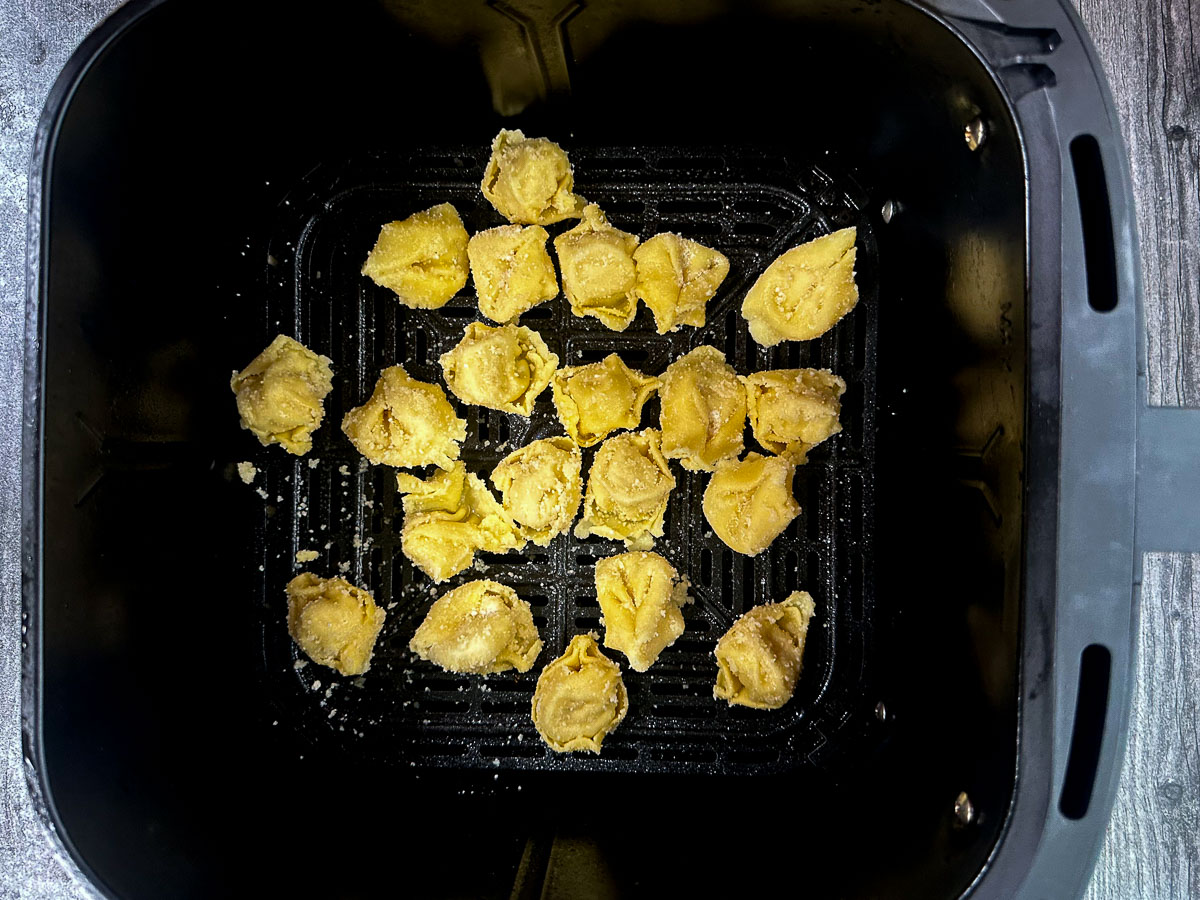 Step 3: pray the air fryer basket with nonstick cooking spray. Spread out the cooked tortellini in an even layer. Air fry tortellini at 360°F for 7-9 minutes until they have a golden color. Note baking time may vary.
Step 4: If using the pasta or pizza sauce, pour into a small dipping bowl and microwave for a minute or two to heat up. Spoon the fried tortellini onto a plate and serve with the heated marinara sauce. You can also try other of your favorite dipping sauces if you want.
If you want you can sprinkle some herbs over top like some fresh basil or fresh parsley for garnish or color. You could also use additional ingredients like Italian seasoning, garlic powder, dried oregano, dried basil or hot pepper flakes for a bit of heat. Add them when you sprinkle the cheese before cooking.
Note I felt these were more of a snack or appetizer rather than a dinner or meal. Store leftovers in an air tight container in the refrigerator. You may want to air fry them again to get them crispy. Please scroll down to view the printable recipe card.
More easy air fryer appetizers to try.
I really loved these air fryer tortellinis because air frying made gave them a crispy texture on the outside but creamy cheesy goodness in the middle. But most of all they were super easy to make as an appetizer or snack. Here are few more really easy air fryer appetizer recipes you might also like.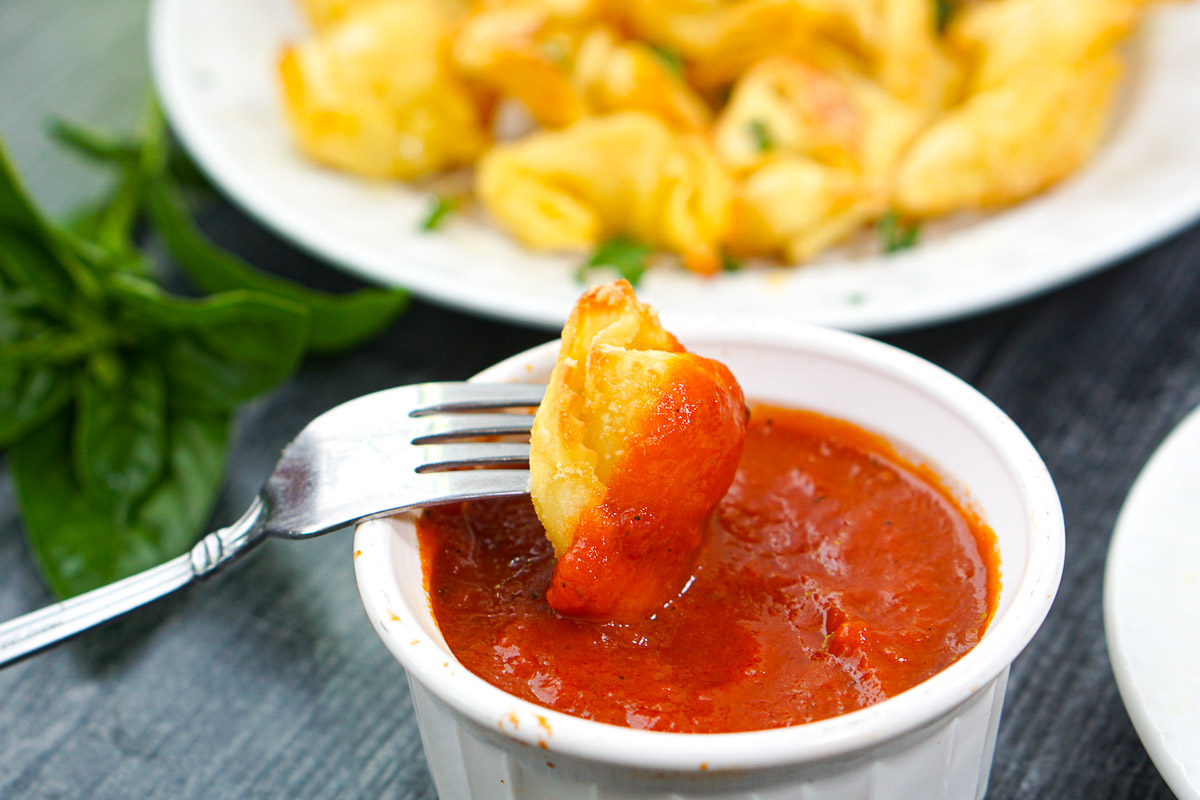 Well these were surprisingly delicious and I think it will be the perfect appetizer for football games or impromptu parties. This air fryer tortellini recipe is sure to be crowd pleaser and I hope you like it as much as we did. Enjoy!
Air Fryer Tortellini Recipe
These air fryer tortellini are very easy to make and super taste. No messy egg mixture and breadcrumbs needed and they take only 20 minutes. Great as a crispy snack or appetizer.
Ingredients
1 pound cheese tortellini, fresh not frozen
2 tablespoons of oil
¼ cup parmesan cheese
1 cup marinara sauce, optional
Instructions
Make the tortellini according to the instructions on the package. Cook a few minutes shorter than they call for. For example mine said 2 minutes in boiling water and I cooked them 1 minutes.
When done drain the excess water off as much as you can. You can even us a paper towel to get some of the dampness off so that the oil will stick to them.
Place the tortellini in a large mixing bowl, then pour the oil over them. Mix well to coat then add the parmesan cheese and mix well to coat. Parmesan cheese seems to have enough salt for me but if you want you can sprinkle salt and black pepper at this stage if you want.
Take out the basket of the air fryer and spray with nonstick spray. Place the cooked tortellini in a single layer of the basket and bake at 360°F for 7-9 minutes until golden brown. You may have to do this in batches. Note cooking time may vary.
When done, spoon onto a plate and let cool for a few minutes before serving. If using your favorite marinara sauce, add to a bowl and heat up in the microwave for 30-60 seconds and serve along size the plate of fried tortellini.
Note you can also garnish with extra parmesan cheese, fresh basil or fresh parsley, etc. Note this recipe makes approximately 42 pieces in the 1 pound. If you want to make a smaller batch just divide all quantities in half.
Notes
Note you can add some seasoning while coating in the parmesan cheese. Try Italian seasoning, dried oregano, dried basil, garlic powder, onion powder, hot pepper flakes or whatever seasoning blend you want. 
Nutrition Information:
Yield:

6
Serving Size:

1
Amount Per Serving:
Calories:

311
Total Fat:

12g
Saturated Fat:

4g
Trans Fat:

0g
Unsaturated Fat:

7g
Cholesterol:

36mg
Sodium:

567mg
Carbohydrates:

39g
Fiber:

2g
Sugar:

3g
Protein:

12g